Matty Cowan's The Heather got a second chance at success

 thanks to an unlikely source of inspiration and collaboration.
There aren't many second chances in the restaurant industry. Luckily for Matty Cowan, chef at Hamilton's newly re-opened The Heather on Locke, he had a guardian angel waiting for him in the wings.
"Without Dao, I wouldn't be back here (in Hamilton). She believed in me enough to stay patient. I'm grateful to her for forever having faith in me and believing in The Heather and believing that it would work in this space," says Cowan. "(If not for her), I'd just be stuck doing other people's food for the rest of my life."
Dao is Dao Nguyen, founder of Modern Design Studio, an interior design shop specializing in residential and commercial developments that relocated to Locke Street from Ancaster in 2020.
When Nguyen bought the building, formerly the home of NaRoma Pizza, she decided to keep the restaurant and liquor licence. She then redesigned the old kitchen to work as a showroom-slash-multi-functional event space and used the building's top floor as the design studio's office.
Even during COVID, Modern Design Studio's pop-up events and chef table dinners were a huge success, and Nguyen saw a demand from her clientele for a more permanent dining experience.
She knew Cowan was the only chef she could ask to take on the job.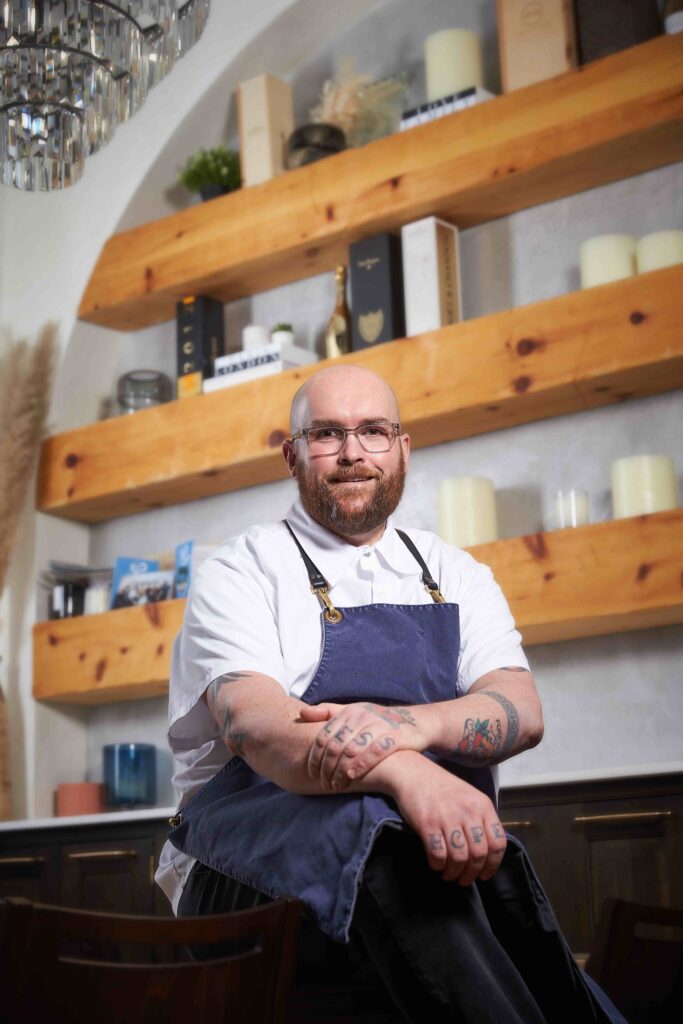 Nguyen hadn't met Cowan prior to offering him a spot in her kitchen, but she'd heard about him through mutual friends, and his name kept coming up in conversations about finding a chef for the space.
Though Nguyen has deep experience in both design and hospitality, she didn't want to be involved in the day-to-day operations of the restaurant side of the business.
She knew she needed someone who could take ownership of the entire operation of the restaurant. She was surprised at what a challenge this was: not many chefs she spoke to were ready to take on all the responsibilities of running their own restaurant.
"If you're going to ask me anything about the restaurant industry and if you're going to look to me for guidance, I can't help you," says Nguyen matter-of-factly. "I knew I wanted him because he had (run) a restaurant before. He had done dinner service alone before, and he knows what it's like."
Initially, though, Cowan turned her down. "I reached out to him. And he was like, 'This opportunity is too good to be true. I can't do this.' And I said, 'OK, well, you know where to find me if you change your mind.'"
The reluctance on Cowan's behalf is understandable. During the pandemic, he was forced to shutter the previous location of The Heather on Barton Street East and eventually declared bankruptcy.
Though the restaurant, which is named after his late mother, had been a success during its run from 2016 to 2021, Cowan found it impossible to pivot a six-seater chef's table restaurant during the pandemic. He was able to fill up instantly when COVID restrictions lifted, but the repeated lockdowns ate into his already razor-thin margins.
His time on Barton was not smooth sailing either. A mob of local anarchists, angry at what they perceived as the gentrification of Hamilton's east end, smashed through the restaurant's front window and left threatening letters that read: "If you build it, we will burn it."
When it launched in 2016, The Heather was something completely different on Hamilton's then-burgeoning restaurant scene. Though the restaurant started with tables to seat 12, it eventually evolved into an intimate six-seater chef's counter dining experience. This is where Cowan worked his magic, prepping, cooking and serving each of the menu's 12 courses, not to mention crafting cocktails and pouring drinks during dinner service.
Ngyuen wanted to see The Heather come alive again. She was focused and persistent, and, eventually, she won Cowan over. The restaurant reopened its doors in December 2022.
"It keeps feeling like we were destined to come together," says Cowan. "There's been a bunch of those little moments where it's like, 'OK, this is clear. This is in the stars.'"
Aside from the intimate and unique dining experience The Heather offers, for many, it's Cowan himself who is the real draw. A gentle giant with a welcoming smile, he's known for putting his guests at ease and removing all the pretense of fine dining so guests can let their hair down.
"(At The Heather), you feel like you're at a friend's house having dinner. I know my personality. I know that I make people relax in their seats, (their) shoulders drop a little bit," explains Cowan. "(Guests) feel like they can loosen their belts. And that's what I want. I love the food of fine dining. But I hate all the pomp and circumstance. I want to relax when I eat."
As well as running his own spot for years, Cowan also has an impressive resumé, with stints at top-tier restaurants across Ontario, including Steak Frites and Portland Variety in Toronto, the Millcroft Inn & Spa in Alton and Devonshire Inn on the Lake in Wellington, now known as The Drake Devonshire.
According to Cowan, the food at The Heather on Locke is modern Canadian. "(But) it's a hard thing to put a pin in," he says.
"I'm not going to say it's inspired by any menu, but it is loosely kind of based on the Koseki or Omakase concepts around food, which is super seasonal, super local. It's a hodgepodge of different techniques and different styles, from different countries, like French, Italian and Japanese. I feel my food is a little bit more anchored in fine dining comfort."
The menu at The Heather (which changes seasonally) is wholly a reflection of Cowan's style of dining. All the ingredients are Canadian-sourced (the next mission is to create an all-Ontario menu). The current 12-course menu – which Cowan likes to keep under wraps to add to the excitement of the experience – features mouth-watering dishes like Nova Scotian diver scallop with fennel purée and green apple relish, and lamb sweetbreads with brioche crumb, green peppercorn aioli and quail egg. Each course is paired with a wine, beer or spirit, some local and some sourced internationally.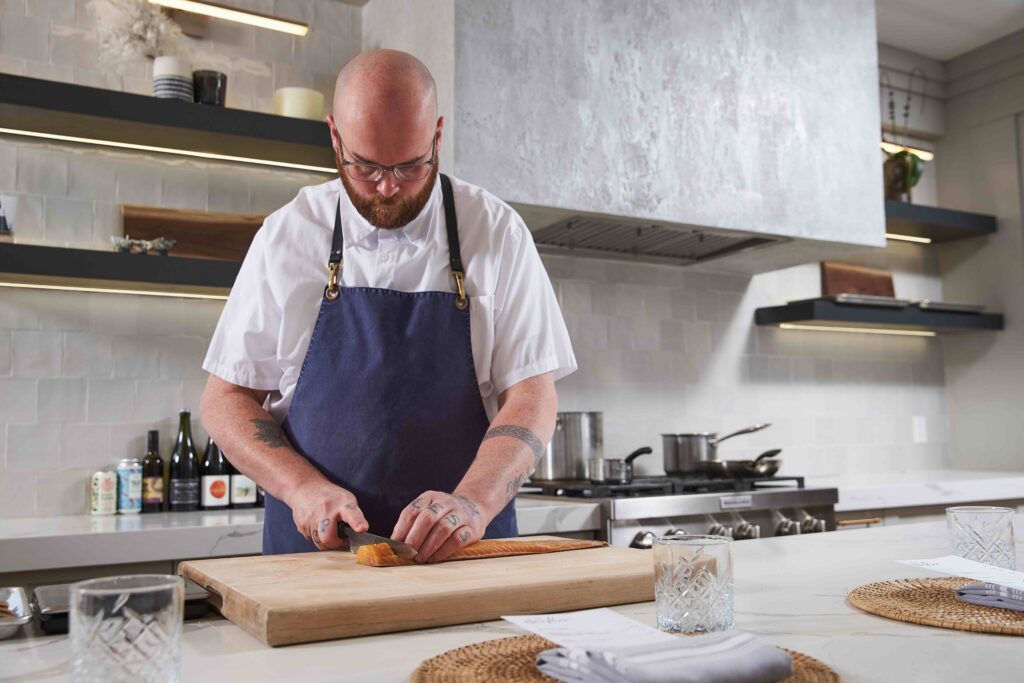 Though Ngyuen technically owns The Heather on Locke, Cowan has full operational and creative control of the restaurant. While they work independently in their own businesses, they also take a collaborative approach to building out this one-of-a-kind experience in Hamilton.
One thing that helped solidify this partnership was their shared belief that the restaurant industry is inherently broken. Together, they are doing what they can to turn things around.
"I think the whole industry needs to be flipped on its head right now," says Cowan. "But nobody's talking about how to fix it. We're all just kind of sticking our heads in the sand and (saying), 'Somebody else will figure it out.' It's the only industry that gets away with total abuse (and) then [is] still held on a pedestal," says Cowan.
"Kitchens should be happy. They should be fun places to work. I was that chef in my late 20s, then I hit my early 30s, and I had a self-realization, like, 'Why am I so mad, man? We're just cooking'. But you often are a product of the schools you come up in. I was strong enough to realize it myself. And I didn't want to be that way anymore."
One lesson Cowan learned throughout the years when it comes to his food is that you can't please everyone. When he first launched The Heather back in 2016, he dabbled in all-day service, with brunch and lunch and menus that catered to every dietary need and restriction.
But he's pared all of that back now.
When it comes to his menu at The Heather, what you see is what you get. No substitutions. Period.
"The prep takes days. I don't think people realize how much work goes into it," says Cowan. "So if I have to stop and make a non-dairy version for every course, it's so much more work. And I've always promised myself to stay true to who I am. I find you are more authentic – and the law of attraction grows a little stronger – when you're just like, this is what I do, this is what I offer. And that's it. I can only cook for the people who are open to what I do for sharing. I can't please everybody."
And Hamiltonians are A-OK with that. The reopening of The Heather has been a resounding success. Within its first week, The Heather on Locke's eight-seater chef's counter was booked solid for three months.
"I can't believe that word got out there that fast. I just didn't realize I was missed. I was like, 'Yeah, Hamilton won't know I'm gone. It's fine,'" says Cowan. "I can't tell you how humbled and grateful I am. It means a ton as a chef. That's all we want. We want people to enjoy what we do. So the fact that people actually missed me not being around, it means a ton for sure."
This reopening also means a move for Cowan and his fiancée from Toronto (where he worked for the past few years) back to Hamilton, into a townhouse off Locke.
"There was a sticker shock moving back to Hamilton and seeing how crazy the rent has gone up," says Cowan. "But it's also promising as a restaurateur that prices are going up because it means there's a market out there to sustain the restaurant."
"I love Hamilton. If I didn't, I wouldn't be back," says Cowan. "What I love about Hamilton is it's got the city infrastructure, but it's very much still small-town vibes. You can walk by someone and say hi and they don't scowl, and they'll actually say hi back to you. And the tight-knit community. If I need anything, I know I've got friends a short distance (away) that will give me a hand. Hamilton's just got that charm that I enjoy."
Cowan is excited to be back as a part of Hamilton's ever-expanding food scene, which continues to thrive despite setbacks resulting from the pandemic.
"It's exciting to be a part of it," says Cowan. "That was one of the heartbreaking things with having to close (the original location of The Heather) is that I was one of the first kind of outsiders to be on the scene and opening something different. And then the pandemic happened and ruined all of that. But five years later, we're still here. So giddy up!"
The Heather (IG: @theheatheronlocke) is located at 215 Locke St. S. in the Modern Design Studio building. Dinner is served from Wednesday to Saturday at 7:30 p.m. theheatheronlocke.ca