Hamilton Conservatory for the Arts offers theatre, dance, music, and visual arts 

classes, workshops and camps for children, teens and adults, along with performance opportunities.
In the attic of the Hamilton Conservatory for the Arts, Jay Watson hooks her thumbs through her jeans, puts on a top hat and strikes a pose. "This could be a fun prop to play with."
"Not bad," says Almeida. "My prop is dead energy."
Beside them, a grey-hooded teenager balances a Starbucks coffee and a script. "I'm Luka," he announces.
Here, the acting students are rehearsing the spring showcase. This year's offering is The 39 Steps, a juicy whodunit with a heaping dose of Monty Python humour.
Directing the showcase is acting teacher Stephanie Hope Lawlor, who is sitting atop a wooden desk, her back rod-straight as she jots copious notes in her script. "Let's go from the top of the scene. Take two minutes, grab some water, and pre-set your props."
One student picks up his dog-eared script; another moves a prop; another pins a sticky note to a crowded call board: "AUDITIONS!"
"If you blank, just call 'line'," Lawlor says.
The students gather on the small stage at one end of the room, where Bridget steps forward. "Welcome to the London Palladium theatre."
"Nice! But could you sell it a bit more?"
"Welcome to the London Palladium theatre!" Bridget calls out.
"Perfect!"
Luka raises his hand. "Can we be like, whispering and stuff in the background?"
"Absolutely!"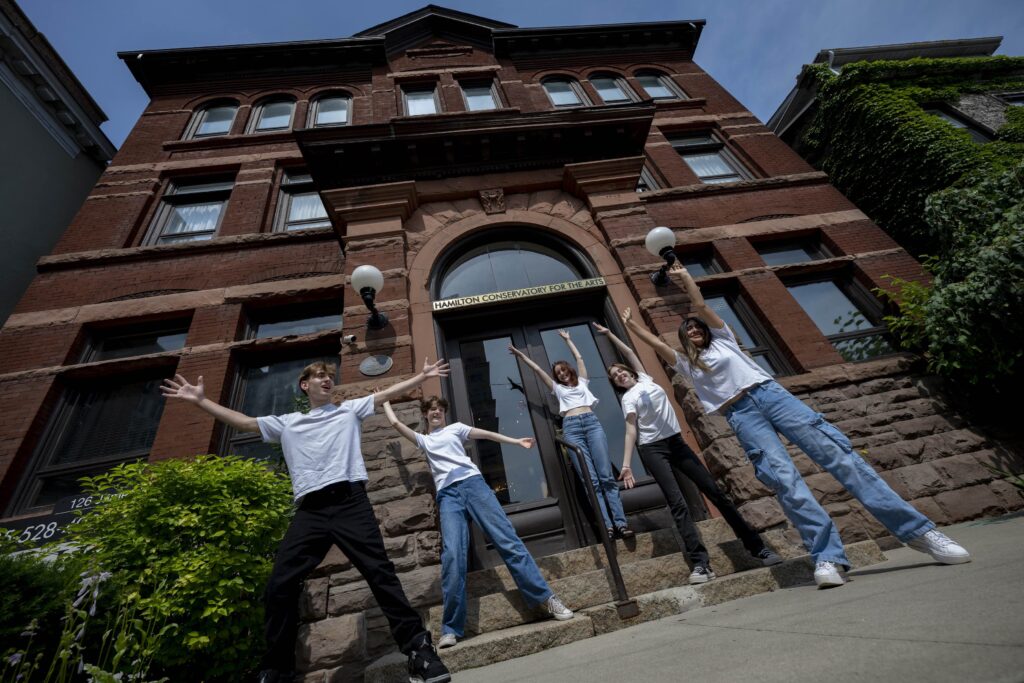 Lawlor's evolution from actor to teacher and head of HCA's theatre department began in Toronto.
"I was living in TO for a few years after I finished theatre school," she says. "My apartment was kind of … well, the ceiling was leaking and the floors were slanted. I was working a part-time job just to make ends meet so I could go on auditions. Something had to change, to move."
Her move from Toronto to Hamilton was a serendipitous one.

"I booked a gig doing The Sound of Music in Hamilton, my hometown. Luka's older sister played one of my siblings and his mom was one of my acting teachers at the Conservatory. I gave up my apartment in Toronto, thinking I'd go back in a couple of months, but I ended up staying after the show ended. I needed a job."
Lawlor had taught for a number of years, so when the HCA needed a theatre department coordinator, Lawlor jumped at the chance – and is now one of four theatre instructors among 32 HCA faculty.
"When I came back to Hamilton after growing up here, I walked into the Conservatory and thought, this is a building full of stories. What better place to be creative and share the knowledge I gained at school and in the industry than right here?"
Conservatory founder and artistic director Vitek Wincza's trajectory has been more circuitous. While on tour in Hamilton with Poland's Mazowsze Dance Company, he defected to Canada with $200 and a dream of presenting dance to the world. In 1997, he seized his chance and bought the building at 126 James St. S. that would become the Hamilton Conservatory for the Arts.
"The Conservatory is an arts hub; a place where you can be inspired no matter your interest or level of engagement. We want to create an environment where students can thrive. And we want to inspire them to do that," says Wincza.
"It works both ways," Lawlor chimes in. "My students inspire me every single day. One big shift I had in teaching was that instead of feeling the pressure of going into class and saying, well, what am I gonna do to inspire them, it became, what will I see them achieve today?"
"Watching the students work is a great feeling," Wincza adds. "It gives me such a sense of purpose. Creating a welcoming environment is so important because art belongs to everybody. Not just talented kids or rich kids, but everyone."
Back at the rehearsal, Lawlor leaps up on the stage, where Angie grips a fake revolver.
"Let's work the gun bit," Lawlor says. "You just made your upstage hand your downstage hand. What happens when you do the bang with your downstage hand?"
She takes the gun, demonstrates the action.
"Can we scream at the gunshot?" Luka asks.
"Yes! I would love it if you did!" She thumbs through her script.
"Make sure you're still working on your lines when you're not in the scene," she instructs. "Because the minute you put down your script, you forget because you don't have your safety blanket."
During the break, students shared their thoughts about Lawlor's classes.
"I've always grown up around masculine stuff like sports," says Bridget. "I have a creative side to express and I can do that here because she just lets us play and go with the flow. She's so caring."
"My favourite thing about this class is Stephanie's personality," Almeida adds. "Not too cold and not too hot!"

Helping her students thrive goes beyond teaching acting alone.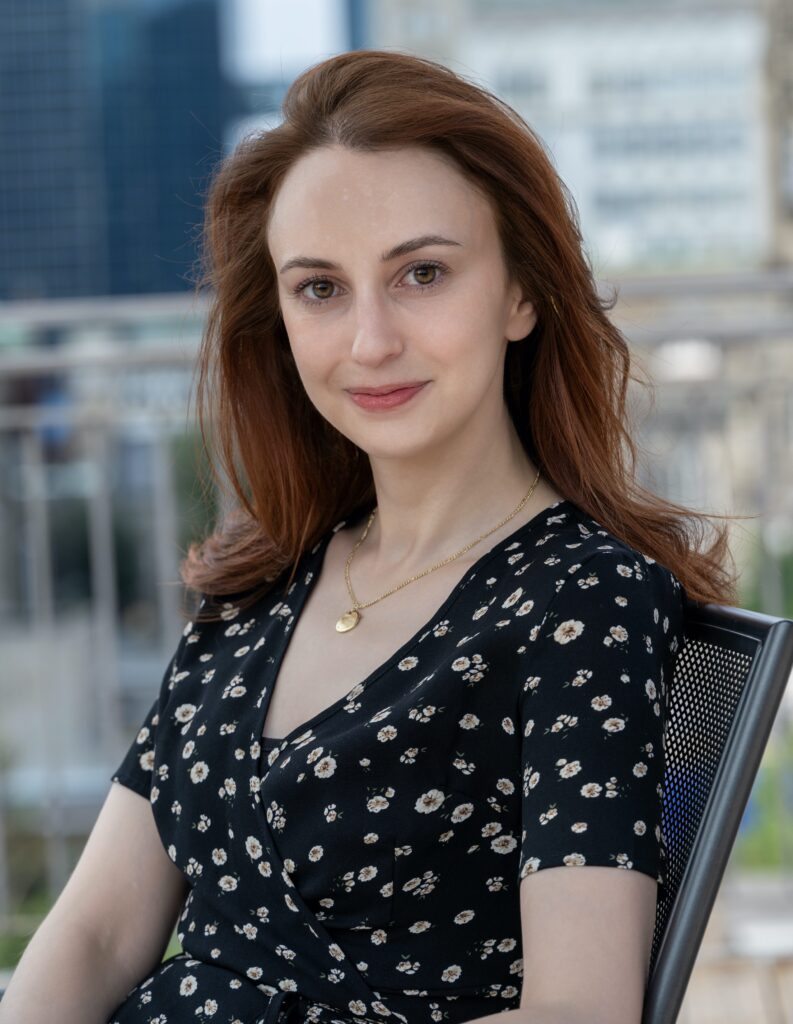 "The kids come to learn acting and have fun, too. And some kids really find a home here. I mean, if they go on to become a professional actor, that's great. But I think for a lot of them, it's a safe place where they're celebrated for being creative and goofy and all of those things you try not to be when you're a kid in front of your friends. And I always encourage them to just be themselves, whoever that is."
Lawlor says she grew up "so stinking shy."
"I quit ballet because I was too shy. I quit acting because I was too shy. But I grew up seeing a lot of theatre. I wanted to be an actor, but I didn't know how. And I came to acting in my own time. So, I wait until the students are ready, until they trust me. I offer them time and space and the opportunity, but I never force them."
She turns to the cast. "Let's jump to Cat's demise."

"My untimely demise!" Cat protests.
The others watch as Cat performs an elaborate death scene.
"There's a lot of death in this play," Jay offers.
"That was amazing!"
Lawlor looks up at the sun, streaming in from the skylight.
"And now I get to work in this beautiful place surrounded by all of this artistic history and magic. For the stars to align like that was incredible. Yesterday, I was sitting on my back porch with a glass of wine, my feet up, putting sound cues together for one of the shows. And I thought, in what other job do you get to go home and do that? It never stops being creative. Because this is theatre, baby!"
NEED
TO KNOW
Hamilton Conservatory for the Arts founder and artistic director Vitek Wincza graduated from the State Ballet School in Gdansk, Poland, and performed for the Musical Theatre of Gdynia, Poland; the Ballet Theatre of Lodz; and the National Dance Company Mazowsze, where he toured throughout North America. After several performances in Hamilton Place, Wincza decided to stay permanently in Canada.
In 1982, after his defection, he operated his own dance school in Burlington and Hamilton. On Aug. 20, 1997, Wincza revived and expanded the 100-year legacy of the Hamilton Conservatory of Music into the Hamilton Conservatory for the Arts with over 100 programs in music, dance, drama, and visual arts, offering workshops and camps for children, teens and adults along with performance opportunities. HCA also operates two charitable arms, including Arts For All, which grew out of Wincza's desire to nourish and inspire students facing barriers. Arts For All was launched in 1999 as Culture for Kids in the Arts.
In 2011, Wincza was the recipient of the City of Hamilton Community Arts Award and in 2013, he was nominated as RBC Citizen of the Year for Hamilton.