For the owners of Pure Home Couture, their journey is a true made-in-Hamilton love story.
Perhaps The Beatles said it best: all you need is love. For Abby Kanak-McDuffee and her husband Steven McDuffee, there's no simpler recipe. 
Although the Hamilton couple now owns Pure Home Couture on the city's trendy Locke Street, their adventure together took first flight when they met in 1975 at the Corktown Irish Pub, the oldest licensed establishment in Hamilton. Once a grocery and liquor store in 1888, it was later converted into a pub in 1931 and has been a local landmark ever since.
Little did they know that in a few short years the name Abby Kanak would become synonymous with high fashion when they moved to the West Coast and opened the doors to Salon Abby Kanak on West Cordova Street in Vancouver.
Abby's designs were picked up by Holt Renfrew and Saks Fifth Avenue and featured alongside Jean-Paul Gaultier and Marc Jacobs. Her sophisticated tulle-accented avant-garde dresses soon grabbed the attention of celebrities such as Sarah McLachlan and Goldie Hawn, who were eagerly waiting in line to scoop them up.
Abby knew she was destined to be a creator from the time she was a schoolgirl and her teacher asked the class what they wanted to be when they grew up. Doctors, firefighters, astronauts, the usual roster of careers echoed around the room, and then one little girl in the back shouted, "Couturier!"
"I'm not even sure how I knew that word," she recalls with a laugh.
It's no surprise that at 11 years old she was making weekend trips to Eaton's to get her hands on the latest Vogue Patterns. Some things are just set in the stars.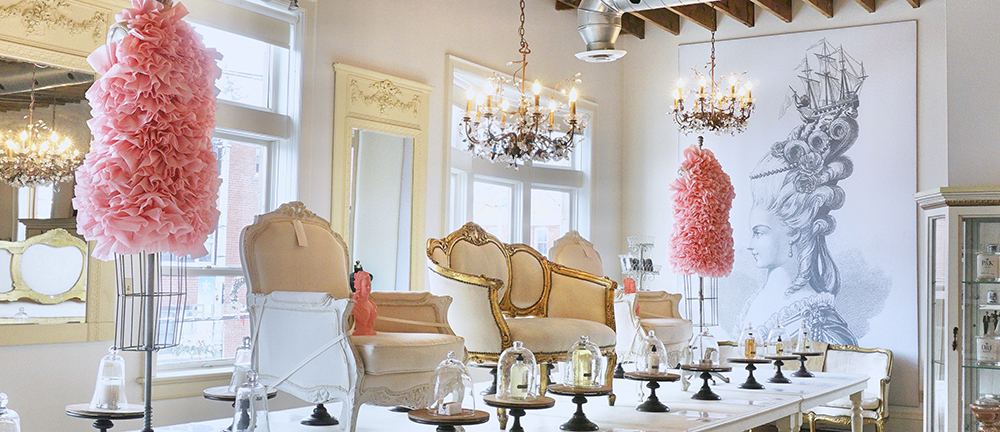 But just as her career was hitting new heights, their daughter Pallas suffered a brain hemorrhage only days after she was born. Her care was complex and the decision was made to close the Salon in order to give her every ounce of their attention, and everything she could possibly need to heal. Abby's artistry would evolve many times from that day forward, even transitioning the shop into a French restaurant, Café Pallas, which proved to be just as popular. Eventually Abby and Steven moved back to their hometown of Hamilton, a place where they knew friends and family would be waiting with open arms.
A decade later Pallas's condition stabilized and they found themselves able to dedicate more time and energy to expand Abby's passion for sourcing, collecting, and displaying a treasure trove of beautiful items, ultimately culminating in the opening of Pure Home Couture in 2002.
"We could dream again," says Abby. She slowly began building her Parisian-inspired collection, which first originated as a small candle-making venture in her kitchen.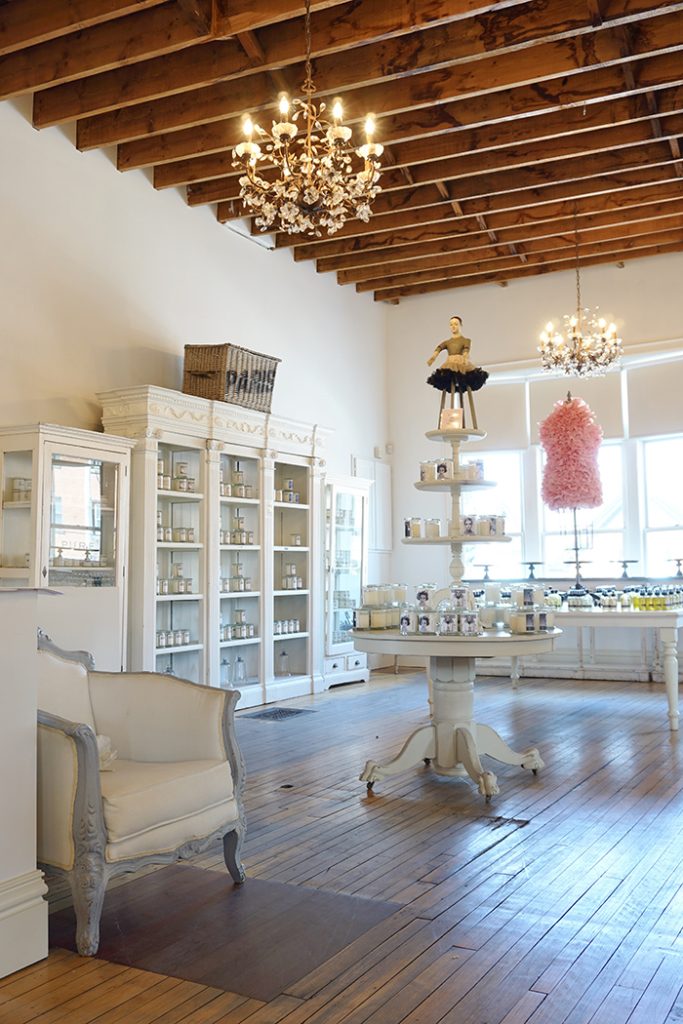 Today, climb the stairs to their second-floor shop overlooking the bustling Locke Street South and you find yourself swimming in the elegance of a romantic, apothecary-style space. Built in 1905, the historic Victorian two-storey brick building is teeming with feminine lily-white accents, expressive antique mannequins, pristine farmhouse sinks adorned with inviting soaps, majestic decorative mirrors, rows upon rows of cloche-adorned candles, and the perfect parfait of simple and rustic touches found in the beauty of French Provincial style.
Pure Home Couture has developed 36 enticing scents, as well as their own personal brand of candles, the aptly titled Home Couture Apothecary. The Pure Home Couture line includes a wide variety of luxury plant-based, ethically sourced home and bath products, hand-poured 100 per cent pure non-GMO soy wax candles, tealights, perfumes, buttercreams, lip balms, and a little bit of everything else you could possibly need to indulge your own senses or find the perfect gift.
All products are made with a blend of high-quality phthalate-free fragrances and natural essential oils. "Scents can embellish your space and uplift your spirit," Abby says. "Fine fragrance is an art."
This year marks Pure Home Couture's 20th anniversary, and with so many nostalgic moments to remember, Abby and Steven are deeply rooted in the love and dedication they share for their two children and a genuine appreciation for the city that has embraced them. Their youngest son Quinn has recently joined the family business as Pure Home Couture's accountant and social media manager. Pallas is now 31 years old and surrounded with love.
"We've made so many friends over the years, and our staff and clientele have been a wonderful part of our story," says Abby. "Everyone has their own journey and we respect that. We're supportive no matter if someone is here for five minutes or five years, and we've been lucky enough to make some very special connections along the way."
Their "Local" candle was created for exactly that reason, in appreciation of the inspiration that their community provides and the emotional connections that grow when people come together.
"It's a real family of people, and it's a love story in Hamilton," Abby says.
Love is, after all, all you need.
BEAUTY'S WHERE YOU FIND IT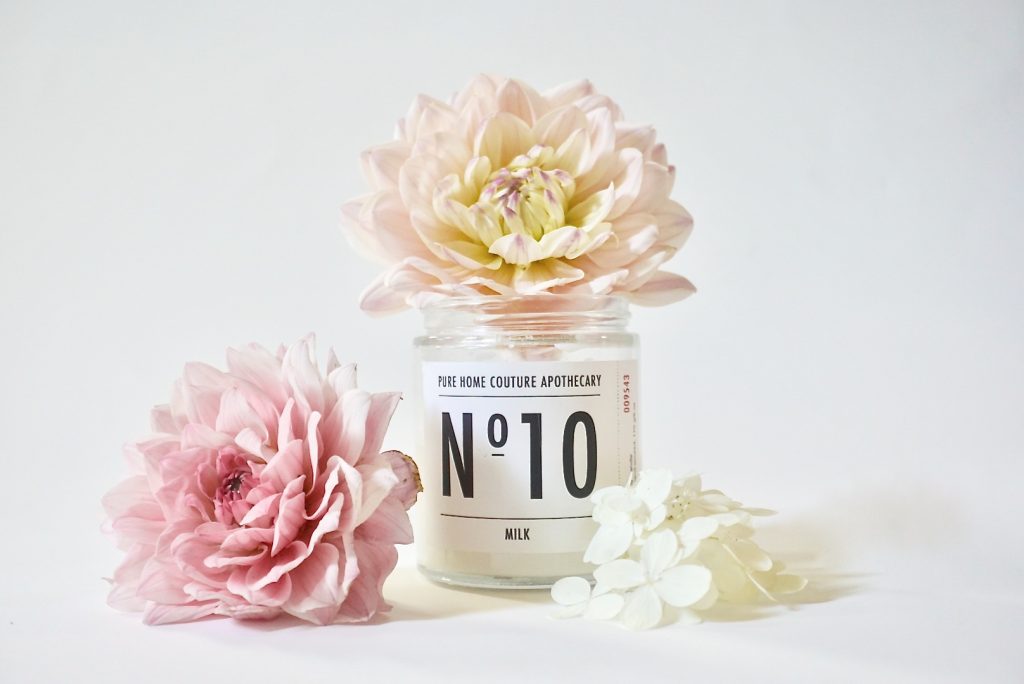 Pick up their "Made in Hamilton" N°905 candles $2.50 from every candle sold goes to The Hamilton Food Share. Contributions are now over $15,000
Bruce Trail
Cootes Paradise
Beach Strip
Devil's Punch Bowl
Big Smoke
Support the crucial relief efforts and long-term support that the Red Cross' Ukraine Humanitarian Crisis Appeal is providing the people of Ukraine with the purchase of the "Stand with Ukraine" candle. $11 of each $22 candle is donated. Contributions are now over $9,000
Favourite Collectible Mini Jar Candles
Blood Orange & Yuzu N°12
Green Fig N°16
Cassis and Rose N°23
Bergamot Tea N°28
Lemon Verbena N°42
Prosecco N°56
White Pine & Balsam N°87