Local businessman Dan Lawrie says he hopes the new Burlington Waterfront Sculpture Trail becomes an annual event.
Fifteen works of sculptural art are featured in a new exhibit that spans a one-kilometre trail linking the Art Gallery of Burlington, Spencer Smith Park and the Burlington Downtown BIA along Brant Street.
Seven of the featured artists in the Burlington Waterfront Sculpture Trail hail from Hamilton and Burlington, with the remainder living in various parts of Ontario. The works represent a range of sculptural practices, from figurative to abstract, contemporary to classical, and are made from steel, plastic, ceramics, wood, fibreglass and bronze.
Works also greatly range in size, with the smallest being a hand and ball cast in bronze called Weightless Reflection by Morris Wazney.
Larger pieces include Yes-No by Ted Fullerton, a cold-cast steel sculpture featuring two figures in dichotomy, Ron Eady of Hamilton's Grober Mund, a form carved from a 100-year-old barn beam, and MAP/MAN, a wooden hand by Hamilton's C. Wells that explores the various notions of lines.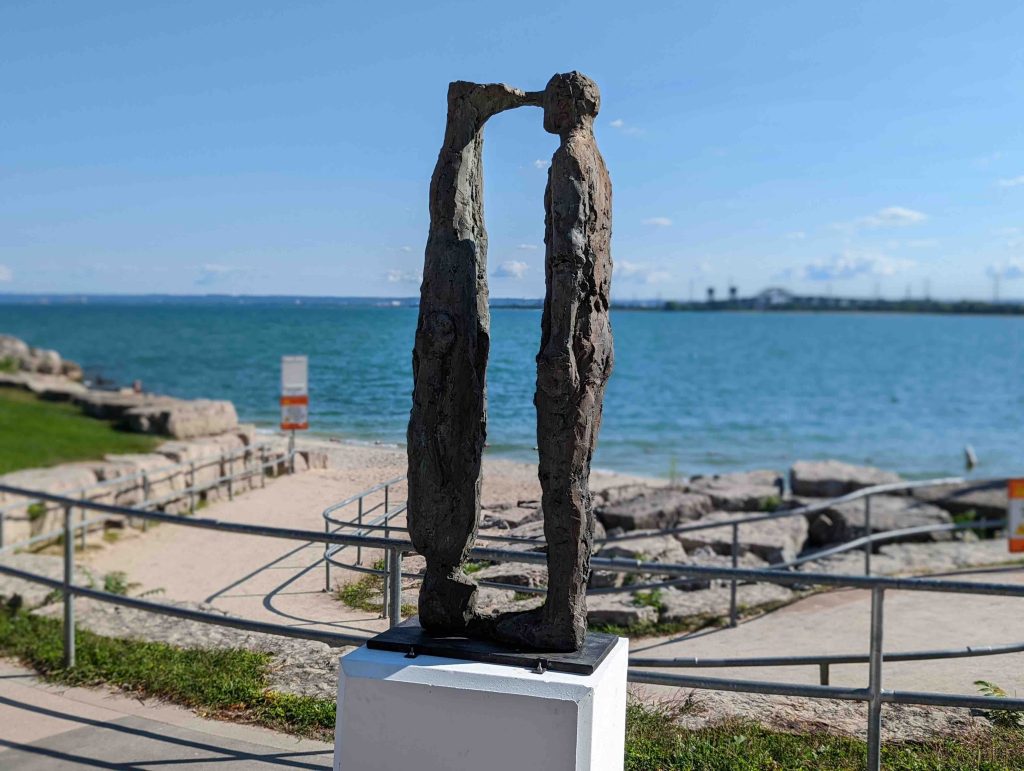 The BWST is the brainchild of Dan Lawrie, who owns an insurance firm in Hamilton and lives in Burlington.
Lawrie says he has wanted to undertake the project for a long time and that he hopes it will become an annual event that will add to Burlington's art and cultural scene while showcasing the work of talented artists.
"This work challenges us, stimulates us and makes our community even more interesting that it was before," Lawrie said during an opening reception.
Jeremy Freiburger of Cobalt Connects, which curated the exhibition, joked at an opening reception that Lawrie is "obsessed" with sculpture.
The Dan Lawrie International Sculpture Collection (DLISC) has been building a collection in Hendrie Gardens at Royal Botanical Gardens for nine years. The dream of an outdoor exhibit on the waterfront finally came to life with some funding through the Ontario Tourism Relief Fund.
But Freiburger says the funding window meant the exhibit had to come together in just 10 weeks – from the call for artists, to selection, to the fabrication of custom mounts, to installation.
Each artist has received an exhibit fee and some of the works have already been purchased.
One was even stolen from its mount 12 hours after installation.
The work by local artist Robyn Lightwalker is called Perspectives and features women's legs with eyes painted on them. She worked on that piece for four years, but had just two days to come up with the its replacement A Stolen Kiss.
"I made someone feel something," she said of the theft during a tour of the exhibit. "I don't know if it's at the bottom of the lake or in some guy's basement."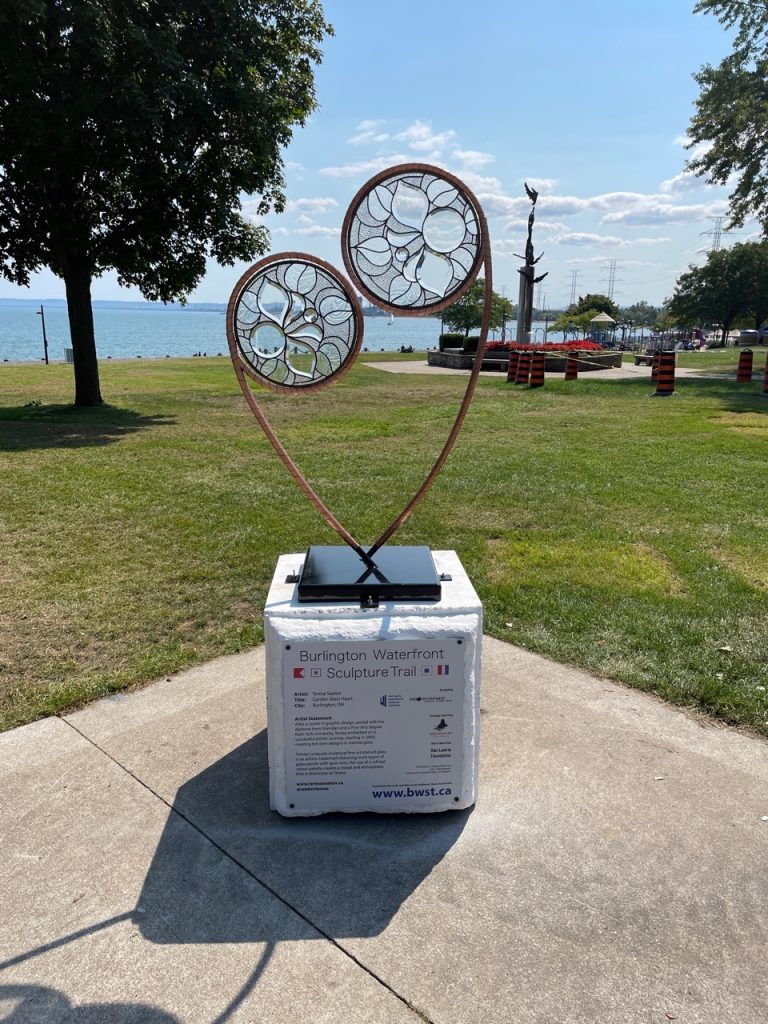 Stained glass artist Teresa Seaton of Burlington said it was an honour to have her piece Garden Glass Heart included in the exhibit. It was the first piece to sell.
"I am very excited to be included in this. I think it's wonderful."
The exhibit also includes a collaboration of Hamilton's Tom Wilson and first-time exhibitor Mark Pflieger of Caledonia called Man of Steel. Pflieger also contributed Tranquil Moment, an abstract painted metal sculpture meant to evoke water.
"It's so important to expose people to art as they go about their everyday lives," said Wilson. "Art should not be on the fringe. The job of the artist is to open the door to anyone who wants to walk through."
The exhibit runs until Oct. 23. The winner of the audience choice award will be awarded a $2,500 prize.