Diverse flavours are alive and cooking in Hamilton and 

we're profiling seven chefs who are putting the city on the foodie map.




What makes Hamilton a great culinary city? For one, its food scene is home to a rich, and flavourful, cultural mosaic of cuisines that cater to all tastes. It's a place that not only offers acclaimed fine dining, but also a variety of international cuisines that impress and comfort at every budget level. Whether it's a plated, multi-course menu or street food that satisfies the soul, the experience of enjoying new, and unique, flavours is never out of reach. And those with food sensitivities or restrictions are never left hungry for a good meal. But, above all else, what makes this city a dining destination for locals and visitors alike is a rising tide of chefs who call Hamilton home, or who have moved to the city to make their culinary mark. Below are just a number of the many fresh and familiar faces to whom we owe our compliments for making Hamilton a diverse city for great food.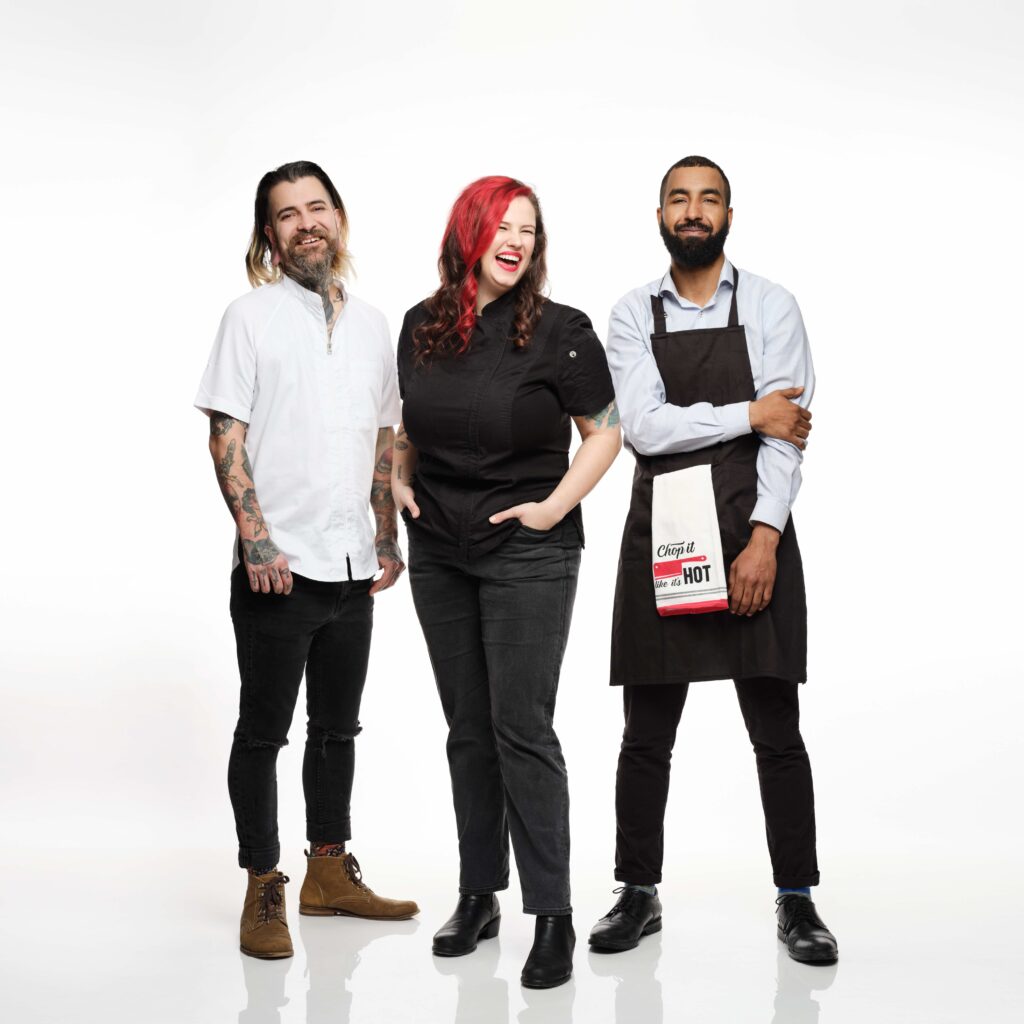 Check out how this cover shoot all came together!
Mohamed Mukhtar
Made Fresh by Papi
Middle Eastern & gluten-free
Pickup points across Hamilton
order.myfalafelpapi.ca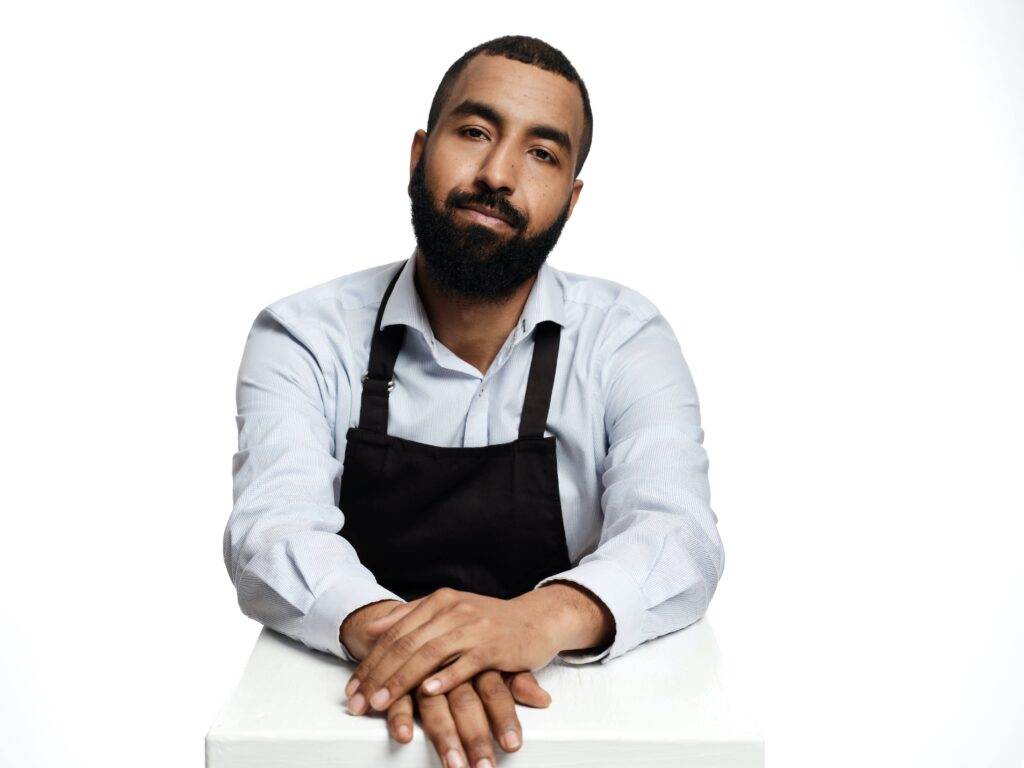 While "quiet quitting" was trending over the pandemic, Mohamed Mukhtar, who is widely known by his online alias Falafel Papi, was clocking 100-plus hours a week working a side hustle.
On top of a day job as a corporate strategist for a bank, Mukhtar launched a celiac-friendly meal service. Both Mukhtar and his wife are gluten-free; the latter has celiac disease. Together, they found gluten-free food options lacking in both flavour and diversity.
To fill the gap, Mukhtar started cooking delicious Middle East-inspired and celiac-safe food at home, much to the delight of his friends and family.
"One day, I made some falafels. They were gluten-free, they were vegan, and they were delicious and people were like, 'You need to share these,'" Mukhtar says.
The response reignited a lifelong passion for cooking stemming from Mukhtar's childhood eating his mom's homecooked meals.
"She is the falafel queen, and I'll argue anyone who says otherwise," Mukhtar laughs. "And you know her food is good, because growing up in Oakville, which wasn't diverse at the time, kids would come over and ask what's to eat. They'd be licking their plates."
Mukhtar's love for food carried into his 20s, when he started cooking in Toronto restaurants. After earning a commerce degree, he thought he had put cooking behind him. But, a contract working in Dubai saw him juggling nine-to-five at a bank while moonlighting at a Middle Eastern restaurant in the evening. Something kept drawing him back to the kitchen.
"I wanted to learn everything I could," Mukhtar says. "And when I left Dubai, I had all the experience as a cook, but it still didn't feel right. I wanted to do something of substantial value and, at that time, my value prop wasn't strong enough yet."
Upon returning to Canada, Mukhtar went back to banking – and then the pandemic hit. While working from home, he printed 400 business cards with a QR code linking to a small, celiac-friendly menu that he passed around at health food stores. Then, in the fall of 2021, he held a pop-up restaurant at a Hamilton coffee shop.
"I said to myself, if two people show up, I've done something. I've made some impact," Mukhtar recalls.
As it turned out, the event drew a lineup around the block. For Mukhtar, it was a turning point.
"I thought, OK, this could be a real thing – people are into it. This makes sense to do, and to see where it takes me," he says.
Today, Mukhtar has swapped a successful career in finance to focus on, well, falafel. Made Fresh by Papi offers a meal subscription, catering, cooking classes, and event services.
Adding to his "value prop," Mukhtar is also helping to fight food insecurity in the city. In partnership with local shelters, Mukhtar provides about 150 to 200 bowls of soup weekly to people in need. Through his soup drive, he has committed to feeding 10,000 families in Hamilton in 2023.
"It's not just about making good food," he says. "It's about supporting community."
Tyler Nicklin
Rapscallion & Co.
Contemporary Canadian
178 James St. N., Hamilton
rapandco.ca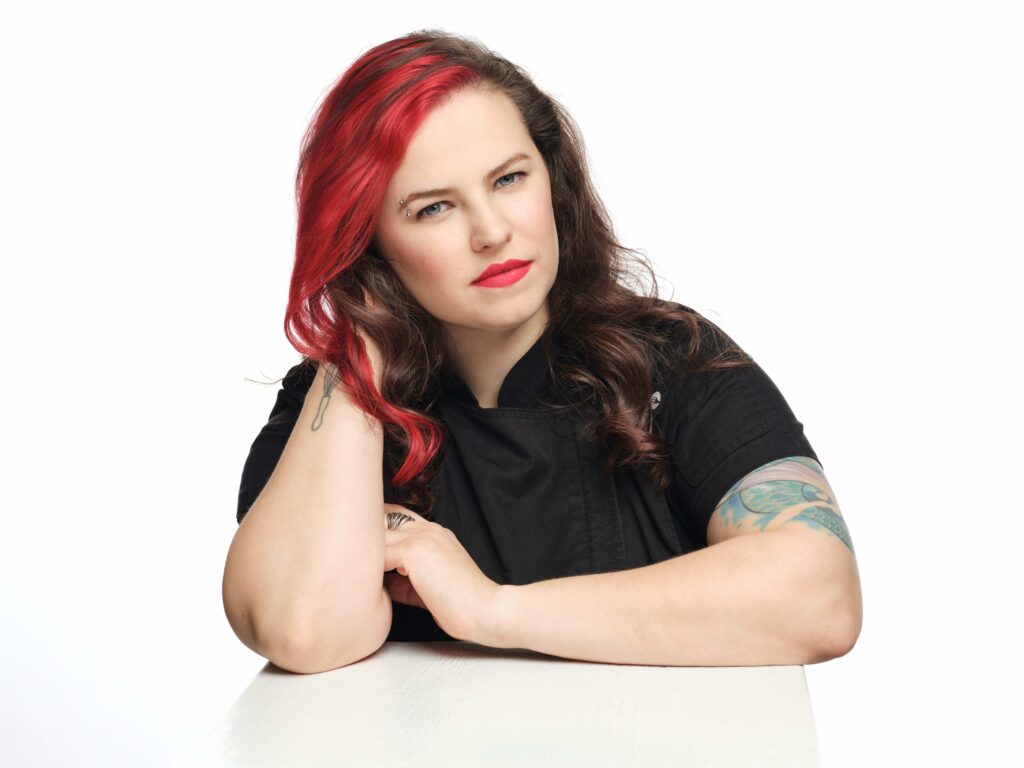 Tyler Nicklin always knew she was going to be a chef. Growing up, she spent the better part of her youth sneaking into adult cooking classes and devouring cookbooks, soaking up every morsel of culinary knowledge and technical skill.
So, it's fitting that Nicklin, who started working in restaurants at age 14, would go on to rise in the culinary ranks. Today, as the chef de cuisine at Rapscallion, she leads a bustling kitchen known for playful dishes that celebrate nose-to-tail dining, courtesy of executive chef Matt Kershaw of The Other Bird restaurant group.
It's also no wonder that, late last year, national foodservice and hospitality media honoured Nicklin with a prestigious 30-under-30 award – both for her prowess in the kitchen and for being a role model to others forging careers in the industry.
"Cooking is always all I ever wanted to do – there never was another option," Nicklin says. "When I first started in kitchens, I was a line cook. Slowly, as I absorbed everything around me, I started to be the one showing new staff what to do. And that's what I love about my job, taking in young talent and helping them grow."
From ordering ingredients to staffing the back of the house, Nicklin is responsible for ensuring the day-to-day operations in Rapscallion's kitchen run smoothly. But fostering a supportive kitchen culture is equally as vital to her.
"For me, it's especially important for young women and those who are LGBTQ2S+ to find their voice in the kitchen," she adds. "Everyone who comes to work should feel comfortable being themselves."
Serving brunch, lunch and dinner, on top of a late-night menu on weekends, Nicklin says Rapscallion is a breeding ground for culinary creativity for all occasions. The restaurant's signature chicken liver brûlée serves as just one example of this. The dish is a savoury slant on the sweet custard dessert – complete with a breakable, torched sugar crust.
Describing the dining experience at Rapscallion, Nicklin says, "We're all about small plates and sharing. We like to have unique items on the menu – something you may have never tried before – but also options for our less adventurous friends. And that's the beauty of sharing. Because, if you are less adventurous, you don't need to commit to a whole plate of beef hearts. You may just want to try a couple of bites. And that's OK, because there's more food coming."
Nicklin's advice to aspiring cooks and others who might be considering a future in hospitality?
"Never stop learning. I still have a lot to learn about operating a large restaurant and leading a team, because Rapscallion is the biggest restaurant I've ever ran," she says. "But that's the great part about working with The Other Bird. There are always opportunities to keep learning, and a team of people who I work with who teach me new things every day."
Gianluca Lulli
Peruviano
Peruvian-Italian
254 Locke St. S., Hamilton
peruviano.ca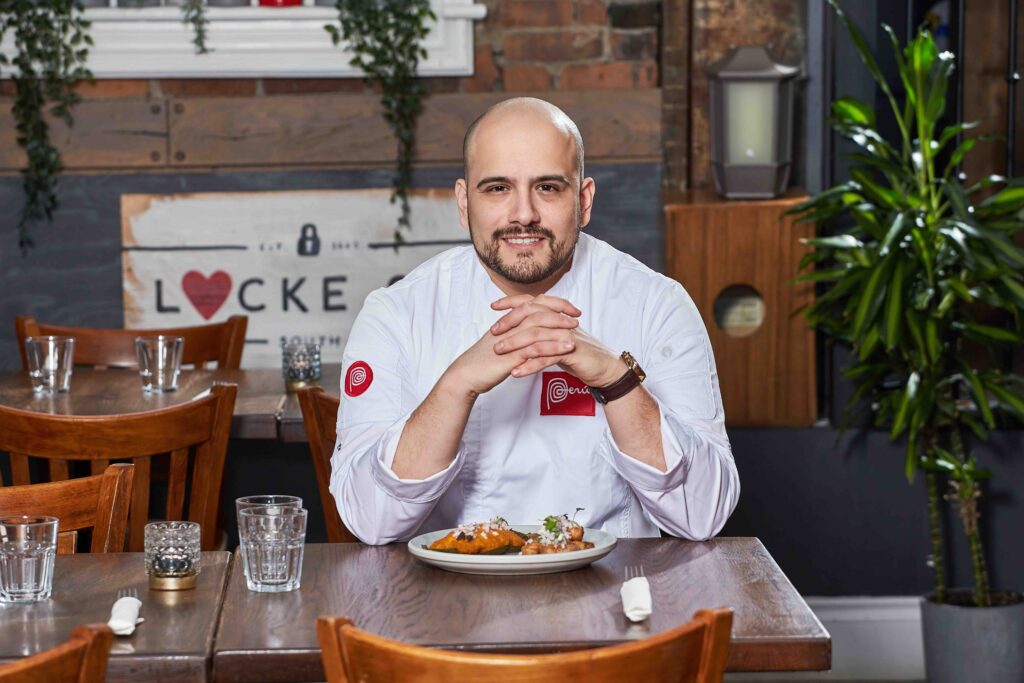 You'd be remiss for calling Peruvian food "fusion." Rather, the Latin cuisine that spans global cultures is steeped in a history uniquely its own. No one knows that better than Gianluca Lulli – chef-owner of Peruviano.
Lulli's mother is Peruvian while his father is of Italian descent. And with flavour-packed empanadas and pesto chicken on the menu, Lulli's cultural background is evident at Peruviano. But a deep dive into Peruvian cooking is so much more than a good meal. As Lulli puts it, it's a masterclass in gastronomic history, with a side of geography.
"So many things came together in Peru to influence its cuisine. Some, of course, with a darker history. At Peruviano, we want to respect that, while also modernizing our food. So, when you're eating our dishes, focus on the flavour, the texture, and the story," he advises. "Don't be afraid to ask questions."
The migration of people to Peru from Africa, Japan, and China is one such remarkable story. While some travelled to Peru for the promise of land, others were sent as slaves. Today, the country's diaspora is reflected in a wide range of dishes.
"Peru has one of the highest populations of Chinese living outside of China, so the wok and soy sauce are integral to our cuisine," Lulli says. "And the Japanese taught us how to perfect ceviche by making it sashimi-style using lime to lightly cook the fish."
Chinese and Japanese influences are so engrained in Peruvian cooking they've evolved in to their own sub-cuisines. Chifa is the word to describe Chinese-Peruvian food, while Nikkei is the Japanese equivalent.
Lulli's favourite dishes, however, are of African-Peruvian origin and traditionally made using "off cuts" of meat. A common street food, anticuchos, are skewered beef hearts cooked over charcoal and basted in pepper sauce. Aji de gallina, on the other hand, is a rich and comforting chicken stew that Lulli serves in a pepper, onion and cheese sauce.
The diversity of Peru's landscape also lends to its culinary story, Lulli says. The coastal desert is a source for seafood, the Andes home to grains and potatoes, and the jungle brings a plethora of fresh produce and wild game.
But it's Lulli's personal story that's most telling at Peruviano. Before going to culinary school and opening his restaurant, Lulli had a successful career in corporate finance.
"Financially, I was doing well. But, over time, the warning that 'money doesn't make you happy' started to ring true. I was waking up every morning and feeling like something was missing," he recalls.
So, one day, Lulli decided to quit his job and travel, tasting new and interesting foods along the way.
"The experience gave me time to think, and I came to the realization that my family has such a rich history of food, and I love to work with my hands. Cooking could be the answer to my existential crisis," he adds.
After all, Lulli grew up with food all around him. Both his parents were in the business, and his grandfather was a baker. Cooking was also a pastime that bonded him to his mother, who, for Lulli, is "the most important person in the world."
"It's hard to describe, but when my mother makes a meal, there's a feeling that I get that I can't put in to words," he says. "I realized that, through cooking, I wanted to make other people feel that way, too."
Nicholas Chenje
Afrolicious
Pan-African
46 James St. N., Hamilton
afrolicious.ca
When Nicholas Chenje was growing up in New York, food was fuel – sustenance to run faster and jump further as an athlete.
"I used to do track and field, so I always had to maintain a certain amount of calories a day," Chenje recounts. "And one day, when I came home from school, I learned my mother had broken her foot. I expected my meals were all ready to go but, to my disappointment, she wasn't there to make them."
That's when Chenje taught himself to cook on the fly. By recreating his mother's dishes, he developed an understanding of how flavours work together to make meals that could not only power his body, but also feed a future career.
As luck would have it, the high school Chenje attended offered vocational cooking classes. So, in Grade 10, he enrolled in the program, and he's been cooking ever since.
"By the time I graduated high school, I already had a culinary associate certificate and a solid idea of my end goal," says Chenje, who would go on to attend the Culinary Institute of New York at Munroe College.
To help hone his skills, Chenje later spent a year cooking in Italy before working in top restaurants in New York and Toronto.
"I always knew what I wanted to do, and I never took a side road," he adds "I stuck to that road, and I'm still on that road. Cooking pushed and propelled me to go further than I ever imagined, and to be in the position where I am now after 15 years in the industry."
Today, as the executive chef at Afrolicious, Chenje uses his classical cooking skills to take diners on a "food journey" of Black flavours.
"We try to differentiate ourselves from the norm in terms of African restaurants," he explains. "Typically, African restaurants in North America are Ethiopian or Nigerian, because they have the biggest region and popularity. We don't want to identify ourselves as one region. We want to show that Africa is a large continent with lots of cooking styles and techniques."
And while Chenje's menu features a number of Pan-African specialties, including curried meats and plant-based stews, Afrolicious is also home to North American favourites, like burgers and wings. These are served with a range of African flavours and garnishes – from Morrocan spice blends to hot pilli pilli sauce.
"The flavour complexity in our dishes comes from a spice explosion, but not to overwhelm your palate," Chenje says. "I try to find a balance between spicy and savoury so it's enjoyable, and because I still revert to classical cuisine and, often, simplicity is the best way to go."
When Chenje's not cooking, you can find him behind his DJ decks, playing Afro-house beats. Music gives him an outlet outside of the kitchen, while serving as another way he shares African culture with the wider community.
"Every year, on Zimbabwean Independence Day, we throw a big party and celebrate," Chenje says. "There's a lot of the same food and sounds that we grew up with so it's really exciting for people who are curious about our culture to check out."
John Chee
Fisticuffs
Chinese-Malaysian
301 Barton St. E., Hamilton
fisticuffsrestaurant.com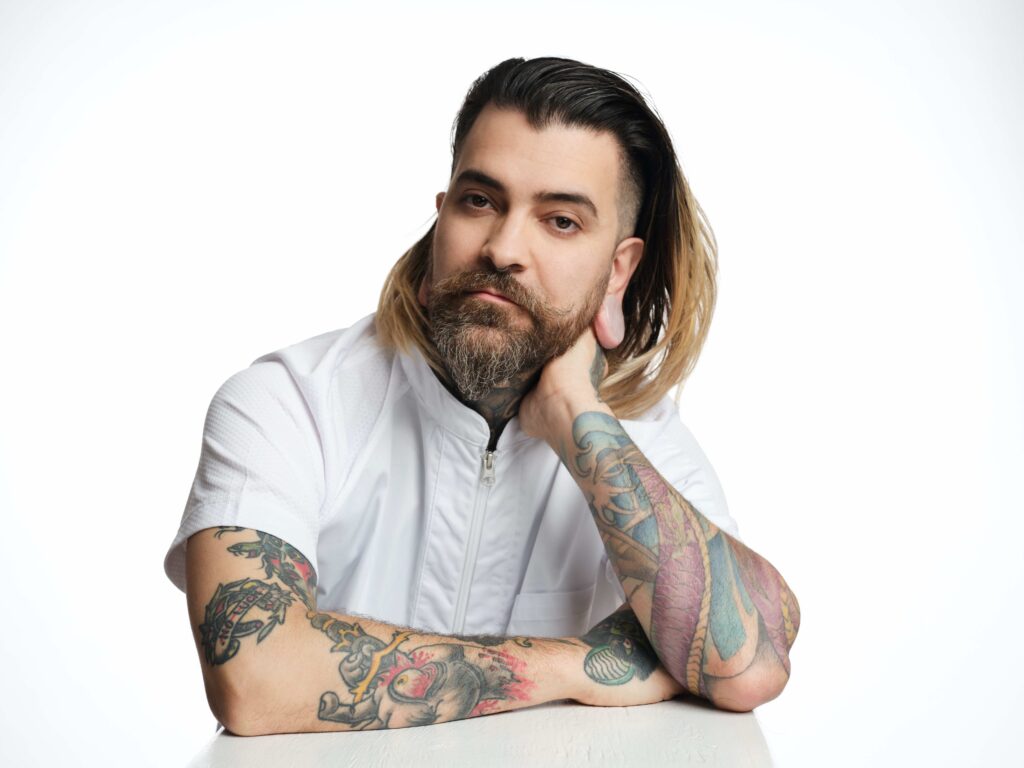 Fortunately for food lovers in Hamilton, John Chee's career path took a less dangerous, and far tastier, twist.
"Originally, I wanted to blow things up on movie sets," says Chee, who studied chemistry in university while working in restaurant kitchens. "I sort of fell in to cooking because I got promoted to junior sous chef, and my career grew from there."
For Chee, the thrill of a busy dinner service is a lot like detonating fireworks. So, rather than concentrate on special effects, the chef-owner of Fisticuffs decided to fuse their background in science with a promising career in culinary art.
"Restaurants were always the kind of environment I really liked," Chee explains. "Whether it was working in Toronto and New York, or in Michelin-star restaurants in Europe, I just fell in love with the rush of being in the kitchen."
Over the course of their career, Chee's cooked a wide range of cuisines – from contemporary fine-dining to casual southern-comfort food, and traditional Basque tapas to Middle-Eastern dishes prepared on an open-fire hearth. 
So, when it came time to open Fisticuffs in late 2022, Chee and their partner, Caitlin, turned to "flavours from back home" for inspiration and a restaurant concept.
"We wanted to create a company that was based on our backgrounds – Caitlin being Chinese-Malaysian and my family being from the Balkans. And we wanted it to be our own take on the cuisine – the second generation looking at what their grandparents cooked, and making it for themselves to create new traditions," Chee says.
What the pair landed on was a restaurant with an elevated, night-market feel, and a menu celebrating the myriad of south-east Asian flavours typically found in food stalls in Panang, Kuala Lumpur and Singapore.
A commitment to sourcing authentic ingredients adds to the experience at Fisticuffs. Chee imports soy sauces, spices and seafood from the region, and the noodles in his Hokkien mee are hand-made. The sweet-and-salty dish is served alongside soft-shelled crab, gai lan (Chinese broccoli), and a nduja sauce topped with cotton candy-esque pork floss.
"The experience at Fisticuffs is fun, vibrant and alive, with a sensory overload of flavours," Chee explains. "That mix of comfort dishes that people know and open-air cooking over charcoal they can only get from hawker markets. And while there's a lot of things we do on our menu that are authentic, there's also a lot of things we do that aren't traditional. But the flavours of each dish, and how they work together, is something everyone can get behind."
A carefully curated craft beer list completes the night-market experience because, as Chee aptly puts it, "You're not going to go to a hawker market and find a Chablis."
While Fisticuffs is a newer addition to the local food scene, the restaurant has quickly become a destination for diners in the city, and beyond.
"We really wanted to do something different and new, and the community in Hamilton has been so welcoming," Chee says.
As for the future, Chee says plans are in the works for a second restaurant concept, a Balkan-inspired eatery specializing in wood-fire street food and wines from emerging European regions.
"The idea is to take the vibe from Fisticuffs and translate it into something a little bit more upscale."


Takayoshi Li & Yoshiyuki Aiba
Hanma
Japanese
103 King St. W., Dundas
hanmafoods.square.site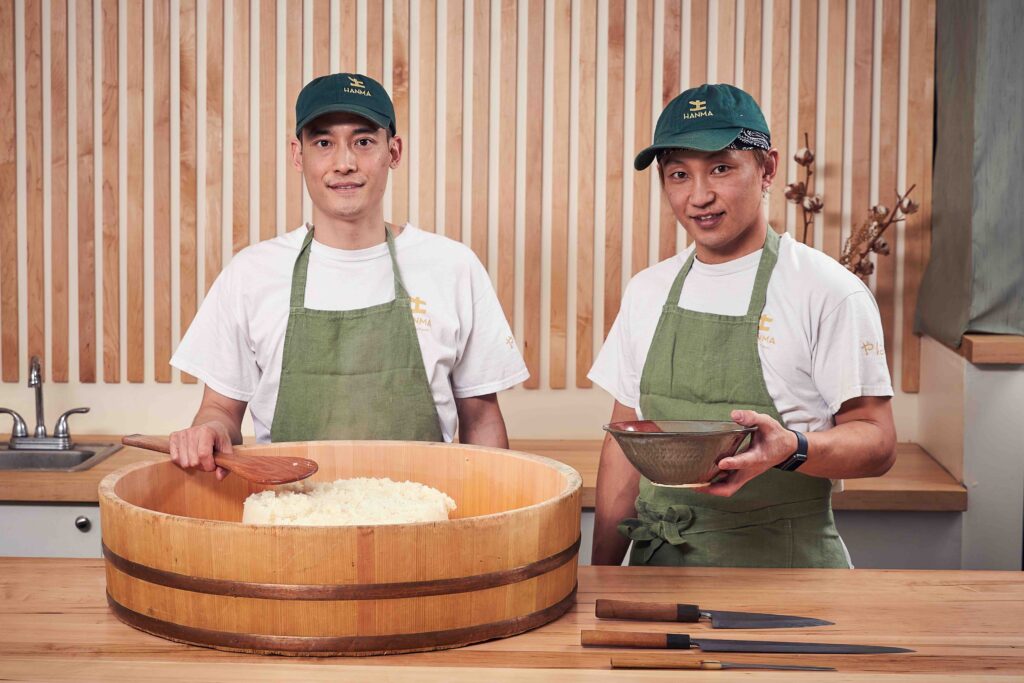 When Takayoshi Li was considering his future, his father, a seasoned restaurateur, gave him advice. "He said, you need to pick something and a diesel mechanic makes a lot of money," recalls Li, laughing.
But on his first day learning the trade, when fellow students asked about Li's favourite cars, he quickly realized he had zero passion for the automotive industry. Having spent the bulk of his youth working in his family's restaurants, he knew he loved to cook. He wanted to follow in his father's footsteps.
"The next day, I told my dad I wanted to cook seriously. I dropped out of school and enrolled in cooking classes," Li says. "I think he was happy with my decision and it was what he wanted. But he didn't want to force it – he knew restaurants could be a hard business."
Fast-forward to today, and Li knows first-hand how working long hours in hot kitchens can be tough. But the profession also comes with its rewards. Over his career, Li has cooked among some of Canada's most accomplished chefs, including in his hometown of Vancouver, where he earned his culinary chops at the city's top seafood restaurant.
And while Li always had his eyes set on working in New York City, it was while cooking French cuisine in Toronto that he had the fortune of meeting his future business partner, Yoshiyuki (Yoshi) Aiba.
Since then, the pair have worked side-by-side for more than a decade. Together, they would go on to cook locally at Ancaster Mill, where they led a brigade of cooks putting out fine-dining dishes for hundreds of people at a time, including large weddings parties.
So, when the pandemic put a pause on the hospitality industry, Li and Aiba found themselves in a rare and unusual position.
"Once everything stopped, we had time on our hands," Li says, adding it prompted him to consider the future again. "We thought, if we work so hard, why not try our own thing and see where it goes?"
To start, the pair hosted Japanese pop-up dining experiences. Eventually, these evolved into a side project selling pre-packaged snacks, sandwiches, and sushi bowls to local eateries across the city.
Slowly, Li and Aiba started to make a name for themselves. They decided to call their small enterprise Hanma – the Japanese word for "Hammer" and a playful nod to the city.
Then, in April 2022, they officially opened their doors in downtown Dundas. And while not the Big Apple of Li's culinary dreams, the pair is happy to have set up shop in the valley community – a mini food capital in its own right.
"The support's been really positive," Li says. "We always say, we're lucky to be in a community where people have a palate for good food and there are so many great spots along the main strip."
Today, Hanma offers sushi and sashimi rolls, bowls and platters. Much of the fish Hanma sources is produced using the ike jime method. The traditional Japanese technique spikes the brain to instantly kill the fish, maintaining the freshness and integrity of the meat.
Hard-to-find Japanese specialties are also on the menu. Onigiri are perfectly packaged rice triangles wrapped in nori, and stuffed with flavourful ingredients, including fish, pickled vegetables and tofu. A small grocery section carries fermented soy beans and Japanese sweets.
"For Yoshi and I, the pandemic brought us back to the food we grew up on, and to our childhoods," Li says. "I love cooking French food, but there's comfort to what we're doing now. A lot of what's on our menu are the same foods my dad used to make."