Supported housing provider Options for Independent Living and Development i

s a labour of life and love for mother and son Kathleen Ward and Michael Power. They are determined to fight for the future of their George Street family.
Whenever developers come to poke around the connected stretch of stately homes along George Street in Hamilton's west end, Michael Power tells them the same thing.
The 49 people who live there will have nowhere to go if these seven properties are redeveloped into condos or flipped for high-end rentals. And he won't stand for that.
There is no doubt he and his mother Kathleen Ward could simply cash in on the valuable real estate and retire. They could stop working seven days a week. They could go on vacations.
But instead, they continue the work Ward started close to 48 years ago, which is providing affordable housing and supportive programming for those who likely would otherwise fall through the cracks.
Power and Ward are behind Options for Independent Living and Development (OFILD), a residential community for people with intellectual and developmental challenges or mental health struggles.
The goal for each resident is the development of the self-awareness, self-esteem, and self-worth that fosters independence and happiness.
Spend some time here, in the gathering spaces The Hub or The Learning Kitchen, where plenty of crafts, games and themed educational activities happen, or in any of the beautiful interconnected outdoor spaces, and you are bound to be moved by a model that is entirely different from many of the group homes and residential care facilities in this city.
The residents gush about the place and family members arrive and leave with big smiles.
Visitors are greeted like old friends. Everyone talks about OFILD as home and family.
On the day I visit, there is a Victorian tea underway in The Hub. The day before, residents had a picnic at nearby Victoria Park. The next day, they were heading to a neighbourhood school to swim. Exercise is valued, as is the teaching of life skills, goal-setting and integration into the community.
There are trips to the movies, the theatre, concerts, the Royal Botanical Gardens, local festivals, tourist attractions and sporting events, often thanks to donated tickets.
But even where there aren't donations, Ward makes things happen.
"I believe so strongly in people getting out in the community to experience things," she says. "When we go out for dinner, everyone has their own money, orders their own meal, and pays for it. It helps them be ready to go out together in the community on their own."
OFILD's Strathcona neighbourhood is highly walkable and well-served by transit, allowing for access to shopping, recreation, and dining amenities, and most importantly, enhanced independence. Residents are encouraged to go out in the city in pairs or groups.
Ward often takes a chosen resident or two on shopping trips to Costco or Walmart and there is usually some kind of special treat involved. Ice cream or hotdogs are particular favourites.
The Residents
OFILD is about the farthest thing from an institutional setting as one could imagine. Some people come for day programs and go home to their families, but the majority live at OFILD. The youngest resident is 22 and the oldest is 73.
Eighty-five per cent of OFILD residents are female and more than half of them have lived there for more than a decade. For some, it's been much longer.
They line up to sing the praises of the place they call home. The same word keeps coming up.
Carol Anne has lived at OFILD for 30 years. She was scared when she lived on her own, she says.
"I have a wonderful life here."
Marilyn once lived in an apartment but felt cooped up all alone. She's lived at OFILD for about six years and is much happier now.
"I love this place. The staff here is wonderful," she says. "Kathleen is like a second mother to us."
Ryan comes to day programs five days a week. It's great comfort knowing that OFILD will be there for him after she's gone, says his mother Barb Ruaux.
"It's truly a wonderful place."
Jessie (not her real name), 38, is one of the newer residents at OFILD. She moved there about a year ago when her parents died.
"We have a lot of adventures here. This is definitely the place for me. My friends are like family."
Catherine lived at OFILD years ago. There, she learned to manage her schizophrenia before she was well enough to leave to raise a family.
Conflict with her youngest daughter brought her back to OFILD about a year ago.
"I called Kathleen when things got to a crisis point. It's been life-changing for me. It's like a secondary family," she says.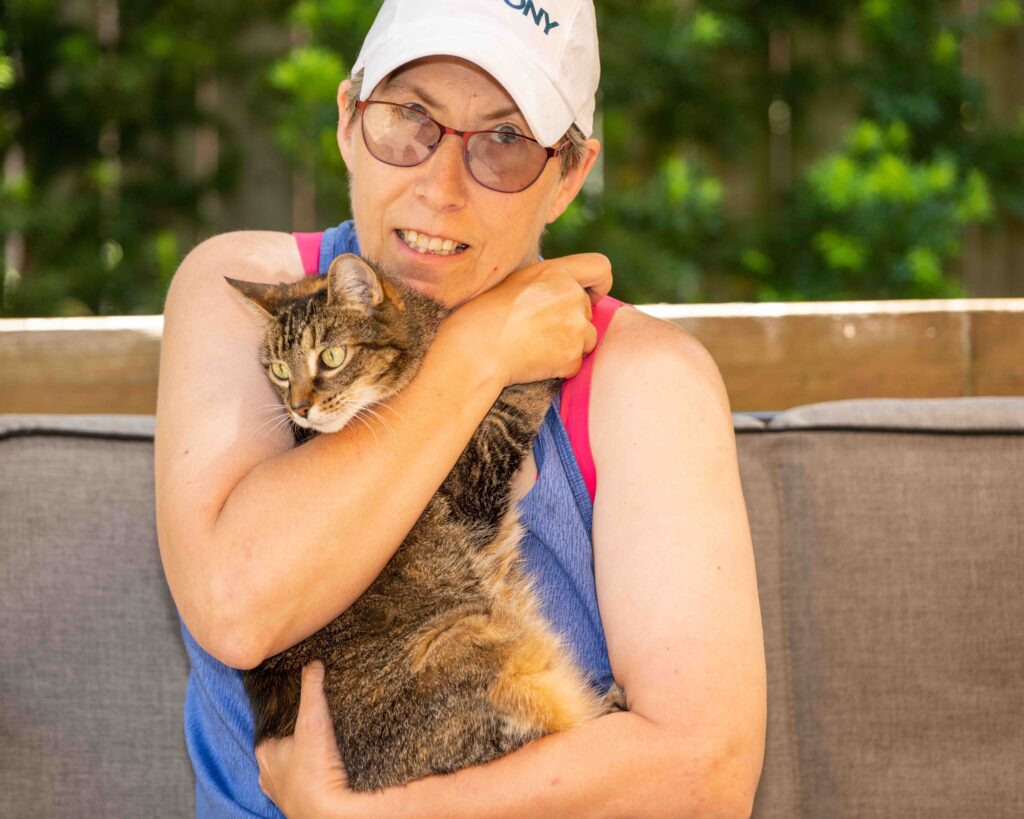 Walter has lived at OFILD for 31 years and does many custodial duties around the properties. He rhymes off dates of activities as if he's reading a calendar. He knows every facet of the weather, too. He once didn't engage much in activities, but now he's happy and loves to socialize, says Ward.
"Kathleen is proud of all of us," says Nancy, who has made a home at OFILD for 18 years. "It is marvelous here."
She's right. Ward is proud. Many of the residents have experienced trauma, hardship, and neglect. Some aged out of foster care and had nowhere to go. Others have not had their mental illness treated properly, resulting in addiction issues or troubles maintaining a home or a job.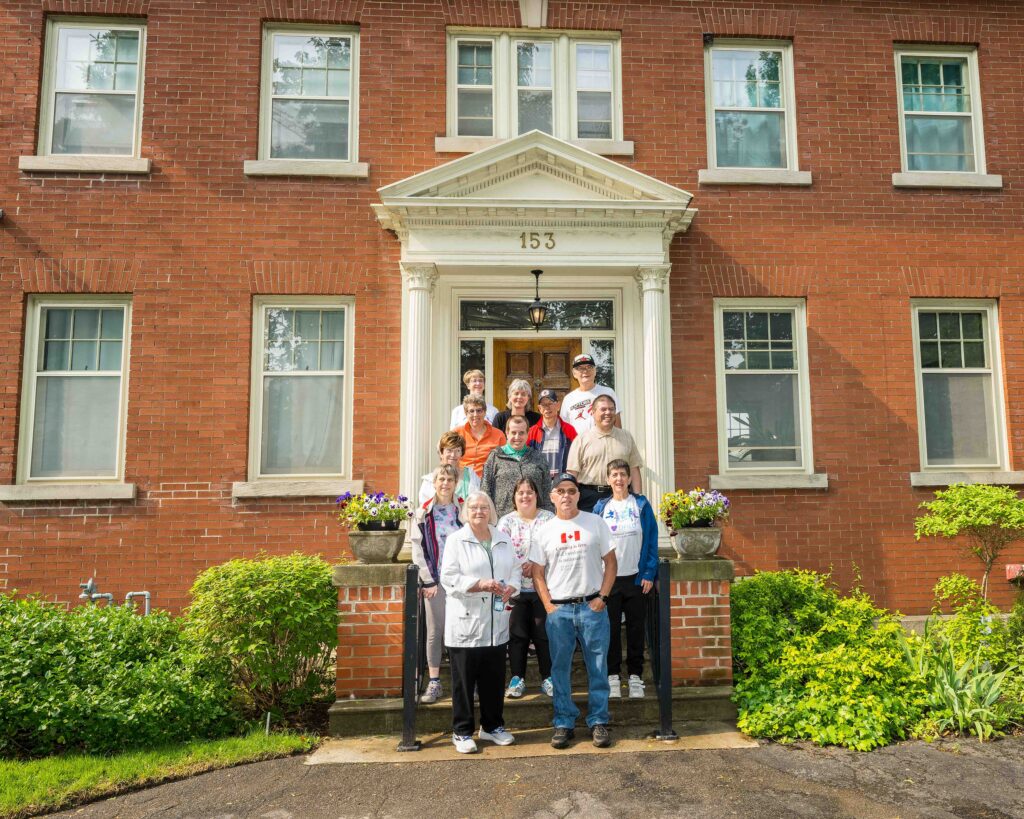 OFILD residents have come from psychiatric hospitals and homeless shelters. They've arrived after a parent has died or gone into a nursing home. Many still have loving families, but parents and siblings are aging.
Ward knows each person's story inside and out and she isn't afraid to advocate for them. She's confronted doctors, social workers, and governments to fight for what she thinks is right. She demands that the voices of her residents be heard.
"People are so much more than their diagnoses or the drugs they are taking. But we have high expectations for behaviour here, too."
That includes living by the Golden Rule and complete abstinence from alcohol or unprescribed drugs.
"We are unorthodox," says Michael. "We aren't for everybody but we are there for those who are counting on us."
Margaret Stradwick, program coordinator, says she knew that OFILD was the place for her after spending a day there eight years ago as part of her job interview.
"It called to me immediately. There is no better place to work than here. There is a great purpose to what we do."
Louise Anger, whose sister has lived at OFILD for five years, is constantly amazed by what she witnesses there.
"Kathleen sees people for who they are, not what they have been or what they've done. She sees potential, not what limits people."
Anger is grateful to the social worker who pointed her to OFILD when her sister had to leave her previous residence.
"I saw it and it was just so wonderful. I figured it would never happen, that the waiting list would be far too long. But we managed to get in. It's been a blessing for my sister. She is happy there. She has friends and things to do. She finds purpose in helping those less capable than she is. She's built a life there."
That is part of the culture at OFILD. Residents are given responsibilities based on their abilities and interests, such as laundry, cleaning up, helping with meal preparation or working in the gardens.
"Everyone needs a purpose and to see value in their contributions," says Anger.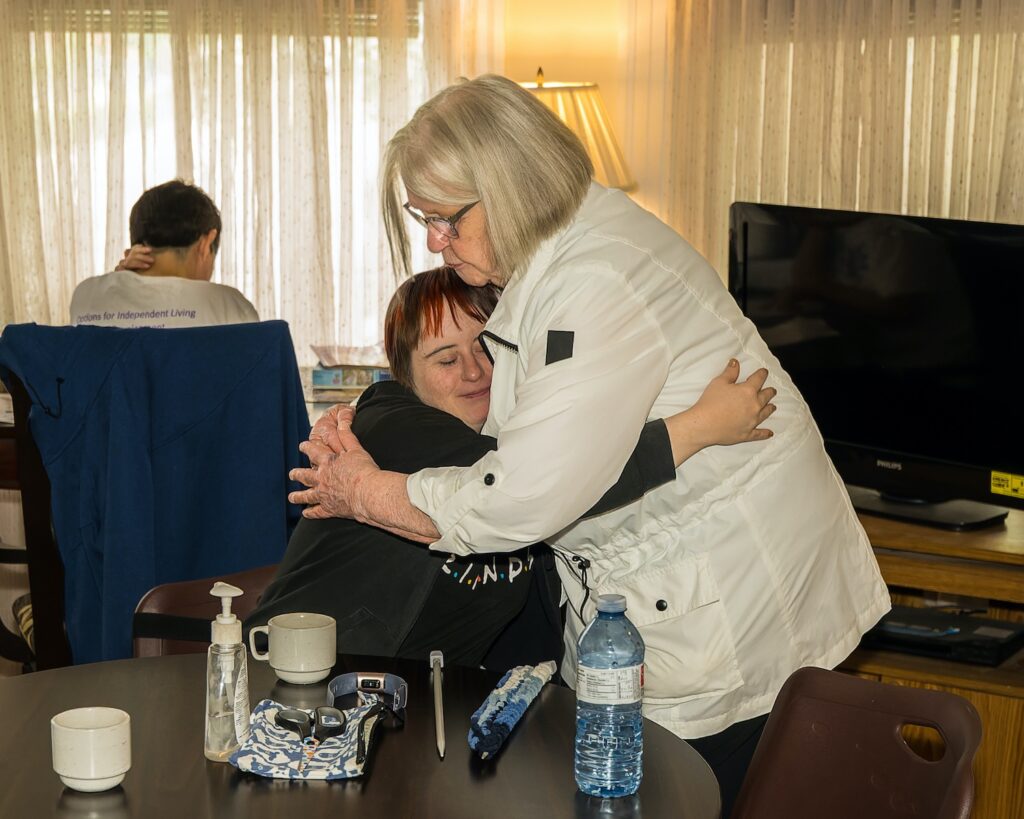 The Setting
Where there once were fences dividing backyard properties there are now pathways connecting colourful gardens growing flowers and vegetables, shady pergolas and decks with comfy lawn furniture, and open areas that frequently host barbecues and parties.
Power, who has planted many of the trees, bushes and vines himself, is justifiably proud of the surroundings. The property includes a greenhouse where the ferns and flowers are nurtured over the winter.
"It's so important to us that our residents can come to spend time outside, listen to the birds, watch the wildlife or grow things. There is great therapeutic value in that."
There is even a shaded corner where beloved pets are memorialized.
It goes without saying that the last few years have been a challenge. OFILD created its own bubble during the pandemic, so residents were never confined to their rooms, unlike many other care facilities. But during the height of COVID, field trips and outings were sidelined and family visits curtailed.
And residents who had part-time jobs or volunteer positions had to give them up.
And now, rising costs of food, utilities, insurance and other necessities are hitting hard. Staffing is an ongoing challenge and Power is frank: "I wish we could pay our staff more. They are incredible. They have sacrificed because they share the vision."
OFILD relies on 17 staff and a few volunteers.
"We run this as a calling. We've all sacrificed to hold on and defend what we do," he says.
Jo-Ann Fougere has worked at OFILD for 28 years. Her mother was a 30-year employee when she retired.
"It's grown so much, it's incredible," she says. "I get love and appreciation and joy from my job. Some people hate their job, but I come home excited. They are my extended family."
Mother and Son
Ward and Power are about as humble as they come. It's hard to get them to take credit for what they've done. But she will talk for hours about the residents, what they've accomplished and the memories they've made together.
Looking every inch the kindly grandmother that she is, Ward is also fiesty. Power is logical and careful. Both are equally determined.
"They definitely broke the mold with Kathleen and Michael," says Anger. "They are big thinkers and nothing is impossible. Kathleen likes to say there is always a way, you just haven't thought of it yet."
The two have an "incredible bond and partnership," says Stradwick.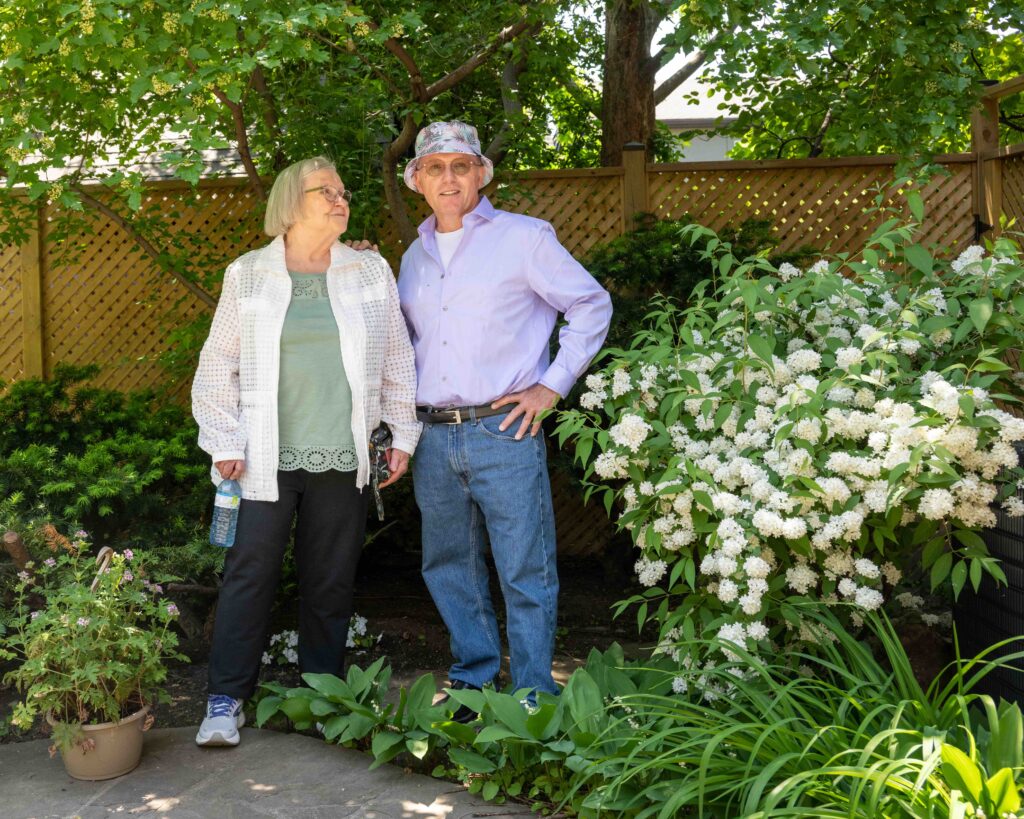 "They work through ideas, hash things out and decide together. It's unique and special."
Ward is grateful her son chose to join her in her life's work. She knew he was cut out for it when he was a toddler.
"He's an exceptional man. He cares very deeply. As a wee boy, he was wise. He understood the power of making a difference and that some people needed help."
It all began in 1977 when Ward, a single mother to Power and his sister, opened her home on James Street South under the Family Approved Home program of the 1970s. Her first residents were two foster children but soon she was taking in referrals from the city's psychiatric hospital.
Ward worked weekends at Hamilton's Elizabeth Fry Society group home, which housed women who had recently been discharged from prison. There, she learned to listen to the women's stories and came to appreciate that sometimes life deals unfair hands.
When Ward wanted to buy her own home to take people in, she had to rely on a kindly bank manager to approve a mortgage since those were the days when single women couldn't borrow money.
But she leveraged the equity in that first building at 255 Caroline St. to buy 153 George St. Over the last 35 years, under the operating company George Street Residences, equity was converted into buying the house next door and so on, until Ward and Power owned seven properties on George and Ray streets.
When I tell Ward she's inspirational, she's quick to evade the compliment.
"I am just lucky to have found what I was supposed to do with my life."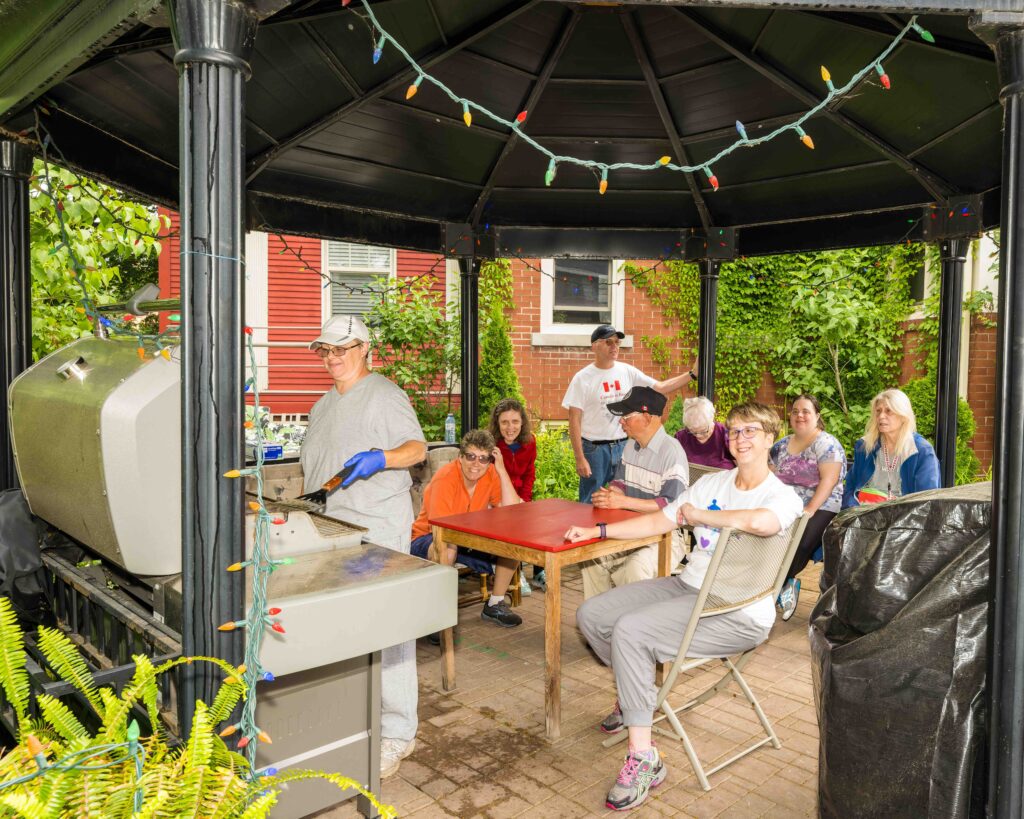 The Future
Not only do they continue their mission, but at 62 and 80 respectively, Power and Ward are gearing up for a major expansion.
As they age themselves, they see the average age of their residents climb to 57 and they are determined to ensure they can age in place. But none of the existing facilities at OFILD are accessible.
That will change with a new 15-bed complex that is expected to get underway this year. Fast on the heels of that construction project at the eastern end of OFILD's connected group of homes along George Street, will come the redevelopment of the organization's headquarters at 153 George St.
It is a handsome brick home that will be drastically expanded to 24 barrier-free units. It will feature plenty of common spaces and patios and large, sunbathed rooms with private bathrooms. OFILD, which sustains its operations with only the social assistance incomes of residents, gets no government funding and has previously done no fundraising.
But it is now hosting events and taking donations to raise money for this $8-million project. In 2014, OFILD became a charitable foundation, which allows it to collect donations but also to apply for grants it didn't have access to before.
"We are always looking to the future to make things more efficient and sustainable. We've weathered storms over almost 48 years, so we have the confidence to know better days will come," says Power.
He acknowledges it's an uphill battle to realize these expansion plans. Again, he and his mother could choose a much easier path. But they've not even considered it.
"Ultimately, failure isn't an option because our people are depending on us. Where can they go? We need to ensure the future of this place. That's worth fighting for."
HOW YOU
CAN HELP
• OFILD is grateful for corporate and/or personal donations via Zeffy, a Canadian website dedicated to providing 100 per cent of every donation to the designated registered charity beneficiary. Zeffy provides charitable donation tax receipts and can be accessed at ofild.ca.
• Donations may also be made by cheque payable to OFILD and mailed to 41A Ray St. S., Hamilton, ON L8P 3V4. A charitable donation tax receipt will be provided.
• OFILD also welcomes corporate sponsors to oversee the furnishing of a suite in a future building.