When it comes to comfort-food cravings, there's nothing more satisfying than a hot-out-of-the-oven pizza. Thankfully for pizza lovers in our city, Hamilton is home to a growing number of piazzaiolos (pizza makers) specializing in a range of styles as rich as the sauces that smother their pies, and as diverse as the ingredients that top their crusts. From Neapolitan to New York-style pizza, here is a roundup of some of the city's best restaurants serving up seriously good 'za.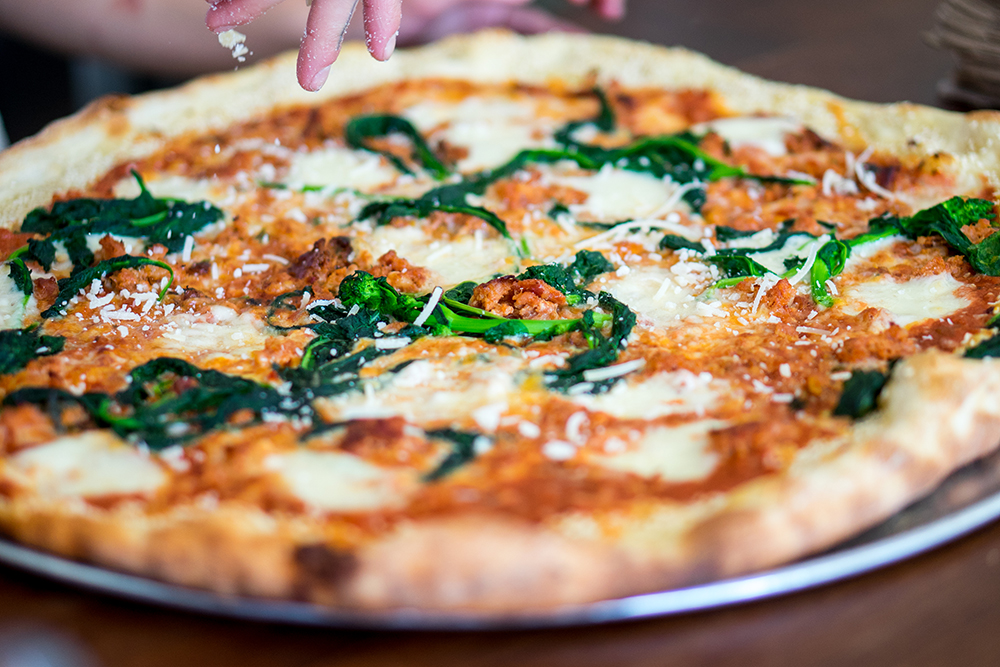 Shorty's Pizza
1099 Cannon St. E.
A "Brooklyn of the North" pizza parlour specializing in hand-stretched pies and big foldable slices
shortyspizza.ca
If only New York-style pizza will do, this Crown Point West pizzeria is a go-to for quintessential classics like cheese and pepperoni pies topped with silky marinara. A nod to more traditional Italian fare, a margherita with Grana Padano cheese and fresh basil is a favourite. Other choices include a spicy sausage pizza drizzled with hot honey, a mushroom and double-smoked bacon combo, and a Hawaiian with juicy chunks of pineapple to balance fiery peppers. All are served on a thinner crust with spot-on cheese-to-toppings ratios. Vegetarians are catered to with a white pizza with ricotta, pesto and lightly dressed arugula. Pro tip: Dipping sauces, like garlic dill and hot chili oil, are a must for cleaning your plate with chewier crusts.
Mai Pai
631 Barton St. E.
A kitschy pizza spot specializing in Detroit-style pies with eclectic toppings and a tiki-bar twist
maipai.ca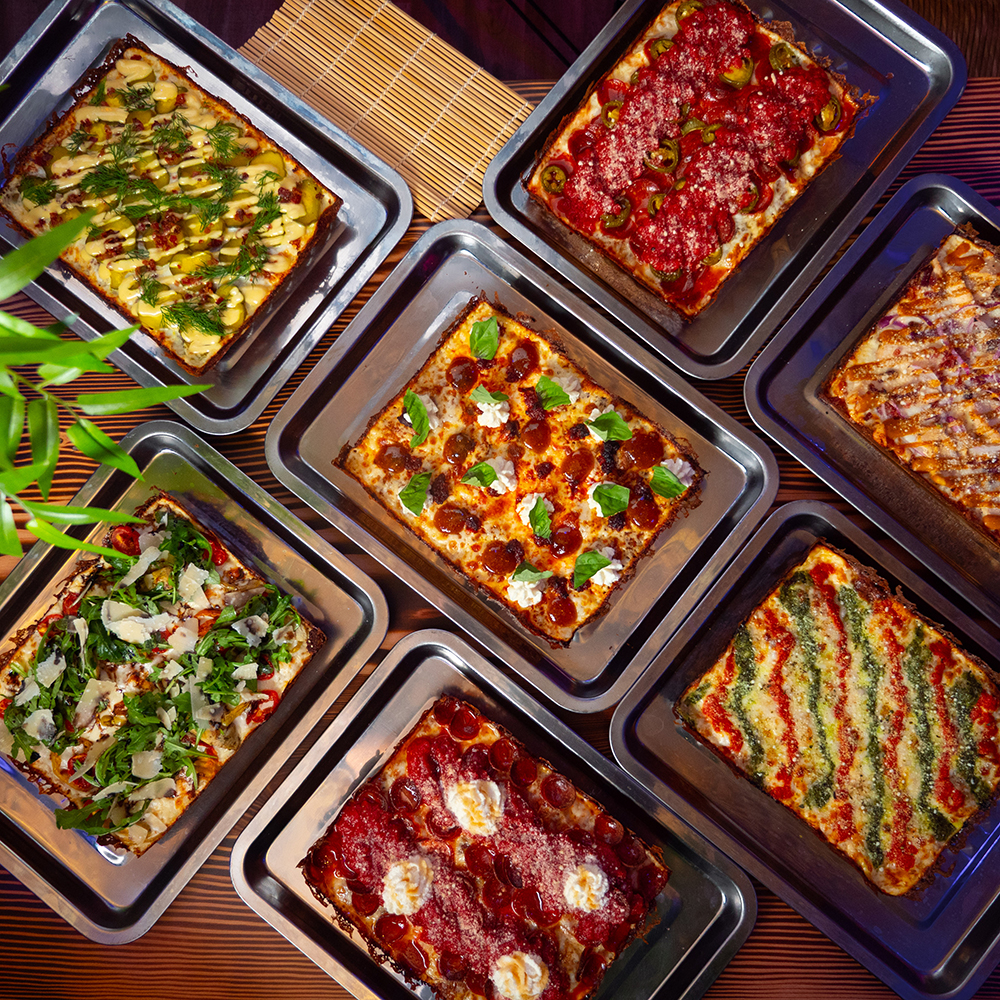 You don't need to look further than Barton Village for internationally acclaimed pizza. Mai Pai chef-owner Salar Madadi took home the top prize at the Canadian Pizza Summit this year for his made-in-Hamilton slant on Detroit-style pies (think unconventional toppings, like dill pickles, bacon and aioli on a thick, but airy, focaccia-like crust). An ode to the Motor City classic, Mai Pai's deep-dish pizzas ooze an edge-to-edge crown of melted cheese that forms a bottom layer of pure crunch. Square-cut slices are topped with dollops of red sauce and bold, yet balanced, ingredients for unique flavour combinations worthy of the accolades. What's as impressive is that Mai Pai offers vegetarian, vegan, and gluten-free versions of its pizzas without compromising on flavour or texture. Wash it down with a tropical drink from the resto's not-so-secret anymore "hidden" tiki bar.
Red Door Cucina
21 King St. W. (rear door access from 20-1/2 Park St.)
An off-the-beaten path neighbourhood gem for pizza, pastas, panini sandwiches, and more
reddoorcucina.com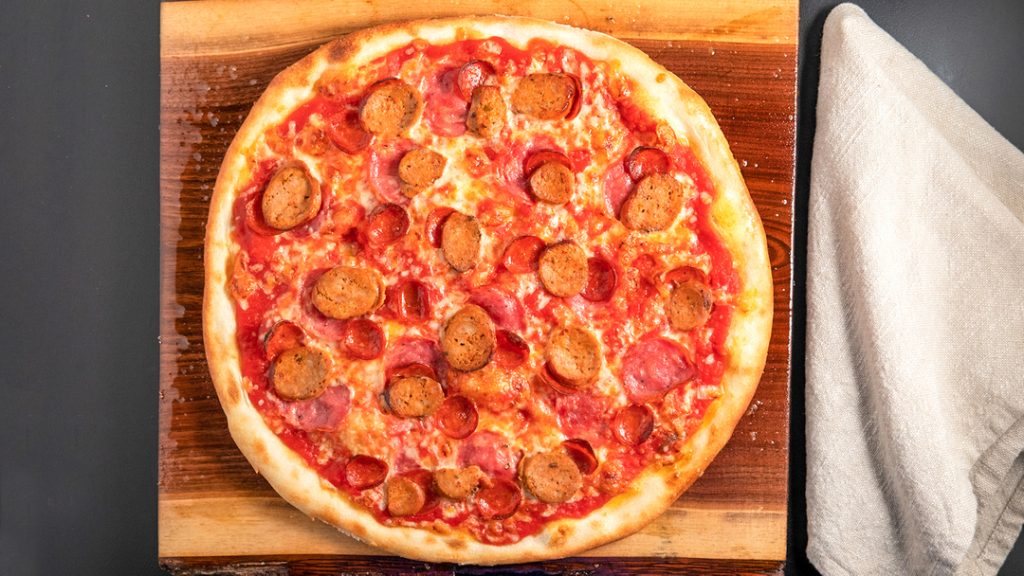 For a taste of Italy in Dundas, this hidden pizzeria with a rear entrance off the high street serves classic, thinner-crust pies that reflect the Neapolitan style of pizza making. The secret to Red Door's crust is doppio (double) zero flour imported from Italy. The finely ground flour is considered the gold standard for making pizzas that are stretchy yet still crispy. Pizza flavours span the spectrum of Italian and Canadian favourites, from pollo pesto with roasted chicken and caramelized onions and peppers, to primavera, with broccoli, mushrooms, and zucchini. Other menu items include fresh-made pastas in alfredo, meat, and red sauces. A wide selection of panini sandwiches, like housemade eggplant or chicken parm, means there's something for everyone behind the Red Door.
Chicago Style Pizza
534 Upper Sherman Ave.
A near-institution for deep-dish pizzas with a flaky, pie-like crust that's loaded with toppings
chicagostylepizza.ca
Big on portion size, and flavour, Chicago Style Pizza has been a Hamilton Mountain mainstay since the '70s. The restaurant pioneered deep-dish pizza in Hamilton after mastering the style in the Windy City. Since then, it's gained a reputation beyond city borders for its deeply satisfying pies that require a knife and fork to devour. Each pizza starts with a thin layer of dough that hugs the sides of the pan to form a cavern-like crust. The pies are stuffed with cheese, meats, veggies and red sauce, before being topped with another layer of dough and more sauce. From prep-time to piping-hot pie, it takes about 30 minutes for a large pizza to be served. Before carving into a slice, ownership offers words of wisdom worth heeding: "Stop after two slices. The large stuffed weighs in at an average of seven pounds! Don't even think about splitting a large between two people. A small stuffed serves three."
Flora Pizzeria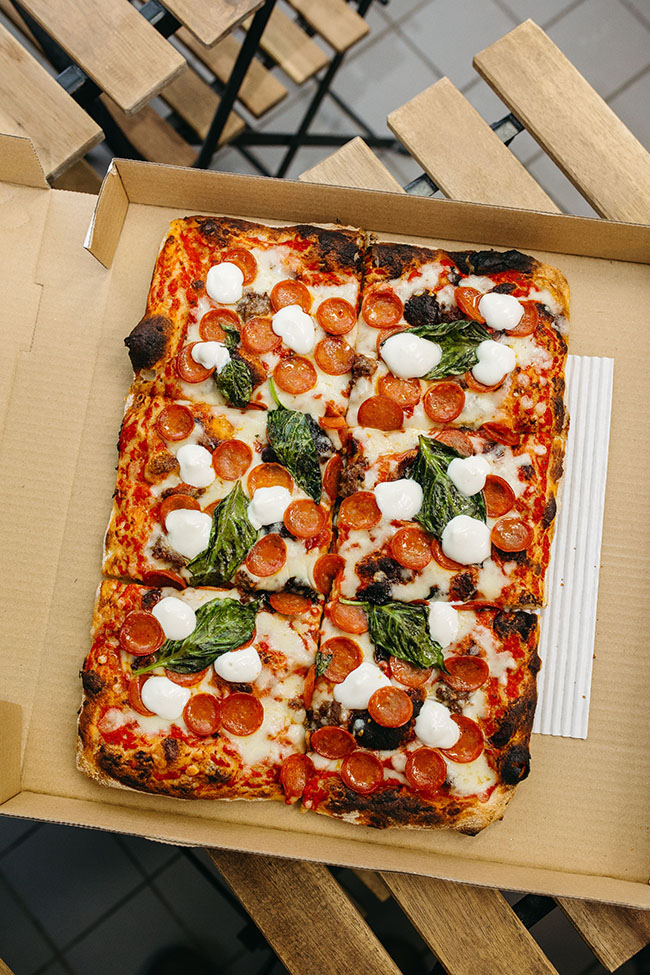 4 Young St.
A downtown destination for classic Italian flavours and fresh, local ingredients in slab form or as slices to go
florahamilton.ca
A newer addition to the Corktown neighbourhood, Flora Pizzeria has quickly become a favourite spot for Roman-style pizza served in perfect, rectangular slices. Whether it's the mortadella pizza topped with caramelized onions and fresh mozzarella, or the fungi made with wild mushrooms, shallot, and thyme, each pie is carefully crafted using the best quality ingredients so that every bite boasts a balance of thoughtful flavours. True to its Roman roots, Flora's recipe for in-house dough has a higher hydration and uses sourdough starter. The finished product is an airy, yet crispy crust with a light, crunchy texture. Ingredients, including the flour used to make the pizza, are often sourced locally, and Flora's menu changes seasonally to highlight the best local produce. Plus, the pizzeria's small pantry of oils, antipastos, and pastas lets you bring a taste of Italy home.
Cowabunga Pizzeria
536 Upper Wellington St.
A nod to every teenage hero in a half shell's favourite food, this playful pizzeria serves New York-style pies with a side of '90s nostalgia
@cowabungapizzeria
Bendable, blistery crusts and crispy bottoms uphold classic and more creative flavour combinations to (turtle) power your tastebuds. Options include cup-and-char pepperoni and cheese pies, or a garlicky green pizza with charred broccoli, kale, and jalapeno pesto. The spicy pesto sauce also makes a welcome appearance on "Our Marg" – a play on a traditional Margherita pie. The 1UP is a white pizza with fancier toppings, including truffle cream, Fior di Latte cheese, honey and smoked Maldon sea salt. To level up your 'za, Cowabunga also offers dipping sauces, including truffle-parmesan, jalapeno-ranch and garlic. A downtown location is in the works to keep up with demand.
The Attic Pizza Parlour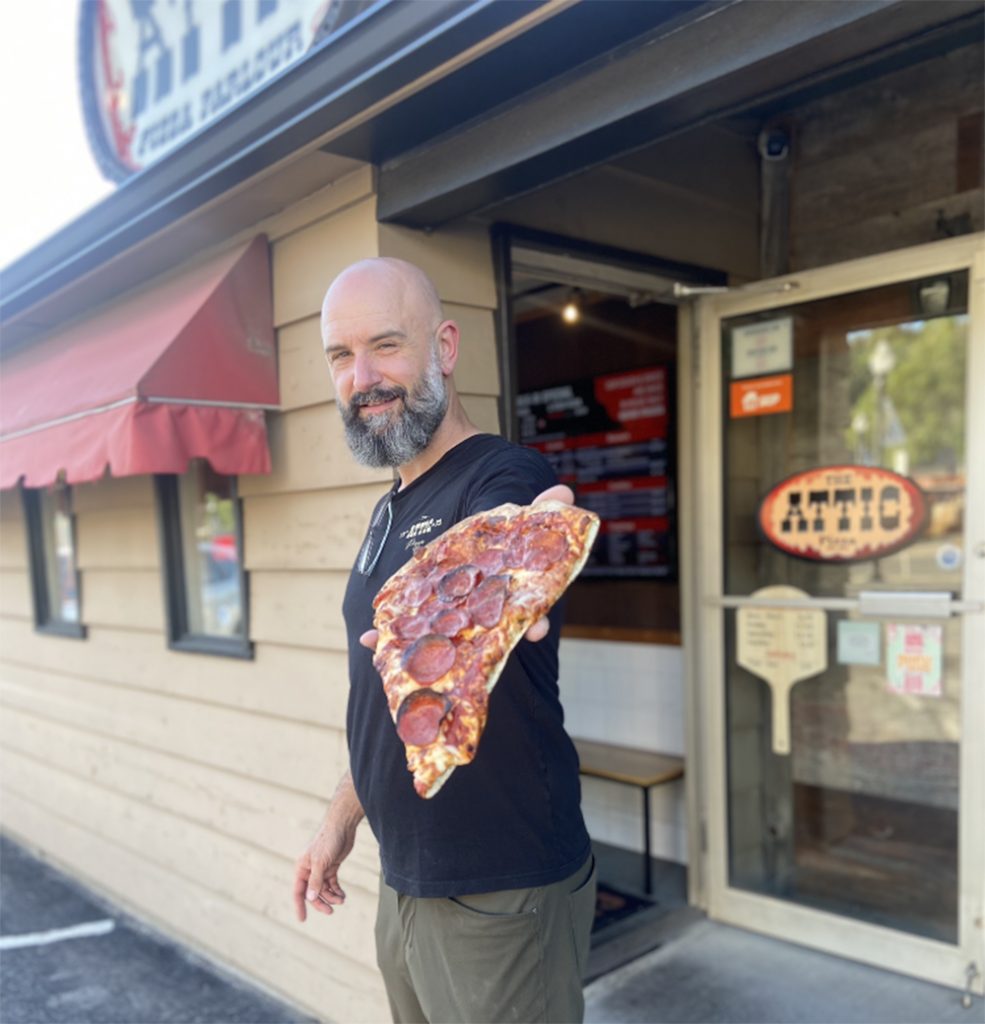 89 King St. E.
A fan favourite for when your sports bar crawl turns into a pizza crawl – with a side of crispy wings
theatticpizza.com
The Attic has been a Stoney Creek staple for winning pizzas that won't break your pocketbook since the early '70s. The restaurant makes its dough in-house daily, scoring extra points for its homemade red sauce and generous portion of toppings. You'll need to get your game face on for the Meatzza topped with pepperoni, sausage, bacon and ham. Make it an "ultimate" by adding chicken and ground beef. Non-meat eaters also have a number of veggie options to choose from. A pickle pizza drizzled with ranch sauce may appeal to the more adventurous palate. All Attic pies are available with thin or thick crusts, and gluten-free diners will appreciate a cauliflower pizza base. Dessert comes in pizza form, too. A s'mores pie on a graham cracker crust will have the whole team cheering for more!