Hamilton's dive-bar hero has made a career

 out of not taking himself too seriously.
Dive-bar hero. Comic-genius with no formal training. From a high-school slacker to a persona perfected over 20 years, B.A. Johnston epitomizes the DIY spirit and the art of not taking yourself too seriously. Case in point: his Twitter profile describes him as a "failed showman on the skids."
If you have never been to one of his live shows, beware. You might find him singing a song underneath your shirt or stirring your drink with a litter picker. Johnston loves to keep his audience guessing—and laughing—and participation is encouraged. Looking back on the journey, the artist admits he never planned on a career as a touring musician. It all just started with the promise of free beer.
"In high school, my friends' bands started to play the local bars around town," Johnston recalls. "I watched them get free drinks and I was jealous. The whole B.A. thing really just came from me wanting to make $40!"
After running into the Hamiltonian at Massey Hall in Toronto before a sold-out Pavement show, I caught up with Johnston later via Zoom. On a Friday afternoon, the conversation covered his strange and unexpected trip from there to here, his mentors and his artistic approach.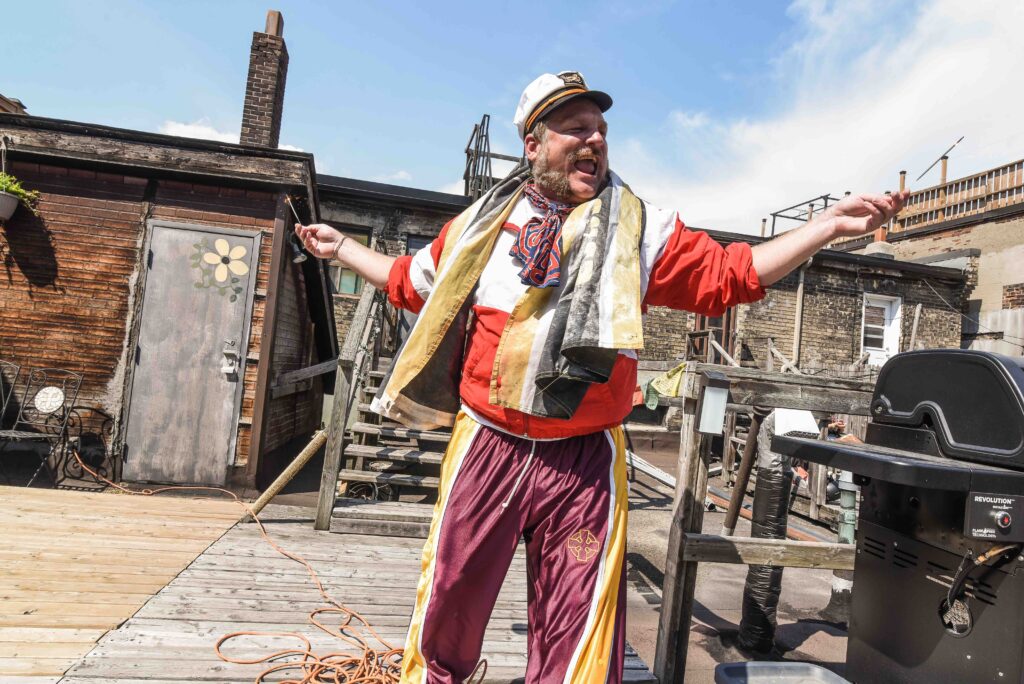 Johnston's earliest shows had no set list, no structure and he had no idea what he was doing. "I didn't have any songs when I first started," he recalls. "I just knew friends in bands and asked them constantly if I could open their shows. I remember my first show, I just crank-called my brother, recorded it and played this tape back of him getting really upset."
From his days as a bored, angst-filled teen, B.A. stands for "Bored Again." The moniker was chosen in haste to put something on a gig poster. It was not meant to be permanent. "I never liked that name," Johnston admits. "An old roommate thought it was funny. You don't think you are going to be doing something like this for this long. If somebody had told me then that I would do this forever, I would have come up with a better name!"
Johnston cites David Lee Roth as one of his mentors. What he took from the former Van Halen frontman are: his penchant to wear tight pants, his crazy jumping and "having false confidence in everything you do." Mayor McCa — the legendary Hamiltonian known for being a one-man band and who now calls London, England home, is another influence. "I remember calling all the bars and asking if he had an opener, not realizing you aren't supposed to do that," Johnston recalls. "They added me to all of his gigs. Mayor McCa eventually found out I was opening six of his shows and just told me to come in the van with him."
While Johnston performed occasionally in Hamilton-area clubs during high school, he honed his act further down the highway. While studying philosophy at Trent University in Peterborough, Ont., he worked part-time booking bands at local watering hole The Trasheteria. This gave him an in. "I didn't have the moral scruples of some bar bookers. I booked myself to open shows."
Twenty years on, 13 albums later, and endless nights criss-crossing this country on a Greyhound bus or in a mini-van, Johnston is still on the road singing his comedic songs – heavy with pop-culture references – anywhere and for anyone. One night a dive bar, the next a house concert. While getting drunk with his fans was a regular occurrence in the early days, today the performer is more often content to stay sober and take a bath after one of his sweaty sets.
Werewolves of London Ontario, Johnston's most recent record, was released in June 2022 and features another 19 tongue-in-cheek gems like: "Hit By a Senior," "There's a Hair in my Donair," "Why Can't Tonight Be Wing Night," and "I Don't Buy No Government Weed (Still Buying from Steve)."
"You write about what you know," Johnston says. "My songs are so bad you have to make them funny. I could not do what I do straight or serious … it would be even more annoying! I say a spoonful of sugar helps the medicine go down, but if you're going to have a sad song that is a little funny, you want people to laugh about it before they realize it is actually a tragedy."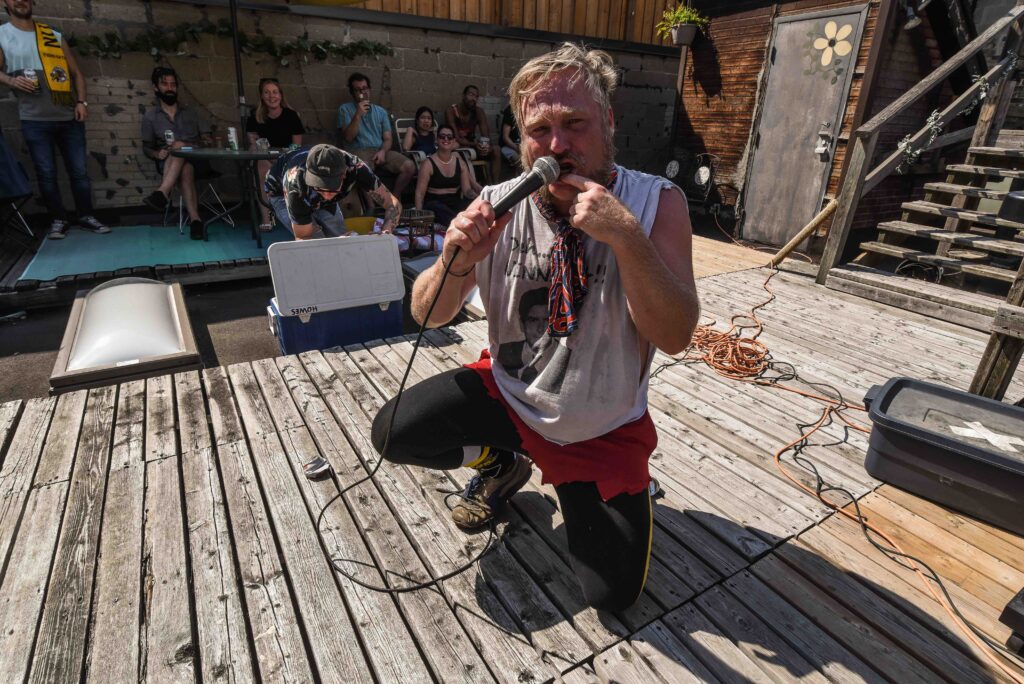 As our conversation comes to a close, talk turns to Johnston's ambivalence towards Hamilton and his gratitude for what he gets to do for a living. The Tiger-Cats season ticket holder loves his hometown, but also admits it's weird watching the city change from the "loveable loser it was" to "Hamilton is home T-shirt wearing people."
"I miss the Hamilton of my youth," Johnston concludes. "Everything now is so shiny … I don't like it. I preferred when the city was cobwebs and rusty nails!
"My life is a Scooby-Doo loop," he adds. "It just repeats … the background just changes. I had a buddy quit music for a while and went to work at a call centre. I saw him a month later and he had a whole tour booked. I asked him what was going on and he replied, 'The worst day as a musician is better than the best day at a call centre.' I agree. I'm just trying to avoid that as long as I can."
'We're All Going to Jail (Except Pete, He's Going to Die)'
Authentic songs like this are the ones Johnston loves the most. "They are much easier to write," he says. "You just have to hang out with a Pete and everyone has got a Pete!"
Here is the short version direct from the songwriter on how "We're All Going to Jail (Except Pete, he's going to Die)," came to be: "Three old men ate some mushrooms that I traded an LP for in Halifax, Nova Scotia, before a Van Halen concert. The mushrooms were very strong. Pete ended up running away from imaginary security guards. My bud Pinky and I assumed Pete had died. We still wanted to see Van Halen, so we didn't look for him. Pete came back 30 minutes later with his clothes on inside out (to hide from security) asking if we saw the invisible guards. We hadn't!"