In addition to one-day celebratory event, 

organizers host fundraisers, socials and plenty of information-sharing.
Binbrook may only be 20 kilometres or so from the heart of downtown Hamilton, but when it comes to the ability to access resources for the 2SLGBTQ+ community, sometimes that's an uncrossable distance.
That's especially true for young people and that's why Cohen Glaw started Binbrook Pride in 2019.
A trans, two-spirit male, Glaw was finding that friends and acquaintances were coming to him for support and guidance for themselves or their children. He felt compelled to help where he could because he grew up in Binbrook not knowing anyone else like him.
The first Pride day was an outdoor gathering in the courtyard near the Tim Hortons in the centre of town in 2020. Ironically, virtually every other Pride, including the massive event in Toronto was cancelled due to the pandemic.
Glaw set up a table and some rainbow decorations and played music. About 30 people stopped by to chat. From that, a committee formed and got to work. Since then, Pride has been held at the fairgrounds and it now attracts about 350 people for information booths, vendors, food trucks, drag performances and live music.
"People brought blankets and chairs and stayed the whole day. It was great," says committee member Sarah Johnson. She has a child in the 2SLGBTQ+ community and is grateful for the connections the organization is building in her hometown, where her family has lived for eight generations.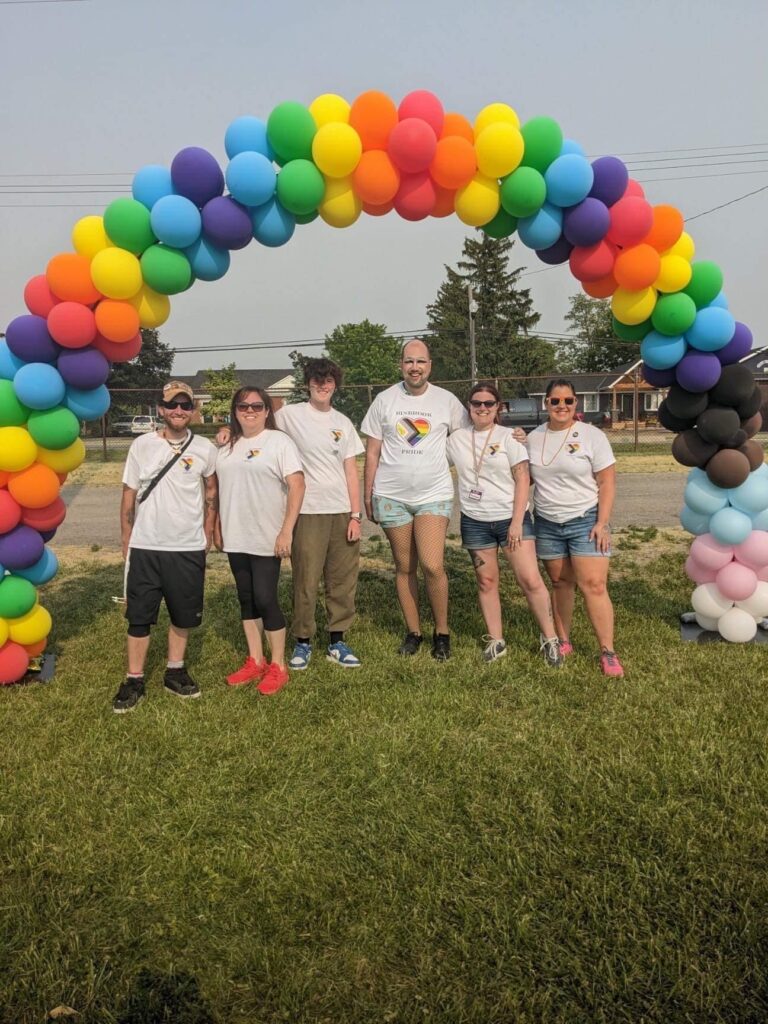 Both Glaw and Johnson were touched last year when a man, who looked to be in an 80s, came by and was close to tears.
"He said he thought he was the only one like him," said Glaw.
Binbrook Pride isn't just about a colourful one-day June gathering at the local fairgrounds, the group holds gatherings throughout the year. There are fundraisers, socials, drag shows and plenty of information-sharing.
Not everyone drives, says Johnson, and Binbrook has no transit service, so it's difficult for those looking for help in understanding themselves or to meet others in the 2SLGBTQ+ community.
In a climate where intolerance is growing and those filled with hate are feeling emboldened to interrupt Pride gatherings or protest drag queen story times, Glaw and Johnson are pleased to say their events have been free of that.
Aside from a few hateful comments on social media – which immediately get blocked – the reception has only been positive.
"People drive by honking and waving," says Glaw, who is a stay-at-home dad and a trained chef.
And people tell organizers just how much the rural community needs Pride. "I think we are showing people they don't have to leave the country if they don't want to in order to be themselves."