Hamilton-based housing provider Indwell has grown

 from operating a single group home on Locke Street to building affordable housing across southern Ontario.


It's not often that people cheer the destruction of a local landmark. And yet, when workers began ripping apart the windowless – and derelict – Ottawa Street North bunker that was the former site of the C.D. Bar Club, the general response in the neighbourhood was relief, even joy. The aptly named bar was a magnet for trouble and crime, culminating in a handful of high-profile stabbings and shootings that forced its closure in 2008. The building then sat empty for nearly a decade and a half, even as the neighbourhood around it came alive with the arrival of new businesses like The Cannon coffee shop, Murray's Farm Butcher Shoppe and HAMBRGR.
What makes the gutting of the C.D. Bar Club even better is what is being built in its place: not expensive condos or a mega-sized pharmacy outlet, but a new four-storey building that combines ground-floor commercial space with 32 specially designed affordable housing units. A further 12 affordable units are being built in the building next door, which was once a hotel but has sat vacant and has recently been razed. "We're in the middle of a housing crisis, and this is actually the first good news we've heard in a while," says Tim Hannah, co-owner of The City & The City Books, which sits kitty-corner from the planned Ottawa Street buildings. "What people forget is that interesting small businesses and restaurants are great, but that's not what makes a neighbourhood. What makes a neighbourhood is people."
The organization behind this transformation is Indwell, an ambitious and ever-growing Christian charity that, for more than two decades, has been creating housing opportunities for people in need in Hamilton and in a handful of other southern Ontario communities.
Indwell began life in the mid-1970s as a grassroots response to the then-provincial government's "deinstitutionalization" policy, which saw the number of beds in psychiatric hospitals cut by more than half. Community-based funding and resources were slow to appear, resulting in a steep rise in homelessness. A small group of like-minded churchgoers in Hamilton began taking people in need into their own homes. Later, they developed and ran a group home called The Homestead, located on Locke Street South, near Aberdeen Avenue.
The Homestead project, plagued by annual deficits, nearly collapsed by the end of the 1990s. A generous donation from Bill Voortman, co-founder of Voortman Cookies, allowed it to transform itself into Indwell, broaden its mission, and scale up. In 2000, Indwell bought its first apartment building, a six-storey structure on Caroline North. The organization now owns and oversees 19 buildings – 10 of those in Hamilton. A further 11 projects are either in pre-planning mode or already under construction. There are Indwell buildings in Waterloo, London, Mississauga, and elsewhere. The largest is The Oaks, built within a former dairy on East Avenue North, which contains 108 units in its three main structures, with a further 31 units expected to be added in 2023. The smallest is the Railway City Lofts in St. Thomas, south of London, which contains 15 units. Overall, Indwell has more than 1,100 tenants, all of whom would otherwise find it nearly impossible to find safe, affordable accommodations.
Graham Cubitt, Indwell's director of projects and development, insists that, despite its massive and continuing expansion, the charity's core outlook has not changed much. "It's the same organization," Cubitt says, "with the same vision of how do we prevent and end homelessness by supporting people to maximize their independence despite life's challenges."
Indwell wears its religious dimension on its sleeve. The organization's website notes that "Christians use the word 'indwell' to reference the change they observe in themselves when the Holy Spirit lives in them, and they become more like Jesus in their actions, desires, and their consideration for others." Despite that specifically Christian focus, the site also notes that "our supports, services, and employment are open to people from every creed, race, ethnicity, sex, ability, sexual orientation, and gender identity."
Cubitt has been at Indwell for most of its history, becoming a director in 2004, a few years after graduating from Redeemer University, a religious post-secondary school in Ancaster. He sees Indwell's transition from running a single modest group home to owning dozens of buildings as a matter of necessity. "Our history had brought us to a place where we knew how to run good supportive housing but we needed more housing to be built," he says. "We were doing all this advocacy, but somebody's got to actually build it, so we figured out how to become developers. How to find land, how to go through a design process, how to invent new program models and launch them." Indwell's growth and success recently led it to create a separate not-for-profit company called Flourish, to act as a kind of consultant for other agencies or municipalities looking to build affordable housing. (Cubitt is also Flourish's president.)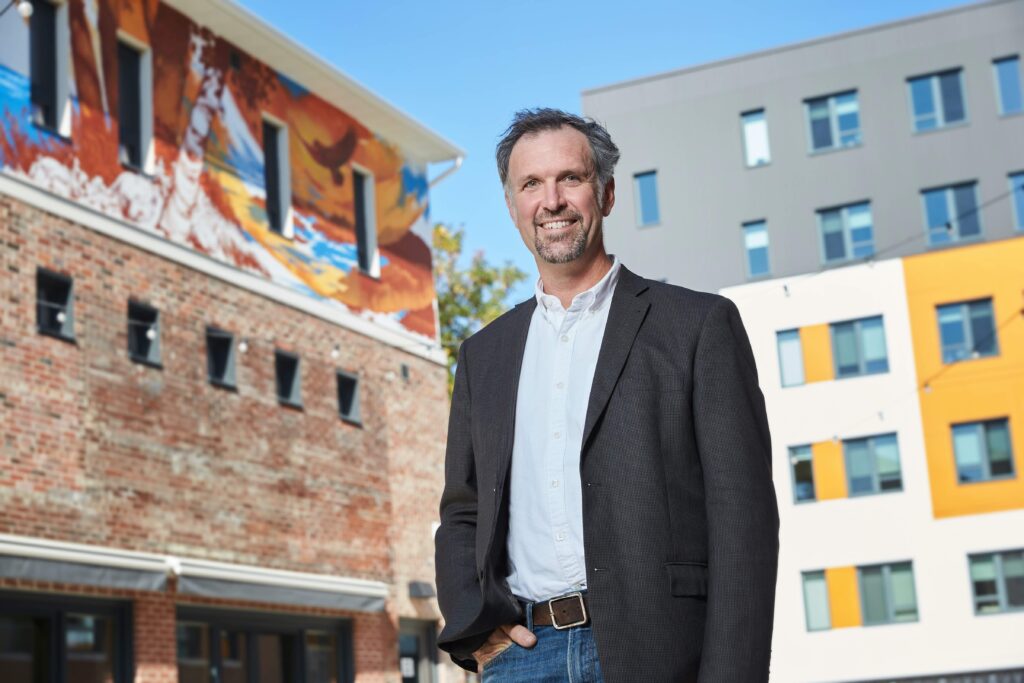 Cubitt points to the creation, in 2011, of the Perkins Centre on Main Street East as a turning point for Indwell – not only in terms of what the organization could accomplish, but how that project changed public perception of its work. The building used to house a nightclub on the ground floor, with a few dozen dive-style rooms above. It wasn't just beer and dancing: gun-trafficking was a fairly common activity at the location. "The cops said anytime the bar was open there were five or six officers needed here," Cubitt says. "Just a real classy place." After purchasing it through power of sale, Indwell gutted the existing structure in order to create a project with 46 affordable units. The space that once housed the nightclub is now a community centre, complete with a communal kitchen and multiple gathering areas.
The Perkins Centre was a kind of proof of concept for the organization. "It redefined Indwell," Cubitt says. "We weren't just a group home operator. We could do something about homelessness. We could do something about urban renewal. We could do something about creating beautiful spaces."
Most Indwell apartments are on the smallish side (the average unit size is between 300 and 400 square feet), but are built with large windows and good-quality materials. Tenants have a lot of flexibility in terms of layout. Often it's the small details that make a difference. Cubitt notes that tenants frequently note the quality of the washrooms in the units. "Over and over, people talk about how they've never had a safe washroom, one that worked right," he says.
One Indwell tenant, who wishes to remain anonymous, says that moving with her young family into affordable housing, after years of dealing with slumlords and aggressive neighbours, was deeply emotional. "The first week," she says, "I cried, because I finally felt at peace. We didn't realize the amount of stress we all carried until it was no longer there. Indwell provided not just a house, but a home; a place we can truly find rest."
Affordable housing often inspires visions of Soviet-style building blocks filled with desperate people who are mostly ignored by absentee landlords. Buildings overseen by the Toronto Community Housing Corporation, for example, regularly pop up in media stories about crumbling infrastructure and, more than a little ironically, score poorly on that city's own apartment evaluation program.
Cubitt is proud of the fact that Indwell's buildings are not merely functional, but in most cases, score high in terms of aesthetics. He points to the Rudy Hulst Commons building, directly across from the Perkins Centre, which houses Indwell's head offices on the lower levels, plus 47 affordable units on the floors above. If you're driving east on Main, the building is hard to miss; the striking structure has a vaguely Minecraft-ian black-and-white pattern running up and down its exterior walls. Beyond that, new Indwell projects are built according to rigorous Passive House standards of energy efficiency.
Creating spaces that look good and are well-managed helps get neighbourhood buy-in. Cubitt says he does see some complaints when a new project is announced, but that any NIMBYism is outweighed by welcoming comments. It helps that so many of the buildings Indwell takes over tend to be dangerously neglected eyesores. At one Indwell location, Cubitt notes, a local resident made a point of thanking Indwell for shoveling the sidewalks – a task that hadn't been completed for decades.
Indwell's ambition still falls far short of the need, however: roughly 6,000 people are on the City's wait lists for affordable housing. Tommy Taylor, the manager of community health programs at Hamilton Urban Core Community Health Centre says the issue of housing goes beyond simply ending homelessness – as if that were simple in itself.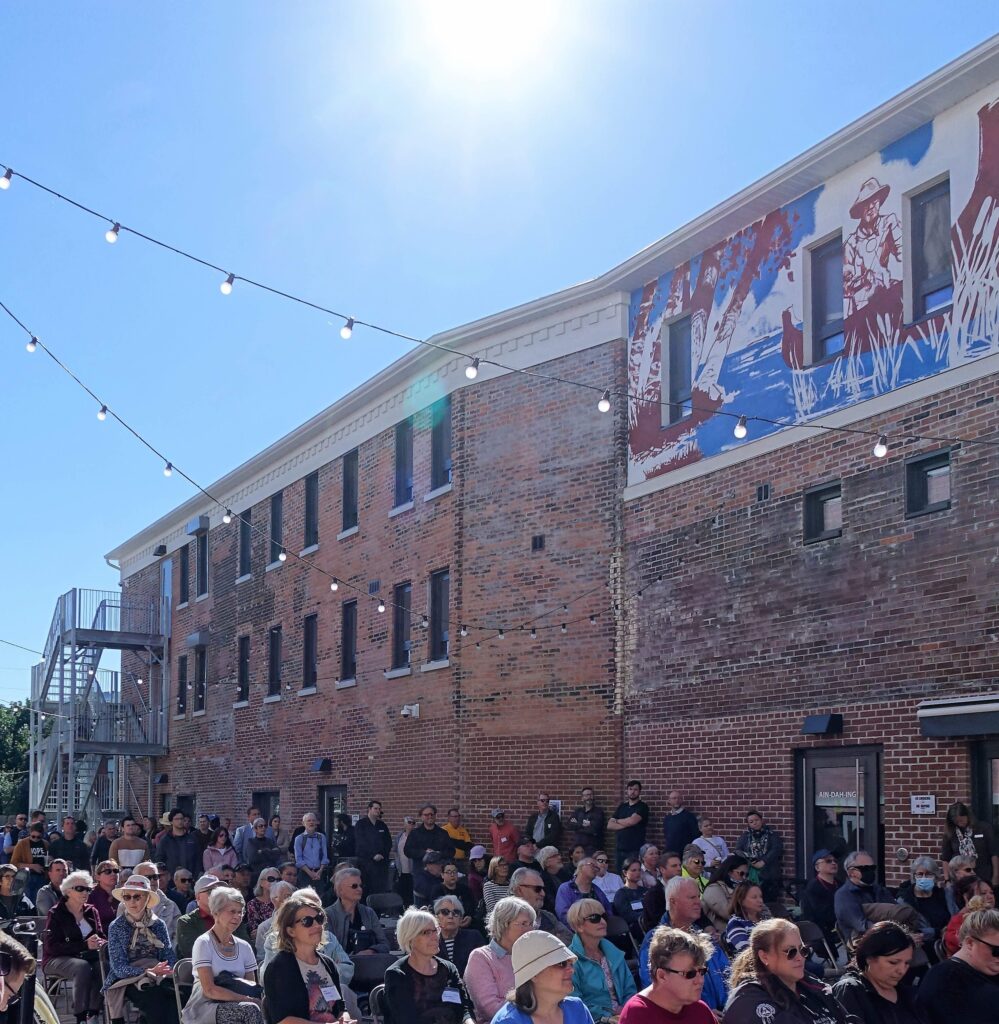 "Housing is health care," Taylor says. "Without appropriate housing, with people living in substandard conditions, that puts excessive pressure on our already fragile health care system." Taylor applauds the work done by Indwell, noting the impact it has on a political level. "The province, the feds, and the City have the tools at their fingertips to rectify this situation," he says. "That's certainly where an organization like Indwell comes into play. Certainly all the initiative and impetus has to come from the staff at Indwell; it's not coming from the bureaucrats and politicians."
Operating buildings in which many of the tenants are struggling with mental health and addictions issues creates unique and difficult challenges, and Indwell has recently faced both tragedy and controversy. According to a report in The Hamilton Spectator, police have been called to the organization's Parkdale Landing project nearly once a day since it opened in 2018. That location was the site of a high-profile murder in its first year of operation, in which a resident was killed by a friend he allowed to stay with him. In 2022, a 45-year-old resident who had been diagnosed with schizophrenia allowed a teen to lie dead in his apartment for a week before his body was discovered. An internal investigation at Indwell following the latter incident recommended a handful of changes, mostly around communication and the frequency with which "check-ins" are completed.
Cubitt admits that these tragedies have led to some difficult learning and changes at Indwell. One major change was to hire a group of nurses for a Short Term Assistance Response Team (or START) who can respond more quickly when tenants are in crisis. He is adamant, however, that Indwell's core mission has not changed, nor has its ambition.
"We're not going to stop trying to build supportive housing for people who are in desperate need," Cubitt says. "Because if we don't try to build something, and nobody else is able to, what are we going to do as a society?"
ANSWERING A NEED
Here is a list of some of Indwell's most recent Hamilton projects.
The Oaks (225 East Ave. N.)
Opened in 2022
139 units in four buildings
Built on the site of the former Royal Oak Dairy
McQueston Lofts (256 Parkdale Ave. N.)
Opened in 2020
50 units, with 10 reserved for Indigenous peoples
Contains a new Hamilton Public Library branch (Parkdale)
North End Landing (15 Picton St. E.)
Opened in 2020, through a partnership between Indwell and James North Baptist Church
45 units
The building won Sustainable Architecture & Building Magazine's 2022 Mixed Use Award