Artist Julia Veenstra and her family have opened a gallery and café on Ottawa Street North that aims to elevate artists and make art accessible.
Many great new business ventures were dreamed up during the pandemic. That's the story of Crown & Press.
The initial idea to open a gallery came about in the summer of 2020, when Julia Veenstra, her husband Doug and their daughter and son-in-law, Abigail Veenstra and Justin Scholman, were vacationing in Deerhurst. Scholman, who has a degree in fine art and history, shared in passing conversation that he'd "love to work in an art gallery." This simple statement sparked an idea in Julia and catapulted the conversation in a more serious direction.
The "vacation just turned into a business meeting," Scholman says with a laugh. Soon, Julia reached out to her nephew Elias Dummer who had been helping her with marketing for several years. The idea for Crown & Press, and the business model around it – a gallery and café that makes prints available for every piece on its walls – were developed from there. All members of the family, artists and creators in their own right, began dreaming up what would become a gallery and café like no other in Hamilton.
Veenstra is not new to the gallery world. In the 1980s, before becoming a mom, she studied illustration at Sheridan. In the early days of her career, the balance tipped more heavily toward motherhood and what she calls her "finest work." She had five kids and, at the time, worked only for commissions. Busy caring for young children, she didn't have time "to play." In 2001, when the kids were between eight and 15 years old, the family moved to Africa to work as missionairies in Tanzania and Kenya. It was there that Veenstra had more time to paint. She painted people and market scenes, but says that in Tanzania the people were the central element of her work.
"They were so colourful and vibrant against what was sometimes a dry backdrop."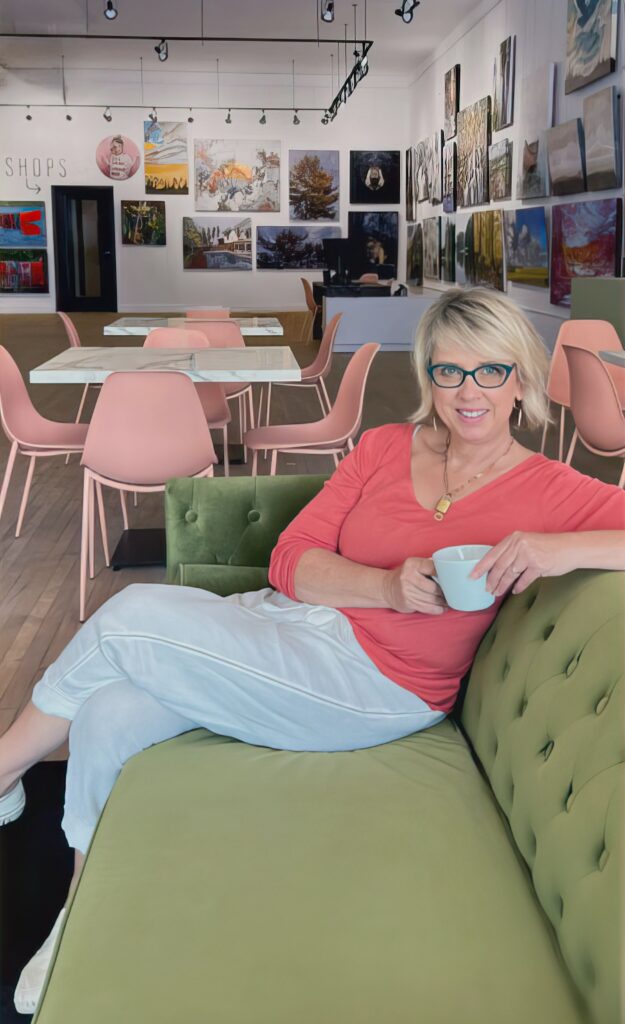 When she returned home, the bright contrast of the Canadian landscape captured her attention and her art was reinvigorated. "The colour of our (Canadian) seasons grabbed me," she says. Her work began taking on more vivid colours as she aimed to capture the Canadian landscape and what she describes as "special moments." Veenstra says that we can all track back to a moment rooted in our senses that "comforts and reassures us when remembered," like a particular smell or taste. Her work aims to evoke emotion and those cherished memories within us.
For over a decade, Veenstra worked out of her gallery on James Street North, successfully creating and selling her art. "Hamilton has been very, very good to me," she says. She quickly began to outgrow the small space and started her own version of a Square Foot Show, a three-day online art show that sells one-of-a-kind pieces on a first-come-first-served basis for a set $300 price. The first time her show opened, Veenstra sold 80 paintings in the first eight minutes! She knew this was a fruitful way to garner interest in her work and to support other artists. So she, along with her partners, bought the Square Foot Show url.
The show has grown into a platform that showcases artwork from both established and emerging artists, levelling the playing field for creators and buyers. The idea behind the show "is that all the art is sold at the same price, regardless of the artist's experience level," says Veenstra. For buyers, this means having the opportunity to find a rare deal from an established artist while, at the same time, supporting and elevating new artists. The online show is held seven times a year and it continues to be a success with "one-third of the artists' work selling in a matter of minutes." For art lovers, it's a way to experience art from anywhere in the world. But Veenstra is a tactile, present person who also wanted people to have access to art in person.
This became impossible when the pandemic hit and she was forced to move out of her James Street studio and back home into a converted garage that Doug, a contractor, built for her. There she was able to continue painting and fans had a place to view and buy her art. But the pandemic dragged on and regularly having customers at her home became difficult to maintain. Waiting for appointments made it hard to get into a "creative zone" and do the work she loved so much. So when Scholman shared his interest in running a gallery, the idea of Crown & Press as a physical space ignited a flame and things progressed quickly.
In February 2021, the family found a 3,500-square-foot storefront on Ottawa Street and immediately began transforming it. The family convinced Doug, who has more than 26 years of experience in construction, to take on the role of contractor. He was initially reluctant to undertake the massive transformation job, calling it "the biggest (he's) undertaken." But hearing the positive comments from first-time visitors has made the challenges of construction worth it, he says. He now loves spending time in the space and hopes that visitors consider it their own.
Designed by Veenstra's son-in-law Shawn Cuthil of Refresh Renos, it's apparent that tremendous thought and care went into balancing beauty with practicality.
Cuthill saw it as an opportunity to maintain one of the only Art Deco historical facades in the city. "I tried to stay true to the curves and elegance of the Art Deco style," says Cuthill, adding that he didn't want it to be "too stuffy and fancy for people to feel comfortable." Cuthill is a contractor, not a designer, which he says allowed him more freedom "to be a little more daring and unsafe" in his design choices. "I'm not experienced enough to have a design process, but I kind of (went) on feel as the project progressed. A few colours were toned down … and a few items were omitted along the way as the design came together."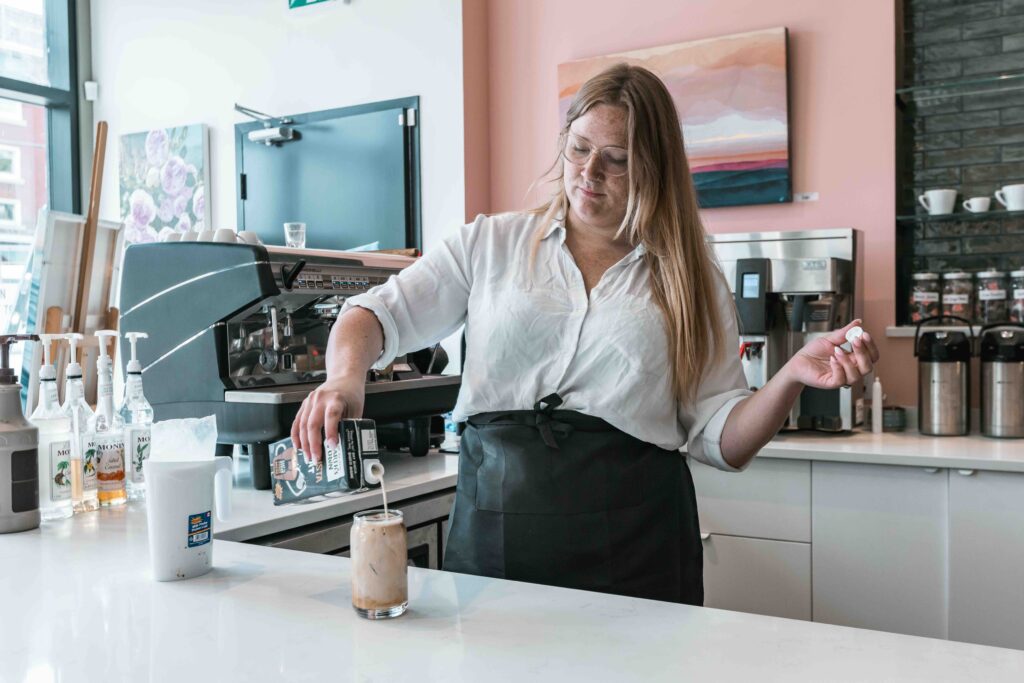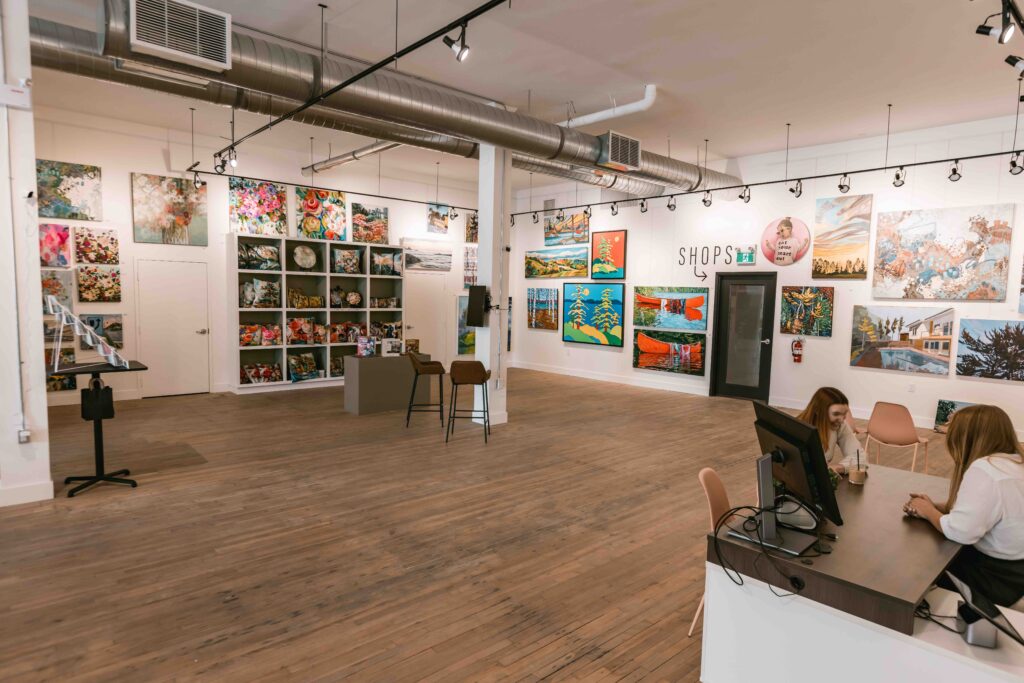 In a stroke of luck, the family was delighted to discover, under the existing floor, beautiful hardwood that they were able to restore. The result? Contemporary elegance, with a confident dusty rose and sage green colour scheme.
"I'd love to work in an art gallery." The statement that sparked Veenstra's vision has transformed into a literal family affair, with every member involved taking on a partnership in the business. Scholman is now running the gallery in what he calls "a dream come true." And it was Abigail, fondly known to her family as Abi, who envisioned "a beautiful collaboration between coffee and art." With 15 years of experience working in cafés and masters'-level education and training as an opera singer, she quickly saw how the two worlds could marry. If you didn't see her close out The Sound of Music as Mother Abess in Hamilton's Brott Music Festival last summer, you can say hello when you pick up a coffee.
Since its grand opening in mid-June, the family shares that the "feedback has been incredible." Their neighbours at The Arglye across the street welcomed them with open arms, even displaying a Happy Birthday sign for their opening. "Everyone loves the space … they feel like we invested in their community with a project that we love," says Scholman.
The space is already bustling with people who feel like regulars and as of Aug. 1, they had received 32 google reviews, all of which have been five stars. The family's hope is for Crown & Press to be an inspired space where visitors can support local businesses and look at beautiful art.
"We have a lot to offer here," says Dummer. "Whether it's … private events, weddings, quieter and intimate concerts or more. We already have this great little moms group hanging out on the carpet with their babies every Friday. We recently had a baby shower in the space, and we have people from across the city reaching out all the time with different ideas for how to use our space. Our business is built on the idea that art is for everyone, and we want to make it as accessible as possible."
Dummer, the former frontman of Juno award-winning band The City Harmonic, is especially keen to host events that help make great songwriting more accessible. Having recently moved back to Hamilton from Nashville, he shared about "songwriter nights" at places like Nashville's The Bluebird Cafe, where songwriters share the story behind their most well-known songs … and then play them. "People often want to enjoy a night of music and the artforms around it, but find that a lot of live music just isn't designed for them anymore. An intimate night of songs and stories could be an amazing way to bridge that gap and bring it all together, and the space we've built is well suited for it."
The focus is on visual art, but the family wants the space to be enjoyed by all kinds of artists, art-lovers, and would-be art-lovers. They are open to rental proposals, mentorship opportunities and partnerships and built a modified catering kitchen in their basement for renters and businesses whose goods they sell, which at the moment is a growing list of local food companies and entrepreneurs like Sippy Cup Coffee Roasters, Grain & Grit, Fairweather, Northern Crow, Planted, and Pleasant Cookie Co.
For a gallery experience like no other, visit Crown & Press at 303 Ottawa St. N.
NEED TO KNOW:
JULIA VEENSTRA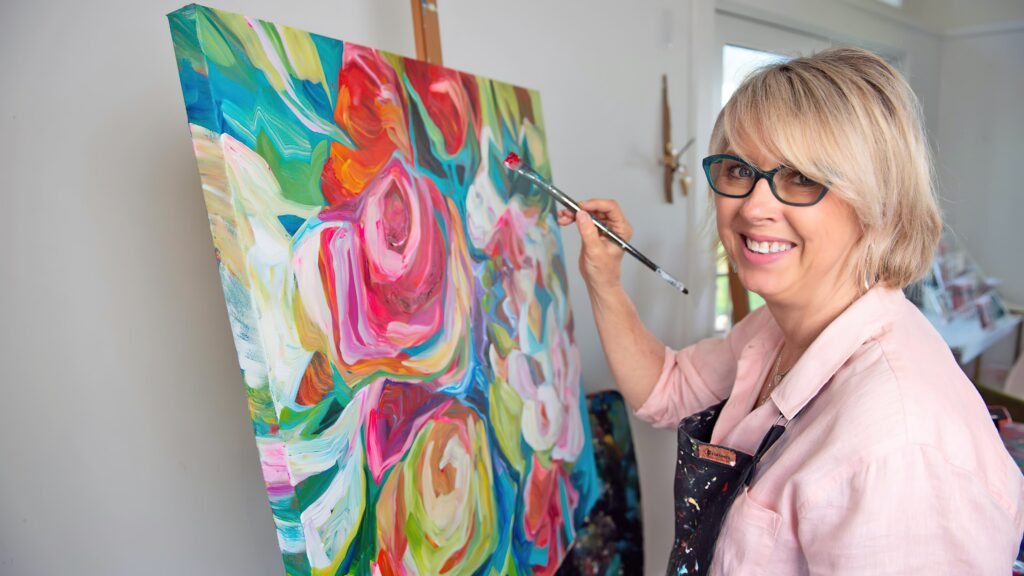 Julia Veenstra is a celebrated Canadian artist and entrepreneur known for capturing the Canadian landscape through dynamic composition and a vibrant use of colour. She's painted her whole life and describes being moved to create art since she was a child.
In the 1980s, she began her formal training by studying illustration at Sheridan, then painted for only commissions as she moved abroad and raised her children. It was her return back to Canada in 2006 that ignited her career. Gripped by the vivid colours of the Canadian landscape, she harnessed that inspiration and dove in "full-on," committing her life and career to making a living as an artist.
Since then, she's run a vibrant studio on James Street North, built a community of dedicated fans, began the Square Foot Show as a business venture, used her influence to uplift and celebrate fellow artists, and has seen her work showcased in galleries across Canada and around the world. The opening of Crown & Press, her most recent venture, is a culmination of experience and talent where she and her family offer a unique way to make art more accessible to the masses. Each piece, thoughtfully curated works, she'd be proud to have in her home.