Oak View Group and Hamilton Urban Precinct Entertainment Group 

will begin construction on the FirstOntario Centre in April. The transformed arena

 is expected to be open in fall 2025.
A deal to invest $280 million into a renovation of Hamilton's downtown sports and entertainment arena has been officially signed.
The FirstOntario Centre at Bay Street and York Boulevard will close in April and be under construction for 12 to 14 months. When it reopens, it will have 18,000 seats (about 700 more than current capacity), upgraded concourses, clubs and suites, concessions, lounges and dressing rooms for artists, along with a new façade and enhanced acoustics.
The deal between arena developer and operator Oak View Group (OVG), the Hamilton Urban Precinct Entertainment Group (HUPEG) and the City of Hamilton was finalized just before a media event Thursday.
Tim Leiweke, chair and CEO of OVG, says his company's investment in Hamilton will be the largest single private investment in an arena in Canada. He said the growth of residential units downtown and the overall population of the region at 8.5 million makes the business case for the arena upgrades.
Every other Top 10 market in North America has a second, third or even fourth world-class sports complex, he says. Hamilton's arena will not compete with Scotiabank Arena in Toronto, which has strong anchor tenants and a full roster of concert bookings.
It will complement that venue and Hamilton will be a sports and entertainment destination in its own right, he says. Leiweke, who is the former president and CEO of Maple Leaf Sports and Entertainment, promised to "be aggressive" on landing an OHL or AHL team but OVG has said it sees live entertainment as the anchor of its future Hamilton venue.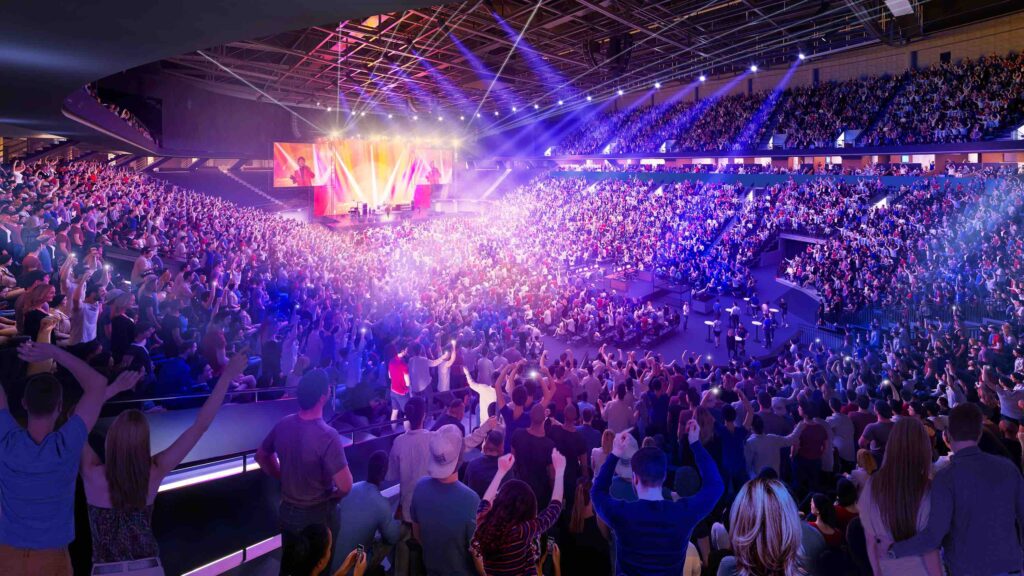 The current arena has more unused space than Leiweke has seen anywhere else.
"That's what you get for less than $40 million," he said, referring to the $37-million price tag for what was then Copps Coliseum, which opened in 1985. Converting to today's dollars, this proposed renovation will cost three times as much. The new plans call for more connections to the street and a street-level restaurant open whether the arena is booked or not.
Leiweke says his team of about 200 people will be fully dedicated to the Hamilton project once it's underway. Construction will begin soon on the exterior and mechanical works of the building and will shift into high gear once the arena closes.
"We are humble and hardworking, just like this community and we will build something special here."
Mayor Andrea Horwath said OVG and HUPEG are displaying a "huge vote of confidence in what Hamilton will be in the future."
Taking on a private partner to upgrade the arena was the right move for the City of Hamilton, she said, because the cost is just too steep for taxpayers. She thanked former mayor Fred Eisenberger, who attended the announcement, and previous city council for making that decision.
"This is a celebration of a historic investment in arguably the region's most significant entertainment landmark," said PJ Mercanti, president of HUPEG. "This has been a long time coming and well worth the wait."
That consortium is led by Carmen's Group and includes a number of groups aligned with the Mercanti family, such as Alinea Group Holdings, Mercanti Management Downtown Investments, Vaccarello Investments, Golden Horseshoe Enterprises, JJAA Consulting Services and PowerGroup Resources.
HUPEG has lined up a number of development partners, including LiUNA, FirstOntario Credit Union and Meridian Credit Union.
Mercanti said the redevelopment project has been a decade in the making.
"If you want to go fast, go alone. If you want to go further, do it together."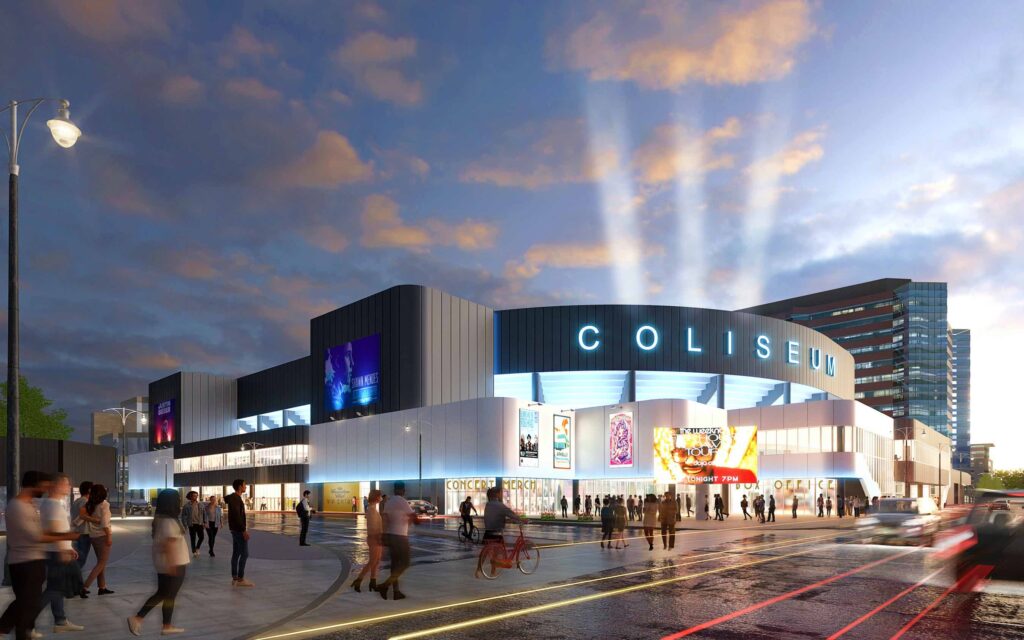 Live Nation joins OVG as a booking partner for the venue and Leiweke says OVG will also be looking to bring in local partners to operate the venue, as it has on all its ventures.
"I firmly believe in local partners, I firmly believe in bringing people into the partnership that understand the community and give us local ties, local history and local connections. And we intend on doing that here. But we'll continue to be the majority partner and we'll continue to manage it and operate it day to day."
But he stressed that OVG is prepared to fund the entire $280-million renovation price tag.
"We're prepared and expect that we'll finance all of this until we bring in partners. I'm not in a hurry to bring in partners. I'm not bringing in partners because we need money. We just spent $4.5 billion on the developments we did around the world. We have plenty of money. I'm bringing in partners in order to make the ownership group more in line with the community and to help us with the history in the tradition of Hamilton."
The arena, which is being designed by Brisbin Brook Beynon Architects, is the centrepiece of a downtown district that will be called The Commons. That includes a renovated convention centre, upgrades to the Art Gallery of Hamilton and FirstOntario Concert Hall, as well as new residential, office and retail development.
The Hamilton project is the ninth for Oak View Group. Its arenas include the renovated homes of the Seattle Kraken and the New York Islanders, as well as sports and entertainment complexes in Manchester, U.K., Cardiff, Wales and Sao Paulo, Brazil.
This deal is complicated because of the number of players involved and involved upgrades to a number of properties and the transfer of three parcels of municipal land to HUPEG.
City council chose HUPEG to renovate and operate FirstOntario along with FirstOntario Concert Hall and the Hamilton Convention Centre in 2021. Initial renovation numbers for the arena came in between $50 million to $100 million. But since then, HUPEG recruited Oak View Group to join as a partner.
City projections forecast the deal to privatize arena operations will save taxpayers $155 million.
There has been criticism about lack of public information related to the deal and uncertainty around when it would be finalized and when construction would begin. Bulldogs owner Michael Andlauer expressed frustration about a lack of communication before and after he pulled up stakes in Hamilton and moved to Brantford.
At the media event, Leiweke thanked Andlauer for his "patience and understanding of what we are trying to do here." He said he's hopeful Andlauer might consider a return to Hamilton once the arena renovation is complete.