The Trail Mix Museum on the Pipeline Trail in the city's east end is 

bringing the creation and enjoyment of art to underserved places.
The best kind of art is that found in unexpected places.
So how about a multi-disciplinary installation of what the organizers call "a multi-disciplinary installation of contemporary and historical visual art, and dub poetry" along a once-overgrown trail on top of a 164-year-old water pipeline laid down after a cholera epidemic killed 550 Hamiltonians in a two-month stretch in 1854?
The Pipeline Trail in east Hamilton is definitely an unexpected place for an art gallery.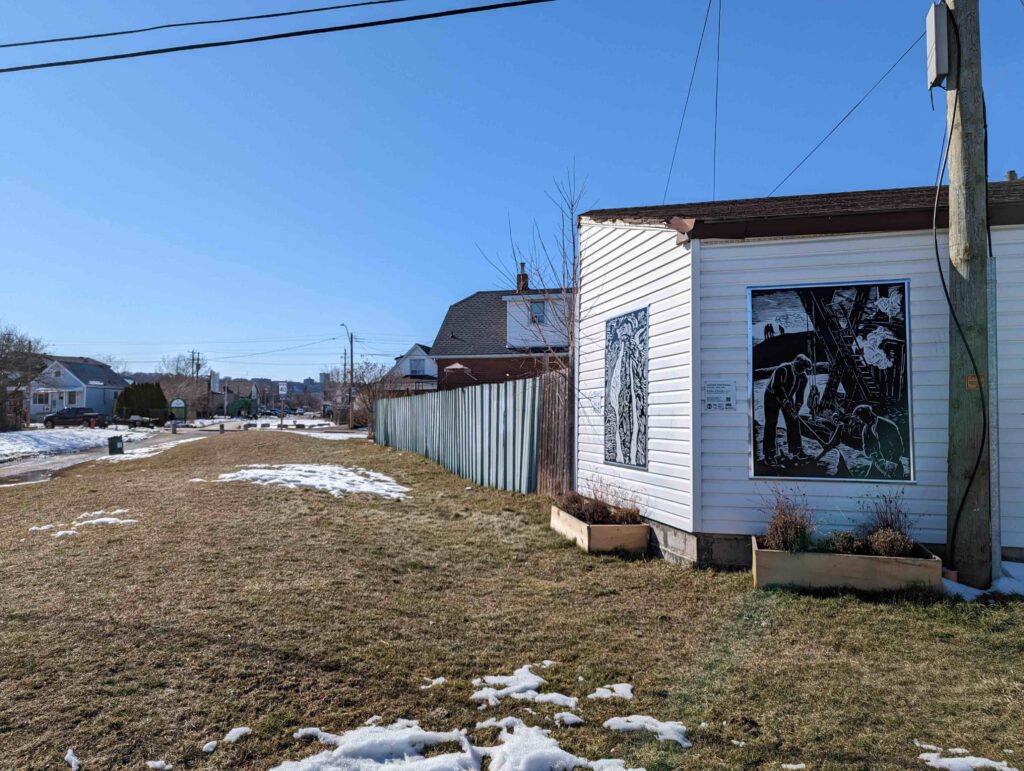 But there, on garages, sheds and fences is what the Red Tree Artists' Collective calls the Trail Mix Museum. A partnership that includes The Hamilton Dialogues and Pipeline Trail Hamilton, the Trail Mix Museum stretches from Edgemont Street North to Strathearne Avenue.

It features labour artist and activist Leonard Hutchinson's woodcut prints "Webster's Falls" and "Builder of Roads," Lava II by Dámarys Sepúlveda, "Spirit" from the series Resting with Warriors by Shelley Niro, as well as "Untitled (Giraffe)" by Delio Delgado, along with contributions by Nathan Eugene Carson, Klyde Broox, and youth and community art collaborations.

That includes the work of Grade 8 students at W.H. Ballard school, who sketched some of the things they liked about their neighbourhood and what they want to see improved. 

The creations of participants in workshops led by Broox and Carson in collaboration with the Afro-Canadian Caribbean Association (ACCA) are also featured. The hope is to inspire east end youth with dub poetry, and unique methods of creating art.

"It's really a wonderful sight to behold when out for a walk or enjoying a moment along the trail where one can view art that was created by students within the community," said Carson.

"Trail Mix Museum illustrates a participatory, renewable approach to displaying integrated art forms and instigating communal dialogue," said Broox. "The location of the installations is also a potential habitual gathering hub for continual community-engaging artistic participatory activities involving visual art, performative poetry, dance, and music."

The museum even offers a space to engage with the trail itself – a canvas meant to be used over and over again, as the seasons change, and as artists come across it.

Original works on paper were enlarged, printed on vinyl, and mounted on durable panels so that the museum can be open all year-round.

The idea of museum-quality art in a public space was motivated in part by COVID-19 closures of galleries and museums, and in part by the fact that the lower city's east end neighbourhood is not well served by any of Hamilton's cultural institutions. 
The hope is also that art and the people it attracts will re-energize the conversation about improvements to the Pipeline Trail, volunteer Elizabeth Seidl said in a story written by Paul Weinberg published on The Point, a volunteer-run publication of the Crown Point neighbourhood.
"It is about getting people to think about their place, improve the quality of life and put joy where they might not expect it."
The project is supported financially by the Ontario Arts Council and logistically by the City of Hamilton.

"The Pipeline Trail has long been a place for Hamilton's east-end community to access nature. Our collective efforts are meant to make the Pipeline Trail more engaging to its users, and provide a space for artists to interact with their audience," says Olga Kwak, of The Hamilton Dialogues.
Red Tree Artists' Collective has undertaken dozens of community-based artist collaboratives in the city for more than three decades.
It presented a temporary art exhibit on the Pipeline Trail in 2020 and have been hosting workshops there since 2017.
"Trail Mix Museum is an opportunity for neighbours to see professional artworks, and art made by local youth, 24/7 for the next five years – on their way to school, work, shopping, or just out for recreation," says a statement from the organization.
Hands-on workshops will begin again once the weather allows.
"In addition to presenting access to different artistic disciplines and media for anyone who wants to take part, these workshops take the creative process out of the studio and into public space. Participants and artists both benefit, one by exploring their creativity, the other by extending the reach of their art practice."
The Trail Mix Museum is supported by the Ontario Arts Council, the City of Hamilton, and My Main Street (funded by the Federal Economic Development Agency for Southern Ontario.)

But back to that historic pipeline. It stretched on a diagonal for six kilometres, from the city's waterworks plant on Woodward Avenue to Ottawa Street and partway up the escarpment to a reservoir where gravity fed the water collected from Lake Ontario back down into the lower city.

It's part of the "ambitious city" history of Hamilton, because, after Montreal, Hamilton was just the second city in pre-Confederation Canada to provide municipal water services.

The pipeline corridor was protected from development and its 20-metre-wide track was covered by gravel in the late 1800s and used as a cycling trail. But over the years, industry and property owners have encroached on the park land and much of it fell into disrepair and became disconnected.

That's until a group of neighbours formed the Pipeline Trail Planning Team. They managed to convince the City of Hamilton to develop a master plan for the trail in 2015 that calls for $4 million in park infrastructure investments, though progress has been stalled.

But the Pipeline Trail group carries on with parades, cleanups, building gardens and holding artistic workshops on the trail and now the Trail Mix Museum, which launched officially in October. It has also landed grants through the City and the Hamilton Community Foundation, using that money to build a pollinator garden and add benches.
The Pipeline Trail is also backed by the Hamilton Naturalists' Club, Environment Hamilton, and the Crown Point Garden Club.
Says artist Klyde Broox, the trail and the art combine to bring people together and strengthen neighbourhood connections.
"On their own, the installations tend to cause passersby to pause, then take time to enjoy the natural beauty of the scenery."