There is no more glorious time to check out local hikes than during the spectacular show that is autumn.

 Here are just a few to get started.  
It's leaf-peeping season in Southern Ontario, but what are you to do when all the best sites are booked weeks in advance. Dundas Peak? Booked. Algonquin? Forget about it. So where to go? I've been hiking trails in Hamilton for almost 20 years, and in that time I think I've found a few gems.
There are great spots close to home where you don't need to book in advance to enjoy the peak of fall colour, which should be mid- to late-October. Here they are from the most well known to the most obscure.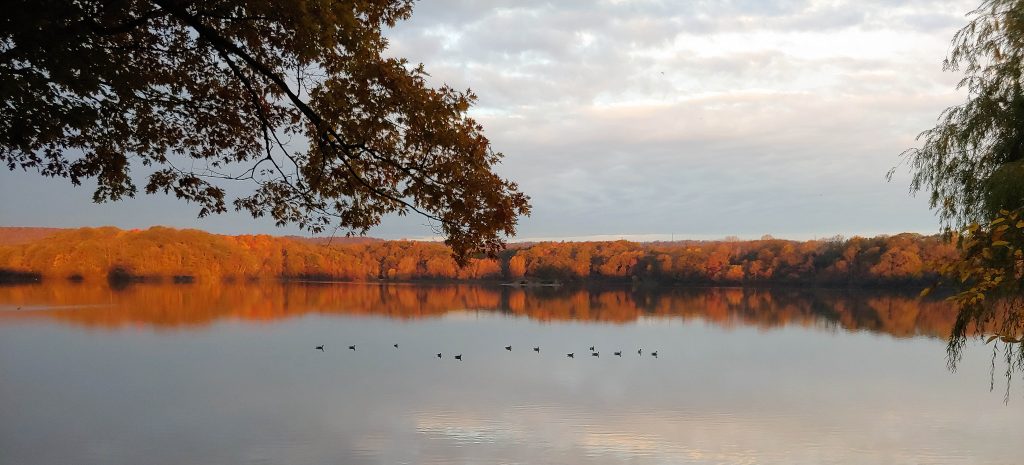 Princess Point
When searching for the perfect autumn leaf Instagram shot, you are looking for somewhere with as few obstructions as possible. That means either going high or looking across a body of water.
On the No. 6 bus route, and with wheelchair friendly trails, the Royal Botanical Gardens' Princess Point is a great, accessible option for the across-the-water shot.
Park your vehicle in the big lot, remembering to pay and display your parking pass, or head in from the bus stop, and hit the trails. First stop is around the loop at the Point where the golden rod and asters are putting on their annual show.
Take a moment to stop at the Parks Canada red chairs for a view across the water to the Arboretum that is unmatched in Hamilton.
From there if you're feeling adventurous, you can hit the trails to one of two lookout points that can be reached either by a quick 15-minute hike across dirt trails, or the second from a longer more difficult hike up to Sassafras Point via the Westdale ravines. If you make it that far, be sure to check out the sassafras trees for their great colour and fantastic leaf shape. You'll soon see why they're called "mitten trees."
The maps in the parking lot will tell you how to get there. Snap a photo of the map on your phone and follow along.
Clappison Woods
This one is fairly well known and can get busy at the height of the season on weekends, so go early, or sneak away for a weekday hike to avoid the crowds. And while it's technically in Burlington, it is too great of a hike not to mention.
Head up Hillsdale Avenue/Snake Road off Plains Road West until you see the Bruce Trail sign markers at the side of the road. Stop there, and head east for the best leaf-peeping experience.
After a quick hike up a hill, the trail will round a corner and come into a beautiful, deep valley that will be ablaze with colour. Look for aspen, birch, beech and maple all competing to see which tree can put on the best show.
You can hike for as far as your legs will carry you before you turn back, but remember that this isn't a loop, and is more of a there-and-back hike.
The Bruce Trail at Highway 6
A LOT of Bruce Trail enthusiasts are going to be really mad at me for spilling the beans on this one, but it's too great to miss.
If you take Old Guelph Road off of Patterson Road in Dundas, it will lead to a dead end where you can park and hit the trail. One option is to go down the stairs and under Highway 6 through a lovely wooded area along the escarpment complete with some gnarly old ruins of a building.
For the optimal leaf peeping experience though, head up the steep stone stairs and west along the top of the escarpment for an unrivaled view of the city. It's not a very long walk before the trail dips down along the escarpment into the woods and the RBG's Berry Tract below, but it's very much worth it for the views. The mix of maple with its reds, birch with its pale yellow, and beech with its bright yellow promises a great colour palette to enjoy.
Again, this is a there-and-back hike, so be prepared to double back, although if little legs are tired, you can safely walk back along Patterson Road to your vehicle. And because parking is very limited, this can get busy on weekend afternoons, so best to go early, or duck out for a weekday visit.
As always, be sure to wear sturdy hiking shoes or runners, and bring a water bottle or a thermos of something hot and a light snack for when you stop to admire the scenery.
Happy hiking, and I hope to see you on the trails!
Jason Allen is the host of The Environmental Urbanist, Tuesdays at 1:00 pm on 93.3 CFMU, and has been encouraging Hamiltonians to explore the outdoors for almost two decades.