The city has become a movie and TV powerhouse

 for many reasons and its star is only rising.
"You can fake it all in Hamilton."
That's according to Zach Zohr. And he would know. He's been working in the film industry for over 25 years. He heads up Hamilton Film Studios (HFS), a fixture in the city's film scene that offers studio space, equipment rental and an expendables shop.
In 2018, before Hamilton became the film and TV mecca it is today, and as the boom of streaming services started picking up steam, Zohr saw the writing on the wall. He packed up his life in Etobicoke, moved to Hamilton and set up HFS with two business partners who also relocated to the city.
"A lot of people saw what was on the horizon, but we were the first to find the right formula. Four years later, we sweated out the pandemic, and we're still here and doing quite well, actually."
The full-service studio has become a trusted one-stop-shop for production teams who need everything from tables, tents, heaters and makeup mirrors to director's chairs and even a space to film.
But what drew Zohr and hundreds of film and TV productions to our fair city and made it one of the country's biggest film and television hubs?
Well, our diversity, of course.
Within a 20-minute drive, you can be at a waterfall, an abandoned factory, a stately Victorian manor, a downtown strip that could double for any U.S. metropolis, a conservation area, an outdoor (or indoor) stadium, cobble-stoned streets or sprawling farmlands.
On top of that, there's a huge amount of investment flowing into the city to support the growing film industry. In 2021, Aeon Studio Group's Bayfront Studios opened the doors to its 27,000-square-foot film studio and production facility, the largest in the city. Located on the Hamilton waterfront, it sits across the street from the Barton Tiffany lands, where the company is planning to build out the rest of the Hamilton Studio District, a live, work and play hub for the creative industry that will feature studios, offices, retail and residential space.
And you can access all of this without competing with bumper-to-bumper Toronto traffic – an absolute must for production crews on tight shooting schedules.
It's no wonder Hamilton has been called "a location's scout dream." It's provided the background for countless blockbuster films and TV shows, including The Handmaid's Tale (Hulu), The Boys (Amazon Prime), The Umbrella Academy (Netflix), Guillermo Del Toro's Shape of Water, Nightmare Alley and Cabinet of Curiosities (Netflix) (Del Toro is a known Hamilton super fan), Murdoch Mysteries (CBC), Locke & Key, Titans, The Queen's Gambit, Shazam, and the list goes on. New productions shot in the Hammer to keep an eye out for this year include The Big Cigar (Apple TV+), Alex Cross (Amazon Prime), The Invisibles, Eli Roth's Thanksgiving, and Blackberry.
But it's more than just a variety of location options and a super-sized studio that's led to the explosive growth of the city's film scene. It's also that Hamilton has a big-town feel with a small-town heart. And that means taking a collaborative – rather than competitive – approach to how it serves the industry.
"Aside from (working together) just being good business, (it's nice to) feel like you're part of a community. We all back each other," says Zohr. "If the studio down the road is doing well, that's only going to overflow to other businesses in Hamilton, like the coffee shops, restaurants, caterers, and hotels. It's better for everyone, and it all trickles down. It's just good for the city."
This sense of community within the film and TV industry extends beyond Hamilton's borders. Kim Adrovez, senior project manager of the City's Film Office, says that part of the reason Hamilton has become such a draw for production companies is how the city works collaboratively with other film offices throughout Ontario. 
"Every Friday, the Ontario Film Commission leads a town hall with all the busy film offices in the province. They provide industry updates as well as information about production teams scouting throughout Ontario," says Adrovez. "What's unique (about Hamilton) is that we share best practices and try new online processes between municipalities. It's become a bit of a selling point because it means production teams have this smooth experience where they can (easily) move from jurisdiction to jurisdiction. It's a concierge level of service: if we don't have it (in Hamilton), we'll tell you where to get it." 
This streamlining of processes includes handling all permitting for production teams through one central Hamilton office, providing service level agreements to ensure production issues get dealt with quickly, and using vacant land as basecamp parking for crews and equipment, among other benefits.
"(Film and television businesses in the city) can't survive just having borders at Hamilton, you need support from across the region," says Adrovez. "So if we want jobs for businesses in Hamilton, it really does require a regional approach. It's a 'rising tide raises all ships' kind of mentality." 
And this collaborative working style and white-glove level of service has made Hamilton a film and TV pioneer in the province.
"I'm proud that Hamilton has emerged as a leader, and our processes work really well," says Adrovez. "We get called on a lot by emerging film offices to help them with best practices and putting things in place. So having that recognition is really great." 
These last few years have really seen Hamilton come into its own in terms of establishing the city as a turnkey solution for production crews. But beyond the studio space, rental equipment, and streamlined filming process, the city offers something else to those working in the industry.
"(Hamilton's) got upmarket, long-term rentals, fantastic amenities that offer a quality of life that helps attract top talent to live and work here on a show for six months of the year," says Adrovez. "We've also got fantastic food, art, and music scenes. And it's not all smokestacks – there's green space everywhere. It's a great place to raise a family. And then people from the industry move here and set up their businesses here because they want to work where they live."
The economic impact of the film and TV industry in Hamilton can't be understated. In 2022, film and TV production companies spent nearly $73 million on 177 productions in the city, with more than 900 film permits being issued. The money earned from these productions is invested back into the city to support municipal programs.
More than 9,000 Hamiltonians work in the film and television industry, and there are more than 900 film-related businesses in the city. These include local favourites like Millworks Creative and Green Door Studios for studio rentals, Picture Perfect Package for lighting, grip and power rentals and Theatrix Costume House for costume rentals and custom-designed costumes.
And, of course, there's the tax credit. The Ontario Film & Television Tax Credit (OFTTC) offers a 35 per cent refundable tax credit on labour for film and television productions in the province. But there is an additional 10 per cent bonus on all labour expenditures outside the GTA. And the first city outside of Toronto where that bonus really kicks in is Hamilton.
On big-budget blockbuster film and television productions, that additional 10 per cent is a huge cost-savings, making Hamilton an even more attractive location to production teams.
But not all the movies and TV shows shot in Hamilton are large-scale productions from streaming giants. The city also supports local, independent artists and young aspiring filmmakers. One of the most ardent champions of Hamilton's film scene is Nathan Fleet, director of the Hamilton Film Festival and executive director of the Hamilton School of Media Arts.
Fleet helped found the city's film festival, now in its 18th year, which is rated in the top 100 best-reviewed festivals among more than 10,000 film festivals, according to FilmFreeWay, a leading film festival marketplace.
One of the benefits for aspiring filmmakers when it comes to screening their projects at the city's film festival is the opportunity to have their work picked up by a distributor.
"We get distributors looking at our festival content," says Fleet. "Many filmmakers have received distribution deals just from screening at our festival. It's really hard to get your movie seen by anyone these days because there's so much content out there. We try and come up with little additional ways that people can get their work seen, and distribution is one of them."
The festival also offers youth, student and emerging filmmaker programs to give screen time to new and young filmmakers. Supporting the next generation of Hamilton filmmakers is especially important to Fleet. Last year, he launched the Hamilton School of Media Arts, an education program run through the Hamilton Film Festival inside the Ancaster Memorial Arts Centre.
The programs include a summer camp for kids and teens and programs for adults that cover key areas like directing, cinematography, writing, editing, and acting. But it also exposes students to other jobs in the film industry they may not know about, including script supervising or boom operating.
"There's been a really big gap in filmmaking education, film and television and new media. Each season, we try to bring in a new skill, whether it's producing technical programming or computer animation. The goal is to work with other film schools and post-secondary schools (so we can) be that place where students come to develop those skills to build up their portfolio where they can apply to some of these film schools," says Fleet.
"I see all these young filmmakers that have all these ideas about what they want to shoot, and they want to do it here in the city. And when they're ready to do it, they'll be able to do it because there'll be the studio space. There'll be rental facilities. They'll be the crew, and there'll be the cast. Everything is here for them."
Like any industry, the film sector faces its own set of challenges. A looming writers' strike in the U.S., profitability challenges facing streaming services, and the precariousness of film and TV tax credits are all potential roadblocks for the industry. In 2015, Nova Scotia's film industry was decimated when the provincial government terminated its long-standing film industry tax credit. Thankfully, "Halifornia"' is now back up and running.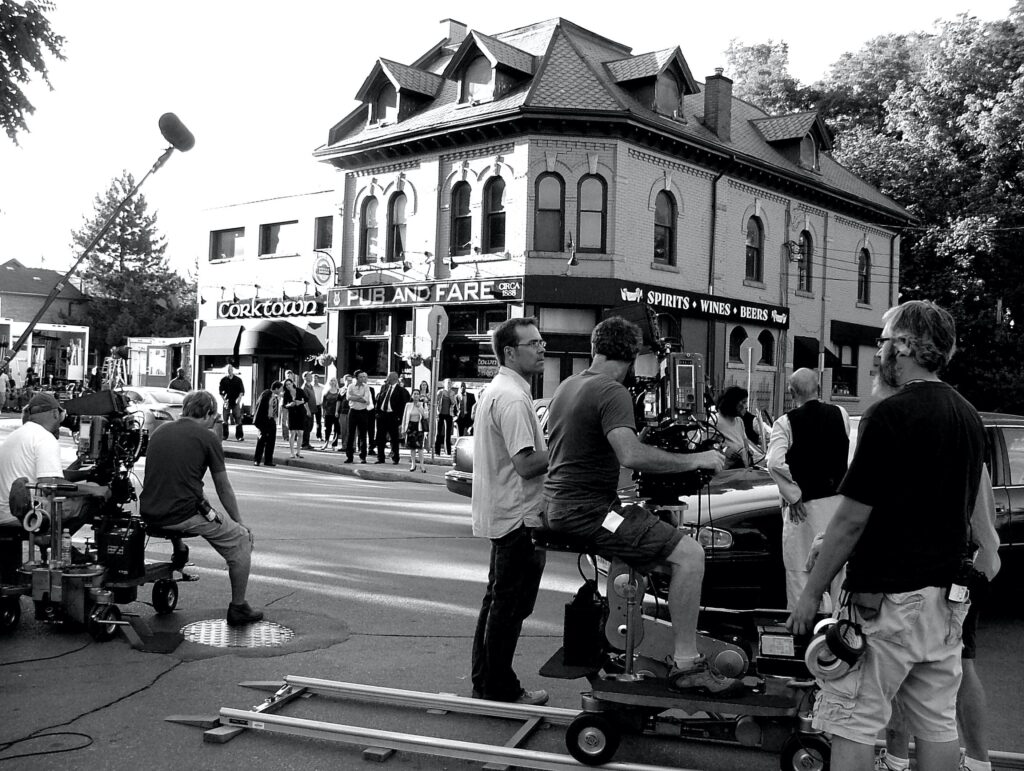 Fortunately, Hamilton has a well-diversified mix of foreign and domestic productions. While streaming services film here daily, there is also a steady mix of locally produced made-for-TV holiday movies, docudramas, and historical re-enactments, that get sold on to other markets and specialty cable services. This demand, according to Adrovez, has held steady for the past 20 years and shows no signs of stopping. 
"We're very well insulated here because it is a little bit of a 50/50 split. So if the Netflixs and Amazons of the world start tightening their belts a little bit, there's still a lot of work for local people through this domestic production."
And domestic production continues to be a driving force when it comes to the film industry in Hamilton.
"One of the best things (protecting our film industry) is the support that we are seeing for Canadian filmmakers and Canadian storytellers," says Adrovez. "There's a hunger and a desire to hear our own stories, and to hear equity-deserving groups telling their stories and stories that maybe didn't get as much airtime in the past." 
And as for being Toronto's "little brother" when it comes to film and TV production, Adrovez says all of that's about to change. 
"(Our reputation) is not just about being down the road from Toronto, you're gonna see us really come into our own," she says. "I really think Hamilton is poised to emerge as the film hub of southwestern Ontario in its own right."