Straight Up Spaces is a Hamilton-based home organization company led by Cheryl Ross. 

In this month's column, Cheryl looks at ways to organize your pantry to eat better and save money and time.

Do you find yourself overstocking your pantry with things you don't need because you tell yourself you might use them one day? 

It's a common misconception that holding on to those unused items will somehow save you money down the road. The truth is, it's actually costing you money, and a lot of it. 

Admittedly though, with the current economic situation, most people, including myself, are shopping at Costco and will bulk shop when items are on sale – but here are a few reasons why it's not a good idea:
You will forget what you have and end up buying multiples.
You will end up with some food that gets stale/rots/develops freezer burn before you can use it and that dreaded food waste guilt will ensue. According to a recent study, 47 per cent of food waste in Canada is generated at the household level.
You can't easily find what you need when you need it, which detracts from the enjoyable experience that cooking can, and should, be.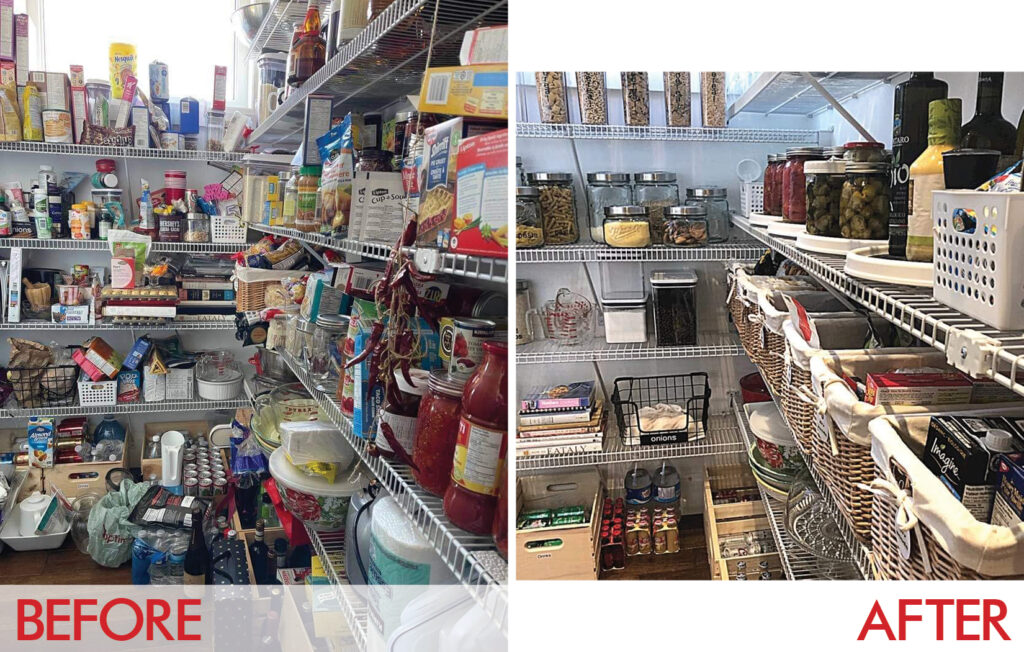 In summary, even if you don't have a pantry, you can still organize your cupboards with these six easy tips:
Clear off a counter or table.
Take everything out of the cupboard.
Wipe down the shelves.
Check for expired or questionable items and throw them out.
Take inventory of your items.
Put everything into categories.

Once this is done, you will want to determine how you wish to organize the pantry, if you have one. This is personal and unique to everyone. For example, you can organize by theme, height or meal/ingredient type.

Pro Tip: Place bulkier items near the bottom – taking down a heavy item from the top shelf is an accident waiting to happen.

Last but not least are storage options. There are a plethora of options; for example; some people prefer glass jars to store flour while others like plastic. This is also a personal choice and both are aesthetically pleasing. I personally recommend, and use, Oxo containers for all my dry goods because they seal well and have a nice look and stacking capabilities to maximize storage.

If you want to go a step further and have a more Pinterest-worthy pantry you could include bins, baskets, turntables, and other racks- it really depends on what works best for you.

Pictured above is an example of one pantry that we designed and organized for a client. She reached out and said she needed our assistance – a can of goods had fallen on her head the day she called and she was concerned this could happen to one of her five children. 

She needed help fast and also stressed that she had very little time and resources to organize her pantry. 
After the project was completed, not only was everything easily at hand, neatly stored and organized, but the client said she no longer has unnecessary food waste, and it has saved her money in the long run. You could say this was a win-win for everyone!

If you require some help to get started, we provide comprehensive advice, systems, and solutions to identify organizational challenges. Call us to book a consultation appointment or, visit us online at straightupspaces.com.