Food is Me follows five of the city's eateries

 – Dear Grain Commissary, Tomah, Grain & Grit Co., Himalya and Maria's Tortas Jalisco.
Romantic comedies often contain a "meet-cute" scene of a couple's first encounter. Kris Osborne and Nathan Sizemore have a terrific meet-cute story though the only "romantic" part is their shared love of food. Osborne was off to Europe with her spouse and young family for three months. Sizemore and his family, who'd been staying in small digs across the road, happily took over the rental while they were away. The two families became acquainted and mutual interests led to collaboration on creative projects.
The most recent is the docuseries Food Is Me, which premiered to a full house at Hamilton's Westdale Theatre. Funded by Bell Fibe TV1 and produced by Osborne and Sizemore's Wild Fig Studio, the films have been described as "an intimate, vulnerable, and often funny exploration of the people, food and drink behind five of Hamilton's most noteworthy breweries, bakeries and restaurants."
They are Dear Grain Commissary, Tomah, Grain & Grit Co., Himalya and Maria's Tortas Jalisco.
Growing up in a family-run restaurant, Osborne, who now lives in Westdale, is an accomplished recipe developer, food writer, and food media producer with over a decade of experience in the food, health and wellness space. She has worked with many high-profile brands, organizations and publications. Sizemore is a Toronto-based filmmaker, with decades of experience making films and commercial video. Since childhood, he has loved film, which he says encompasses all art forms and demands creative contributions from a team.
The docuseries' secret ingredient is talent showcasing talents. If the premiere crowd's response was any measure, they agreed. As an expert on watching food shows, I'd say Food Is Me tapped into the best element of this format – choosing people who had great stories. Hosted by celebrated food writer and cookbook author Tara O'Brady, each film perfectly balances personal narratives with demonstrated artisanal skills. Considering that Hamilton has such a vibrant food scene, it's a pity there is little in the way of a film archive. Here's hoping Osborne and Sizemore can continue with this project.
It's scheduled to be released on Bell Fibe TV1 on Aug. 1.
Dear Grain Commissary
103 Vine St., Hamilton
IG: @deargrainbakery
When it comes to love of food, it's hard to top Adri Greenspan's passion for bread. He and his wife Lidiya Kirilova founded Dear Grain with this stated goal: "We're in the business of making people fall in love with sourdough bread all over again." Working as a private chef, a whole new world opened up for him when he was asked to make bread. "I didn't really choose bread. It chose me," he says in the series. He looks at bread with love and waxes poetically that breadmaking incorporates all the elements – earth, water, fire and air.
Spending hours away from home when the bakery opened, Greenspan was soon joined by Kirilova. He demonstrates on film some of the steps in making bread from high-hydration dough, which has a long shelf life and is highly digestible. Kirilova discovered her own passion for pastries and the bakery now makes sweets that always satisfy and are often inspired.
With Hamilton as their main commissary, they also have a storefront in Toronto. Their bread blog offers many helpful tips for home bread-making.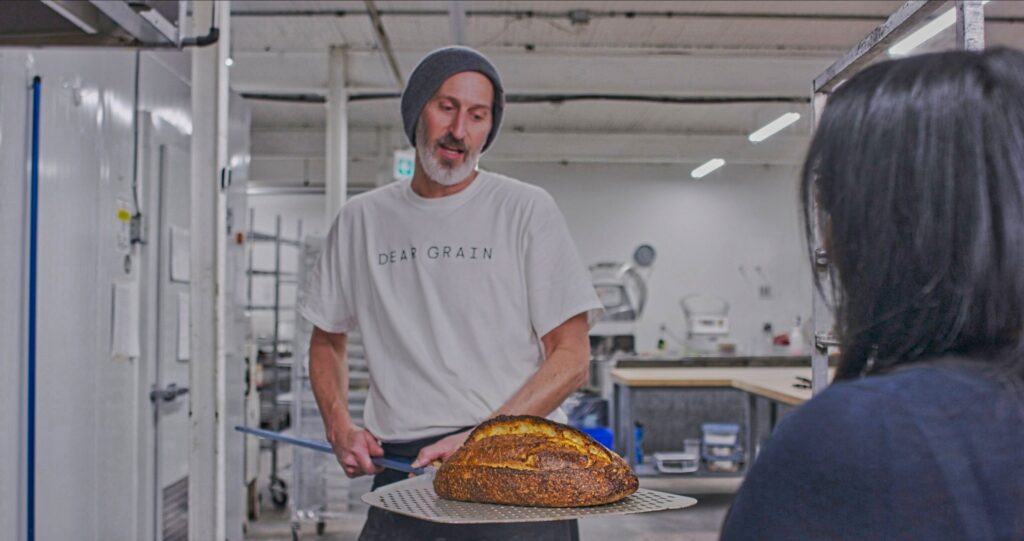 ---
Tomah
242 King St. W., Hamilton
IG: @tomahrestauranthamilton
There are two things compelling about Mohamad Tomeh, owner of Tomah: His story and his irresistible food. His food includes what many agree are the best falafels in town, along with kibbeh, dips, artfully presented hummus, and "sandwiches." It's a feeble word for the Syrian shawarma of spiced, juicy chicken breast with garlic sauce and pomegranate molasses, and rolled into saj, an (unleavened) flatbread that is lightly charred, resulting in a delicious thing of beauty. Tomeh also makes unique cheeses that are central to his story and he demonstrates his techniques for Turkmani cheese (and falafels) on camera.
His family's journey to Hamilton began in Syria where Tomeh was running three restaurants and a cheese factory that produced dozens of products. His story about leaving behind the fruits of 20 years of work is told, with heartbreaking images, in the Food Is Me film. Tomeh speaks of his love for the Hamilton community from which the family received an outpouring of support when forced to move from their first restaurant location. He says he "makes food with love." No surprise then that his falafels are heart-shaped.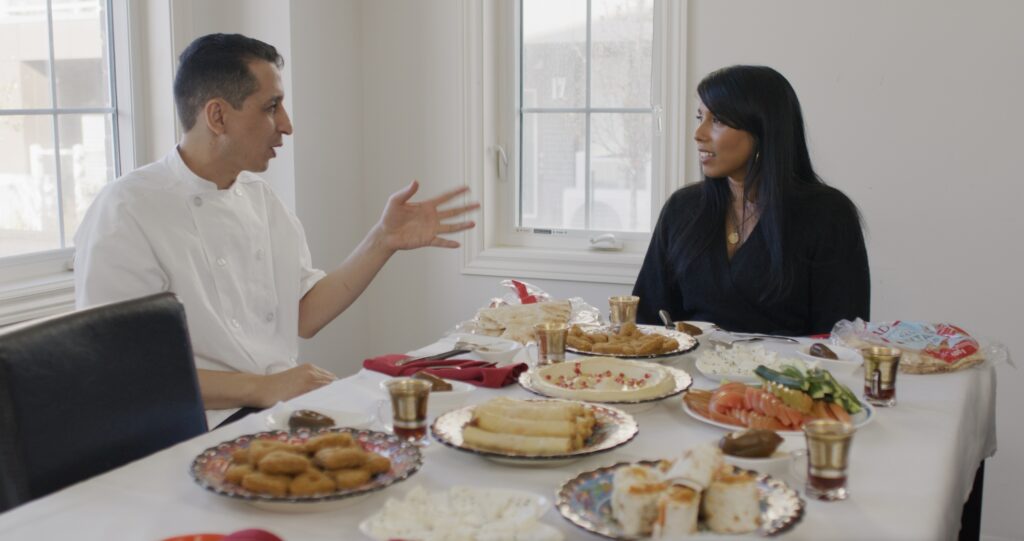 ---
Grain & Grit Beer Co.
11 Ewen Rd., Hamilton
IG: @grainandgritbeer
The segment about Grain & Grit opens in the home kitchen where this small batch microbrewery began. Lindsey Mrav said once she could see her husband Joe was "head over heels" in love with what began as a hobby, they agreed to "take the leap" and open a business.
They share their story while walking viewers through the beer-making steps. Lindsey was determined to create a "mom and pop shop." that welcomed everyone, including families. Where else will you find "Babies and Brews" days where moms can chat and connect, or "Doggie Days" for four-legged family members?
Snacks can be enjoyed with a new brew on tap each month. "Flavour Master" Joe's creative use of aromatic oils result in a tantalizing IPA with "flavours of pear, lemon thyme, grapefruit, pithy citrus and pomelo."
Their website proclaims that they are "a couple of beer-obsessed, home-brewing, family-oriented, fun-loving folks who've made our home in the fine city of Hamilton." If you look closely, you'll see "Grit" tattooed on Lindsey's arm. She says, "It was such an important word to us. It felt like Hamilton. We felt that Hamilton has so much grit and we love that about the city."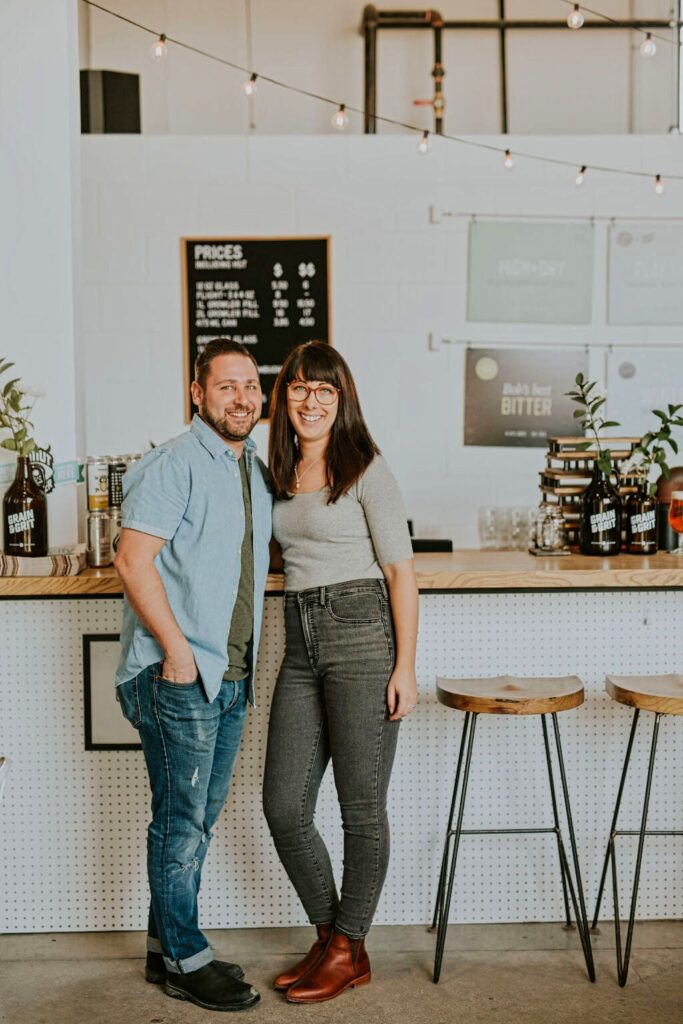 ---
Himalya
160 Centennial Pkwy. N., Hamilton
IG: @the_himalya_restaurant
The Himalya segment of the docuseries is about a business – and a family – that has grown over the last 30 years. Simranjit Barda (the second-oldest daughter) takes the lead in introducing family members. Patriarch Tej Pal left India and began a long kitchen journey after arriving in Hamilton and working as a chef. The family eventually opened Himalya in 1996, serving vegetarian North Indian cuisine. Palj credits his wife Shakuntla Pal for all her hard work in building the business.
Making samosas at the restaurant, series host Tara O'Brady learns about everyone's contributions. Tej Pal is now retired but still involved as "samosa supervisor" and son Gaurav has assumed a leadership role.
Opening a vegetarian restaurant at the time was a risk but they gained fans with an impressive menu of classic dishes that includes curries, pakoras, kofta, korma, eight types of bread and delicious desserts. Using their own spice mixtures, they let patrons specify heat levels. With a still-growing group of faithful patrons, Shakuntla stresses that they welcome all customers be they Indian or Western. Their website invitation? Come and treat your palate.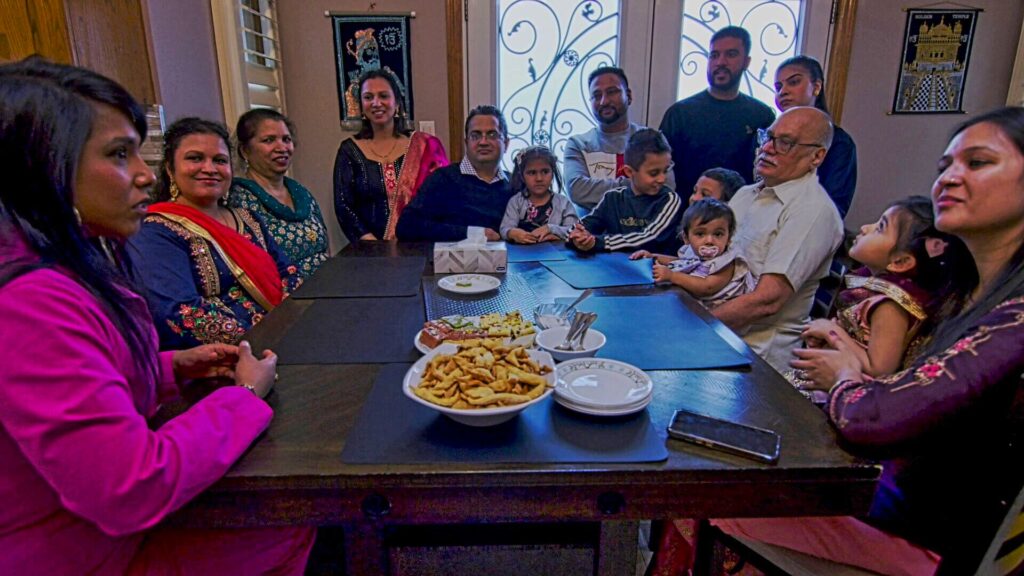 ---
Maria's Tortas Jalisco
438 Hwy 8, Unit 1, Stoney Creek
IG: @mariastortasjalisco
The segment on this Mexican eatery ends with founder Maria Ojeda singing. From Jalisco, home of the mariachi tradition, Ojeda was an accomplished and celebrated singer at home and in Los Angeles before journeying to Canada. From a taco stand, then a full-service restaurant in Toronto, her latest life chapter brought her to Hamilton where she was joined by her two daughters in opening Maria's Tortas Jalisco.
Clearly a regular customer, O'Brady makes various – spicy – salsas with Ojeda, later joined by daughter Helen Tafolla, all sharing stories. Though delicious tacos, burritos and quesadillas are on the menu, the eatery name refers to the classic Mexican sandwiches not often served in Mexican restaurants in Canada. French-style buns, buttered and grilled are filled with cheese, meat and toppings. Ojeda is also considered queen of birria – a traditional meat stew.
This singing chef admits that she became more famous with her hands than with her voice but she vows to return to singing if her daughters ever take over the eatery. The Food Is Me premiere concluded with Ojeda singing with force and joy.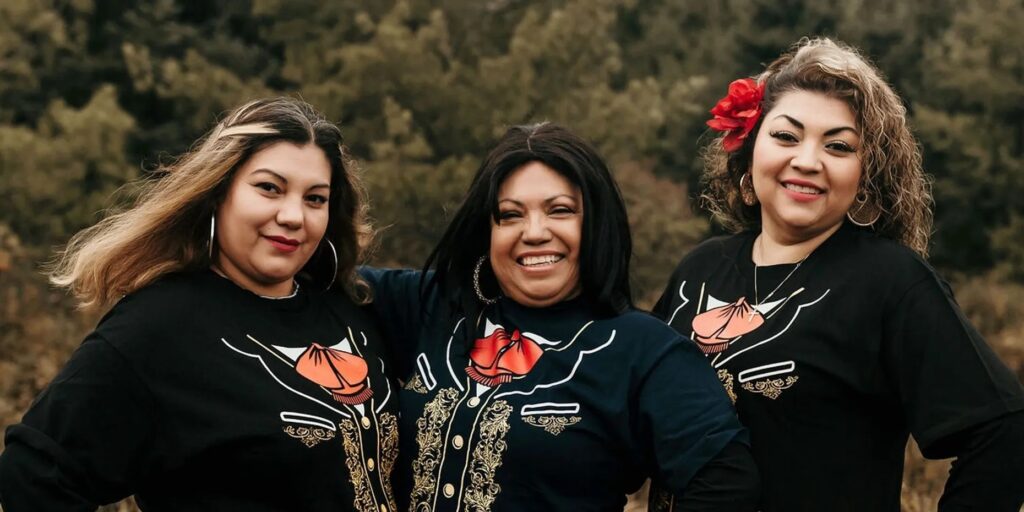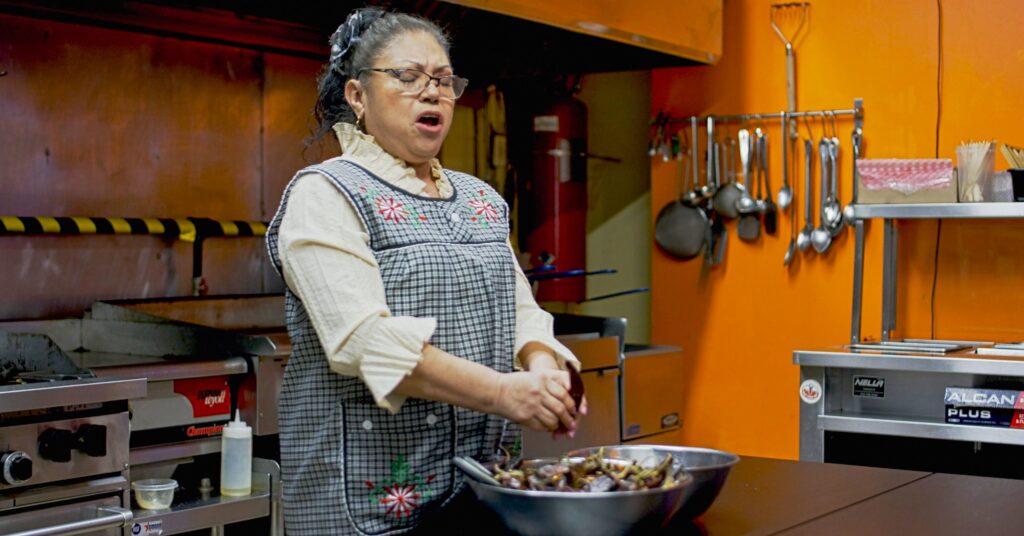 The food and drink!