This regular feature highlights people from all walks of life 

who have embraced Hamilton as their new home
RACHEL RIORDAN has been illustrating since before I could even say Illustrating. I grew up with a pencil in my hand and devoured paper. As an adult, I've been fortunate enough to have drawn for big brands like Amazon, Rogers, Coca-Cola, Unilever and many more. I have also drawn for small brands across the globe. But my favourite is drawing for people that end up hanging in their homes.
PAUL RISS is one of the premier award-winning creatives in Canada. A spot you may remember was for Subaru Forester where a group of Sumo Wrestlers did a sexy car wash. This spot was coverage in the New York Times and virtually every major Canadian publication. When not at work, you can find him anywhere there's birds. Paul is the focus of a CBC documentary called Rare Bird Alert on CBC Gem or YouTube.
They have been married for 20 years and have twins, Georgia and Shepard. They spend summers in a small cabin they built with their own hands on Manitoulin Island.
Where did the two of you grow up?
RR: Northern Ontario
PR: Oshawa
What are your day jobs and why do you love them?
RR: Illustrator, designer, fine artist. It gives me the freedom to be home and making beautiful things.
PR: Creative director, designer, agency founder. I love that I am in complete control of the work I take on since opening Round, my own shop.
What brought you to Hamilton?
RR: We were looking to move back to a city and find a great Montessori school for our twins. We were not as interested in Toronto because we'd lived there for so many years. We wanted to live in a city, but with easy access to nature.
What's your take on Hamilton now that you live here?
PR: We love it here. It is just the right size of city and it has so much easy access to nature and as a birder, Hamilton is a very unique spot with so many varied habitats that always have interesting birds to see. We also love that it has a vibrant art community and so many great restaurants.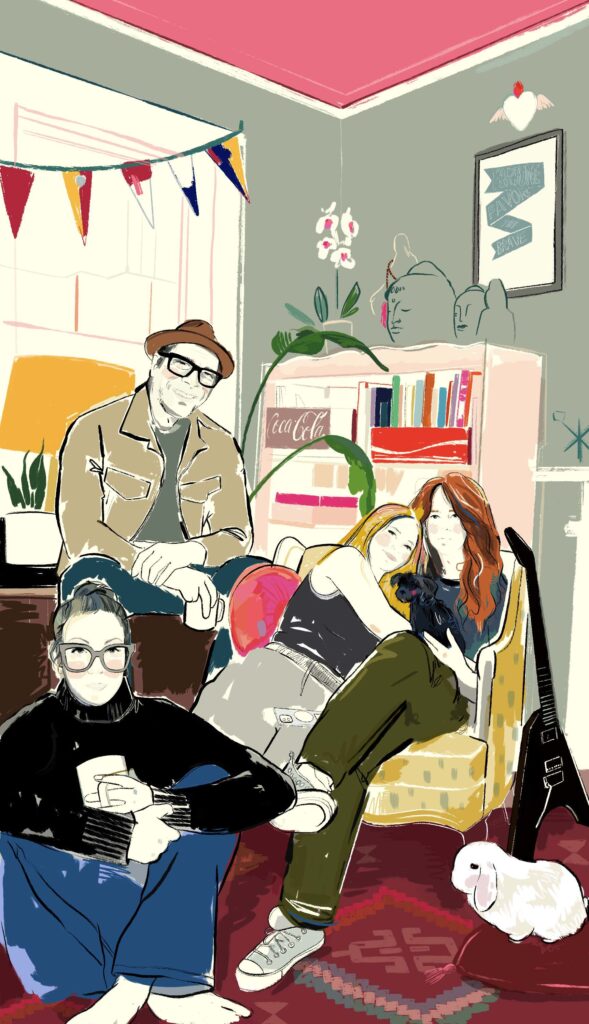 How would you describe this city as a place to work and raise a family?
PR: Our work doesn't rely on Hamilton as Round and Rachel both have clients all over North America but to do the work here in Hamilton is great.
RR: We love Hamilton as a place to raise kids because there's a best-of-both-worlds situation with the city right up against natural spaces.
What neighbourhood did you choose to live in and why?
RR: We chose east-end Hamilton – Stipley. It is a little more lively and art-driven community and we have always liked that.
Is there a true Hamilton experience you've had?
PR: Many. One that always is great is Ticats game day. We live close enough that we hear the game and can walk to the stadium to go to a game. The fans love it, everyone is selling parking on their lawn and it feels like a very Hamilton vibe.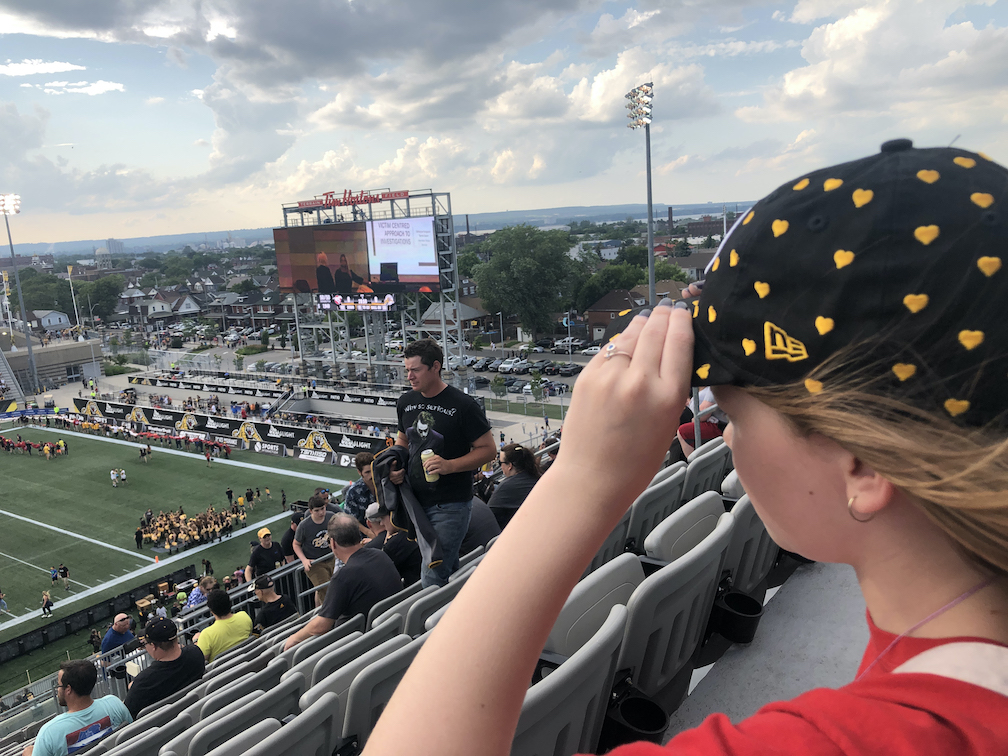 Favourite hangout in Hamilton?
RR: Hard to decide. I love walking down by the lake and sitting on my front porch. Our street is pretty entertaining some days.
PR: We live close to the Capitol Bar, as well as Vintage and Rooney's coffee shops. All three spots are very community driven and you end up chatting with neighbours when you go in.
Best meal you've had in the city?
PR: Probably The French for a more upscale meal but you just can't beat Mai Pai's Sunday family deal. So good.
How do you each spend your spare time?
RR: We both go almost daily to Cornell Training Academy to work out. Our trainers there are both Hamilton originals, plus you see Ticats training there sometimes. But also as I mentioned, walking the lakeside at dusk can be so nice.
PR: I regularly birdwatch at a few cemeteries during spring and fall migration and in the Dundas Valley or at the lake in winter when the ducks gather in the tens of thousands.
What's Hamilton's best-kept secret that you've discovered?
PR: It's not a secret to those that live here but when you first hit Grandad's Donuts, that's a memorable Hamilton spot.
RR: The main library and its Makerspace is amazing.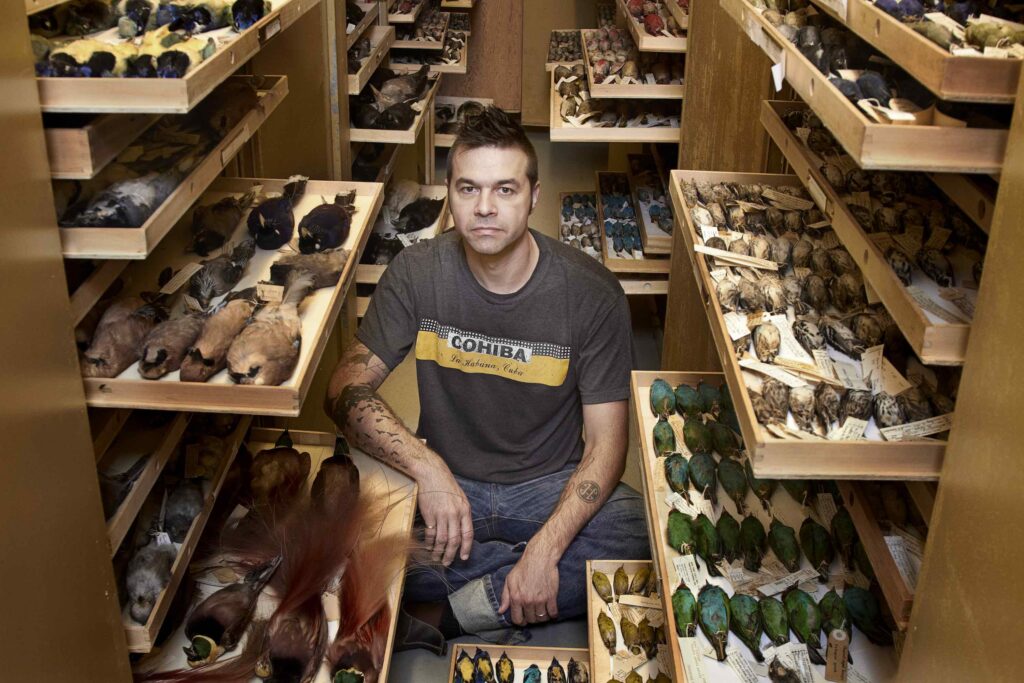 What does Hamilton need more of?
RR: Small-scale businesses like grocers and markets. That is one thing we've missed from Toronto (there's not much we miss). We lived in Roncevalles Village and there were so many small markets on every corner you could quickly walk to.
PR: All-ages punk venues like we had in The Kill Room. That place will be sorely missed.
What does Hamilton need less of?
PR&RR: Cars that turn unexpectedly from two or three lanes over from the turning lane. We've never seen that so much as here. It's daily at least. So strange.
What's the one thing you brag about Hamilton to outsiders?
PR: The lack of traffic. It's not crippling to moving around the city.
RR: Greenspace.