Beer, golf, frogs, rooftop patios, rinks and treehouses … There are so many only-in-Hamilton experiences to be had during the winter months. 

Here are a few of our favourites!
Cold ones in the Cold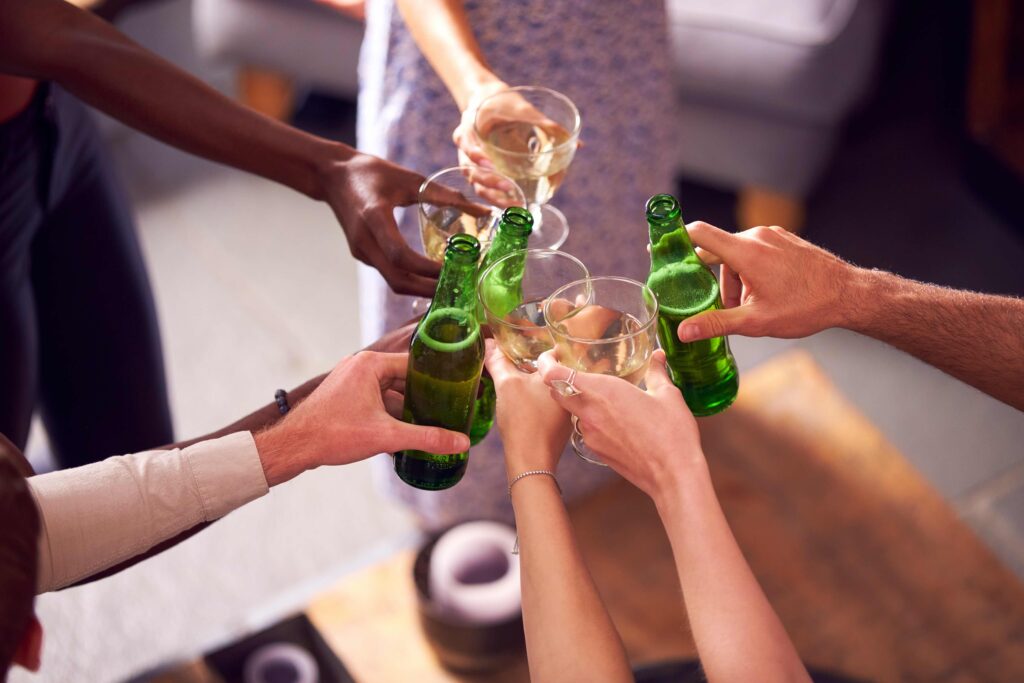 Since craft beer and toques go hand in hand – even in the summer – frigid winter temps shouldn't prevent you from exploring the local craft brewery scene. If you're looking for a one-stop – and warmer – sampling experience, the Because Brrr Craft Beer Fest brings it all under one roof at the Bridgeworks. In addition to the live music, a retro arcade and food offerings, the stars of the festival will be the top-notch craft beers and ciders from local producers including Merit Brewing, Steel City Cider, and Fairweather Brewing Co. By trading their tickets for 4 oz. sample tastings, festival-goers are certain to find their new favourite brews, and with patio season fast approaching, this research is akin to getting your homework done early. Check out the website for ticket info, you keeners. 19+ event Feb. 17-19, Bridgeworks. becausebeer.ca
Hop on Down to the RBG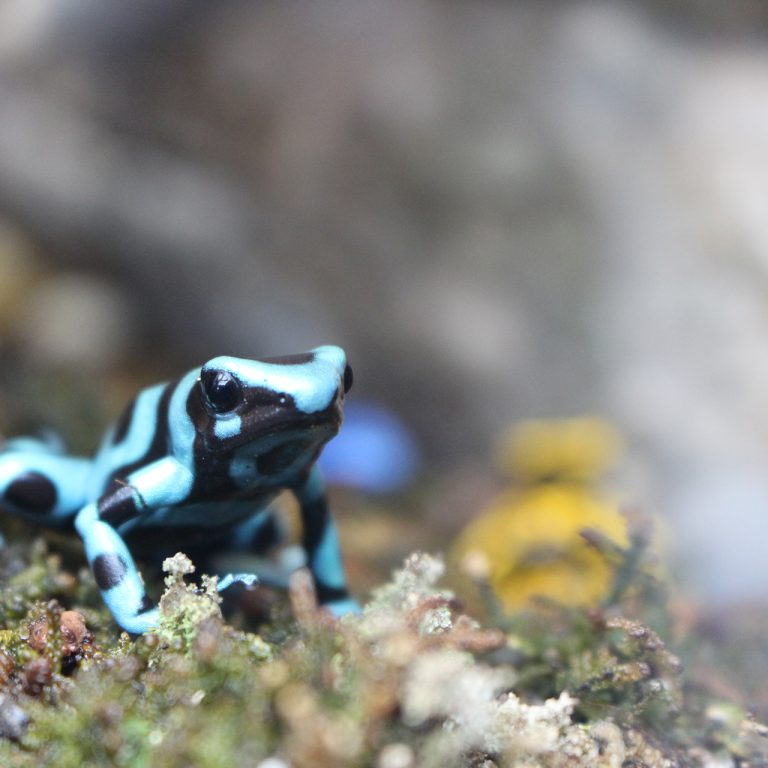 Even if you can confidently list the differences between frogs and toads (frogs are kissable, toads are the warty ones), the experts at the RBG are ready to shed some more light on this diverse group of amphibians. The Gardens' winter exhibit, highlights all things frog and offers visitors daily encounters with a variety of species. While the exhibit is a perfect cold-weather outing for the whole family, 19+ after-dark events are also planned for a different kind of date night. As an added bonus, the timed ticket to the exhibit includes admission to the gardens during the day, allowing visitors to boost their step count while admiring the RBG in an unfamiliar frosty landscape. RBG Centre, Jan. 20-April. 16. rbg.ca
Festival on the Roof

During the month of February, things are looking up at Jackson Square thanks to Hamilton Winterfest. Fifty years after the mall's grand opening that drew 20,000 visitors, Winterfest breathes new life into the space by claiming the mall's rooftop as its hub. The family-friendly event features art installations including murals and light-based work, live entertainment and activities. Food stalls and a vendor market round out the scene to ensure a good time is had by all. If there was ever an excuse to hang out at the mall, this is it. Feb. 2-20. hamiltonwinterfest.ca
Ice is Nice

While there is something to be said for wintertime hibernating, even bears wake up from time to time, so this is your cue to take it outside. Consider trading your slippers for a pair of skates at the Pier 8 rink for the oddly soothing experience of making endless circles with your fellow Hamiltonians 9bonus points if you can do it backwards). The bear-free rink's waterfront location is an absolute gem, and the added bonus of nearby hot chocolate and snacks ensures skaters' energy levels are fuelled, allowing them to keep on gliding. Skate rentals are available, and include helmets to keep noggins safe. Check out the website for rink hours and more information. 47 Discovery Dr. hamiltonwaterfront.com
Mind if We Play Through Winter?
This winter, the City of Hamilton is inviting local golfers to stop putting around the house and hit the greens (whites?) at Chedoke's Martin Course instead. Dress warmly for this new golfing experience, be sure to pack some tissues, and be ready to have some good tales to tell on the 19th hole come spring. Not a golfer, but still feel the need to aim at something outside? Rummage through your beach bag to find your frisbee (or disc if you're not new here) and try your hand on the winter Disc Golf course at King's Forest. Side effects may include cold fingers and finding your new favourite summer pastime – in the dead of winter. Check out the website for more info and to book a tee time. Until March. 11, weather permitting. hamilton.ca/things-do
Family Trees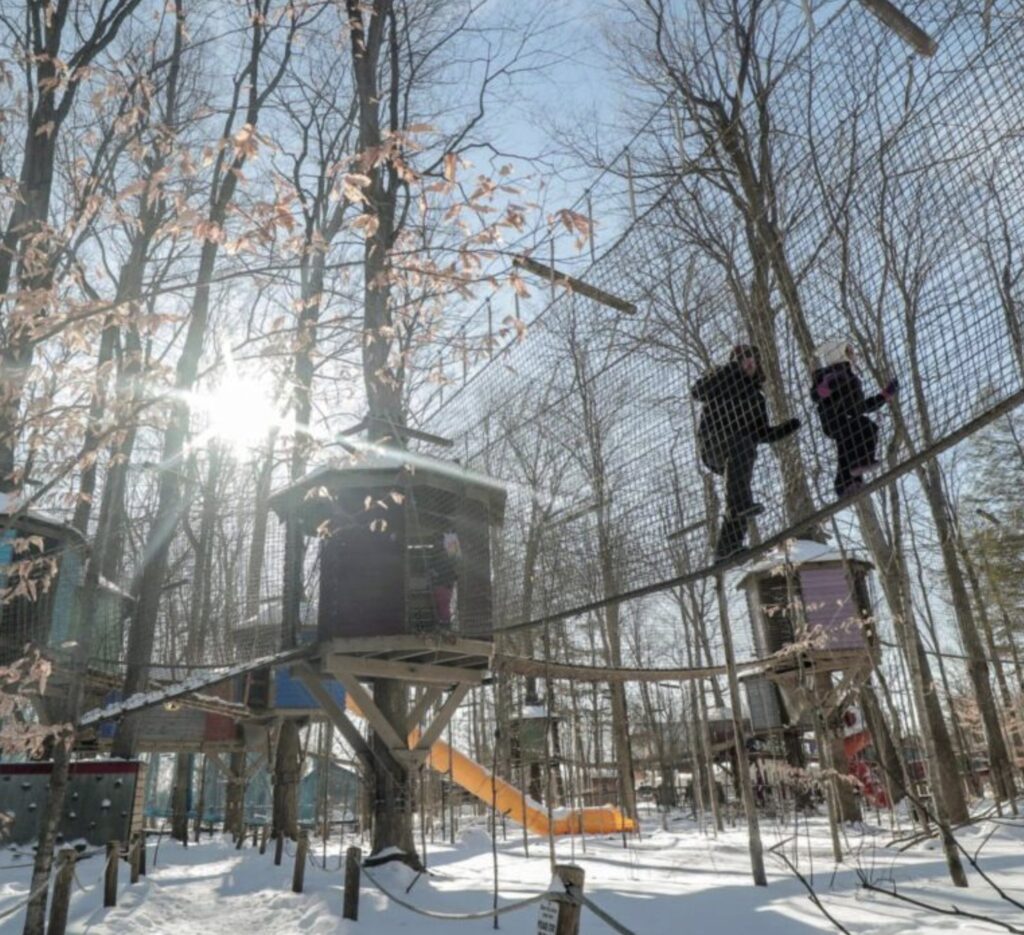 Imagine a wee treehouse village suspended above the forest floor, where children rule the roost. While this description may be reminiscent of the works of William Golding, we promise that a visit to Treewalk Village at Binbrook Conservation Area is far less sinister. While the adult-focused high ropes course is closed for winter, the fun has been brought down a few branches for the kids. Visitors will be met with a series of elevated treehouses made for exploring, perfect for exercising legs as well as imaginations. Check out the website to book timed-entry tickets. Friday-Sunday until March. 30. treetoptrekking.com