Give the gift of local this season with Hamilton's ultimate gift guide! We are blessed when it comes to the shop local movement. 

Hamilton and Burlington are home to countless shops and artisans and artists selling interesting and inspired gifts for anyone on your holiday list.

 You'll feel as good as the recipient! Be sure to check out our food gift list and our creative ideas for kids, too!
Toasty Toes
Each snuggly pair of Rough Bark Knits' handcrafted Cabot Booties starts with soft, breathable yarn that's knitted into a classic sherpa-lined bootie and bound for comfort. Finishing touches like genuine suede soles and hand-cut leather laces elevate these slippers into wearable works of art. The slippers can even be slipped on and off without tying the laces each time! Rough Bark Knits brings attention to the smallest details, making these foot warmers a perfect fit for lounging or gift-giving. Slip on a pair of Cabot Booties for a little piece of homespun Hamilton right at your feet.
Rough Bark Knits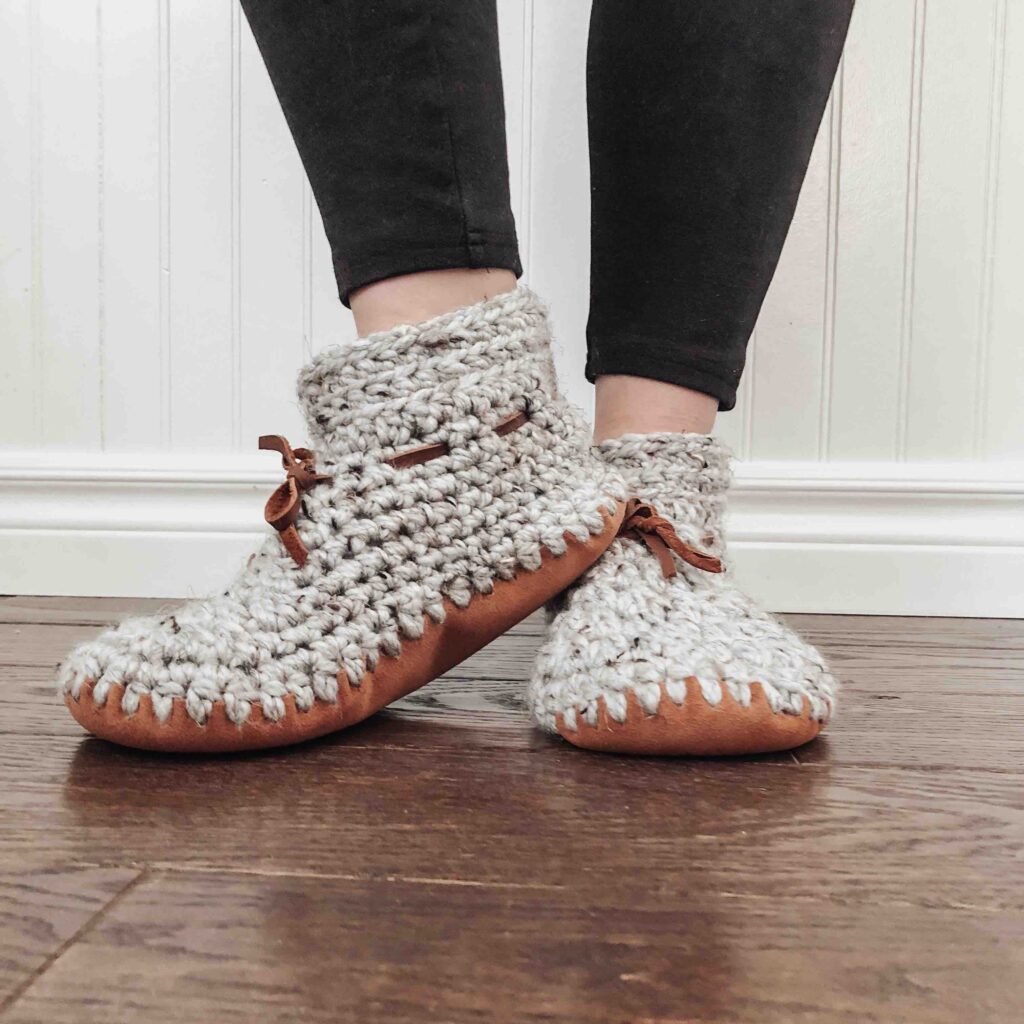 ---
Woven Wonders
Stephanie Weaves' tactile wall hangings radiate vibrancy. Using sustainably sourced fibres, each abstract tapestry is a burst of colour handwoven with intention and infused with healing Reiki energy to "help bring peace, calm and love to your home." Her weavings are inspired by the colours of nature and this particular piece reflects the natural palette of spring and summer sunsets. With beautiful, organic colour and soft, textural character, Weaves' pieces enrich spaces with beauty, creativity, and tranquility.
Stephanie Weaves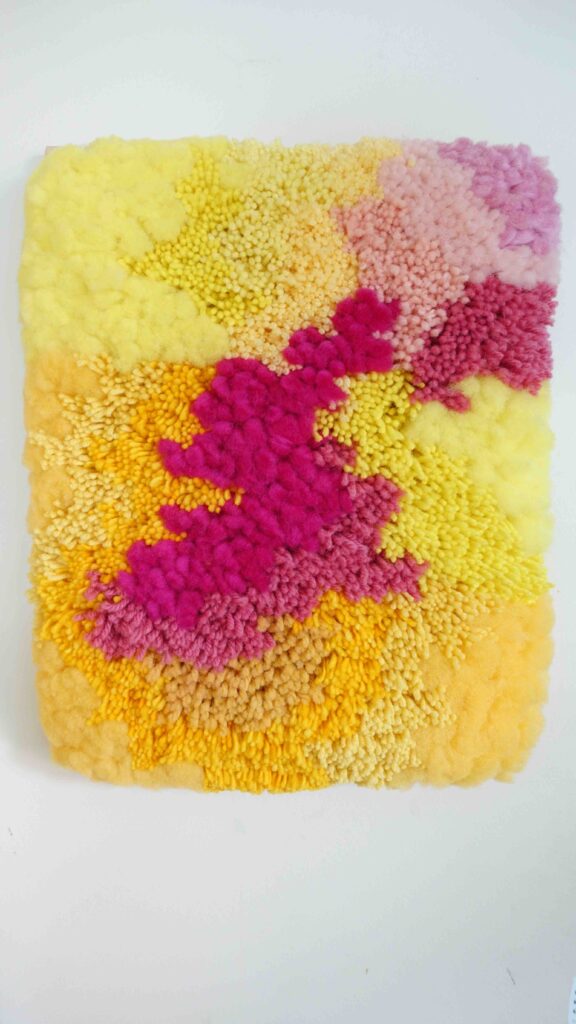 ---
Hands-Free Style
Sunstone Jewels' The Frankie crossbody bag is the perfect accessory for those with a bold and funky flair. Sunstone takes pride in "being different, celebrating [their] uniqueness, and looking great while doing it." And this bag, a practical yet stylish statement piece, reflects that vision. Designed for modern function, the bags have a durable, adjustable strap and the option of a smaller or larger compartment to accommodate everyday essentials, like a cellphone, wallet and keys. Fun and functional, this crossbody bag offers an affordable, wearable canvas to showcase your own unique style.
Sunstone Jewels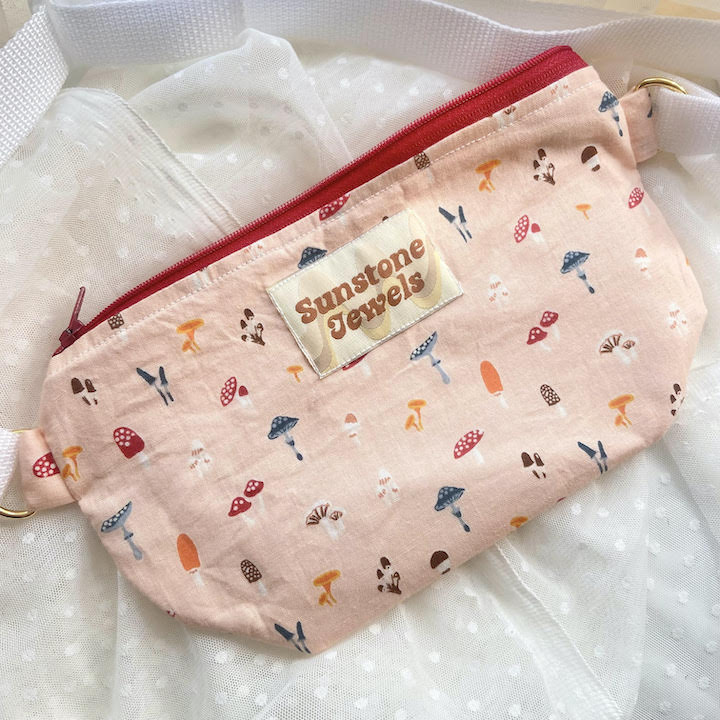 ---
Altered Course
Handcrafted with locally foraged botanicals, each nourishing bar aims to reconnect users to the land through everyday rituals. ALTR Soaps alter soap culture by elevating everyday ablutions into thoughtful self-care moments. Their vegan soaps are free from palm oil and made with organic ingredients that are 100 per cent grown or responsibly wildcrafted by them. And with lively and enchanting scents, like sage & sea salt, pine & charcoal, red oak & black walnut, yarrow & calendula, and spruce & rose, their earthy, botanical bars awaken your senses and connect you to the literal natural world around you. Lather up and experience bubbly bliss.
ALTR Soaps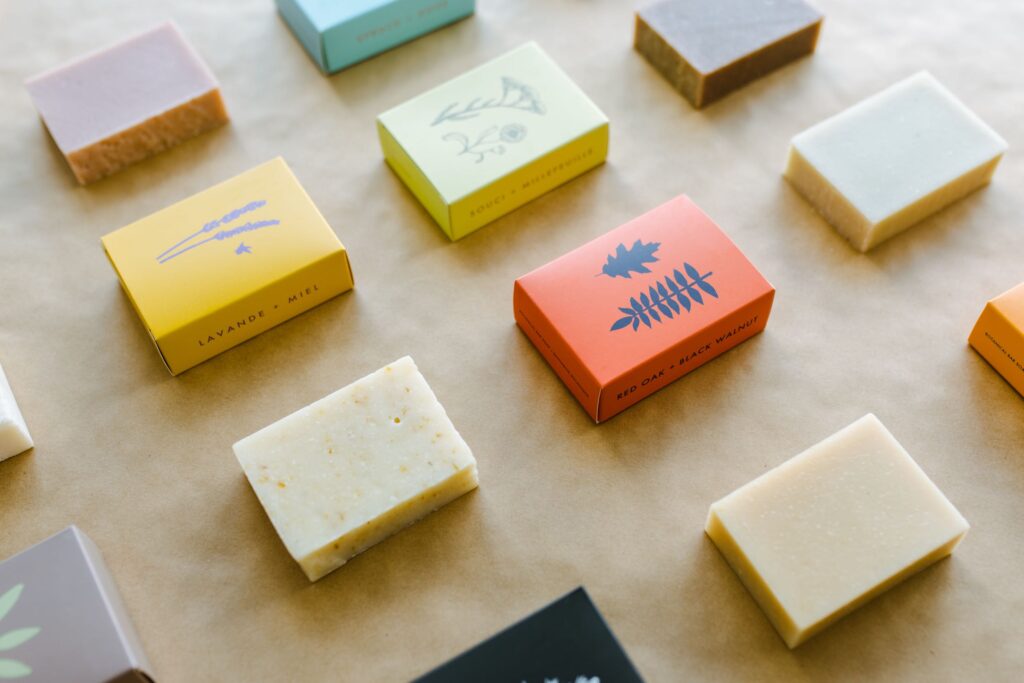 ---
Lip Love
Calling all beauty buffs! Transform your nightly routine into a restorative ritual and wake up tomorrow with smoother, softer lips. Artifact skincare's overnight lip mask is infused with high-quality, active ingredients and botanicals like moisture-rich honey, soothing avocado oil, and marshmallow root extract to deeply nourish your skin. As you sleep, it works its magic, gently exfoliating and delivering intense hydration – a boon to parched winter skin. Offering a range of thoughtfully crafted and always non-toxic skincare, Artifact's products carry with them the "artifacts" or elements of aroma, memory, place and beauty traditions from around the world, bringing them home to Hamilton.
Artifact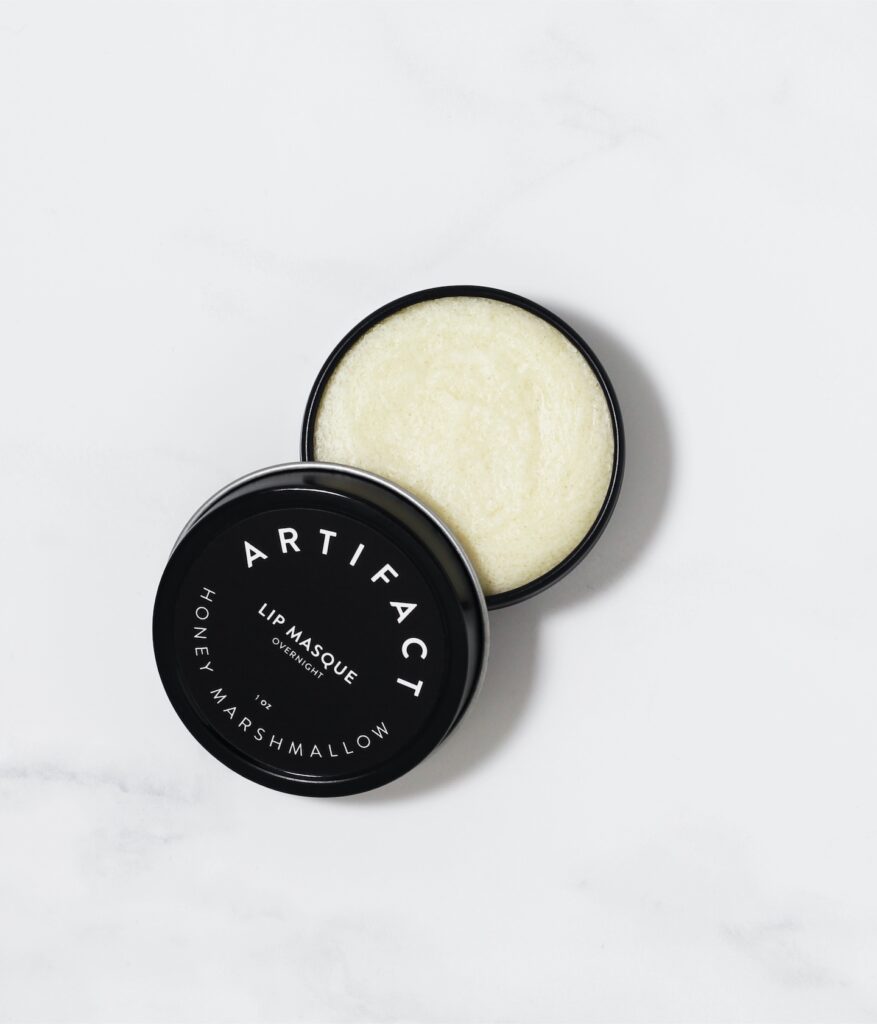 ---
Cherry Picking
There's something about Brightside General's charming cherry dish that genuinely sparks joy. This dainty trinket dish features a neutral glazed base accented by cheerful, hand-painted cherries. The juxtaposition makes for a playful pop of colour! As functional as it is cute, the dish is perfect for holding rings, earrings, loose change, keys, or other small treasures. Let this little dish add a touch of brightness to your home, or give it as a gift to spread some Hamilton-made cheer.
Brightside General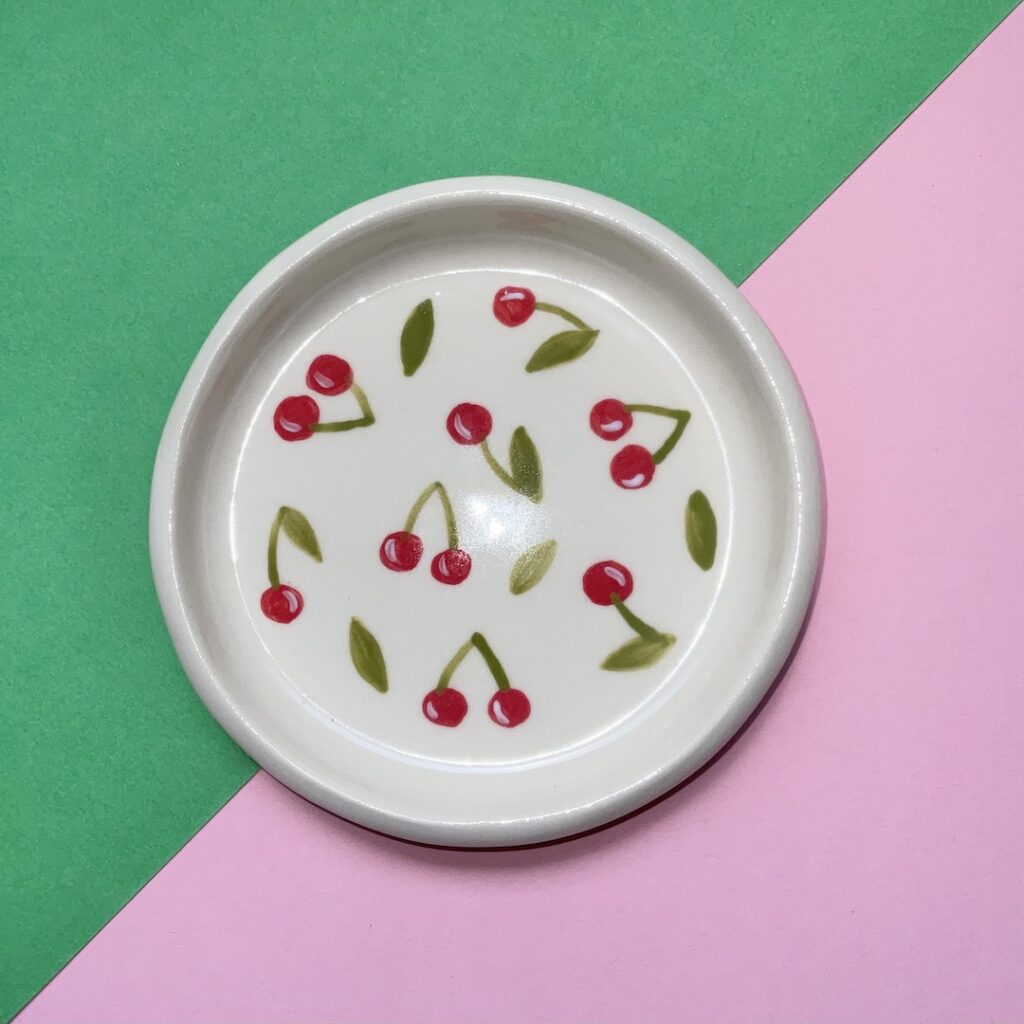 ---
Tote-worthy Tastemakers
Pay homage to Hamilton's tastemakers with this cheeky Food Is Me canvas tote. Inspired by the stars of the local docuseries, the bag playfully riffs on the classic Beatles ampersand tee, celebrating the city's culinary scene. Dear Grain, Tomah, Himalaya, Maria's and Grain & Grit – their names connected via ampersand – unite Hamilton's beloved eateries. This durable tote is a fun way to flaunt your hometown pride while running daily errands or hauling groceries for your own homemade feast. Carry the flavours of the city with you everywhere this season, while supporting local filmmakers and eateries.
foodisme.ca
Disclaimer: As the owner of Wild Fig Studio and co-director of Food Is Me, I'm thrilled to share this hand-picked selection with you. This tote was intentionally created as a way to support the eateries, the series, and local shoppers all around, making it a perfect homegrown suggestion for this year's gift guide. – Kris Osborne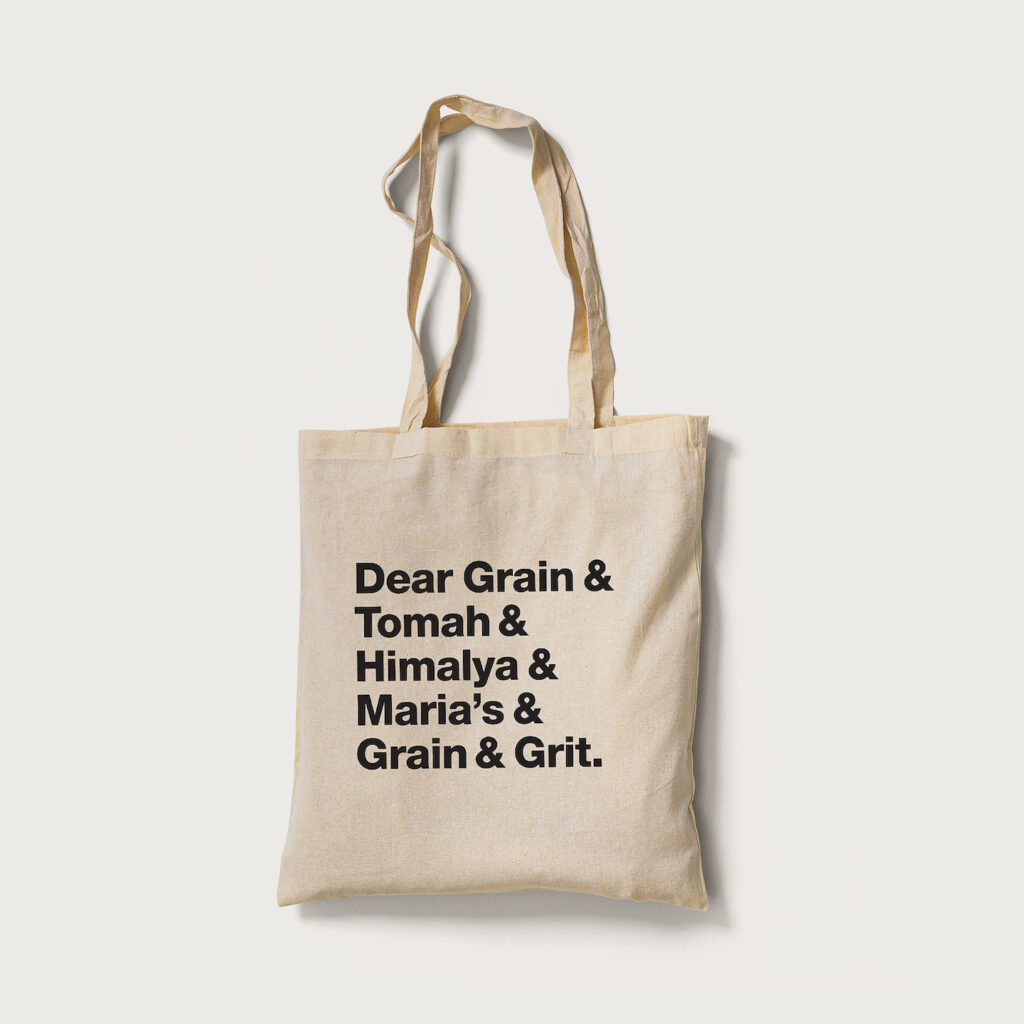 ---
Change Starts Here
If you want to start 2024 off on the right foot, Full Bloom's deliberately designed wellness journal helps kickstart healthy habits. With daily guides for setting intentions, and tracking things like nutrition, sleep, hydration, movement and self-care, this journal keeps you tuned into your overall wellness. Monthly habit tracking helps you review and measure your patterns and progress while prompts encourage reflection throughout the journey. Full Bloom also carries morning journals for daily intention-setting and manifestation journals for helping to gain clarity on your desires. Available in an array of colours, Full Bloom's journals are flexible and minimalist – an excellent blank canvas for personal goal-setting.
Full Bloom Journals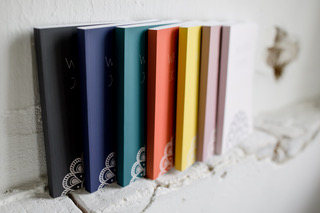 ---
Keys to the City
Robin + Canary's vintage-inspired keychains celebrate Hamilton's spirit in retro motel style. Featuring colourful, gel-like canvases and whimsical typefaces with phrases like "The Hammer," "Steel Town," "Happy Place," and "Home Sweet Home," these easily likeable accessories celebrate the city in lighthearted style. Their classic shape evokes a Motel 6 feel, while their playful designs capture Hamilton's artsy undercurrent. Attach your keys to show hometown pride wherever you roam. Or give them as a gift to unlock nostalgia for those friends who are missing the Hammer.
Robin + Canary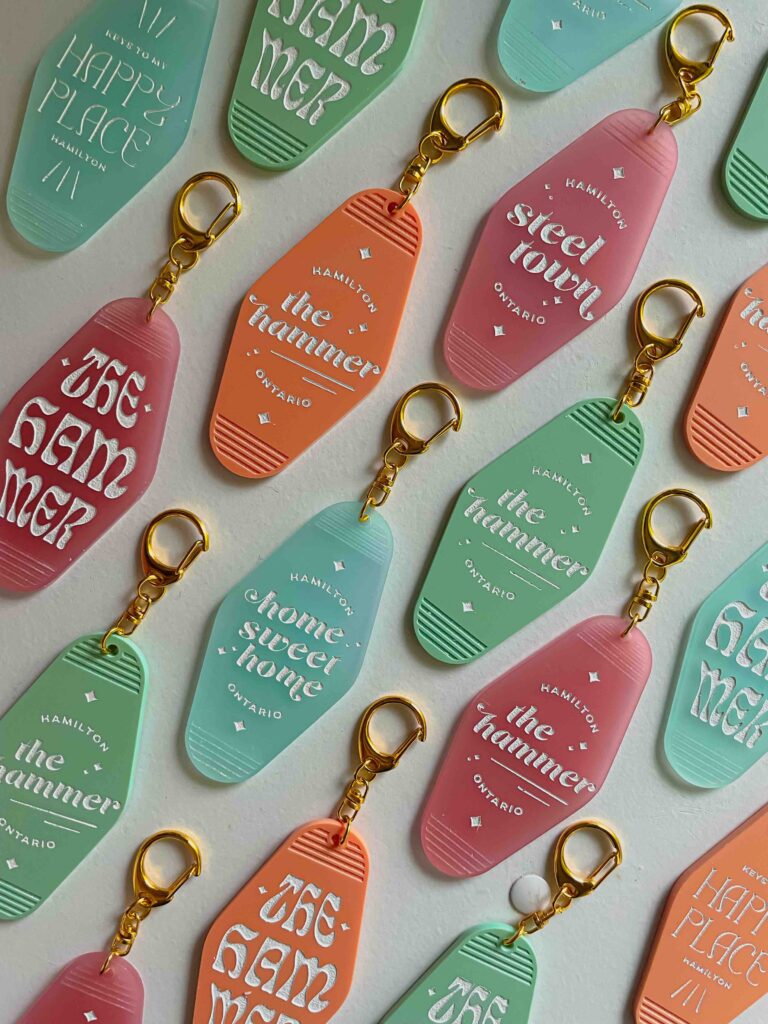 ---
Christmas, On the Map
Make a mark on your holiday tree with a laser-cut city of Hamilton ornament. Crafted from Baltic birch plywood, this miniature work of art traces the streets of the Hammer in exacting detail. At just 4 x 2.4-inches, it packs the city's iconic shape and major thoroughfares into a sentimental decor piece. Hang one on your tree to champion local artisans or gift it to far-flung Hamilton expats and travellers. With its intricately cut wood design, this mini-map celebrates Hamilton's spirit wherever it's displayed.
Designsbyerika.ca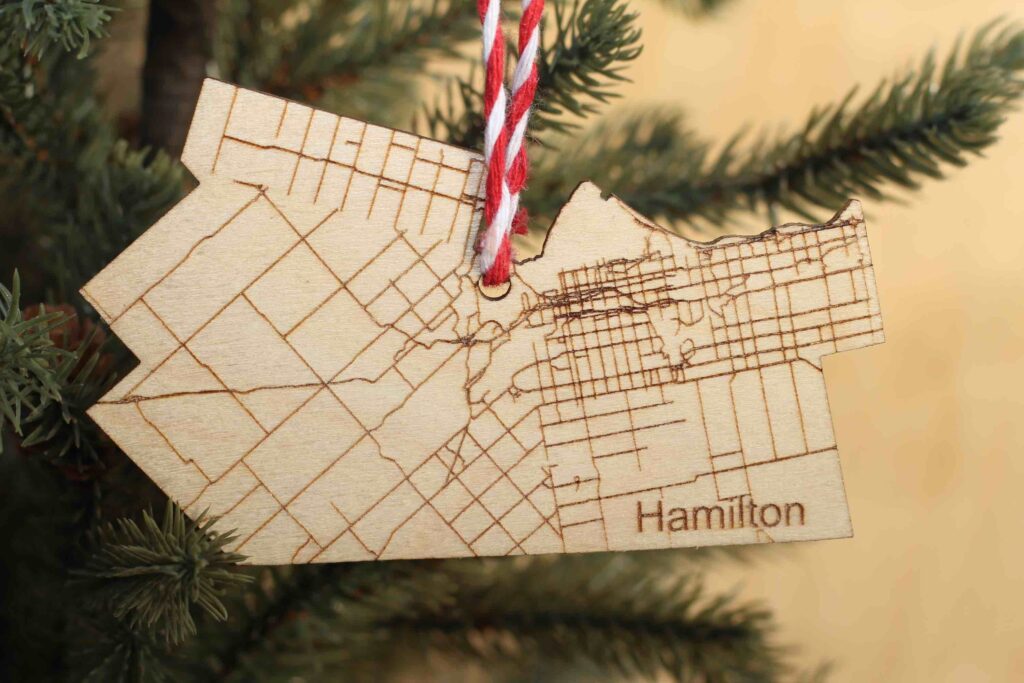 ---
Nature's Fix
Soothe skin naturally with Both Sides Studio's calendula-infused "fix sticks." This healing stick packs the regenerative power of calendula into a fuss-free format. With just three simple ingredients – calendula-infused olive oil, cocoa butter and beeswax – it harnesses calendula's soothing properties without any harsh chemicals. This versatile balm calms sunburns, minor cuts, dry patches and more. Its gentle touch works wonders on irritated areas in need of a little TLC. The perfect little stocking stuffer for anyone on your list!
Bothsidesstudio.com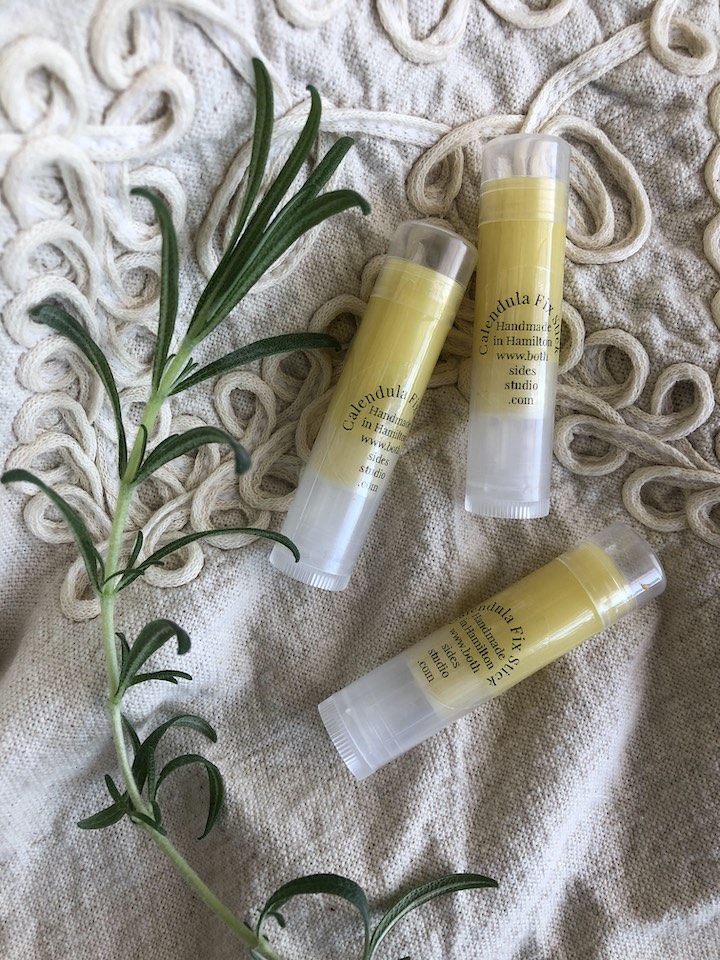 ---
Small Batch Bliss
Give the gift of local flavour this season with The Wandering Locavore's small-batch preserves. Gin cherries, an upscale ode to maraschino cherries, showcase sour cherries preserved in a sweet syrup made with Dillon's Distillery Gin 22 for a boozy, festive treat. Use them to adorn cocktails or serve over ice cream, with cheese boards, or mixed into savoury sauces. For those who like it hot and tangy, the Cowgirl Candy is gently candied jalapeño peppers in a tangy syrup. These spicy, sweet peppers fire up burgers, tacos, dips, and drinks. Both offer a taste of Hamilton's artisanal food scene in a jar.
thewanderinglocavore.ca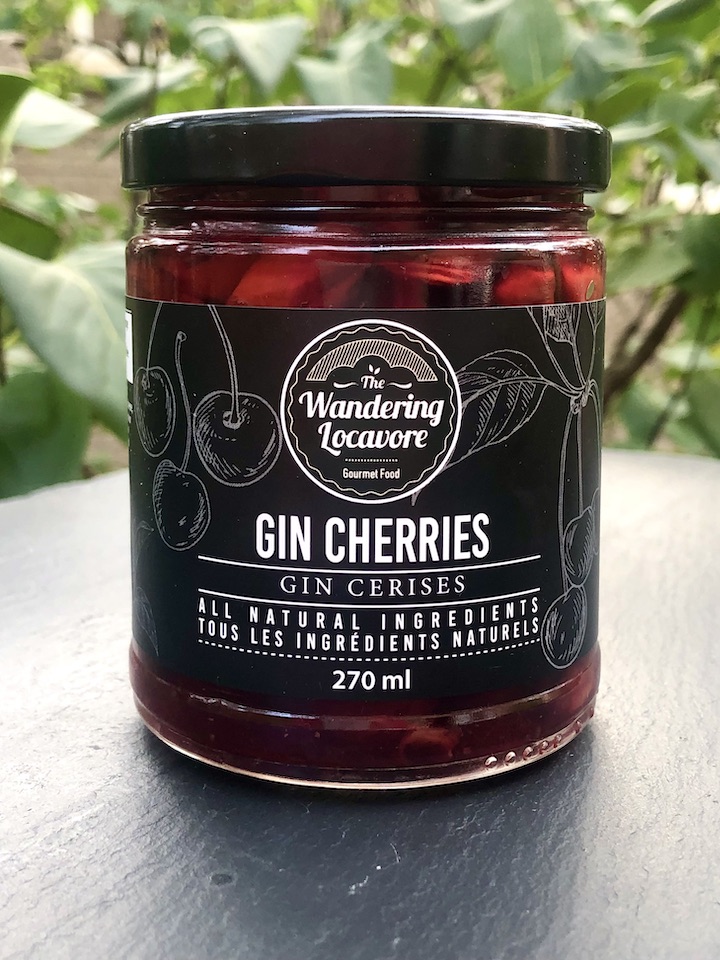 ---
Fashion Renewed
Goat Vintage turns trash into treasure with its sustainably upcycled sweatshirts. Taking high-quality vintage garments, Goat's designers deconstruct and reimagine them into fresh new styles. These reworked collegiate crewnecks get cropped into on-trend, preppy pullovers. With long sleeves, ribbed trims and cotton blend comfort, they keep you cozy and chic. By sourcing from secondhand stock, Goat reduces waste and creates unique pieces full of nostalgic character. Let these upcycled classics level up your wardrobe with vintage charm and modern styling for a sustainable fashion win.
Goatvintage.com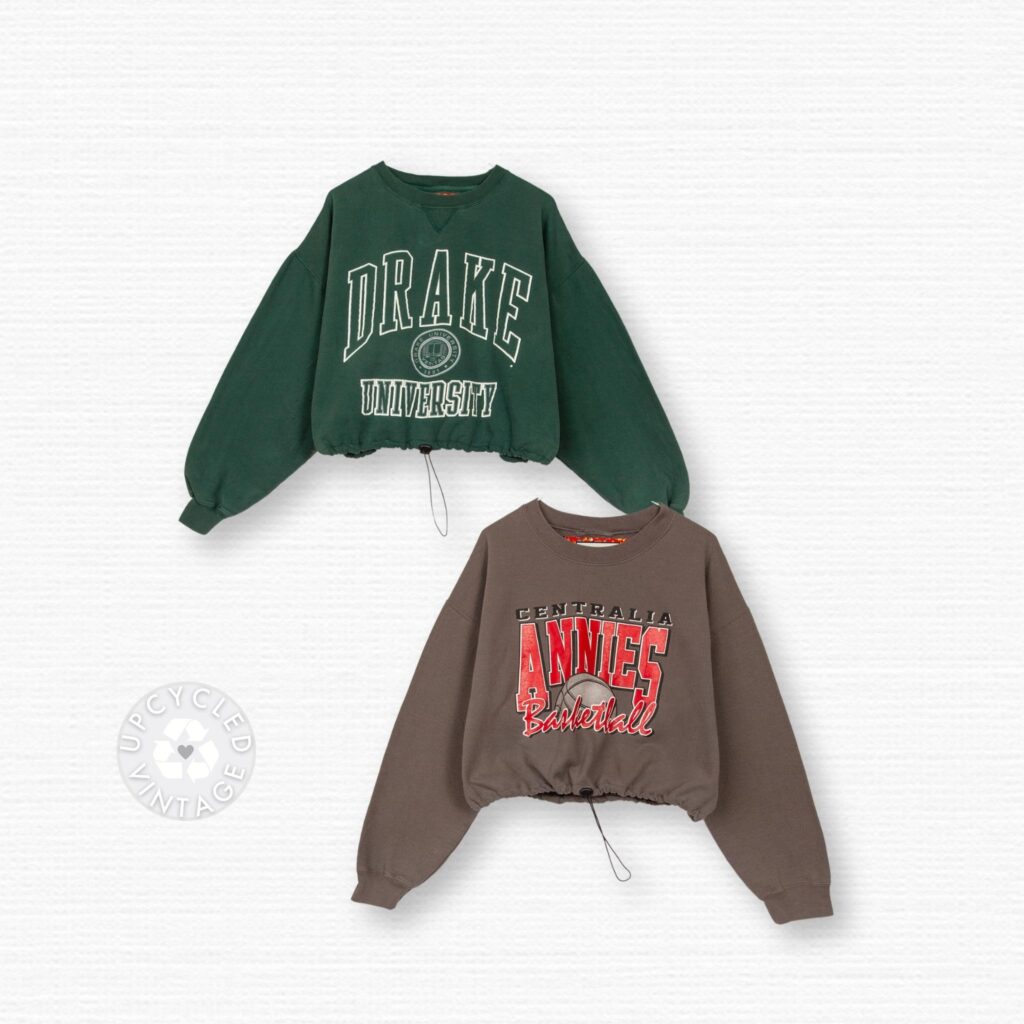 ---
Colourful Abstractions
Putting my biases front and centre — Ken Gamage is my partner. But authentically speaking, his transformative and thought-provoking works can add bold, modern style to any space. Gamage experiments with acrylics and mixed media on canvas to produce vibrant compositions that draw inspiration from diverse sources like math, graffiti, post-structuralism, psychoanalysis, data science, abstract expressionism, musical composition, Buddhism and children's markings. Each original painting synthesizes heady, philosophical concepts into primal visual poetry. Gamage's imaginative works invigorate any space with their deep layers of meaning, saturated colour palettes, fluid organic shapes, and sheer sensorial impact.
Helloart.com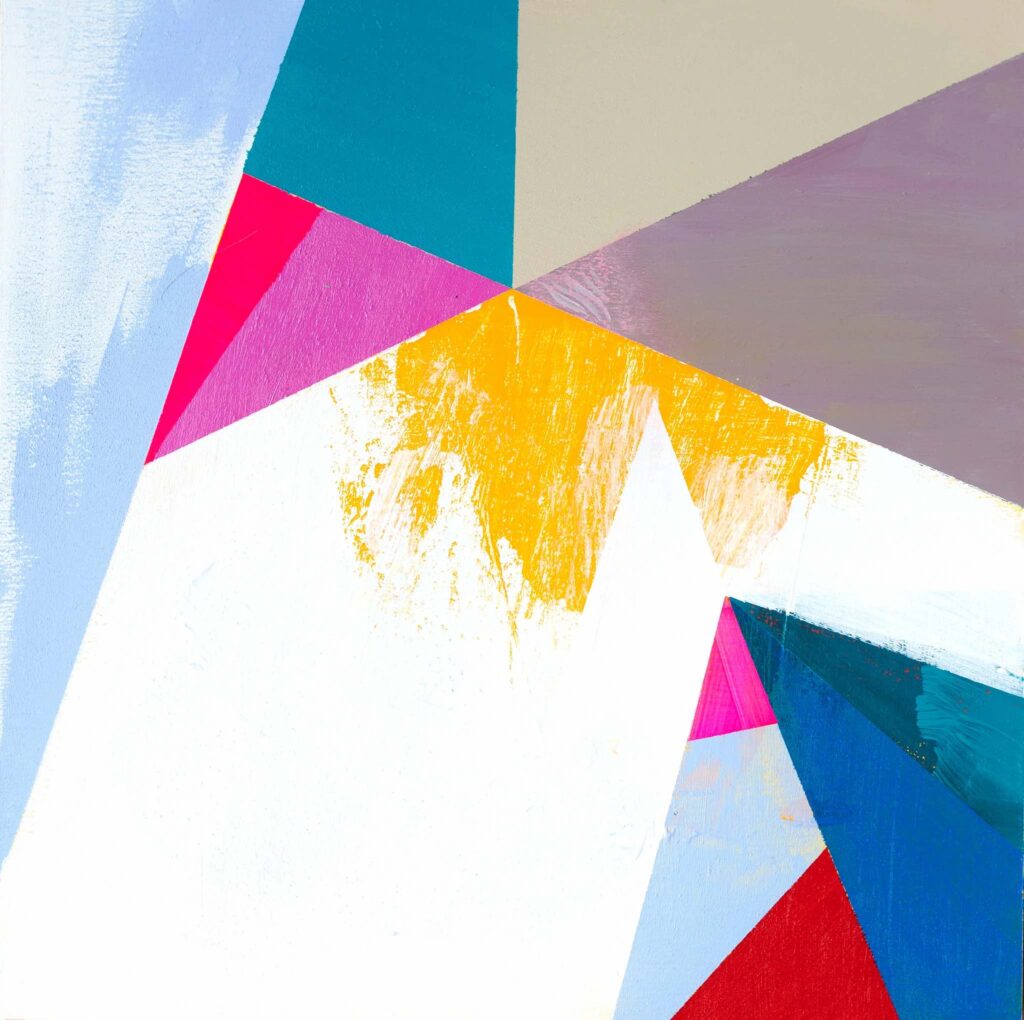 ---
Blissful Bathing
Want to escape into cozy relaxation? Mojo Hydrotherapy's fizzy Netflix & Chill CBD bath bombs envelop you in hygge vibes perfect for an at-home spa night. These hemp-infused bombs feel like a warm hug and smell like snuggling up fireside. The light cotton and sweet cream aroma is perfect for chilling out – it's Netflix & Chill, after all. But you'll find an array of popular and seasonal scents to choose from. With 100 mg of CBD per frothy bomb, Mojo delivers both supreme scent-sation and the benefits of deep relaxation. Treat yourself or someone you know to a little cottage core-inspired luxury.
mojohydro.com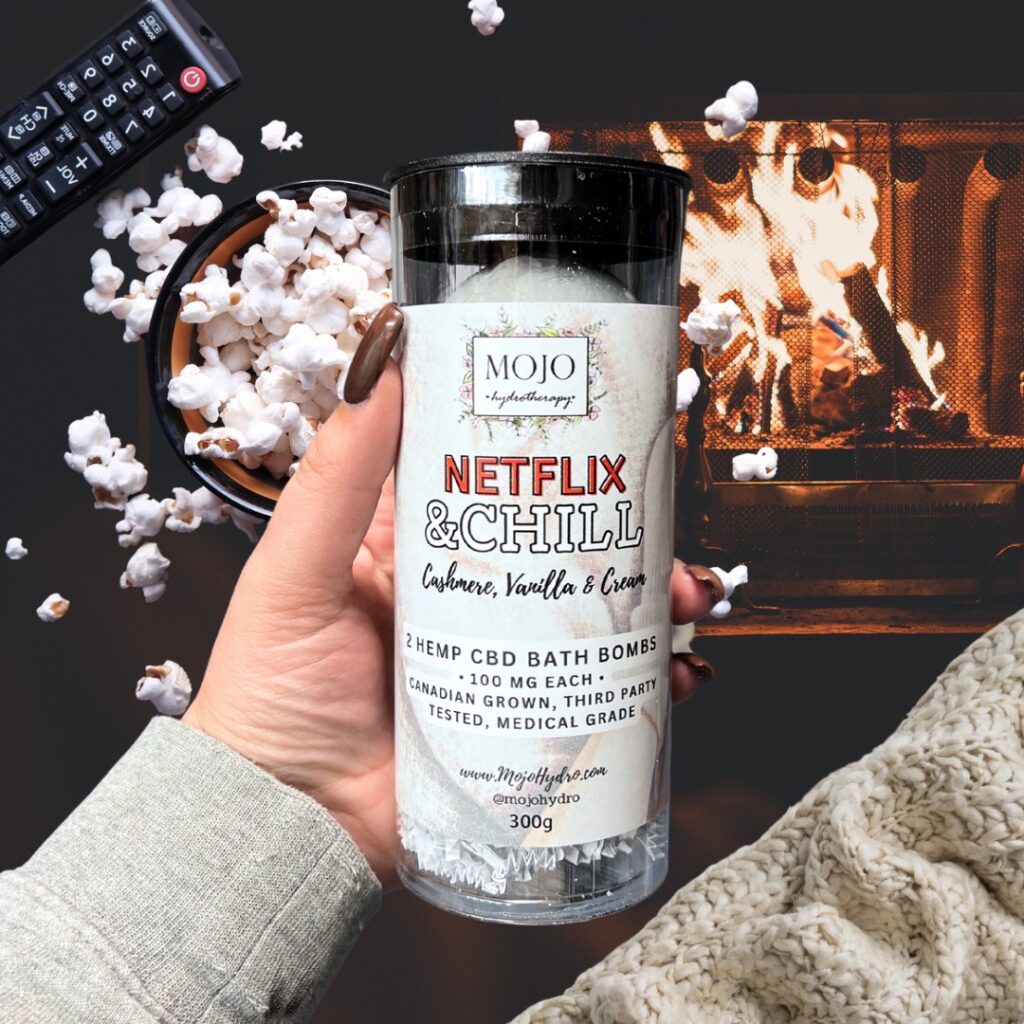 ---
Self-Care, Earth-Care
Embrace eco-conscious living with Hart Creative's innovative line of paperless household, cleaning, and self-care products. For those with a commitment to sustainability, Hart Creative offers something tangible for helping to preserve the planet. Its thoughtfully crafted products replace disposable items with reusable, durable alternatives, reducing waste and limiting the environmental impact. From soft, bamboo face rounds to paperless towels that naturally cling to each other to stay on the roll, every product reflects a dedication to eco-friendliness and a movement towards greener, cleaner living. Shop in-store at Rustic Daisy's, a boutique shop in the heart of Waterdown selling handmade gifts, home decor and original art pieces from local and Canadian makers. Mention HAMILTON CITY Magazine and get the face cloths/face rounds combo for $25.
Hart Creative via Rustic Daisy's, 25 Main St. S., Waterdown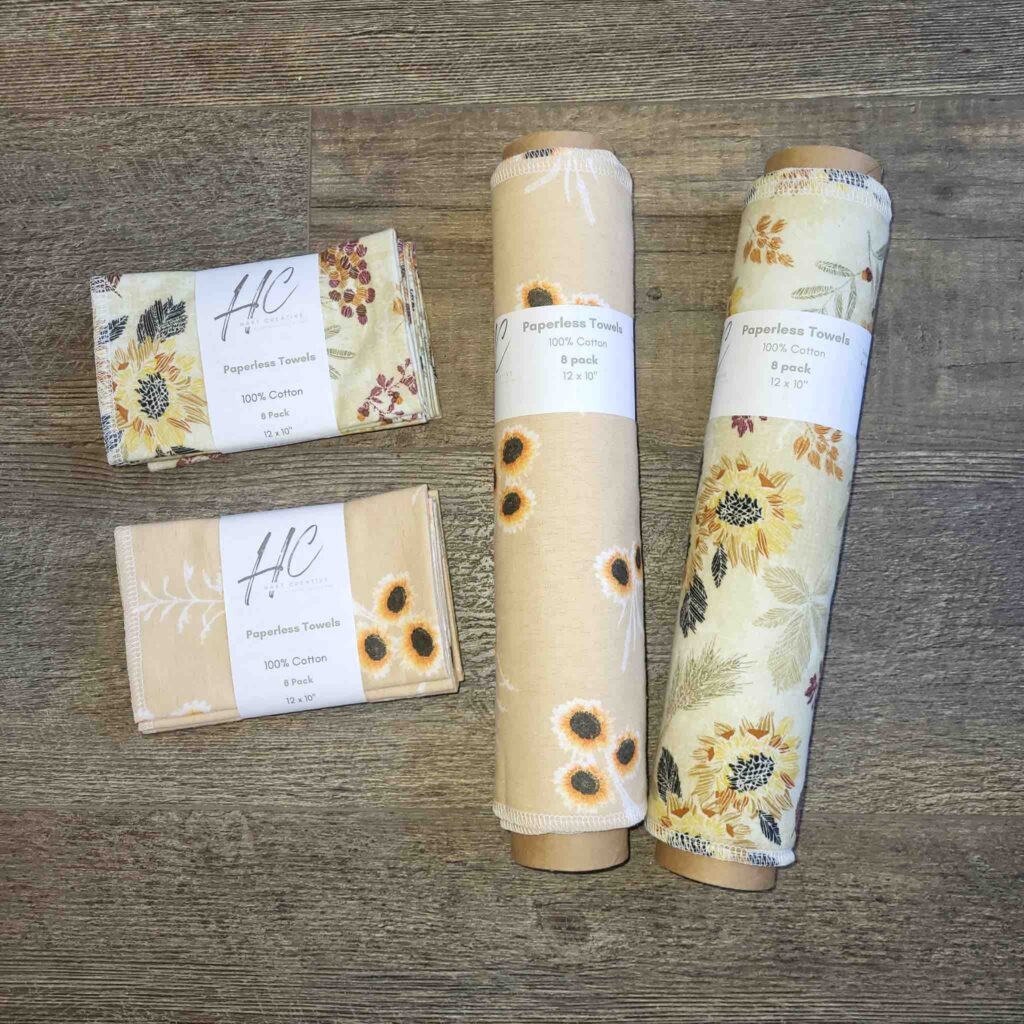 ---
Potter's Touch
Sip your morning cup of joe in earthy, artisan luxury with Kai Eichenbaum's handcrafted clay mugs. Handmade from clay slabs, instead of a potter's wheel, each ridged mug bears the Hamilton potter's signature style and develops distinct character from Eichenbaum's individualized attention. Smooth glazes drape over textured clay, and even the inside base boasts embossed designs that Eichenbaum creates herself. Another thoughtful touch? A slight indent makes them easy to grip as you enjoy the warmth of your drink. Eichenbaum draws inspiration from fabric patterns to create her organic impressions, bringing nature's textures into your hands. Fired in intimate batches, these mugs are functional art pieces that make everyday rituals feel special.
Kai Eichenbaum via the Art Gallery of Burlington, 1333 Lakeshore Rd., Burlington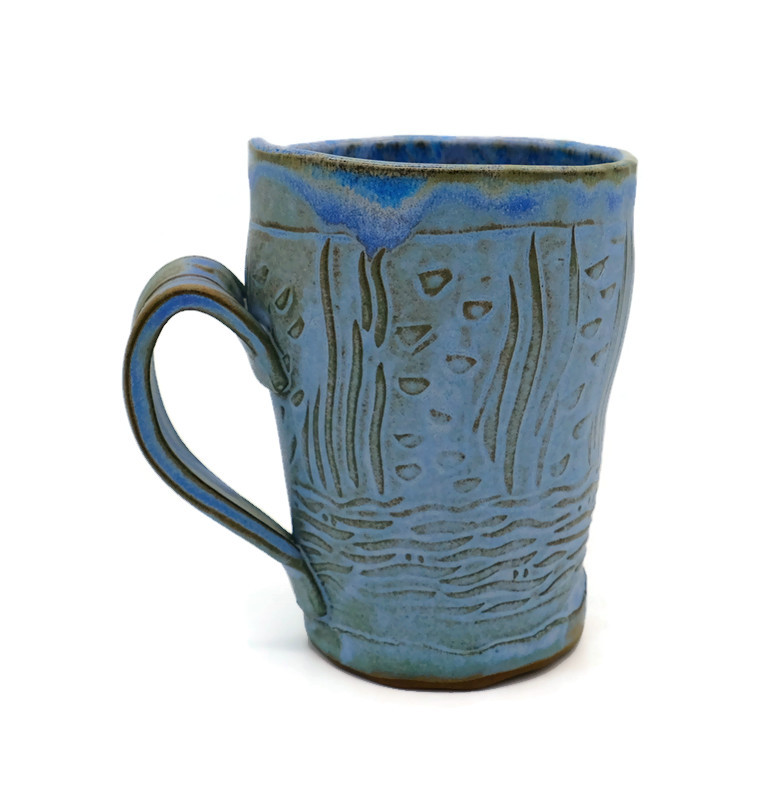 ---
A Tasting Table
Pitch in on a loved one's holiday gathering with this Instagram-worthy spread. Curated by Hamilton's Dear Grain, the ready-to-serve charcuterie packs take the stress out of party planning. With artful arrangements of cheeses, cured meats, and tangy accoutrements, they're the definition of effortless entertaining, suitable for everything from intimate, festive occasions to casual family game nights. Don't forget to add a loaf of Dear Grain's iconic sourdough to round it out! Available in two sizes, these grazers are the perfect crowd-pleasing centrepiece.
deargrain.com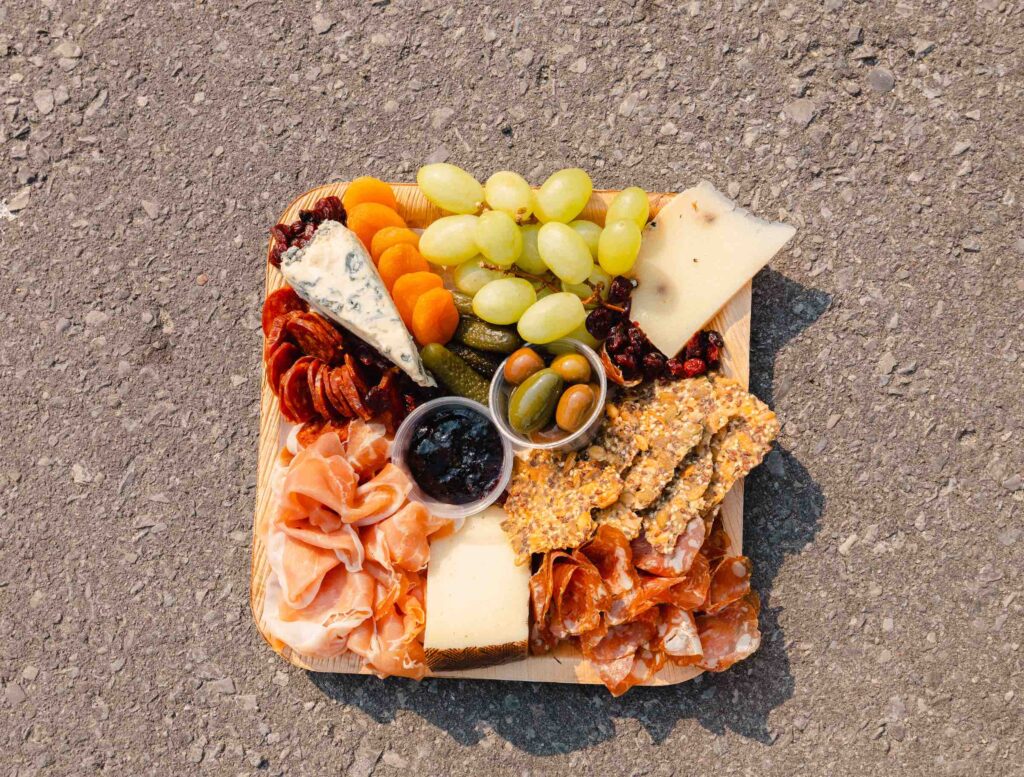 ---
Three's Company
For soothing, flavour-filled sips and a bit of extra comfort on chilly nights, this trio of unique tea blends is the one to reach for. Vanilla Cookie Calm, with hints of vanilla bean, toasted coconut, and chamomile, is reminiscent of freshly baked treats. The caffeine-free Chaga Coconut Chai is an infinitely sippable anytime tea with promises of mushroom wellness that's all the rage. And antioxidant-rich Mint Cacao Bliss blends raw cacao's chocolatey flavour with rooibos and soothing peppermint for a drink that's more like a "dessert in a cup." Each thoughtfully blended jar of tea steeps up nourishment and self-care this season.
shoplakeandoak.com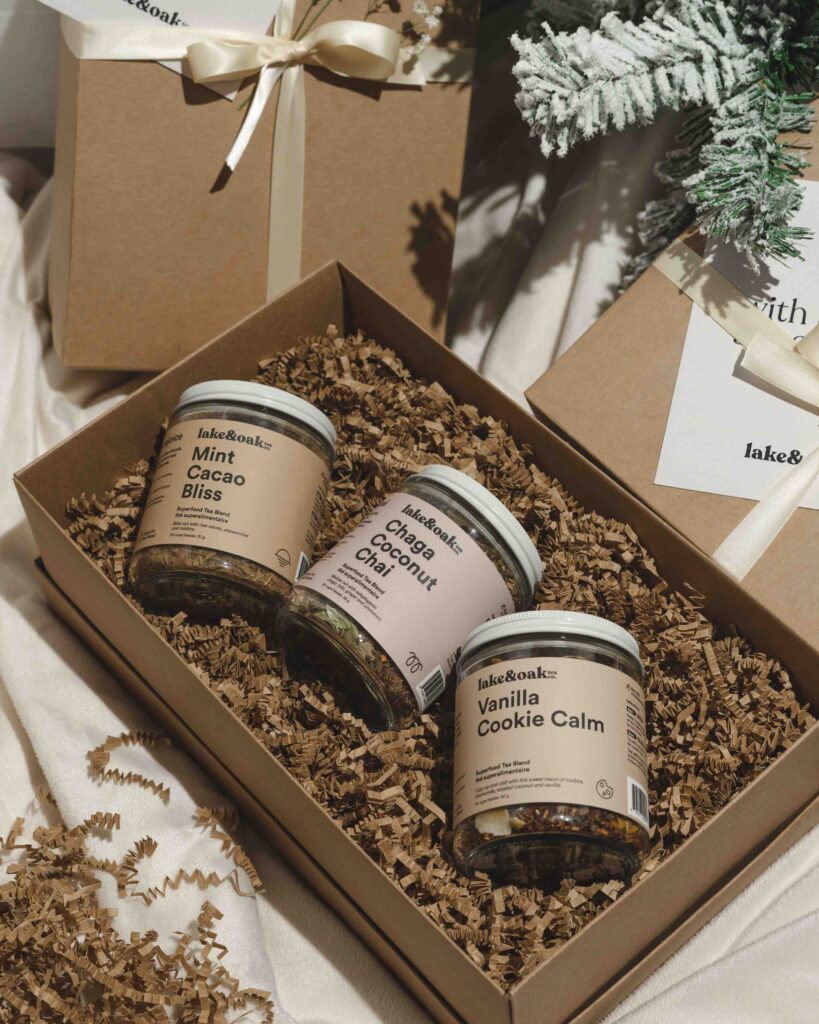 ---
Master of the Micro-Roast
Hamilton micro-roaster, Sippy Cup Coffee, strives for trusting and respectful relationships with farmers from around the world. These direct partnerships ensure sustainable sourcing and hand-picked quality that is reflected in the final product. Each sip tells a story of the local terrain and craft behind it. The Calavera Negra blend is a mix of Sumatran and Mexican beans that bring out notes of spice, earth, caramel, and bittersweet chocolate. Sold by The Casual Gourmet, Westdale's premier kitchenware boutique for 25 years and counting, use it as an opportunity to support another longtime, local business and pair it with one of their ochre mineral glaze mugs or teak wood coffee spoons.
Sippycupcoffeeroasters.ca via The Casual Gourmet, 1027 King St. W., Hamilton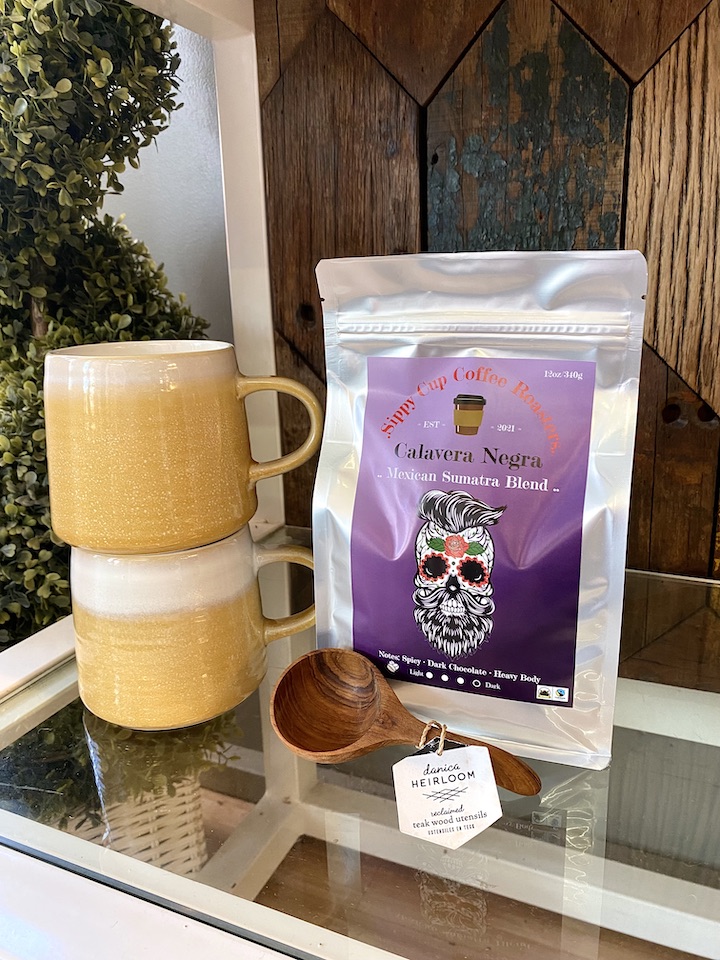 ---
Sweet Artistry
Indulge in edible artistry with Madam Bonbon's beautiful bonbon collection. This Hamilton chocolatier carefully crafts each confection like a delicate work of art. With flavours like coffee caramel and cookie crunch, cinnamon bun, homemade dulce de leche, and blood orange and kalamansi, there's no doubt that thoughtful research and meticulous craftsmanship go into each one. Individually handcrafted, they "appreciate the process of creation as much as … the finished chocolates." If we eat with our eyes first, Madam Bonbon's chocolates are a testament to the joy and delight it is to experience food through all of our senses. Each ornate box can be custom-filled with your selections.
madambonbon.ca, 165 Locke St. S., Hamilton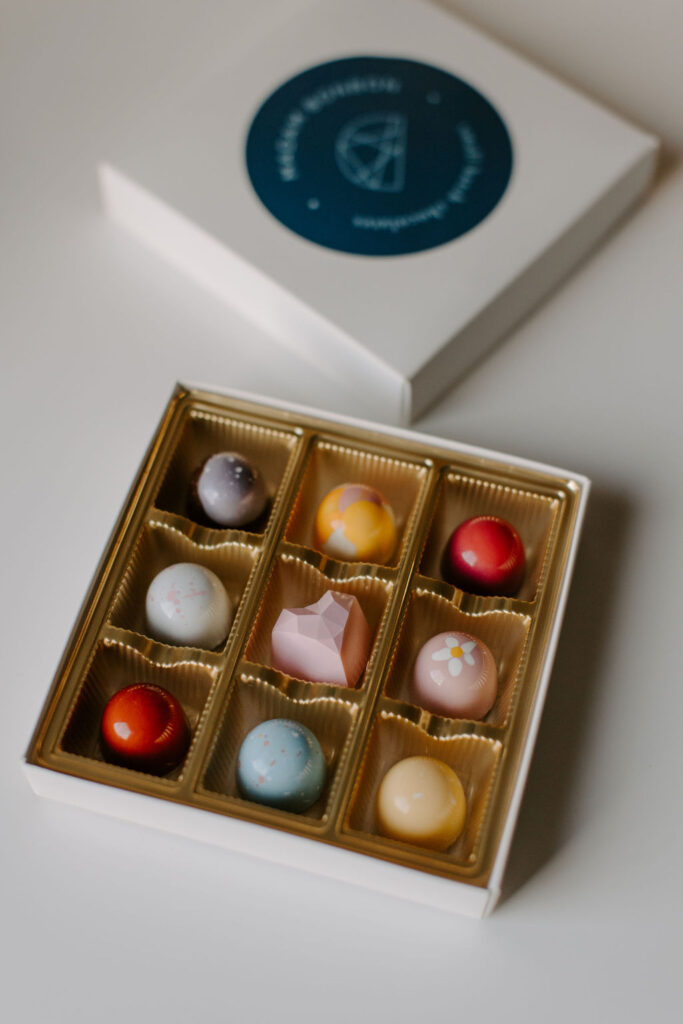 ---
Chillies Gone Wild
Bring fiery flair to sandwiches, salads, pastas and more with Artie's unbeatable fermented chillies. The Hamilton eatery harnesses old-world techniques to infuse flavour into simple chilli peppers, mellowing their bite and adding pungency to their flavour. A tangy ferment softens the initial punch, allowing the chillies' fruity undertones to linger. This spicy condiment enlivens everything with its gorgeous crimson colour and bright acidic pops of flavour. Expertly cultured for depth, not just heat, these chillies are a must-have for any food-lover's kitchen.
instagram.com/shop.arties, 170 Locke St. S., Hamilton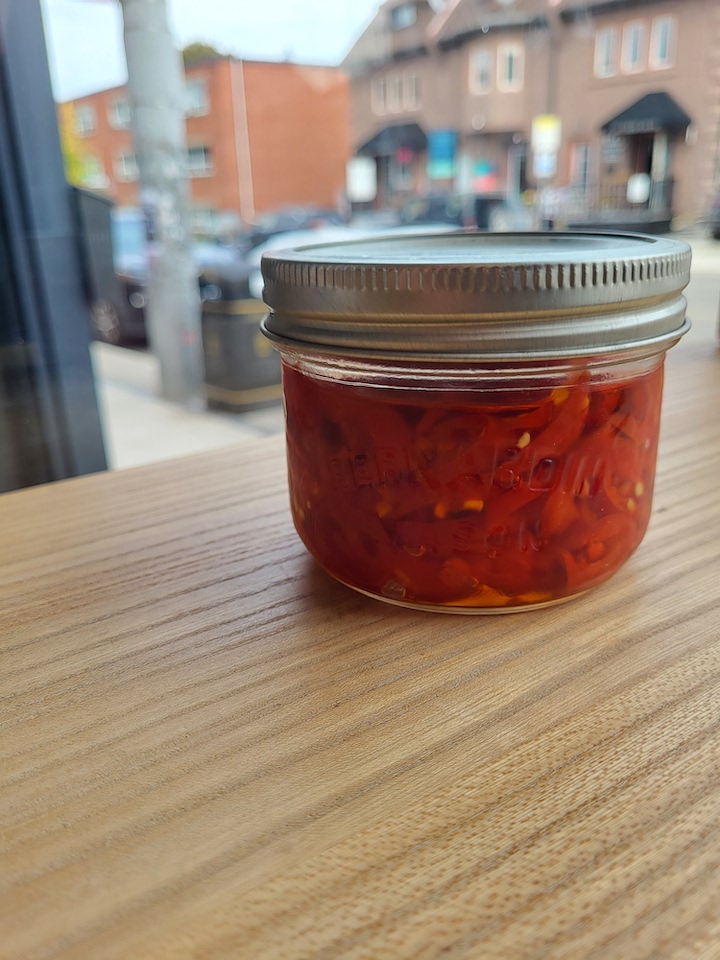 ---
Sipping Spring
Capture the fleeting magic of spring with the Royal Botanical Garden's Lilac Gin. Distilled in collaboration with Manns Distillery, this spirit encapsulates fragrant Ontario lilac season in a bottle. Fresh lilac blossoms, hand-picked from RBG's idyllic grounds, infuse the London Dry gin base with notes of lilac, lavender and rose, making for a wonderful twist on a classic. Reimagine a tart gin sour, a crisp gin & tonic, or even a heady gin martini, with evocative new flavour notes and a pretty pastel hue. With no artificial additives, the gin's natural lavender colour and aromatic bouquet speak to its honest Hamiltonian roots.
rbg.ca, 680 Plains Road West, Burlington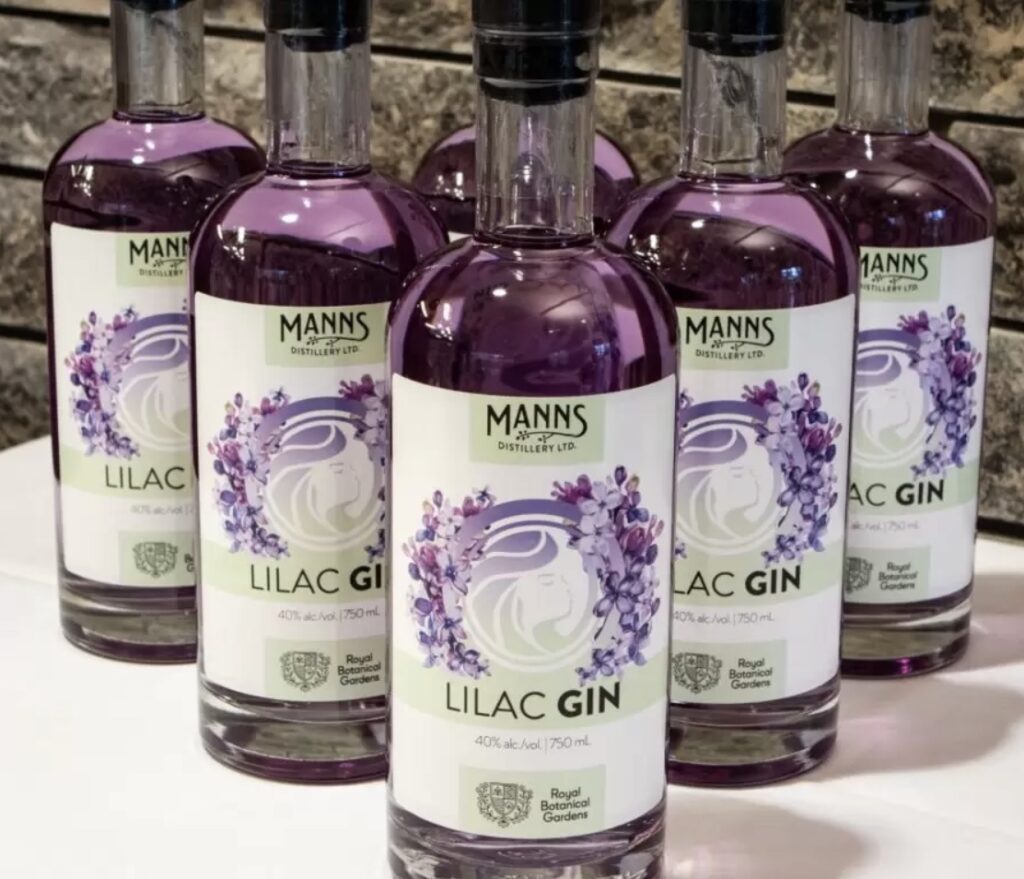 ---
Eternal Flame
Handmade in Hamilton, this soy-based candle gently uplifts with subtle, fresh scents of lemongrass and peppermint. Crystal devotees will appreciate that tiger's eye and eucalyptus leaf adorn the top to ignite inspiration, energy, and movement. Free of harsh chemicals, the candle's natural ingredients make it perfect for scent-sensitive spaces, for regularly burning throughout the day, or as part of a nightly calming ritual to help unwind after bigger challenges. Wax & Fire Co. embraces zero waste, so once the 30 hours of burn time are complete, simply soak in warm, soapy water and reuse the containers. Curated and sold by the Art Gallery of Hamilton Gift Shop.
Wax & Fire Co. via The Art Gallery of Hamilton, 123 King St. W., Hamilton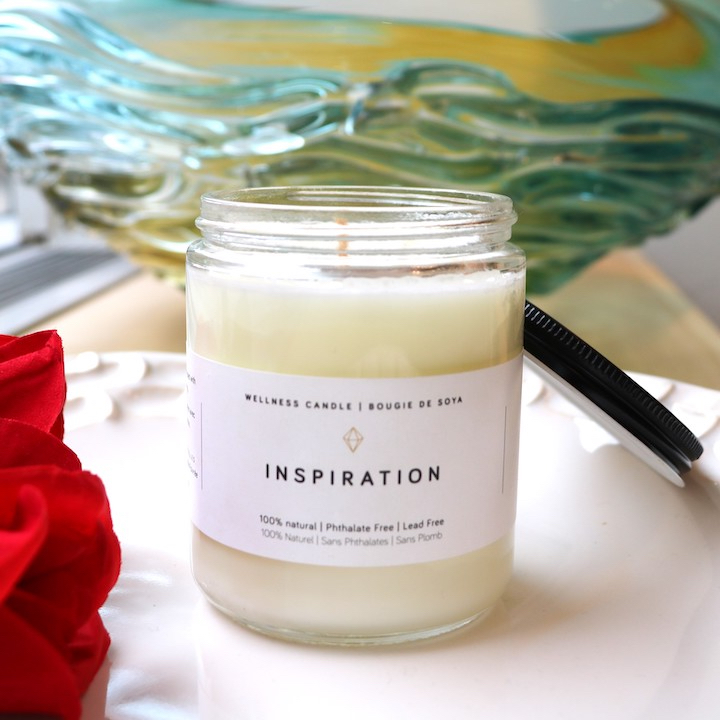 ---
Shop With Heart
Born with Williams Syndrome, Kaitlin found connection through gift-giving. With her mother Nicole's support, they run a heartfelt gift shop from home that provides a needed service as well as meaning, purpose and a dedicated job for Kaitlin. Each gift shared fosters wellness and belonging. By supporting their small gift shop, you help empower marginalized individuals while brightening someone's day. Your purchase also fuels their dream to someday hire others with disabilities to further independence and support in the community. Let "Say It With Kindness" gifts speak volumes this season–for the giver and the receiver.
Sayitwithkindness.ca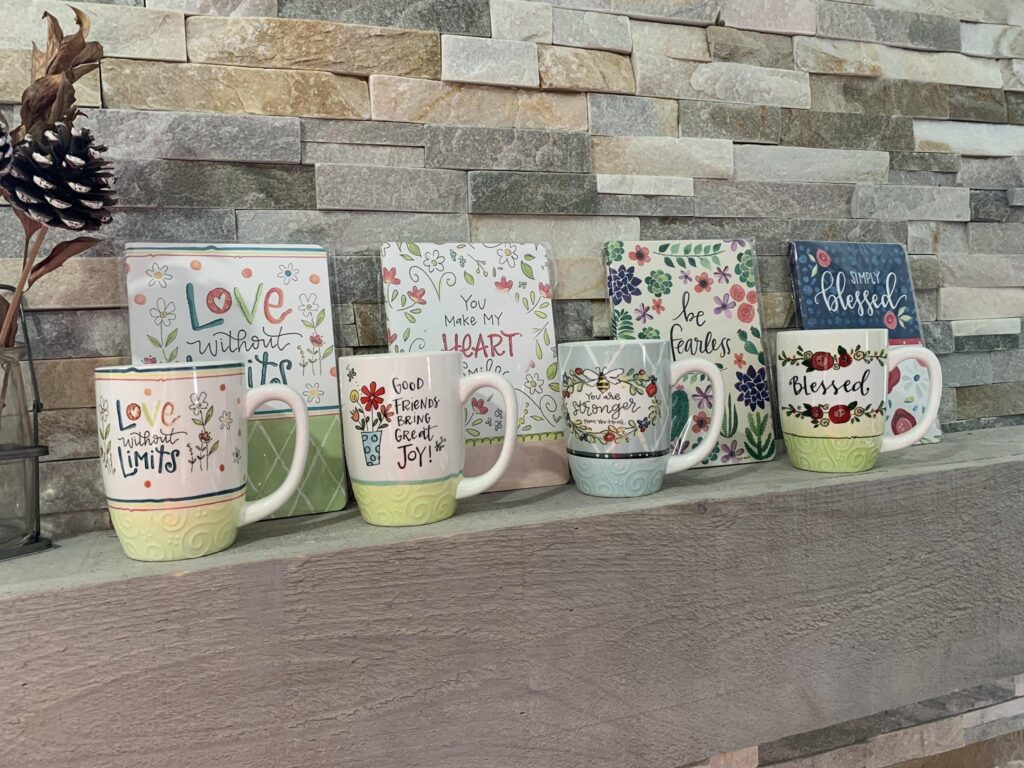 ---
Heart of the Home
Dry dishes in hometown pride with Lulu & Lavigne's charming Hamilton tea towels. Exclusively designed in-house, these 100 per cent brushed cotton towels sport the city's name in a retro-cool bistro stripe pattern. An earthy, natural base colour with bold navy stripes gives a classic diner vibe feel, while quality material ensures durable absorbency and long-lasting appeal. Displayed proudly on racks in the city and across the country, these tea towels offer a fun and practical way for Hamiltonians living anywhere to bring a piece of home to their kitchens.
luluandlavigne.com, 228 Locke St. S., Hamilton
---
Watercolour Wonders
Toni Major's watercolour greeting cards are a symbol of Hamilton's thriving artisan spirit. Each hand-painted card encapsulates her decades-long passion for textile arts and is a work of art in its own right. Sold at artisan-artist collective Textures on Locke, these cards capture beauty in nature, alongside the work of other talented woodworkers, printmakers, ceramicists, artists and craftspeople. Just as Major's quilts have earned acclaim across North America, her cards stand out for their intricate and individual details. She infuses artistry into everyday objects, transforming things like greeting cards and placemats into treasured pieces. Each card can be used as a special greeting or framed and hung on a wall like the art that it is.
texturescraftworks.ca, 236 Locke St. S., Hamilton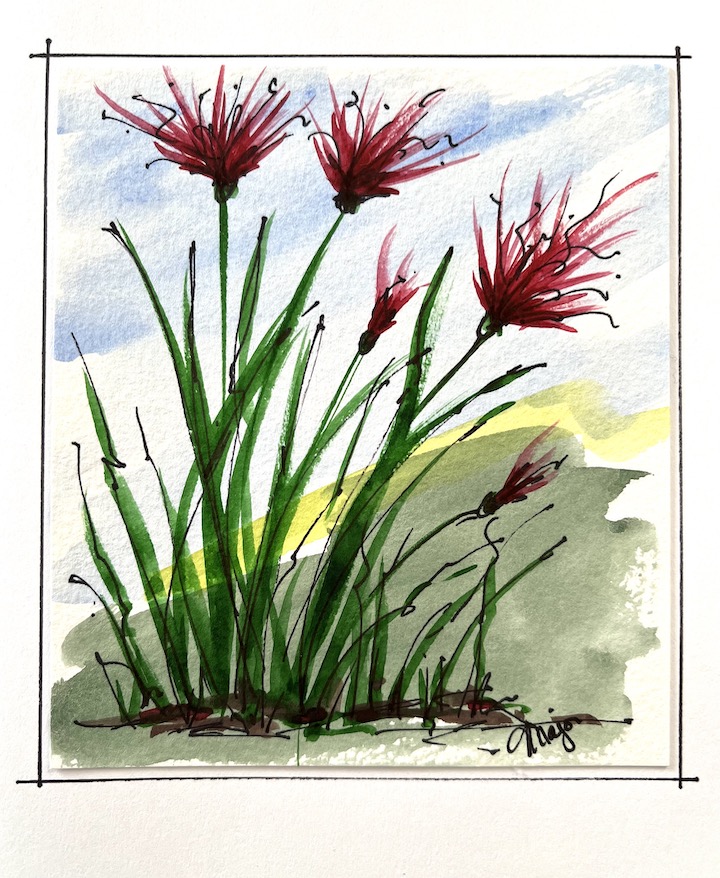 ---
Crafted Cocktails
Singers Caesar Kits deliver everything needed for crafting Canada's signature cocktail. Each kit contains the company's all-natural, gluten-free caesar mix, specially blended for robust and zesty flavour without the artificial ingredients and additives. Choose from mildly spiced, spicy, and even vegan mixes to suit your taste and dietary preferences. The kits include accompaniments to elevate each drink like cured pepperettes (yes, there are vegan options available!), pickled beans, and black garlic salt rimmer. These creative touches let you channel your inner mixologist–just add vodka! With quality ingredients and inspired embellishments, Singers caesar kits are a tasty Hamiltonian tribute to a classic cocktail.
Singers Mix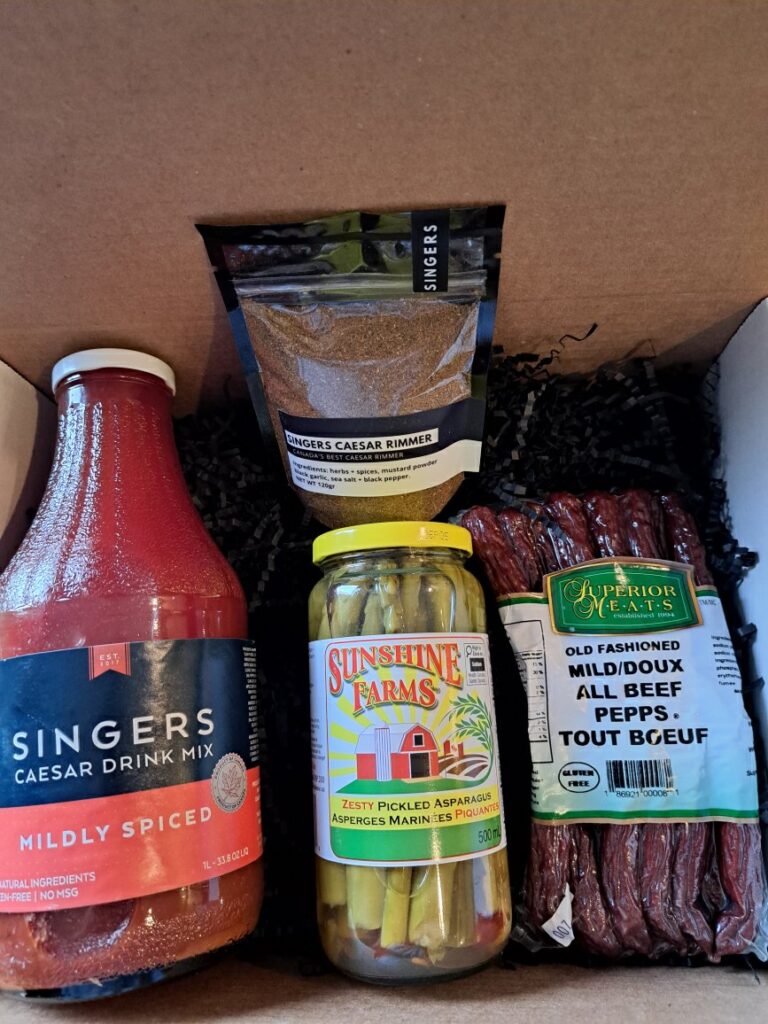 ---
Wine & Cheese Dreams
Denninger's gourmet wine and cheese baskets are a match made in heaven. Choose between red and white pairings, both featuring cheeses hand-selected for the 13th Street Winery bottle that is included. The red basket matches a 2021 Gamay with four rich cheeses like aged cheddar and cherry cheddar. Crackers, Snowdonia chutney, honey, and chocolate round out the savoury and sweet pairings. Opt for the white basket to enjoy riesling alongside creamy brie, goat cheese and other choices complemented by the same tasty trimmings. Each sophisticated spread makes an impressive gift for discerning food and wine lovers.
Denningers.com, four locations in Hamilton and Burlington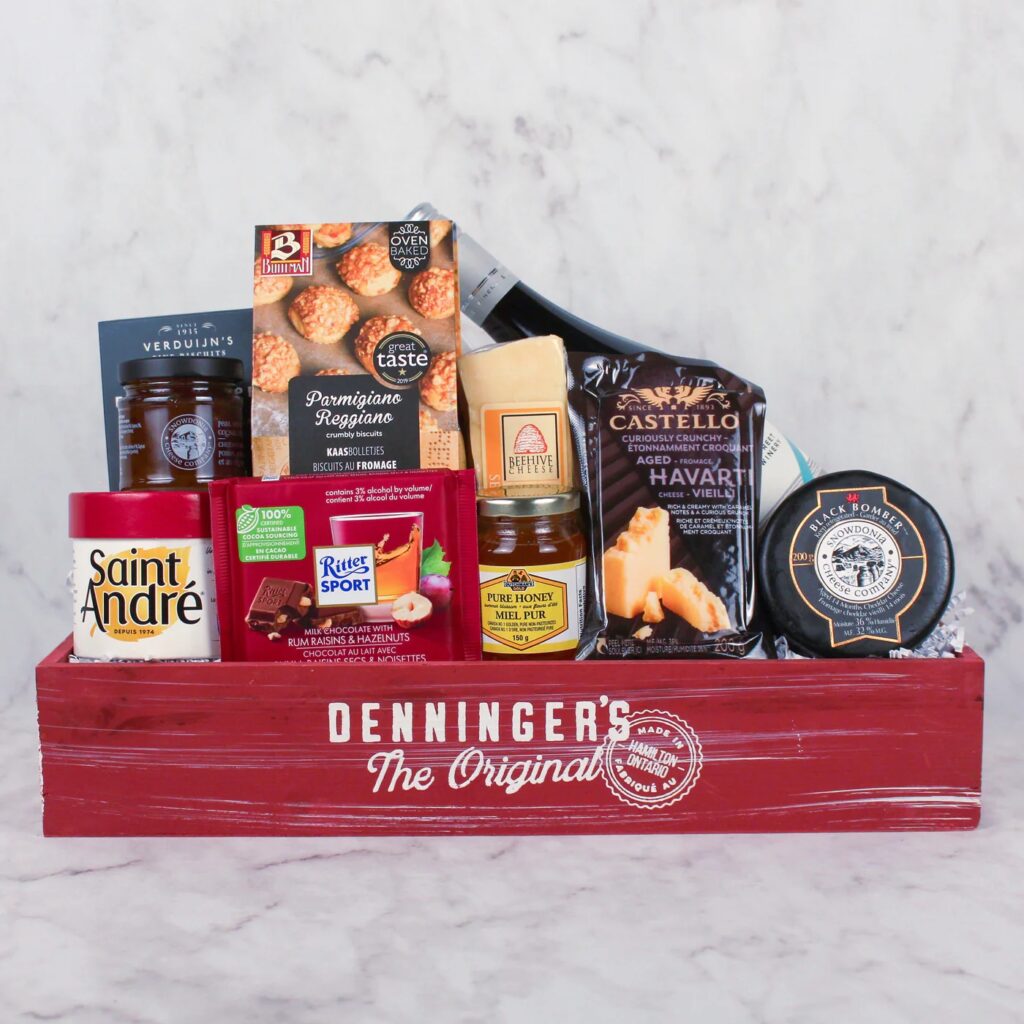 ---
Tree to Table
The Royal Botanical Garden breathes new life into felled trees through its "Treecycled Bowls." When weather, aging or disease require removing a beloved tree, the wood is reimagined into a lasting legacy. Local artisan Ken Black transforms the reclaimed timber into rustic wooden bowls, each bearing the unique story of its tree. Swirling grains and natural imperfections reflect the tree's age and origins within the RBG grounds. Each hand-crafted bowl repurposes wood waste, reduces environmental impact and carries on the heritage of Hamilton's arboretum.
Rbg.ca, 680 Plains Rd. W., Burlington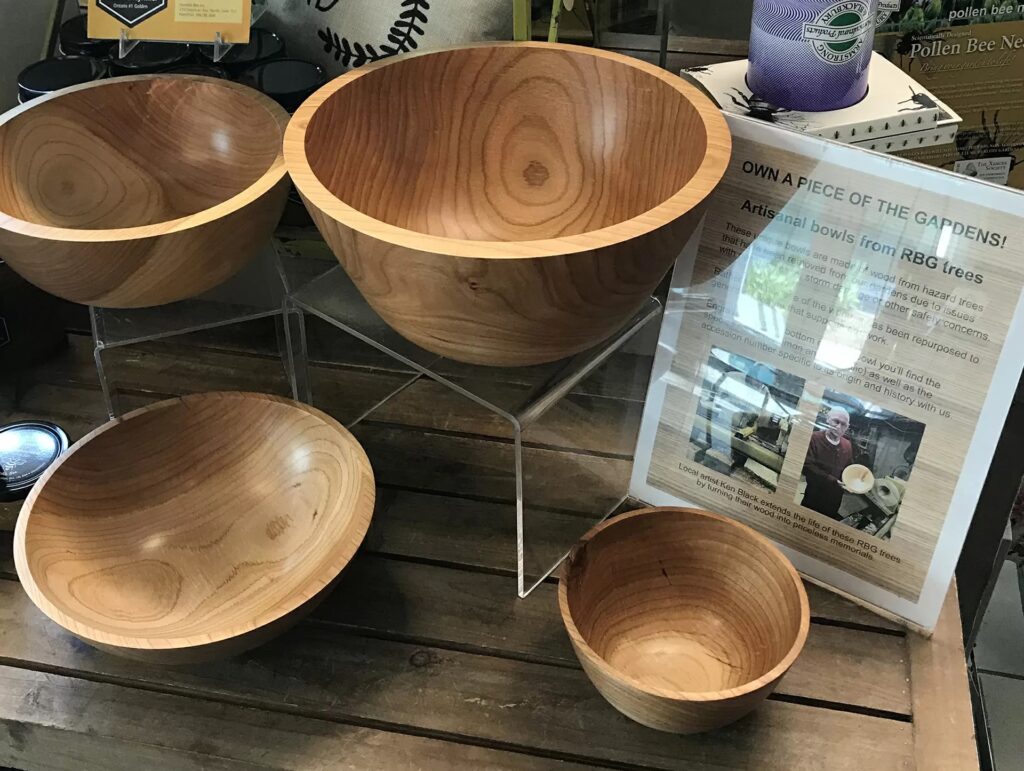 ---
Hometown Cartography
Explore Hamilton's neighbourhoods in artful style with this locally made map print. All Over the Map Studios renders the city in a colourful typographic design listing all 116 districts. Vibrant inks printed on heavy recycled paper capture Hamilton's spirit in sustainable materials. At 12 inches X 16 inches, it fits standard frames for easy display. With its modern aesthetic and thoughtful details, this map anchors any space in Hamilton's heart. Sold at The Handmade House in Dundas, shop owners strive to be an accessible conduit to a vibrant community of local makers (within two hours of their shops) with a focus on handmade.
Thehandmadehouse.ca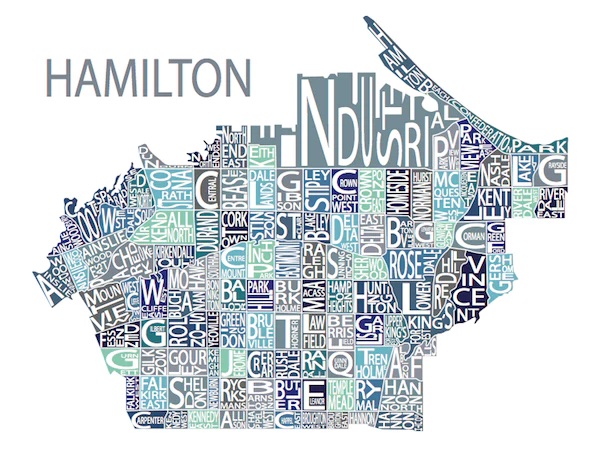 ---
Hat Trick
Local Life on Locke carries a range of local and regional artisan products – thoughtful, fun, and inspired works that will please any and everyone this holiday season! We're particularly keen on these Hamilton-branded toques and caps that were designed in-house. But the shop carries everything from trendy clothing to food to bath and body products, candles, jewellery, glassware, woodwork, paper products and even mom and baby essentials. And everything is definitively cool. Find the gift that most suits your needs by visiting the shop. You will not be disappointed.
The Local Life on Locke, 218 Locke St. S.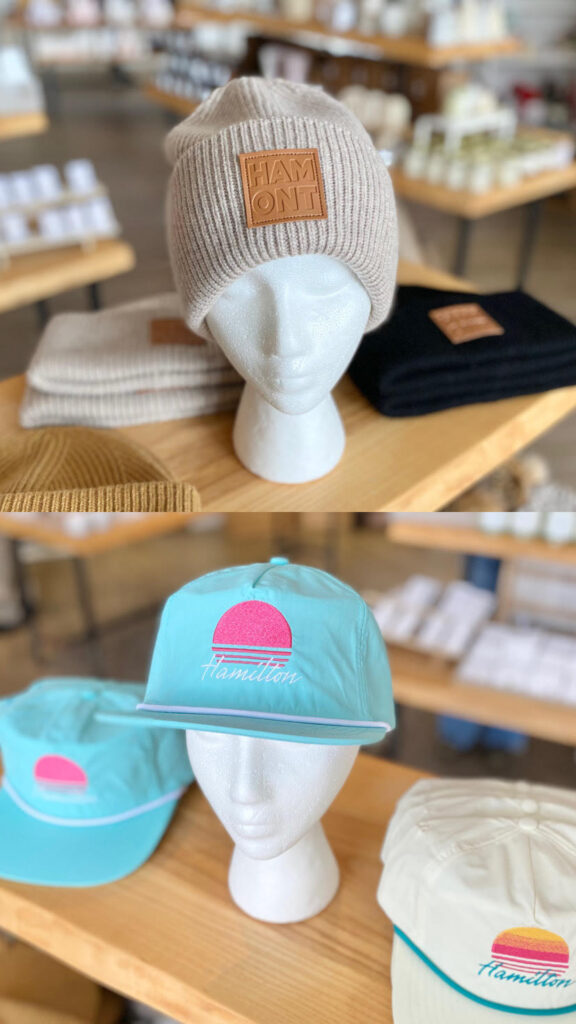 ---