Over the last 18 months, the Hamilton music community has sadly lost three of its brightest lights: Boris Brott, Gord Lewis, and Steve Parton. 

Here, we pay tribute to these individuals, proud Hamiltonians all, who had a huge impact on the cultural life of our city and whose passing is being deeply mourned. 

Boris Brott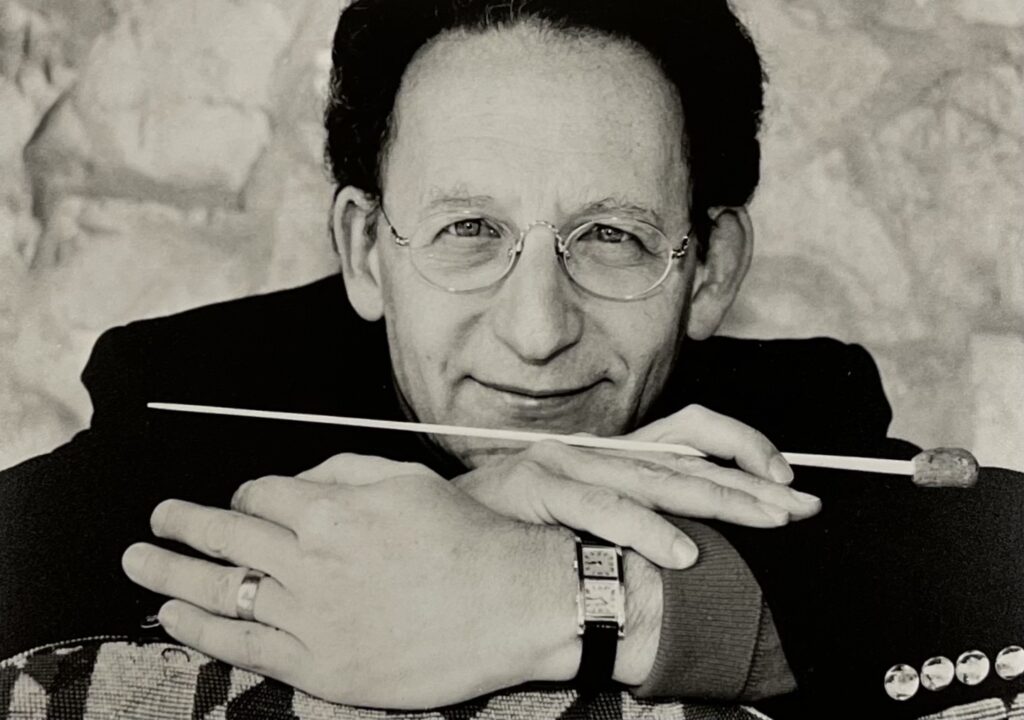 On April 5, 2022, the international music community was robbed of a crucially significant figure when Boris Brott was tragically struck down and killed in a vehicular hit-and-run in his Hamilton hometown, at age 78.
On a local level, Hamilton lost a man who was undoubtedly one of our most important citizens of the past six decades. Brott remained full of creative enthusiasm at the time of his death, and clearly had much more to contribute to the cultural life of this city and country.
The outpouring of both grief and affection and major media coverage that quickly followed the news of his passing reinforced the esteem in which Brott was rightfully held, at home and abroad.
It seemed genetically predestined that the Montreal-born Boris Jeremiah Brott would make music his career. His mother, Lotte, was a cellist, and his father, Alexander Brott, a noted violinist and composer. Boris made his performance debut at age five, playing violin with the Montreal Symphony Orchestra at a young people's matinee.
After trading in his violin for a conductor's baton, a teenage Brott won prestigious international conducting awards. Stints with the Toronto Symphony Orchestra, Britain's Northern Sinfonia, and for the touring company of the Royal Ballet Covent Garden (1964-67) then followed.
In 1968, he spent a season with the New York Philharmonic Orchestra as assistant conductor to Leonard Bernstein. The Globe and Mail's obituary of Brott noted "he would later credit Mr. Bernstein's popular concerts for young people as the inspiration for his own educational programming."
Although his international reputation was growing, Brott then chose to focus most of his attention upon classical music in Canada. Organizations enriched by his presence as artistic director and conductor from the late '60s onward included symphony orchestras in Thunder Bay, Regina, Winnipeg, Halifax, Toronto and Ottawa.
From 1969 to 1990, Brott was artistic director and conductor of the Hamilton Philharmonic Orchestra, which grew from origins as an amateur ensemble to a professional one with a 42-week season and some 16,000 subscribers. The orchestra is credited with giving birth to the globally popular quintet Canadian Brass.
A maestro with a rich imagination, Brott made news when the HPO performed in the middle of a steel factory blast furnace at Dofasco in Hamilton. He incorporated ballet, Shakespearean actors, film, rock groups, and more into classical music concerts, delighting large audiences in the process.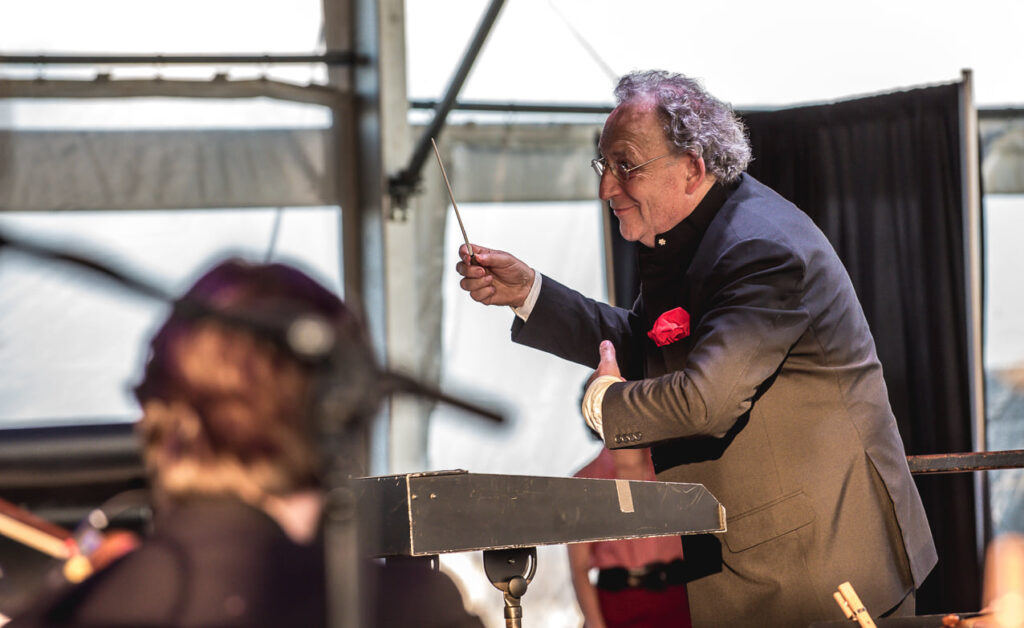 Veteran Hamilton Spectator music critic Graham Rockingham astutely noted in his Facebook tribute that "Boris Brott came to Hamilton with long hair, sideburns, and mod clothes, and he made classical music cool in a working-class lunch-bucket town."
The Hamilton music scene was given a huge boost in 1988 when Brott founded the Brott Music Festival, which would become Canada's largest orchestral music festival. His next major initiative was the creation of the National Academy Orchestra, the country's only professional training orchestra. The NAO has paired more than 1,000 music graduates pursuing a career with professional musicians from North American orchestras in a mentor-apprentice relationship.
At the time of his death, Brott was artistic director of the NAO, the Brott Music Festival in Hamilton, and the Orchestre Classique de Montreal.
Local and national accolades deservedly accorded Brott include the Order of Canada (1986), the Order of Ontario (2006), and l'Ordre national du Québec (2014). In 2006, he was voted one of the top five Greatest Hamiltonians of all time by Hamilton Spectator readers, and in 2007, he received the City of Hamilton Lifetime Achievement Arts Award.
Watch: A Boris Brott tribute
In June 2022, the City of Hamilton announced that the Great Hall of FirstOntario Concert Hall would be named the Boris Brott Great Hall, in memory of the conductor who opened the Hall 50 years earlier.
Thousands of musicians and singers benefited from the masterful mentoring and encouragement of Boris Brott over his illustrious career, and his musical open mind led to collaborations with artists from other genres.
Hamilton blues luminary Rita Chiarelli worked with Brott back in 2015 and tells HCM that "we had been discussing performing some concerts this summer. Boris was a man truly bigger than life.
"His passion and excitement for music and life never waned. During our performances, I would marvel at his undying enthusiasm. He was such an inspiration to me, and so many others. His passing is a huge loss for Hamilton and the many young musicians and conductors he will no longer mentor with such patience and love."
Local roots-rocker Terra Lightfoot's 2017 album Live In Concert captured two hour-long intimate shows staged at McMaster University's LIVELab in collaboration with the National Academy Orchestra of Canada, with Boris Brott conducting.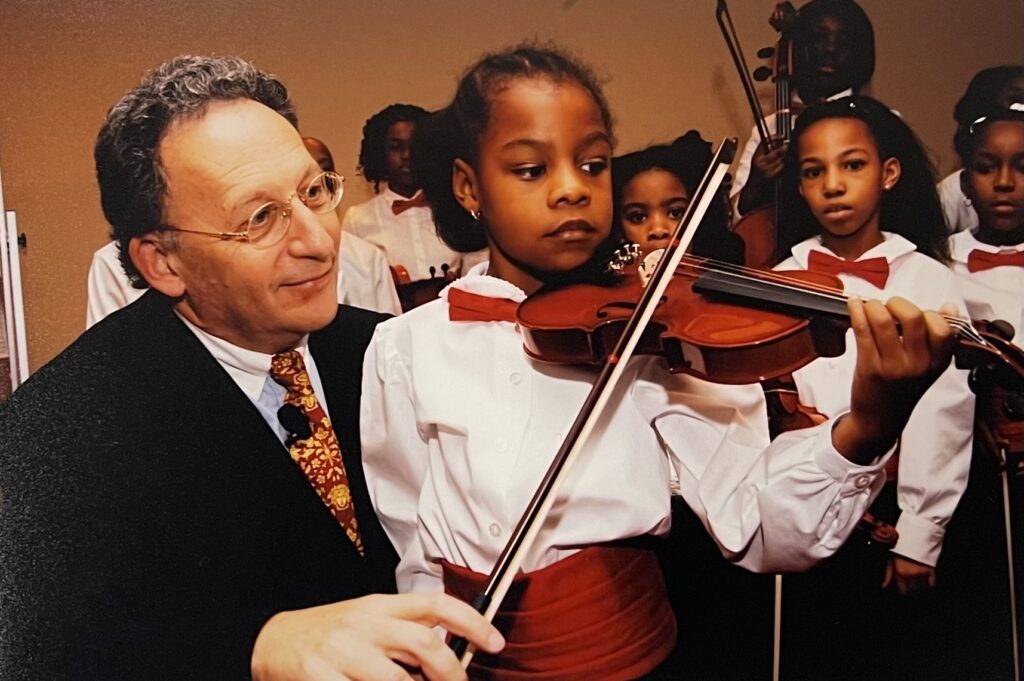 Veteran TVO personality Steve Paikin, host of The Agenda, also benefited from Brott's support. The Paikin and Brott families were friends, with Boris' wife Ardyth even babysitting a young Steve, and Boris introduced Paikin to show business early.
Paikin recalls to HCM that "when I was a kid, maybe 13, Boris asked me to narrate 'Twas the Night Before Christmas with the HPO, on stage at Hamilton Place in front of a full house.
"Boris' confidence in my ability to do the job was a great boost to me at the time, and my role seemed to go just fine. Someone snapped a picture of me bowing and Boris applauding along with the audience. I found that photo so meaningful that my parents blew it up, and it's been on the wall ever since. A great memory of collaborating with a great maestro."
Watch: A Boris Brott interview with Steve Paikin
Rockingham has a wealth of stories and fond memories about Brott. In his eloquent Facebook post after the maestro's death, Rockingham noted that "Boris was extraordinary in his outreach, especially to the young people of our community. I had the honour of hosting some of his children's concerts. Although I knew as much about classical music as Boris did about the Grateful Dead, we developed an immediate working relationship. It was a career highlight to be onstage when the National Academy Orchestra performed the freakout finale from the Beatles' A Day In A Life. The 1,200 high school students in the audience were mesmerized, as was I."
Rockingham summed up his tribute by noting that "I always felt blessed to be sitting in that funky old office of his, bouncing ideas back and forth with a guy who had performed at the Vatican at the request of two different popes, who had worked with Bernstein and Stravinsky, and who loved my hometown of Hamilton as much as I."
The maestro is indeed missed.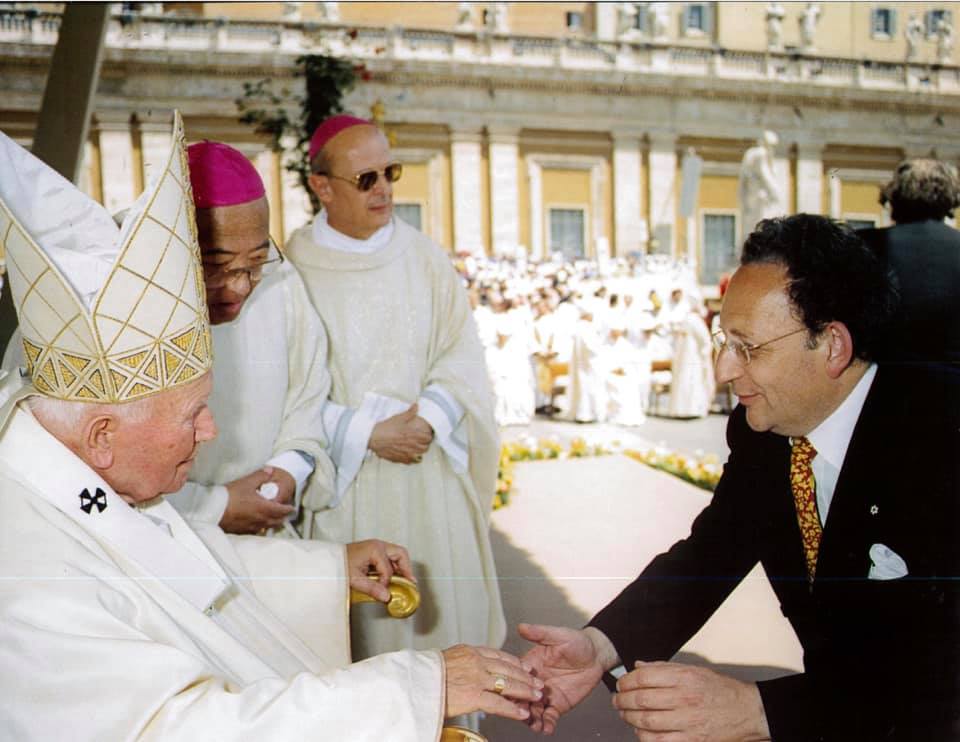 Gord Lewis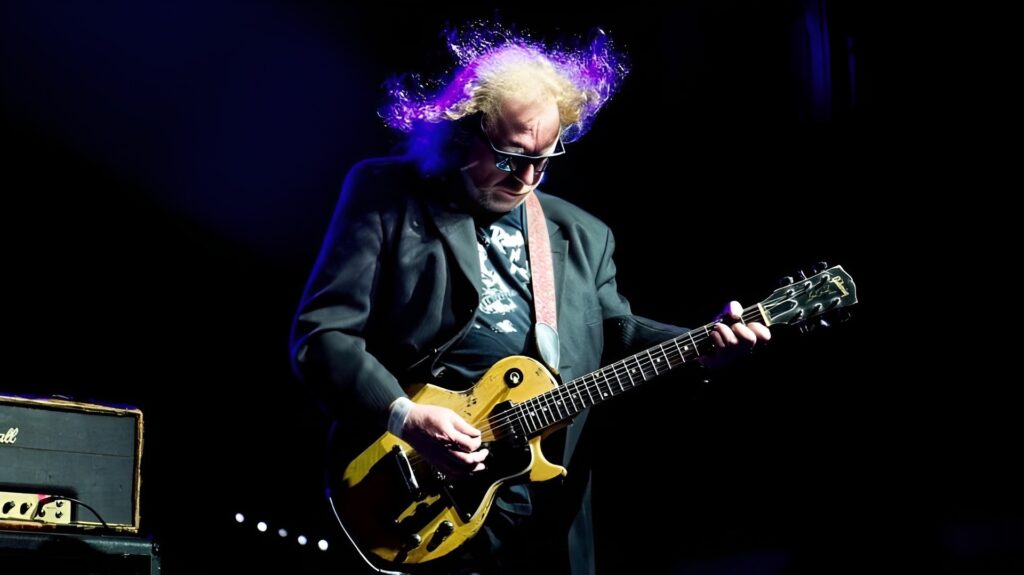 The Hamilton music community is still reeling from the tragic loss of one of its true luminaries, Gordon Steven Lewis, known to all as Gord or Gordie Lewis. The guitarist and songwriter in legendary rock 'n' roll band Teenage Head died in early August, at age 65. His body was discovered by police in a Hamilton apartment on Aug. 7, and his son, Jonathan Lewis, has been charged with second-degree murder.
In a statement on social media at the time, Teenage Head posted: "We are heartbroken and still trying to process the loss of our friend, bandmate and brother Gord Lewis. Our hearts are with his family and all that knew and loved him. Gord was a force and an inspiration to many. You were taken from us far too soon."
The key storylines of the rollercoaster career ride of Teenage Head and Gord Lewis will be well-known to local fans, but we'll offer a recap here.
Teenage Head was formed in 1975 by students at Westdale High School in Hamilton. Lewis and singer Frankie Venom were original members, and after a few personnel changes, bassist Steve Mahon and drummer Nick Stipanitz consolidated the lineup. They were in the vanguard of the first wave of Canadian punk bands, and Lewis' muscular guitar playing was at the core of the band's sound.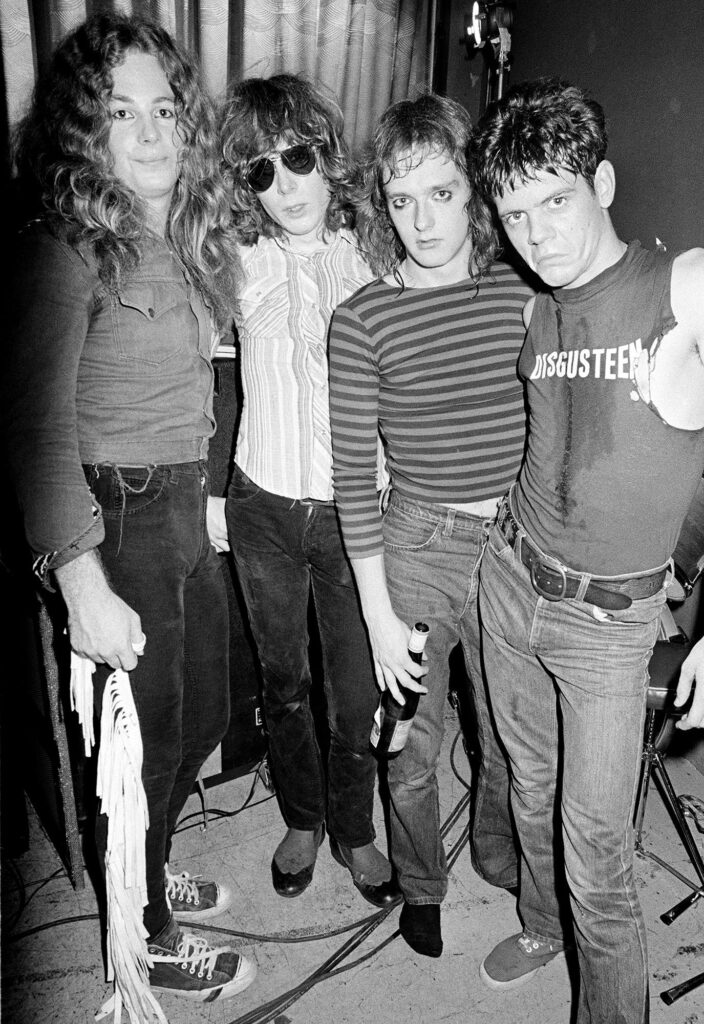 The group's first gig was on Oct. 17, 1975, in the Westdale cafeteria, and more local gigs followed. A debut single," Picture My Face," came out in May 1978 on Epic Records, and a self-titled album the following year went gold. Similar success followed with a second album, Frantic City, released on Attic Records in 1980 and certified platinum in 1983.
From the late '70s on, Teenage Head toured extensively across Canada, carrying the torch for fiery garage-meets-punk rock at a time when such a style was given short shrift by the music industry establishment here. It is fair to surmise that along the way they'd have helped inspire dozens of others to start their own bands, an achievement surely more important than the number of gold or platinum-selling records earned.
Watch: A Teenage Head concert
In his eloquent and extensive Globe and Mail obituary of Gord Lewis, Brad Wheeler accurately noted: "Beginning with its chugging debut single "Picture My Face" in 1978, the Head rocked lean and hard and bopped with cocksure esprit. Its live-wire shows were the stuff of lore – riot starters, literally. New York had its Dolls; Canada had theirs. In a punk world full of Johnnys – Thunders and Ramone – Canada rolled with a Gordon."
The riot Wheeler referenced happened at Ontario Place in Toronto, June 2, 1980, when Head fans prevented from entering the at-capacity venue scuffled with police. The infamous incident made international headlines and confirmed the adage that there is no such thing as bad publicity. It fuelled Teenage Head's career momentum. The band was poised to grab rock 'n' roll's brass ring.
Potentially career-changing showcases in New York City to attract U.S. label interest had been lined up when brutally bad luck derailed the group's progress. In September 1980, between Ontario gigs, Teenage Head's van crashed, and Lewis ended up in a hospital intensive care ward with a broken back.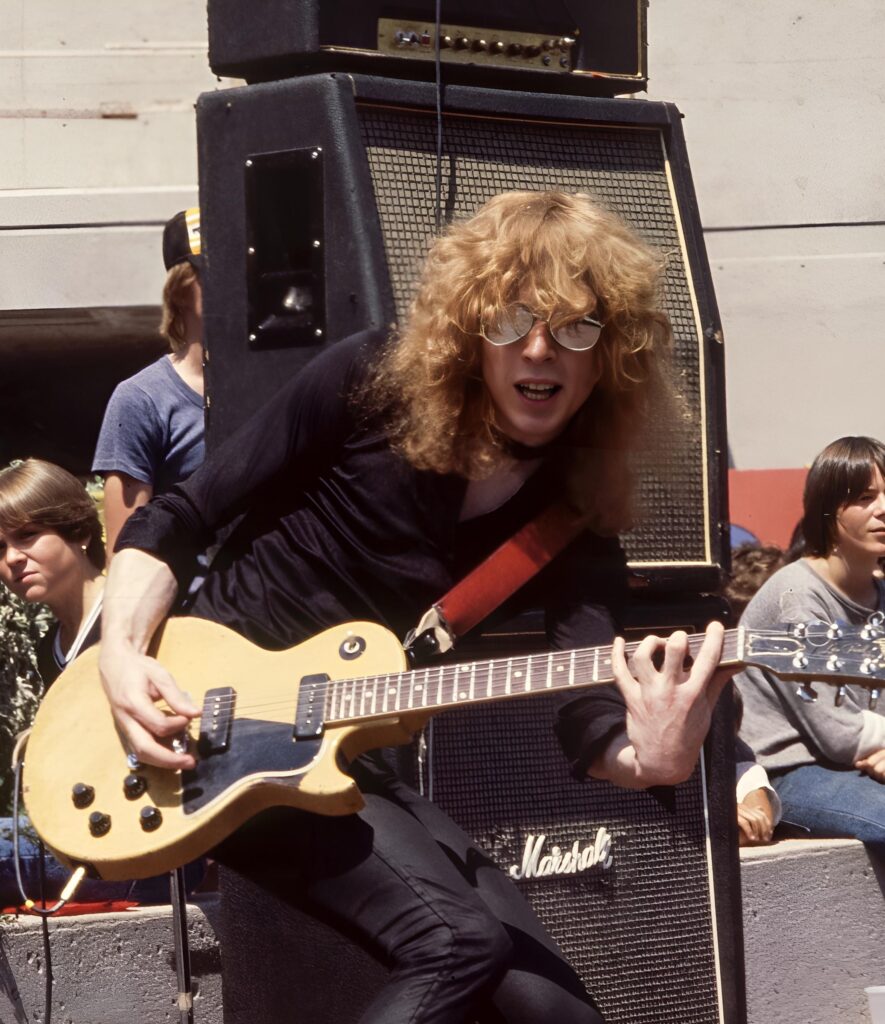 A lengthy period of recuperation followed before Lewis could reunite with his Les Paul Jr. guitar and return to onstage riffing with Teenage Head. By then, record industry interest in the band seemed to have waned, and its commercial potential went unrealized.
But Teenage Head continued to record and tour extensively and remained a highly potent force in performance. Frankie Venom was undeniably one of Canada's most charismatic rock frontmen ever, while the power chords of Gord Lewis served as the musical muscle of the band.
They recorded seven LPs and EPs between 1979 and 1996, some with Hamilton rocker Dave Rave, who replaced Frankie Venom from 1986-88. After Venom's death in 2008, the band continued, with Rave back as frontman.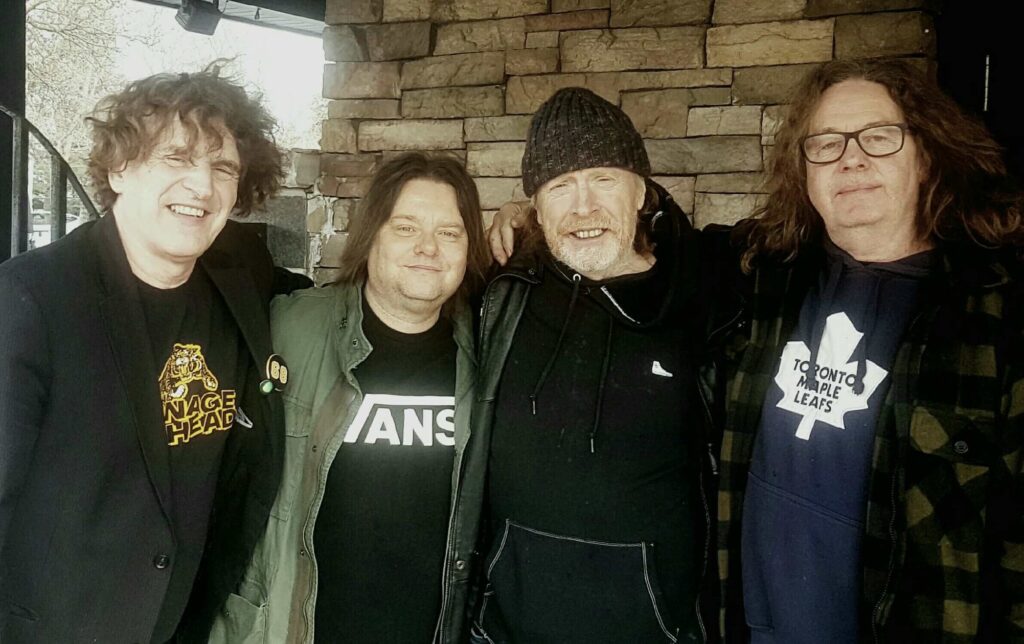 The final Teenage Head performance with Gord Lewis in the lineup was a memorable one. This was at the Ticats-Toronto Argonauts Labour Day classic CFL game at Tim Hortons Field in 2019, and the Head delivered a riveting halftime show.
That same year, Lewis had been hospitalized for five months with depression. His mental health challenges were explored candidly and in-depth (some might say overly so) in the 2020 feature-length documentary portrait of the band, Picture My Face – The Story Of Teenage Head.
The fact that Lewis and Teenage Head have been profiled in both this documentary film and a compelling biography (Geoff Pevere's 2014's The Gods of The Hammer: The Teenage Head Story) testifies to their fascinating career.
Watch: A Teenage Head documentary
In between Teenage Head shows, Lewis often guested with Hamilton bands and visiting artists, and was always supportive of local musicians. He was a member of Tongue Fu, a garage band fronted by his close friend Lou Molinaro, former co-owner of the This Ain't Hollywood club, a popular Lewis haunt.
Lewis' comrade Molinaro offered this heartfelt tribute to HCM: "A fortune in my life was to have one of my rock 'n' roll heroes as a close friend as Teenage Head are a major part of my musical soundtrack. Gordie was a generous human being.
"I learned a lot from Gordie. He was a quiet gentleman, but when he spoke with you, he gave you his full attention. We both loved chatting about music and sports. Gordie's knowledge of baseball and hockey was intellectually deep. This year's baseball playoffs will be so empty without him. I miss Gordie enormously. That boyish smile and that joyous laugh. I wasn't ready for Gordie to leave just yet. I will always revere my time knowing him.
"On the north wall inside of This Ain't Hollywood hung a Teenage Head poster. During our 11 years of business at This Ain't Hollywood that photo opened up the door to a myriad of tributes to the band. Musicians and fans from all walks of life spoke so highly of how influential Teenage Head was to them. We heard praise for Gordie's guitar skills, his signature tone, and his fashion sensibility (especially during the early days). A trendsetter without the ego. When he walked into a room, he owned it. As for his music, Gord LOVED making people happy. The strength in his legacy will be the songs and concert memories that he left behind for us."
Fellow Hammer rock legend Tom Wilson gave HCM this homage: "I just can't shake the sadness from losing such an angel and inspiration. Gord Lewis was a pioneer who I followed into battle because he made the battle worthwhile. He burned up the air with a Les Paul Jr and a Marshall stack. He was a friend and a gentleman. Thank you Gord Lewis because I never got to tell you."
This scribe, a long-time Teenage Head fan, enjoyed a few chats about music over patio pints with Lewis in recent years, and can testify to his sweet personality.
Rest in powerchords, Gord.
Watch: "Let's Shake" by Teenage Head
Steve Parton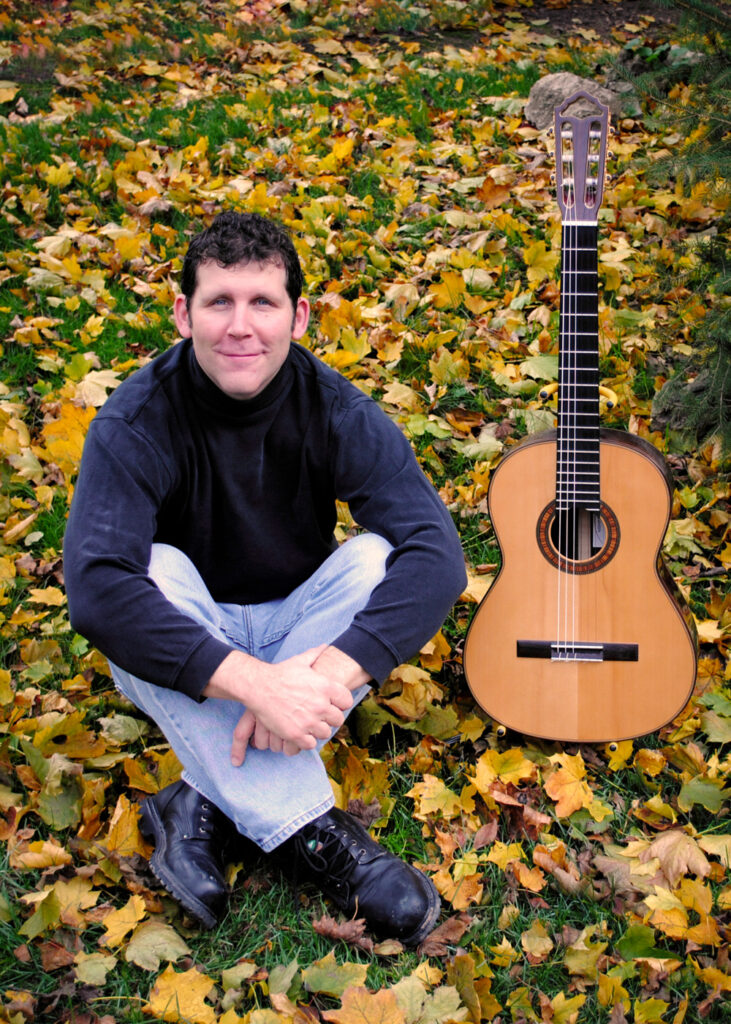 Steve Parton was a genuine renaissance man of the creative arts. With unbridled enthusiasm, he took on the roles of musician, singer, recording engineer, music school founder, artist manager, journalist, author, and filmmaker.
His work had a major impact on the music community in Hamilton and adjacent cities but was sadly cut short last year. After a valiant fight with kidney cancer, first diagnosed in 2013, Parton died on March 11, 2021, age 49. He documented his experiences in two books (Cancer Trip: Curing Cancer with Humour. And Pot. And Chemo, and Cancer Trip 2: Alive and Kicking).
To many, Parton was best known as the founder of Avalon Music Academy, a music school that began in Dundas, then opened outlets in Hamilton, Brantford, Ancaster, and Paris, prior to his selling the business when he became ill.
Avalon has employed dozens of musicians as instructors who gave lessons to hundreds of students. Prominent teachers there have included Mike Trebilcock (The Killjoys), Tom Kiss, Matt Soliveri, Fredric DeVries, and Rob Brown, now leader of Hamilton rock band The Ruddy Ruckus.
Brown tells HCM: "Steve handed me my first job as a music teacher with confidence, believing that somehow a shy, scrawny 16-year-old with a Squier electric guitar had something valuable to offer his students. His foray into artist management, a second career inspired by the work of students who attended his music school, represented a natural extension of his motivation to support, assist and nurture."
As founder of Hammer Artist Management, Parton would go on to manage The Ruddy Ruckus. Brown recalls that "as Steve was managing us, negotiating performances as part of a cross-Canada tour and otherwise rallying support for our ragtag rock 'n' roll gang, he was also managing his cancer treatment.
"The last time I spoke to Steve we had just received the masters for our 2021 album Wentworth & Main. Steve's star may have burned out but his legacy will never fade. He wasn't a good man, he was a great man. He embodied all the qualities that one would expect a good man to possess – kindness, humour, intelligence and drive. His curiosity within the human realms of empathy and compassion set him head and shoulders above all, guiding a life that can only be described as magical and enlightened."
A Hamilton Spectator obituary states that Steve Parton was born in Jonquiere, Que., but came to Dundas when he was an infant. He attended Central Public School and Highland Secondary School and, in 1992, graduated from Fanshawe College in London, Ont., from its renowned sound engineer program.
Watch: Steve Parton perform
After learning the drums, then guitar, Parton played in such bands as the Relics, Sound Minds and the Steve Parton Ensemble. He wrote for music magazines and lived in Mexico, California, and Nanaimo, B.C. He made music videos and five short films, some of which played at the Hamilton Film Festival. At the time of his death, he was managing a solo artist and three bands, through Hammer Artist Management.
In an interview with HCM, Parton's wife, Isabel Casey, says "the outpouring of support has been invaluable to me and to my family. I knew Steve was an extraordinary man, and to have that acknowledgement from others has been a balm for our broken hearts.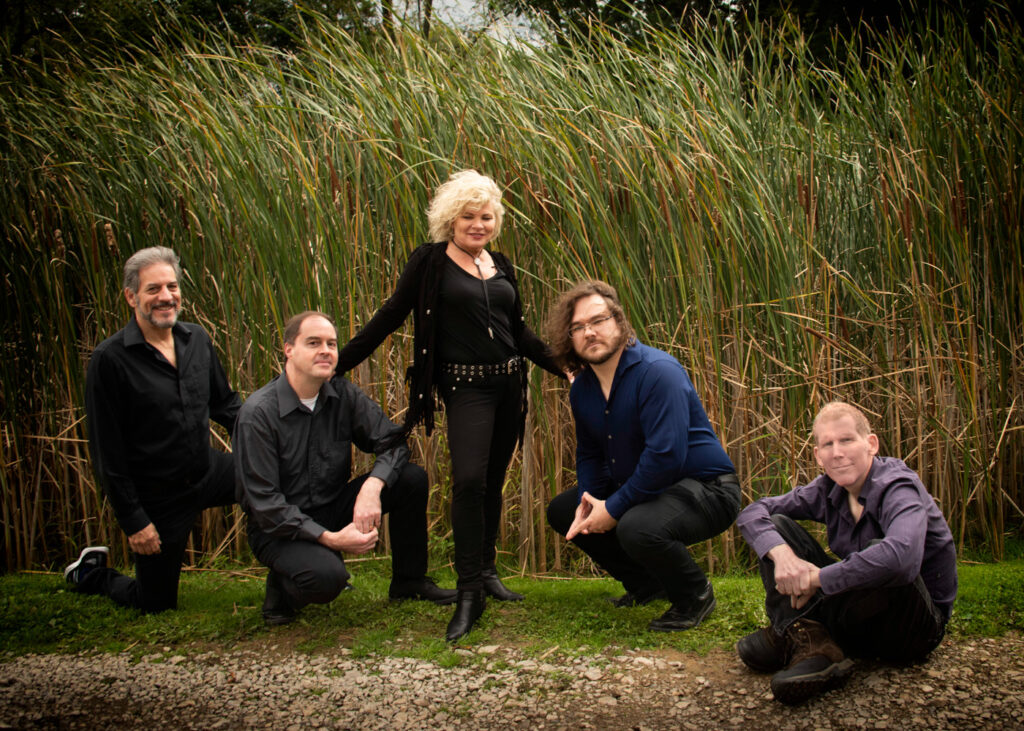 "Steve was not just a great musician, he was a positive life force, who touched everyone around him with his thoughtful kindness. He had a talent for making things happen and he was fearless. He loved being able to assist others with their musical endeavours and teaching young people about the music industry. The energy he had to dive into his own projects, or assisting others with theirs, seemed limitless."
Casey notes that "Steve's central passion was definitely music but that had several facets. He was, first and foremost, an educator of music but he was also a recording engineer, and a band leader. Every project Steve took on however, musical or otherwise, was done with 100 per cent commitment and energy. His enthusiasm knew no bounds."
Watch: Canadian artists (many from Hamilton) perform this cover produced and engineered by Steve Parton