Six days of events include a James Street North festival, kids road race,

 the Hamilton Santa Claus Parade, YWCA luncheon, neighbourhood block party and a day off from school.
A street festival on James Street North, a kids-only road race, a mini Tim Hortons Field inside the downtown Armoury, a neighbourhood block party and Santa Claus himself will all be part of the Grey Cup Festival coming to Hamilton Nov. 13 to 19.
Oh, and local school kids will even get a day off.
Details about the festival that will surround the 110th Grey Cup were announced at the Art Gallery of Hamilton Tuesday morning.
The festival's theme, Built in the Hammer, centres around a series of community partnerships that include Supercrawl, YWCA, Around the Bay Road Race, and the Hamilton Santa Claus Parade.
Tiger-Cats caretaker/owner Bob Young says the Grey Cup Festival is an opportunity to show off the city.
"I've never understood that term about the GTA because, in my mind, it's always been the GHA."
He said the festival would be "bigger and better" thanks to partnerships with the City, the provincial government and local community groups.
"Hamilton is the heart and soul of the 2023 Grey Cup Festival, which is our opportunity to show the country what makes our city so special," said Scott Mitchell, CEO and managing partner of Hamilton Sports Group, said in a press release.
The festival, featuring more than 40 events, including traditional Grey Cup staples, such as team parties in unique Hamilton venues, will be free, walkable and offer family-friendly events, says Matt Afinec, president and chief operation officer of Hamilton Sports Group, which includes Hamilton Tiger-Cats and Forge FC Hamilton.
"Hamilton is full of special people doing special things in the community" and they have been engaged to offer "Grey Cup-inspired versions of their events," he said.
Fan Central will close down James Street North from York to Barton from Thursday to Sunday. Programmed by the team behind Supercrawl, it will feature music, art, food and a Christmas market.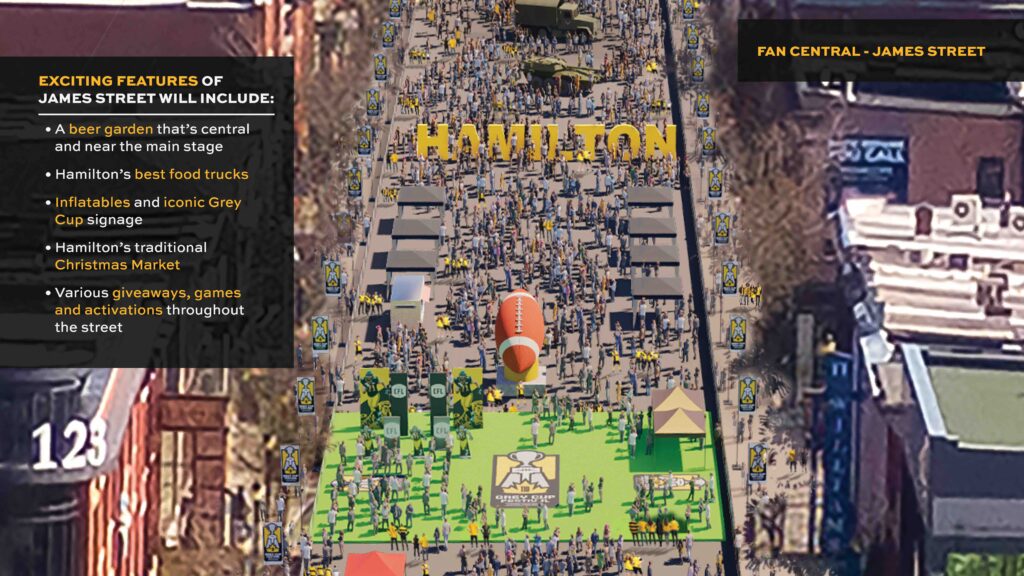 The Canadian Armed Forces will open the John Weir Foote Armoury, a national historic site,for a Fan Zone, including a flag football competition on a 35-yard turf field, obstacle courses, a Canadian Football Hall of Fame exhibit and other football-related activities.
"It's an incredible venue that so many Hamiltonians haven't seen, so we are excited about that."
The Hamilton Santa Claus Parade will feature a new parade route around the festival corridor, while the Around the Bay Road Race team will organize a race for kids from Gage Park to Tim Hortons Field.
And students in both the public and Catholic school boards will get a PA day on Friday, Nov. 17, two days before the Grey Cup game.
The festival will also include a neighbourhood block party on game day, a tailgating event outside the stadium, a CFL alumni luncheon, the Tiger-Cats' TigerTown and concert series at First Ontario Centre, a Cheer Extravaganza featuring CFL dance and cheer teams at First Ontario Concert Hall, an industry conference for sponsorship professionals at Tim Hortons Field, and a YWCA luncheon for youth at Liuna Station that will centre around women working in professional sports.
"There has never been anything like that at a Grey Cup," said Afinec. "The YWCA moved this annual luncheon to coincide with the festival."
Announcements about music performers are still to come.
Hamilton is undergoing an "incredible renaissance" and hosting the Grey Cup is a platform to showcase that to the country, said Natalie Sexton, Ticats game day host who emceed the event.
"We are steel but we are art and we are food and we are fashion and we are music."
Hamilton Mayor Andrea Horwath joked that she ran for the top post in order to lead the city when it hosted the Grey Cup. She said she's been a Ticat fan her whole life, going to games with her mother and grandmother, who were season-ticket holders. Horwath even worked the concession booth at Ivor Wynne Stadium as a teen.
"I can't wait to welcome football fans from around the country. It's an opportunity to show all that Hamilton offers."
Minister of Tourism, Culture and Sport Neil Lumsden, MPP for Hamilton East-Stoney Creek and a former CFL player, said the Grey Cup Festival attracts new fans to the game.
"The excitement runs deep."
The festival will also feature free shuttles from Hamilton to Niagara Falls where the CFL Awards and a concert will happen at Fallsview Casino.
The 2023 season has been "remarkable," said CFL commissioner Randy Ambrosie.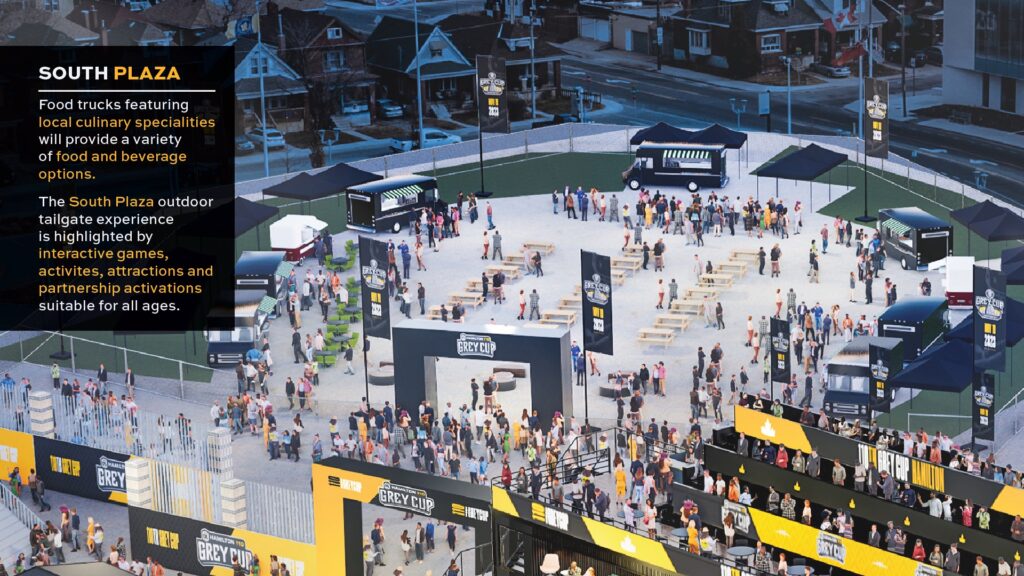 Stadium attendance is up and broadcast ratings are growing each week, now hitting an average of 637,000 viewers a game, he says.
"We are a big deal and Canadians love the CFL and football fans around the world love the CFL."
He said even in the muted atmosphere of the 2021 Grey Cup, which was heavily scaled down by pandemic restrictions, the excitement in Hamilton was evident.
"This Grey Cup Festival will showcase all that makes Hamilton so special and this region so special … There are very few things more Canadian than being at a Grey Cup."
Editor's note: See the fall issue of HAMILTON CITY Magazine out in early September for a deep look into what the festival will bring to Hamilton. Subscribe here or find us at one of our local retailers!