FirstOntario Concert Hall rocked Saturday night in honour of Teenage Head guitarist.
It could not have been a better, more appropriate way to salute Hamilton Day.
The celebration of life for Teenage Head lead guitarist and songwriter Gord Lewis at FirstOntario Concert Hall Saturday evening, was a magnificent, historic and emotional event. It was indeed a tribute to one of Hamilton's favourite sons and one of Canada's greatest guitarists. It was a night to remember — for his bandmates, friends, family and a few thousand fans.
The event, set in front of a backdrop featuring a larger-than-life illustration of Lewis, began with heartfelt eulogies from legendary Canadian sports announcer, Dave Hodge, and former Hamilton Spectator music columnist, Graham Rockingham, both long-time friends of Lewis.
A burgeoning, electrified crowd calmed to listen to some emotionally-charged words from Lewis's brother, John Lewis, and John Lee from the Good Shepherd Centre, the beneficiary of the show's proceeds.
John Lewis shared some of the family's deliberations on how they could best provide funeral arrangements and a farewell for Gord that he would have wanted. "Music was Gord's religion, the stage was his altar and this grand music hall, his church."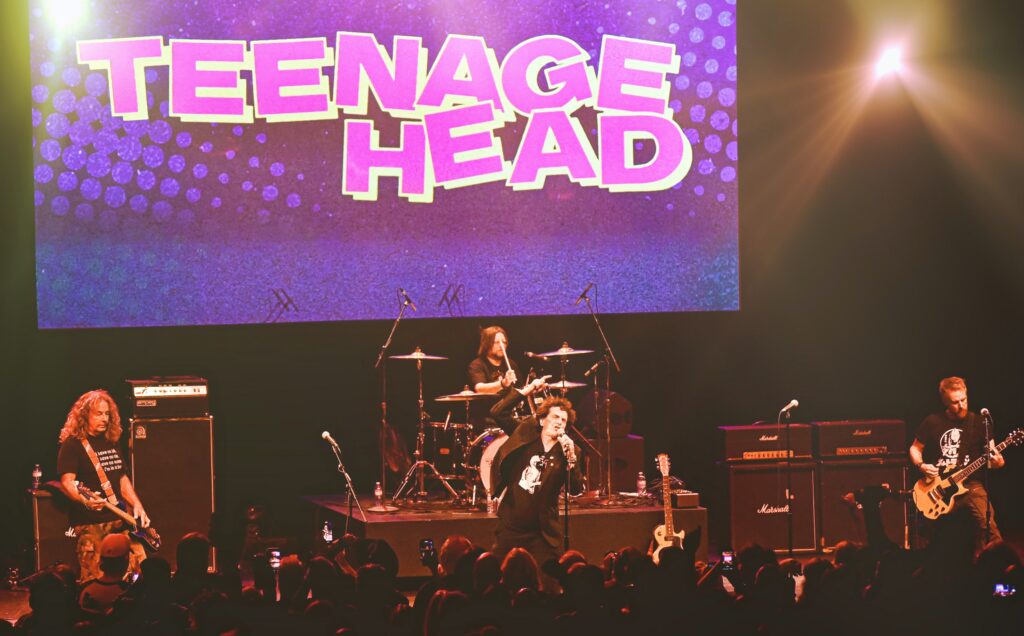 Passages sent by Hamilton music icons Daniel Lanois, Max Kerman (Arkells) and Mickey DeSadist (Forgotten Rebels) were read aloud to the momentarily quiet audience.
And there were many friends and music industry folk who couldn't attend, but shared their memories and thoughts on video: Stewart Pollock, Bill Welyshka, Joe Bouchard, Andy Shernoff, Albert Bouchard, Dennis Dunaway, Jack Syperek and Tom Wilson.
Teenage Head – Steve Mahon (bass), Dave Rave (lead vocals), Gene Champagne (drums) and Trent Carr from the Headstones taking on the role of lead guitar – hit the stage and opened the show with Total Love from the band's 1980 platinum album Frantic City.
And in traditional Teenage Head concert fashion, the "dance floor" upfront was immediately jam-packed with hundreds of fans singing, dancing, bopping, and grooving to the high-energy music that redefined rock 'n' roll in Canada. The song list was exhaustive. The response from the audience, explosive.
The line-up of musical guests read like a page from the who's who of Canadian music, each of them taking the mic for a Teenage Head song: Colin MacDonald and Jack Syperek from The Trews; Luke Bentham from the Dirty Nil; Andy Curran from Coney Hatch; Mike Trebilcock from the Killjoys; Crowbar's saxman Sonny Del-Rio; Tim Gibbons; Lewis's nephew Michael Lewis: Jack Pedler; Chris Houston; Greg Brisco; Sammy Squid, and Lou Molinaro.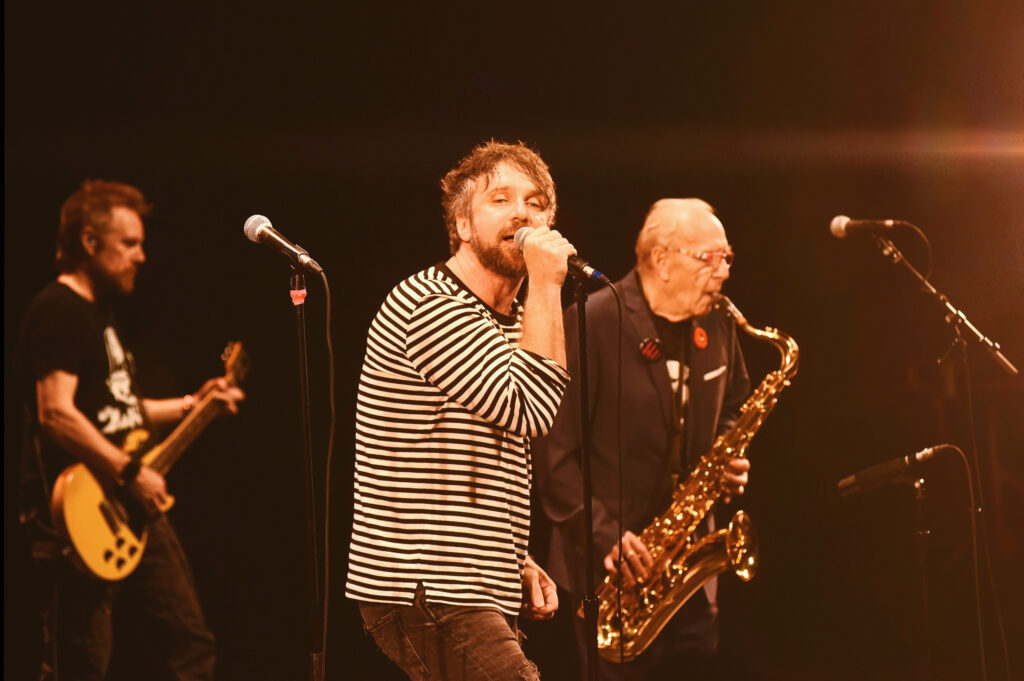 Lifelong friend and bandmate Dave Rave told HAMILTON CITY Magazine that Teenage Head's influence endures.
"Gord Lewis, along with Steve Mahon, Frankie Venom and Nick Stipanitz — the co-founders of Teenage Head — were the architects of a new Canadian sound. It influenced everyone in Hamilton including the Forgotten Rebels, the Shakers, Tom Wilson and so many musicians across Canada. We lost the main pillar of our own Hamilton sound. But his influence will shine on forever. Play it loud and proud. Let's Shake," he said, referring to one of Teenage Head's biggest hits.
The city was rocked when Lewis, 65, was found deceased in his Hamilton apartment on August 7. His son, Jonathan Lewis, has been charged with second-degree murder. Saturday's tribute was a step toward healing for those who loved and admired Lewis.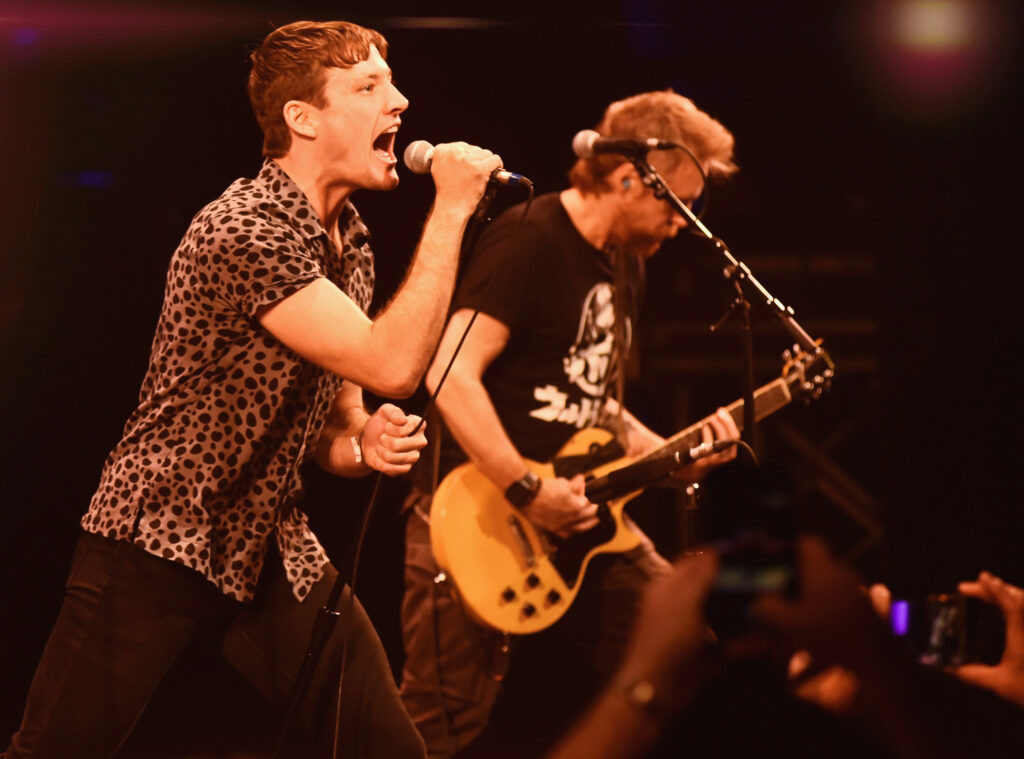 "As I compose this, I am on a GO bus back to Oshawa. The bus driver introduces himself on the mic saying, 'Hello, welcome aboard. My name is Gordie and I'll be your driver.' Whoa!" wrote Molinaro, event co-producer and former co-owner of Hamilton's This Ain't Hollywood.
He was also one of Lewis's best friends and a musical partner in crime.
"Last night was the most memorable event I ever put together. I knew how important this tribute is to not only Hamilton, but the music world internationally. The speeches and performances were dynamite. However, the one thing that stole the show was the amount of love from the audience. Music fans, musicians, media folks, industry reps … it was just beautiful!"
Molinaro says the smiles on the faces of the Lewis family felt like getting an A+ on a report card.
"As for Gordie, I was checking in with him spiritually all evening. I KNOW Frankie and Gordie were rocking last night. The Concert Hall absorbed all of last night's super power energy. If only those walls could talk."