Since 1922, the city has been a powerhouse of music radio 

and is home to the oldest English language commercial radio station in Canada.
Before Spotify and iTunes, before MP3s and wi-fi, CDs and cassettes, certainly before television, there was radio.
Many people today have vivid memories of long summer nights spent in backyards and parks, cold drinks in hand, listening to distant voices on the FM or AM dials, whether it was a sports game, the news, or most commonly, music.
There was no algorithmic "curation" of your song options, no genre-specific "playlist" that you could change; with radio, you took what you got. If you heard a song you didn't like, you could change stations, but unless you phoned in to request a song, what the DJ played was what you heard. Many stations would offer a mix of songs and artists across genres on their regular programming: you could hear classic rock one moment, R&B in the next. DJs had a unique role as purveyors of new tracks from up-and-coming performers. Often, a single broadcast could lead to fame and fortune.
It was truly a different era, and while it's certainly still here today amid our many options for entertainment, there was something special about the time when radio was king.
The story of Hamilton radio broadcasting is that of a scene that's consistently punched above its weight class relative to larger markets like Toronto and Buffalo in terms of its influence on musical and creative culture.
No one can properly convey the story in its entirety in a single article, but we can offer an entry-level overview of some of the more notable moments, institutions, and remarkable characters whose collective legacy continues to broadcast out into the wide world beyond Steeltown.

How is all began
The story of Hamilton radio begins where all Canadian radio begins: Montreal, with the establishment of the country's first radio station atop a building on William Street in Ville-Marie, in 1918, by a private subsidiary named for the father of radio himself.
The Marconi Wireless Telegraph Company of Canada opened the first commercial radio station, XWA (designated CFCF) in the country. The company was named, of course, after Guglielmo Marconi, the inventor of modern radio who notably achieved the first transatlantic telegraph transmission at Signal Hill in St. John's, Nfld. in 1901. With its audience initially limited to those equipped with experimental "crystal set" listening devices provided by the company, XWA nonetheless began regular broadcast programming in 1920.

From 1920 onwards, there was a proliferation of private commercial radio stations across the country, as transistor radios became more available (and affordable) for ordinary Canadians over time. Hamiltonians would get their first taste of commercial radio in 1922 with the opening of CKOC AM (1150 AM). 

CKOC hit the airwaves on May 1, 1922, founded by Wentworth Radio and Auto Supply owners Herb Slack and George Crawford as a way to help grow their own transistor radio sales. Hamilton Mayor George Coppley would take to the airwaves one week later as part of the official launch, and the station quickly flourished in the community, with a first location at King William and John Street that changed several times over the years, eventually landing at 883 Upper Wentworth in 1990. 
Starting in 1960 up until 1992, CKOC's Top 40 Hit Parade became a mainstay for Hamilton listeners, with the station becoming known as "The Busy Bee" and broadcasting top hit songs around the Golden Horseshoe, giving the Toronto radio stations a run for their money in ratings.
But while CKOC had many notable achievements to this point, the station's 1968 promotion of an energetic young musician (and one-time law student) from the copy department to the music director's office would usher The Busy Bee into a golden age.
"The Hitmaker"
A top graduate of Ryerson's Radio and Television Arts program, Nevin Grant quickly rose to prominence at CKOC, becoming program director in 1972. He was passionate about helping launch the careers of talented Hamilton-based performers. Grant believed that Canadian radio stations had a special obligation to promote Canadian artists, and would work to develop the careers of on-air personalities and musical acts here at home.

The late-great guitarist for Teenage Head, Gord Lewis, once credited Grant with helping to elevate "Let's Shake" into a major hit, telling the Hamilton Spectator in 2015 that back then, double-sided hits only happened to major acts on the scale of the Guess Who, The Beatles, and Creedence Clearwater Revival.

During his long career with CKOC, Grant would be instrumental in launching such notables as Roger Ashby (one third of the famous Roger, Rick, & Marilyn Morning Show at Toronto's 104.5 CHUM-FM), Ronald J. Morey, Gord James, former Hamilton mayor Bob Bratina, Dave Charles, Brent Sleighthom, Bob Steele, and Mike and Peter Jaycock, all of whom lent their voices to the CKOC airwaves along their own careers. For these efforts, he would eventually be known as "The Hitmaker."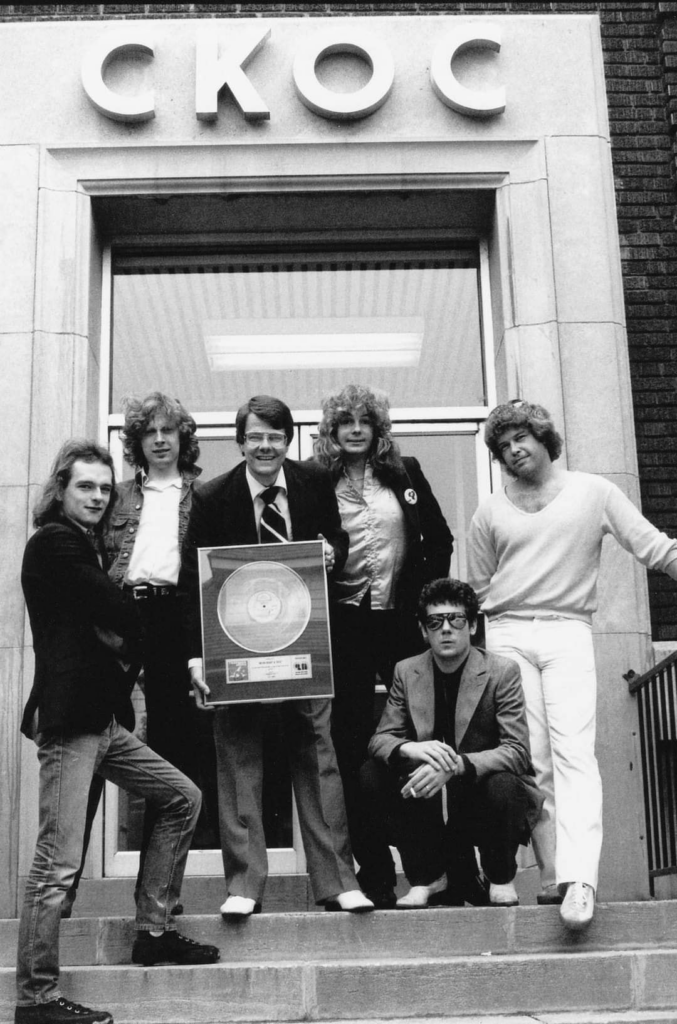 The Busy Bee, however, was far from the only show in town during those halcyon days. In the 1960s, new radio stations arrived, bringing now competition for listeners and critical advertising revenue.

"Back in the day, Hamilton and Toronto were very distinct and separate music markets," says Alan Cross, longtime host of The Ongoing History of New Music. "CKOC, for example, had its own regional audience and that was enough for people west of Toronto. Some would listen to CHUM, but Hamilton has always been a hometown kind of place, so as a result, you had radio stations making a pretty good living just on the Hamilton and surrounding markets."

Cross notes that this began to change when other markets outside of Toronto – St. Catharines, Kitchener, Cambridge, and Guelph – started to open their own radio stations, which reduced the footprint and impact of Hamilton radio over the area.
The growth of regional radio meant that new on-air talent began to emerge, with a few of them making their way to Hamilton to make their contributions to the local radio scene.

One of them was David Marsden, first known to Hamiltonians of that time by his stage name, "Dave Mickie".
Rogue radio
In 1963, when David Marsden's bosses at CFCO in Chatham found out he'd been playing rock songs on their easy-listening format for several weeks, they fired him on the spot, only to rehire him soon after they learned that the ratings had gone up during his rogue broadcasts.
Marsden would eventually go on to become an iconic figure in Canadian broadcasting history, mostly associated with Brampton's CFNY, today known as 102.1 The Edge. Under Marsden's watch as program director, CFNY would become the country's first "alternative" music station under the iconic motto: "the spirit of radio."
Now known as "The Mars Bar" on the air, Marsden was an early adopter and proponent of punk and New Wave music, and is credited with giving audiences their first listens of many Canadian and international acts, including Pink Floyd, Depeche Mode, and the Sex Pistols to name a precious few.
But between his time at CFCO and CFNY, Marsden had an interlude at Hamiton's CHIQ 1280 Radio at its original studios at 206 King St. W. (between Caroline and Bay), where he hosted the evening show.

Marsden also hosted a TV dance program on CHCH called "Mickie A Go-Go", which aired on Saturday afternoons in 1965. According to some area residents who grew up during that time, Marsden became a local celebrity, often driving around town in his convertible and stopping to sign autographs for fans. For many Hamiltonians, the "Dave Mickie" moniker is synonymous with that earlier time in the city's history.
Another notable figure from CFNY, Alan Cross himself, would leave a lasting impact on Hamilton radio, helping two very different radio stations make a big switch.
The Y95-Energy 108 Switch-Up
By the time Cross arrived in Hamilton to become program director at CJXY 95.3 FM in 2001, Canadian conglomerate Corus Entertainment had acquired the station, along with Burlington-based CING 107.9 FM.

In September 2001, Corus decided that CJXY, then known as Y95 as a classic rock station, would begin broadcasting on 107.9 and be rebranded as Y108. Cross was instrumental in steering the switchover.

"There was an interesting philosophy when I signed on in 2001," says Cross. "Y95 had a very powerful signal, and was doing extremely well, taking as much as $750,000 of advertising out of the Kitchener area. Because of its particular flavour of rock, it was bringing a lot of money from a wide footprint. When I got there, there were all kinds of problems with costs and staffing. We had to boost our revenues and market shares and cut costs. Our music programming needed to be cleaned up."

Corus' plan was to create a ring of Energy radio stations surrounding Toronto so they could beam in, from multiple frequencies, the same programming, from Oshawa, Barrie, and Kitchener, with Hamilton at the centre. In order to do this properly, Corus needed a better signal for Energy 108.

The switch wasn't without hiccups for CJXY, as Cross notes. "One thing we found out was that the Y95 signal on the 107.9 frequency didn't cover Hamilton as well as we thought. If you were inside Stelco, for example, you had a hard time picking up the station, because the signal had moved from the tall transmitter in Stoney Creek to a shorter and less powerful tower on the Niagara Escarpment north of Burlington."

Eventually, CJXY was able to weather the change, but CING (known as Energy 108 or Energy Radio) was now broadcasting to a wider area, putting it in direct competition with more stations. As a result, CING fell into something of an identity crisis over the next few years as it struggled to find a competitive niche.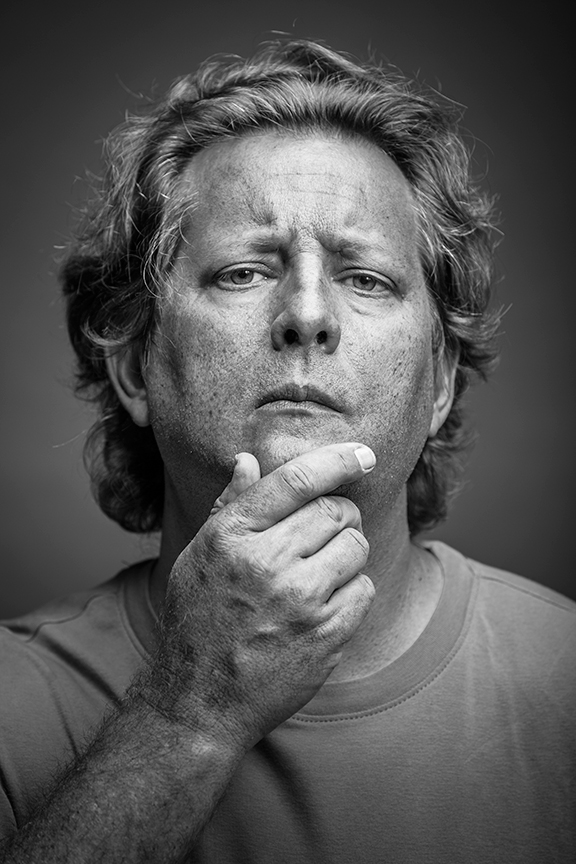 During the 2000s, Corus would shuffle CING between various categories, from hot adult contemporary/Top 40 formats similar to Toronto's CHUM-FM to a brief focus on stand-up comedy, classic rock, back to Top 40, and then back to dance.
Its most successful interlude, however, was as Country 95.3 starting in 2002.

CING seemed to have finally struck gold: it remained Hamilton's pre-eminent country station for seven years until 2009, when it was changed yet again to the classic rock-format Vinyl 95.3.
This change left the Hamilton radio market without a country music station, leaving the door open for another broadcasting company in two years' time.
Durham Radio and KX 94.7
Douglas Kirk gained full ownership of Durham Radio in 2001 when his minority stakeholder partner, Ancaster resident Rae Roe, gave up his stake. The partners had opened CIWV or Wave 97 FM in 2000, where it played adult contemporary music for over a decade.

In 2011, looking to capitalize on the market gap left by the changeover at CING, Kirk changed CIMV to a country music format. Now known as KX 94.7, along with its sister KX stations in Ajax and Oshawa, serving suburban and rural areas outside of the big city.

As Cross notes, country is a very difficult format to program in this part of the world. 
"They're often No. 1 in many cities, but in Toronto, country hasn't worked very well, so most of the time, the only thing that Toronto listeners can do is find an out-of-market station, which is exactly the opposite of everyone else. In the case of KX 94, people from Toronto are turning to a Hamilton radio station."
Where Are They Now?
There isn't enough room in this space to cover the entirety of Hamilton's radio scene. We haven't even touched on Hamilton's vibrant campus offerings such as McMaster's CFMU 93.3 or Mohawk's CIOI (aka the amazing INDI 101.5), nor have we delved into the on-air personalities of today in the detail that they surely deserve.

This is, after all, a high-level view spanning over 100 years of radio history, with Hamilton ever at the centre of the tale. The reader is invited to explore more on their own. This writer regrets all that was missed or left out.
How has it all turned out, then?
Kirk's Durham Radio has since acquired over 15 stations in multiple cities as one of the last family companies in radio today. KX 94.7 is Hamilton's top country music station.
After serving as CJXY program director for three years, Cross would return to CFNY in 2004. He, of course, continues to host The Ongoing History of New Music on 102.1 The Edge and streaming services on the web. Following several iterations, CING is now known as Energy 95.3 and plays adult contemporary music. CJXY remains a classic rock station as Y108.

"One of the things that radio is extremely good at is being local," says Cross. "You could listen to a Toronto or a Buffalo radio station, but it's not going to tell you what's happening down the block from you, where you can shop in your community. Radio provides a very consistent connection to the area where you live, and Hamilton radio has done that very well for many decades. In order to survive and thrive, it will need to continue doing that."

Marsden would continue to shepherd radio into new directions, helping to create Iceberg Radio, Canada's first Internet-based radio service, in the early 2000s. He would later be inducted into the Radio and Broadcasting Hall of Fame and honoured by the Rock and Roll Hall of Fame. Today, Marsden co-hosts NY: The Spirit and continues to talk all things radio. 
CHIQ would be rebranded as CHAM and eventually switch to AM 820, its studios relocating to the building at 883 Upper Wentworth, down the hall from its old rival, CKOC. Today, it goes by Funny 820 and primarily offers comedy programming.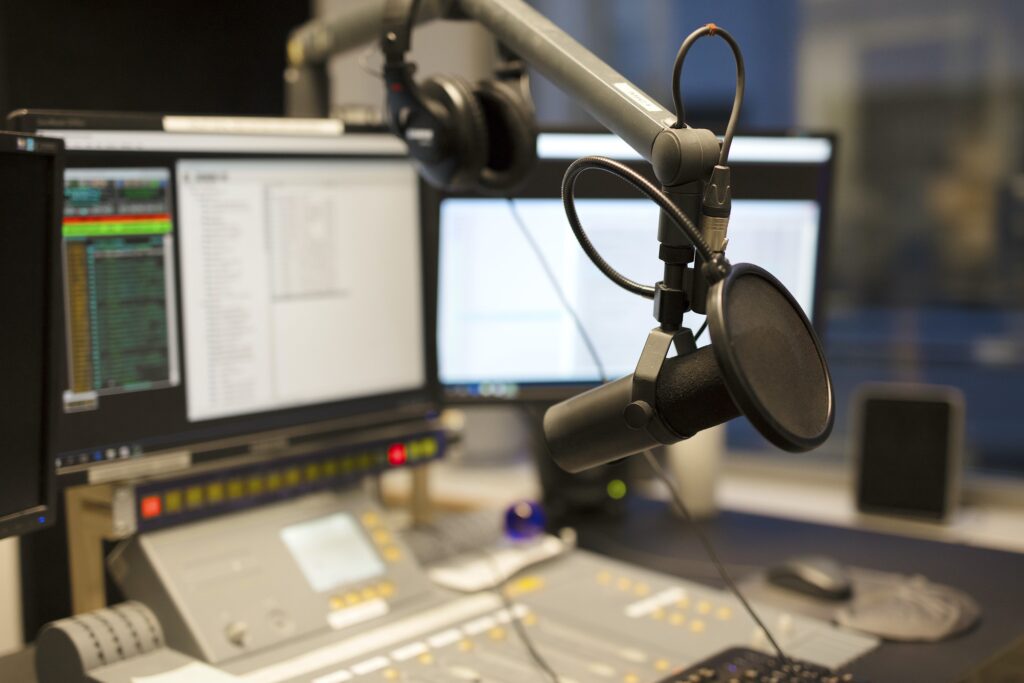 Grant would eventually be inducted into the Canadian Broadcasting Hall of Fame and earn an Allan Waters Lifetime Achievement Award at the Canadian Music and Broadcast Industry Awards in 2019, among many more accolades. The talent networks he built would continue to grow over the years, helping new Canadian artists such as Drake and Alessia Cara become international superstars. Grant passed away in 2020 at 80. 
"The Busy Bee" would undergo its own permutations as FM supplanted AM as listeners' preferred broadcasting mode for music. It was briefly rebranded as "Oldies 1150" in 1992 until a letter-writing campaign by angry residents restored the CKOC letters to the name. In 2015, it became TSN 1150 on a sports radio format, and most recently in 2021, was purchased by BNN Bloomberg, a business talk radio network owned by Bell Media.
As of this writing, the venerable station that began its life as CKOC-AM continues to broadcast through the airwaves as it has done for the past century. It is the oldest English-language commercial radio station still operating in Canada, and the third-oldest overall in the country. It has outlasted even XWA/CFCF, the Marconi-built station in Montreal that started it all, which went off the air after 90 years in 2010. As of June 2023, both AM 1150 and AM 820 are being sold to a third party that, as of this writing, has not been disclosed.

For folks of certain generations, it's understandable to look back and think that the golden era of radio has passed us by, that people today – inundated as we are with curated, algorithmic-driven content across multiple platforms – will never understand what's been lost. Long gone are the simpler days of having a blank cassette tape in the player ready to record a favourite, hard-to-find song when it came on. The comparatively-few grand personalities of yesteryear loom larger in our memories compared to the multitudes of on-air and online talent today.Yet radio still holds a commanding position in the creative and cultural life of the Steel City, and in the daily lives of new generations of city listeners.
The story of Hamilton radio goes on, and shows no signs of going silent anytime soon.