Anuja Varghese's debut collection of short stories 

intentionally centres brown women and girls, giving them space to be complex.
Anuja Varghese grew up a voracious reader, her shelves stacked with Anne of Green Gables, Fear Street, Sweet Valley High, and other staples of a millennial childhood. Eventually, she graduated to Anne M. Rice and the Brontë sisters; however, she rarely, if ever, saw herself represented in the books she was reading.
"What all my formative reading had in common was not a single main character looked like me," says Varghese, whose first collection of genre-blending short stories, Chrysalis, is out this spring.
"These stories intentionally centre brown women and girls and give them space to be complex and dangerous and sexy and brave in ways that brown women in books don't often get to be," says Varghese. Drawing on folklore, fairy tale, and magical realism, Chrysalis explores queerness, family, sexuality, and cultural expectation through an unapologetically feminist lens.
Born in Kingston, Varghese spent nearly a decade living in Toronto. However, it wasn't until she moved to Hamilton that she began writing the stories that would become Chrysalis.
"I found a welcoming arts community here, and I felt a kind of security — both in my life and in my writing — I hadn't felt anywhere else," says Varghese. "Leaving Toronto was like leaving an exciting, but ultimately toxic relationship. I needed the space and support that Hamilton gave me to finally unpack that time — in my case, into this book!"
With a full-time job and two young children, finding time to write isn't always easy.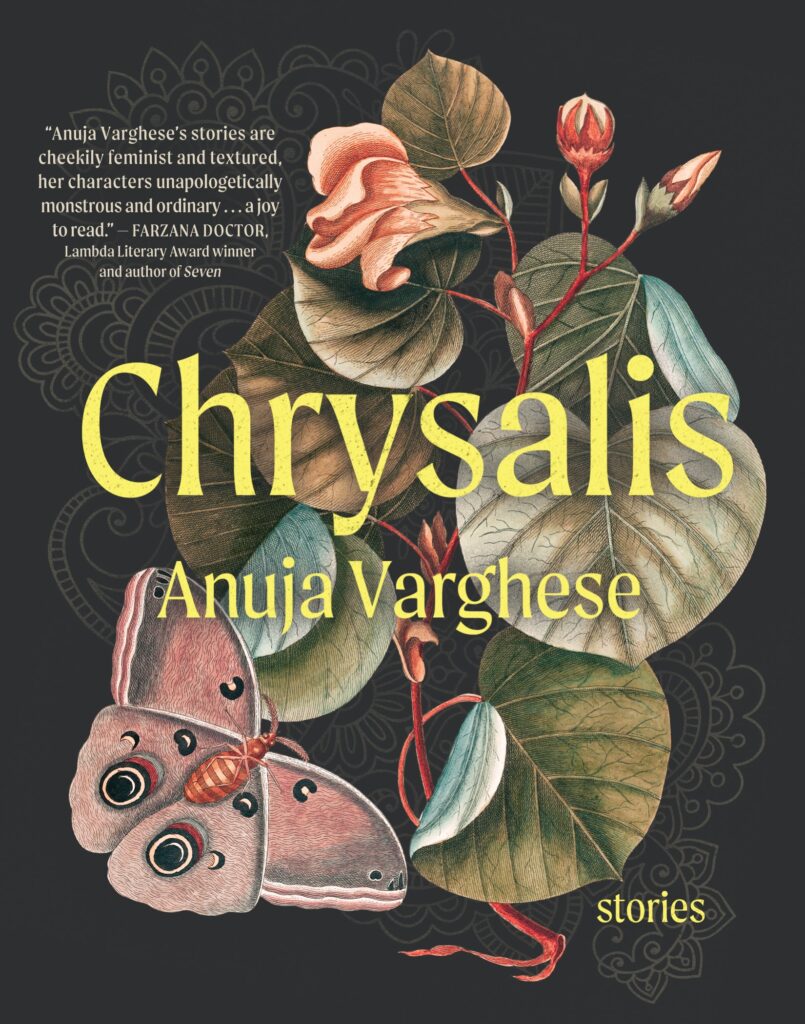 "When I am in the grip of a story, I am writing it all the time — in short bursts on my phone, between Zoom meetings, probably while my partner is trying to talk to me (sorry, Jeff!)," says Varghese. "I also try to carve out a few weekends throughout
the year to hole up in a hotel room somewhere, order room service, and read, write, and edit entirely uninterrupted," she adds.
At just under 200 pages, Chrysalis is a slim collection bursting with sensuality, complexity, and reclamation. Varghese hopes that readers will find characters they connect with in its pages.
"This kind of representation is important because I hope it serves as a reminder to those of us who don't see ourselves in most stories that we too are worthy of reflection."
OTHER LOCAL BOOKS TO READ THIS SPRING
Strange Loops
Liz Harmer
Following the success of her first novel, The Amateurs, award-winning writer Liz Harmer is back with Strange Loops, a thrilling new novel about secrets, desire, and the affairs of one tumultuous family. Bringing readers back and forth through time, it explores the complicated relationship between Francine and her twin brother Philip. Once inseparable, they find themselves in a repeating loop of destructive emotions, resentment, and betrayal.
Shot From All Sides
Cormac Figgis
"Shooting a gig often feels a little bit like going into battle," writes Dublin-based photographer Cormac Figgis. His stunning collection of rock photography, Shot from All Sides, brings readers up close to music icons, including Sinéad O'Connor, Iggy Pop, and Kim Gordon. So, what's it doing in a magazine about Hamilton? The project began when Figgis was living in Hamilton in the late 2010s. Even better, it features photography from This Ain't Hollywood, the much-loved, never forgotten institution on James Street North.
Max Webster: High Class
Bob Wegner
Author and archivist Bob Wegner could have written a small tribute to Max Webster, a genre-defying Toronto band from the 1970s and early '80s. Instead, with the help of crowdfunding, he self-published Max Webster: High Class, a 400-page, limited edition coffee table book that took him seven years to complete. An incredible undertaking, it features day-by-day chronology of the band's history with hundreds of previously unseen photos ranging from the pre-Max days in the 1960s to their final reunion in 2007.