Paige Maylott delivers a vulnerable memoir that delves deep into her 

trans coming-out story and her battle with cancer. 
My Body is Distant, the absorbing debut memoir by Hamilton's Paige Maylott, is an intimate look at identity and self-discovery set against the backdrop of both real and digital worlds.
Taking readers back and forth in time, it explores Maylott's experiences coming out as a trans woman, being diagnosed with cancer, and navigating virtual playgrounds in which she finds both love and her authentic self.
"While I take the reader on explorations of gender and seeking love in strange places, I contend with a crumbling marriage and work towards coming to terms with bodily betrayal as I am diagnosed with Stage 3 cancer," says Maylott, calling the book "an atypical trans coming-out story."
Maylott, a 2021 Hamilton Arts & Letters Award winner for Creative Non-Fiction, explores deeply personal experiences with great authenticity and vulnerability, talking candidly about her most difficult moments and regrettable decisions.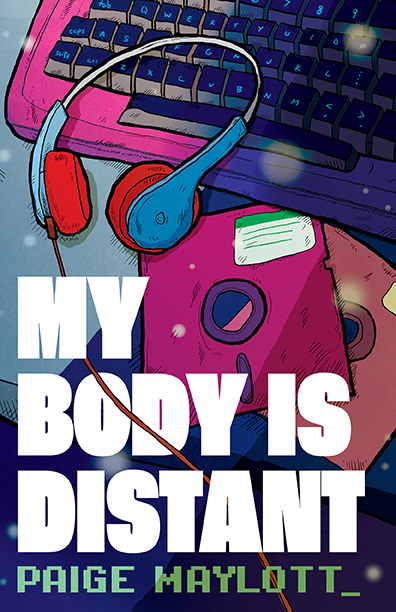 "Admittedly, some of my earlier drafts didn't delve as deeply, or as honestly, into my personal life. However, as I wrote and developed the manuscript, I began to realize that I needed to tell the whole story," she says, adding that it's nerve-wracking and surreal knowing that people are reading about her most intimate moments.
"However, this was also a part of my life that I zealously hid from everyone I cared about all my life. These secrets gnawed away at me over the years, plagued me like demons, and now I am at a stage of my life where I no longer want to keep secrets," says Maylott.
"Honestly, now that I have exposed these privacies to the world, I feel as if they can no longer have power over me."
One of the most challenging parts of putting her life to paper was narrowing down the stories that she wanted to tell.
"As anyone who has written a memoir before will likely tell you, one of the cardinal rules is to stay on theme. It's too easy to stray into fun, but unrelated anecdotes," says Maylott, adding that it was difficult to not feature some family and friends. While it was important to Maylott that anyone could pick up her memoir and read it, she says she was conscious to always centre other trans folks.
"With that in mind, you might notice that I don't overexplain some trans-related terminology, except for one or two parts where it seemed relevant," she says.
Though not told chronologically, My Body is Distant does begin in rural Ontario in 1985 when Maylott escapes schoolyard bullying by playing Zork on the school's Commodore 64.
Slipping away to digital worlds and beyond is a central theme to Maylott's story.
"Escaping to Hamilton saved me from potential violence had I come out in my small, judgmental hometown. McMaster University threw me a lifeline when I was on the verge of homelessness," says Maylott, adding that Hamilton lacks the pretension of many larger cities, an authenticity that speaks to her.
"Our city embraces its gritty side, our art, our foundation on blue-collar labour, and I take great pride in being part of a city that combines beauty and heart."
OTHER LOCAL READS
101 Fascinating Canadian Music Facts
David McPherson
In 101 Fascinating Canadian Music Facts, author and historian David McPherson curates a collection of stories from his more than 25 years of researching, listening to, and learning about Canadian music. Sure, you'll read about the Hip, Blue Rodeo, and Joni Mitchell, but it's the wealth of Hamilton content that will make local fans rejoice. In this memorable book, you'll read about Hamilton's Edward L. Johnson, the youngest member of the New York Metropolitan Opera company, and beloved folk musician Stan Rogers. You'll also add to your rolodex of knowledge about Hamilton's favourite punk rockers Teenage Head and the famous Grant Avenue Studio. 101 Fascinating Canadian Music Facts is much more than a book of trivia. It's a celebration of Canadian talent from coast to coast.
Normal Women
Ainslie Hogarth
Dani, the protagonist of Normal Women, feels isolated and anxious in the wake of new motherhood. That is until she discovers The Temple and its "guardian" Renata, a controversial entrepreneur who suddenly goes missing. Part mystery, part rumination on how we value, or fail to value, motherhood and female labour, Normal Women is the latest book by Hamilton's Ainslie Hogarth, who released her first adult novel, Motherthing, a darkly funny domestic horror novel, last year. She's also the author of two young adult novels.
The Book of Benjamins
Ben Robinson
"My parents didn't know it when they named me but there have been at least two other Benjamins in my family," writes poet, musician and librarian Ben Robinson in The Book of Benjamins. His innovative collection of non-fiction brings together elements of memoir, prose, and poetry, forging links between names, identity, memory, and masculinity. The book is multiple stories in one, woven together, as Robinson explores the grief of his stillborn younger sister Emily, the Biblical account of Benjamin, and his own family's genealogy.