Super Tonics by Lake & Oak Tea Co.'s Meredith Youngson 

shares recipes for 'nourishing, feel-good beverages' that maximize health benefits.
2023 has been a big year, so far, for entrepreneur and holistic nutritionist Meredith Youngson. The founder of the popular Hamilton-based tea company Lake & Oak Tea Co. just celebrated her company's five-year anniversary. At the same time, she released her first cookbook Super Tonics and is currently cooking up a wee babe, who will soon be joining her family.
Youngson places a lot of value on food as a true form of nourishment. And the culmination of these life events couldn't exemplify this more.
Searching for a way to naturally address her experience of anxiety and digestive problems was what brought her to tea. Instead of looking at what she could take out of her diet, she was inspired to look at what she could add to it to help ease her symptoms. Tea was something that worked for her and also had the benefit of tasting great. That realization is what led to the creation of Lake & Oak Tea Co., which today prides itself on making "unique, flavour-packed teas that (are) fun to drink and benefit the body and mind." Now, aromatic and flavourful tea and latte blends with names like Happy Belly, Tangerine Sunshine, and Chill Mama have come into being, making their way into shops, city- and country-wide. With the products highly sought-after in the wellness and gourmet food scenes, it only seemed natural that Youngson would launch a cookbook next. In her Instagram profile, she describes "cooking (her) way to happiness."
When she hosted me in her home for our interview, that part of her personality really shone.
I wasn't expecting anything, except possibly a good conversation (we'd connected via text first and knew we'd hit it off). But when I walked into her airy, modern, and feminine home, she'd put out a delectable spread. Fresh fruit, nuts, cured meats, and beautifully crafted sandwiches adorned the table. She'd also, of course, cold-brewed a refreshing iced green tea lemonade that we sipped during our conversation and later mixed into a non-alcoholic sparkling wine for an impromptu spritzer. If she wasn't already so accomplished, I'd have suggested she start a catering and events company. The green tea lemonade couldn't have been more perfect on a hot summer day. I'm glad I asked about her recipe because, as it turns out, she shares two cold brew methods for "incredible iced tea" in her book.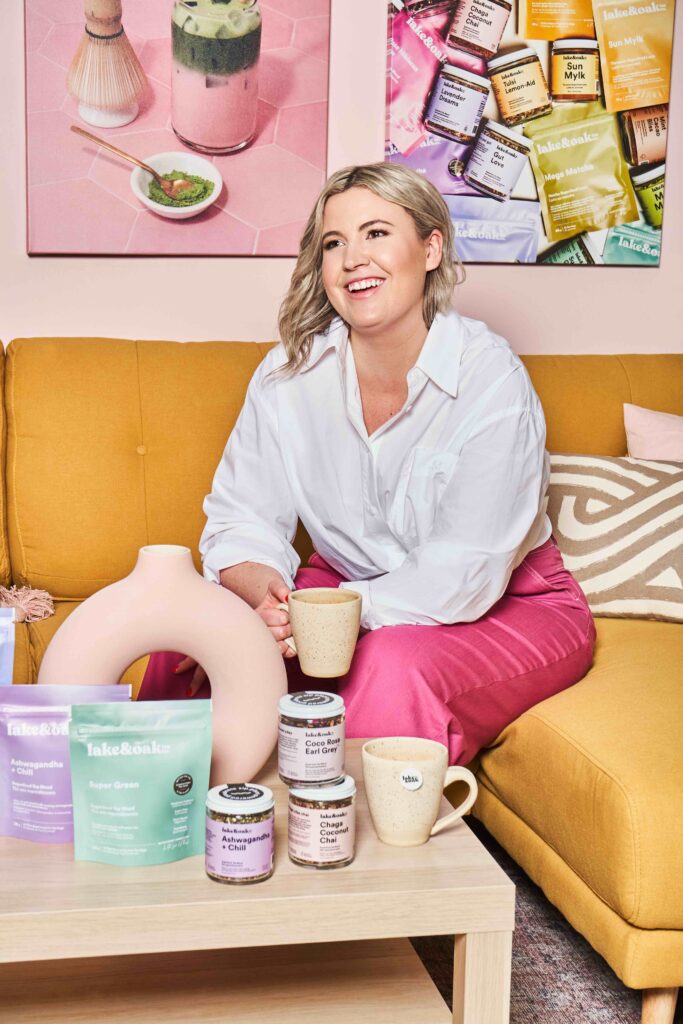 Iced drinks were actually what spurred the concept for the book, she later said. As she was trying to find a way to keep the tea business "interesting, relevant, sexy and fun" in the summer months, she began playing around with new recipe ideas. To her surprise, she discovered something she really enjoyed. It was through this lens that she wrote the cookbook proposal that got her the deal.
With a holistic nutrition background on her side, Youngson also began experimenting with incorporating adaptogens, superfoods, and functional herbs into her recipes as a way to maximize the health benefits and help people feel better. And in that way, Lake & Oak Tea Co. and Super Tonics have a similar mandate: to make small moments feel special. In our conversation, Youngson talked about the act of making and sipping on a drink as an opportunity to create an intentional ritual in the day that allows space for joy and mindfulness, even if just for a moment. As a busy working mom of two small kids, this all sounded deeply appealing. Though this concept is not new, it has become more mainstream in recent years with major publications like Forbes, Time Magazine, and the Washington Post, to name a few, sharing the science behind creating and cultivating smaller moments of joy as a direct pathway to a happier life. "The tonics and drinks are what you make (them)," she said. "Where you are, what you put in it makes it special" to you. When I reflected on my own morning coffee routine, I realized that it was something that consistently delivers on joy and satisfaction and was inspired to commit to it more intentionally.
Tonics, to be clear, are defined in the book as "nourishing, feel-good beverages." And they run the gamut from smoothies to coffee and tea-based drinks to everyday fruit and veg-inspired sips to cocktails. With adaptogens, superfoods, and functional herbs becoming more popular in the wellness world, the benefits of the ingredients are becoming more mainstream. According to the publisher, Appetite by Random House, these foods and supplements are gaining popularity for their ability to help to reduce stress and to improve stress response, energy, mood, and libido. But unless under the care of a qualified professional, like a naturopathic doctor, most people don't understand how to use them day to day. Youngson offers recipes with that purpose in mind. With more than 75 recipes, Super Tonics "is a guide and cookbook that empowers the wellness-curious to make next-level superfood-packed drinks (and snacks) at home." And despite its name, the book also offers recipes for both heartier snacks and light meals. In fact, Youngson shared that her two favourite recipes are the 15 minute immunity ramen, which can be found below, and the watermelon chia agua fresca. Though I didn't have permission to print the recipe for the watermelon chia agua fresca, I was able to access another watermelon-inspired sister recipe – the watermelon beauty slushie (also found below).
Youngson says that "all of the recipes can be made without supplements and with substitutions." It was important to her to make the recipes as approachable as possible. "Depending on your current lifestyle, they … can be expensive, hard to find, and overwhelming to learn about all at once," she says in the intro of her book. With that in mind, Youngson set out to design most of the recipes "to be delicious with or without the recommended adaptogen powders or superfoods."
"It's not necessary for you to go out and splurge on 10 types of new ingredients – that is likely to overwhelm you (and your bank account)," she adds. Youngson assures readers that their pantries and repertoires will grow as they get more comfortable experimenting with new ingredients. In the meantime, she suggests starting with what you have on hand or, if you're keen, investing "in a few products that reflect your favourite flavours and the benefits you'd like to receive – for example, reishi powder for stress or cacao for energy and mood."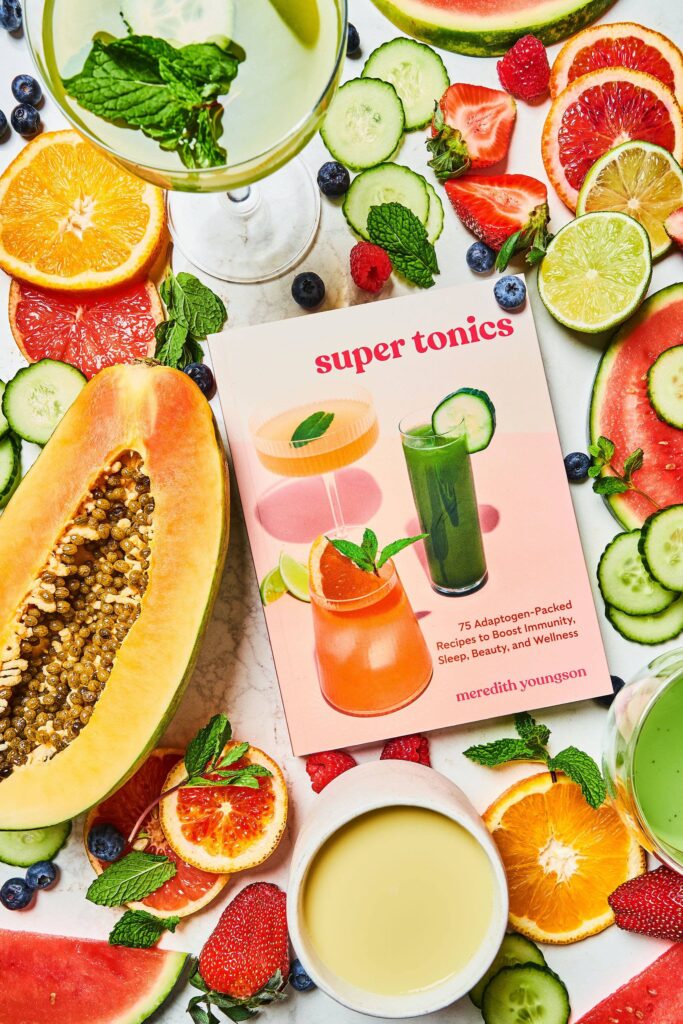 When asked how anyone reading could make their own "superfood drink" with easy-to-access ingredients, Youngson shared her method for making a cacao mocha, which she describes as a "mood boosting and energizing" morning drink. First, choose raw cacao powder, which contains theobromine, a health-promoting molecule available in raw cacao. Raw cacao can be found in the health-food section of most grocery stores. Next, choose a sweetener that you love. She suggested maple syrup, for its naturally-occurring minerals, raw honey for its antibacterial properties, or even stevia, if you're trying to stay away from sugar. Youngson recommends whisking the cacao and sweetener into brewed coffee to dissolve, then adding milk of your choice. Or, if you have an espresso maker, you can also whisk into the espresso base and top with frothed milk. To elevate it even further, Youngson says you could add an "everyday superfood powder," like cinnamon or ginger, or a light dash of turmeric or nutmeg. Alternatively, you can add an adaptogen like maca powder, which not only offers health benefits but adds a nutty, butterscotch-like flavour profile to the drink.
If you're looking for a bit of healthy inspiration or just want to upgrade your drinking game, Super Tonics is a great place to start.