Hamilton is a city blessed with  great food and dining districts. 

We will regularly be profiling local culinary corridors and we start here with Hess Village.
My earliest memory of Hess Village is a visit to a stylish salon to have my "colours" done – a fabric draping session that determined what colours enhanced my appearance. It was a transformation that required only changes to one's wardrobe. Trivial perhaps.
The current transformations in Hess Village are not.
They become especially interesting within the context of Hess Village's history, keeping in mind that condensing 50 years of a complex story may lack nuance. It began in the early 1970s and had everything to do with shopping. The mall trend was still thriving – Jackson Square opened in 1972 – but there was also a trend toward "shopping villages." The most notable at the time was Yorkville in Toronto.
All one needed was a "village" and beginning in 1971 a Hamilton team began to buy the Victorian houses in what is now referred to as Hess Village – Hess Street between Main and King, scooping up part of George Street, too. Many houses had been neglected and the real estate was considered to be ideal for high-rise apartments. Instead, according to reports at the time, they were purchased and carefully restored with attention to historic details. By 1972, 14 homes had been purchased, and eventually 33 houses comprised "the village" – stores, services and a few restaurants. It's unclear whether Hess Street was cobblestone but George Street became a cobblestone pedestrian mall in 1980.
But the charming cobblestone foreshadowed a bumpy road. The development company went bankrupt in 1979. The resulting public misconceptions about the village's status left it like a ghost town. Retailers were stoic, loved the village, found rent to be cheaper than in malls and declared in a 1980 Hamilton Spectator report that any stigma attached to the village could "be overcome if the merchants work together." They anticipated that new downtown hotels and the Hamilton Convention Centre would push visitors to Hess.
In the early 1980s, the stigma was exacerbated when the principals of the original development team were convicted of fraud and imprisoned for a time. These were also tough economic times with exorbitant interest rates. Walk-in traffic remained quiet, some shops were replaced by services, and yet nothing stifled hope. Many still saw enormous potential in Hess Village.
Successive stages focused on pubs and the local music scene. Then pubs were slowly replaced by clubs that attracted crowds who partied into the wee hours of the morning, earning the village's moniker as a hip entertainment district. Increasing rowdiness, vandalism and occasional violence saw the addition of paid police patrols in the mid-2000s. With a portion paid by all bar owners, this became a costly issue. Media coverage was rarely positive and negative stigma prevailed – as did hope from the Hess Village community.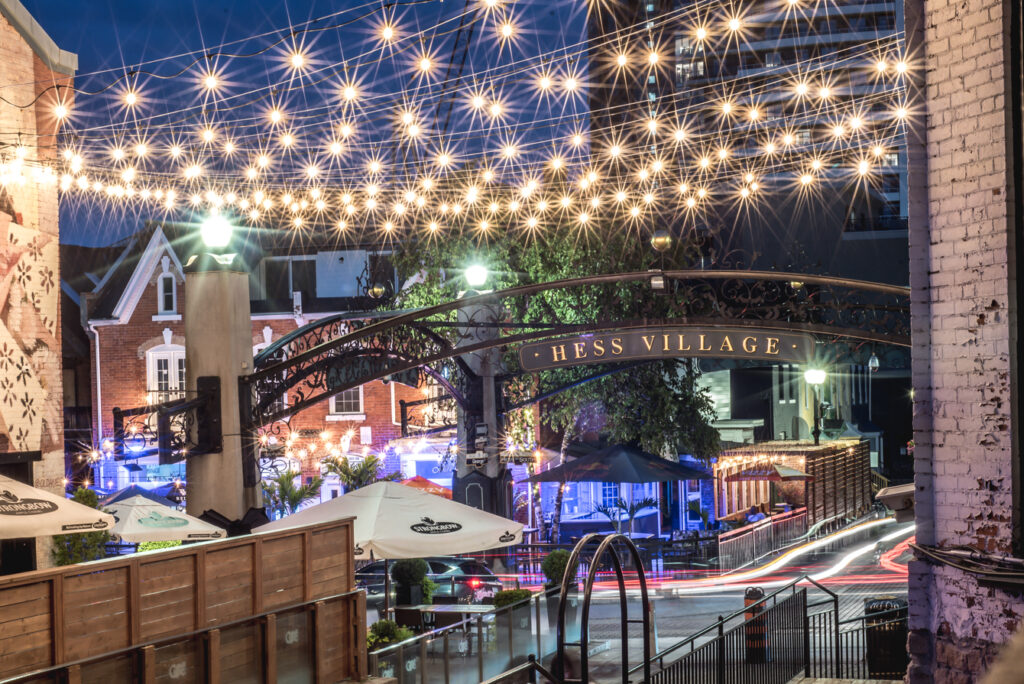 Celebrated photographer Gerry Laarakker (who died in 2021) opened the Laarakker Portrait Studio in Hess Village. A quote from him decades earlier in a 1986 Hamilton Spectator article still said it all: "In spite of all the Hess Village bashing, we will survive. In spite of the media, in spite of political games, we are alive and well."
Clearly for Hess Village the "bumps" were not only in the road. Some may say it's been a long time coming, but a change is once again underway and you may not have noticed. COVID delivered a sort of reset, with some clubs closing and new businesses moving in. The towers that threatened to replace local real estate in the 1970s are indeed rising – but this time around the village.
The Platinum Condos at Queen and King sit diagonally across from Vrancor Group's almost-completed Hampton Inn. They have also proposed several condo towers for the nearby Strathcona area. An Apex condo project is planned at Queen and Main.
While the density of some proposals is unclear, there is no doubt that the overall population of the neighbourhood is increasing. The new projects have all scored high walkability numbers that point to Hess Village as a community core, with the promise of the eventual LRT at the doorstep.
While late-night club activities resulted in some merited negative press, current restaurateurs are optimistic that the stigmatization of Hess Village will soon be a thing of the past. No one is predicting that the after-dark scene will disappear but hope it will be balanced by a busy day-time crowd – a diverse demographic sharing a growing and evolving neighbourhood. The community is turning challenges into opportunities. Next time you hit the cobblestones, stop and visit.
radius
The restaurant (which now uses a lowercase R) first opened in 2012 in a rented historical home in Corktown and transitioned with new ownership in 2018 and a new chef – Dan Burcher – since spring 2022. Their decision to purchase and move to a space in Hess Village has invigorated current transformations. Managing partner Dan Trevisani says they are keen to be part of the revitalization.
Beautifully renovated, inviting indoor and patio spaces (as well as a second-floor event space) provide the backdrop to updated, eclectic lunch, dinner and brunch menus that are top-notch, developed and still evolving with input from a nutritionist. The signature goat cheese spring rolls and the chicken Waldorf tartine (toast) I ate were outstanding. Promoting local partners was evident in the use of Dear Grain sourdough. Chef Burcher has licence to be creative and says the energy of the radius team is a good match to his own passion.
radius continues to have an impressive drinks program that includes creative zero-alcohol cocktails (try the Dreamsicle!). Several nights per week the restaurant transitions to an after-dark lounge. Diversity is evident in services and patrons and local interest in urban casual dining has been reflected in increased takeout.
Electric Diner
The transformations linked to radius are not without precedent. In the mid-2010s, events elsewhere in the city were setting the stage for changes on George Street. News articles at the time gushed about the migration of chefs from Toronto to Hamilton – the "place to be" for innovators.
Settling in Hamilton were Erika Puckering and Jamie Ewing, who opened Electric Diner in 2019. They were attracted to Hamilton – which they say has a heart – to raise their growing family. The couple love the 1980s and crafted Electric Diner as a tribute to that decade, central to their youth. Expect whimsy and nostalgia, trivia nights – and great food. Puckering stresses that what COVID taught many merchants is that "food first" is the way to go if you want to survive.
My recent visit was partly motivated by their irresistible cajun corn "ribs" and their featured Nathan's Famous all-beef dog, with liquid gold cheese sauce, bacon and hickory sticks. There's a children's menu – which, up until recently, hasn't been typically found in Hess Village eateries. No matter the age of the diner, Fruit Loops and Lucky Charms are available on the breakfast menu.
But it was passionate work – not Lucky Charms – that accounted for the team recently receiving the Hamilton Chamber of Commerce's small business achievement award. Puckering is excited about recent and planned Hess Village developments and hopes that will include events aimed at rebranding.
"That's the investment we need to go forward within Hess Village – getting people to see it in a different light." She stresses that new visitors are always so impressed (as are the many visitors to their second location in the Lister Block on King William Street.)
Andiamo
The family theme is echoed at Electric Diner's neighbour Andiamo (Italian for "let's go"). Tapping into three decades of family experience, owner Dre Bucci – in a mid-pandemic leap of faith – resurrected the classic barbershop concept and combined it with a café (and an event space), all with a retro '60s vibe. The setting is stylish but joyful and pet-, family-, kid-friendly – and includes, at times, his adorable toddler.
"I'm a social guy," says Bucci "and passionate about people." He's welcoming new demographics to Hess. His hundreds of clients are young and old and include the LGBTQ community. He hopes other personal services will open in the village. Andiamo features a walk-up window for takeout, cannolis from Sam's Queenston Bakery, and Italian craft beer, wine and cocktails.
Koi
Transformations have coincided with some rebranding of Hess veterans. Koi opened as a sushi house in 2004, eventually evolving into American fusion cuisine. Now, co-owner Ken Collett says that they felt the time was right to return to their roots. With a new chef – Sam Girgis – they have rebranded as Koi Seafood House. The talented Girgis has decades of experience, which included, for a time, his own restaurant Souvlocke.
My Koi meal was extraordinary. The pan-roasted Atlantic salmon is worth describing. Cooked to perfection, it was plated with roasted king mushrooms, summer peas atop mushy peas, topped with charred shishito, surrounded by amazing saffron potatoes, drizzled with warm mushroom ponzu dressing and garnished with fried shaved parsnip. The grilled Moroccan calamari made me open-minded to this menu item I usually ignore. All the food was outstanding. The Koi patio is pleasant, and while the interior décor is a bit more "clubby," Collett says to look forward to a total renovation this fall.
Collett has been a fixture in Hess since the late '90s with Funky Munky Rib House and Discotheque – since closed. His businesses also include nightclub Sizzle (which was heavily damaged by arson in July). Collett says he has high hopes for Hess and feels that as Hamilton is changing there are more who are willing to invest. Drop by for fab food, drinks and music.
The Gown & Gavel
Established in 1979, The Gown & Gavel is likely the most longstanding business in Hess Village. Boasting Hamilton's largest outdoor patio bar, their indoor space is also substantial and attracts a more varied crowd in daylight with their pub-style food. They are well-known for their Saturday night dance parties reminding patrons.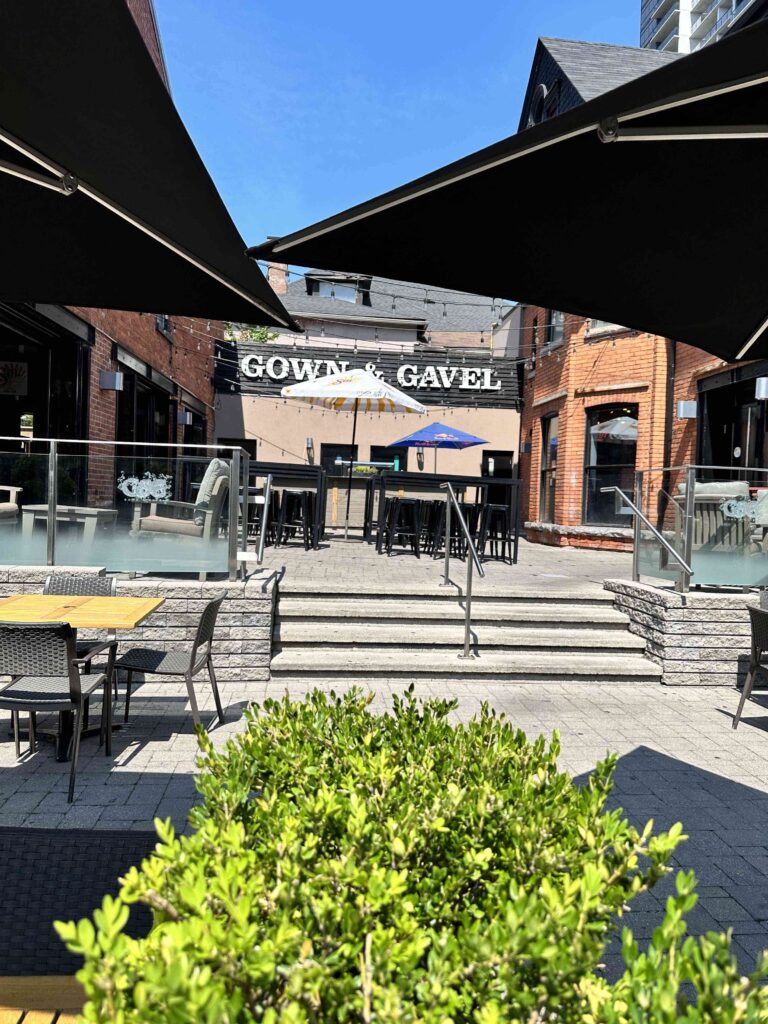 Other hits on Hess
The Lazy Flamingo is another longstanding business remembered fondly by some of the newcomers in Hess. It's been described as the premiere live music venue in Hess Village.
The King George Pub, open since 2022, is a traditional British pub with a modern feel, offering entertainment and classic (and varied) pub fare including cheddar ale dip, cottage pie and roast beef Yorkie and deep-fried Mars Bar. Interior and patio spaces are welcoming.
Moody's Pizza Bar & Arcade is a favourite go-to for those seeking pizza, pub food, craft beer, cocktails and a pinball and video arcade. Right next door, Amigos is a Tex-Mex eatery featuring nachos, burritos, fajitas, carnitas, churros and more.
Additional food attractions are Smoke's Poutinerie and the newly opened Pizzeria Bros. There are rumours that a coffee house is also about to open. Hess Village is also home to the DDG Med Spa (Drop Dead Gorgeous) and The Witch's Fix gift shop.