From craft beer to quarantinis, below are just a few of the specialty shops that have cropped up across Hamilton selling take-away booze to enjoy with your bubble… or at home in isolation. For patrons and purveyors of fine drinks, a slight silver lining of the COVID-19 pandemic has been the overhaul of Ontario liquor laws to allow bars and restaurants to sell alcohol with take-away food. In Hamilton, the welcome change has prompted some eateries to introduce bottle shops featuring beer, wine and spirits for sale that were otherwise not accessible before COVID-19 – unless dining in for a meal. Now here to stay, the below bottle shops are just a few among a number that have cropped up across Hamilton. Each one offers a mix of niche drinks and expert service to cater to all your beverage needs without having to line up at The Beer Store or LCBO.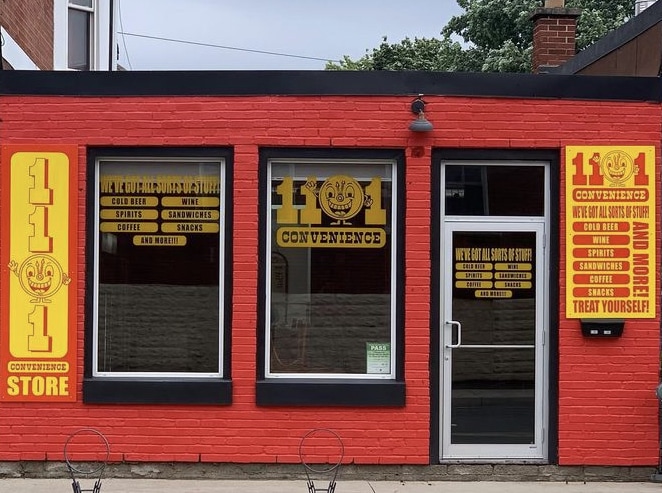 1101 Convenience, 1101 Cannon St. E.
This Crown Point bottle shop, conveniently located in the East End between Shorty's Pizza and Osten Beer Hall, is stocked with cold beer – both the micro- and macro-brewery kind for those times at home when only malty suds will do. The shop also carries wine, spirits, seltzers, and sodas to wash down New York-style slices and pillowy perogies from its neighbouring restaurants. But if you're craving something equally as delicious, 1101 Convenience also serves the upper crust of grab-and-go sandwiches, like a classic mortadella and a veggie option made with fior di latte cheese. Inside the shop, you'll also find an impressive array of craft beverages, including hometown breweries like Fairweather, Merit, Clifford, Steeltown Cider, and Collective Arts. For a crisp, clean beer that doesn't break the bank, treat yourself to the shop's private label, the 1101 Pilsner.
Sunny Corner Bar & Bottle Shop, 302 James St. N.
It's always sunny at the corner of Barton and James North. That is, if crushing a hot, hand-held pie coupled with a cold beer is your perfect food and drink pairing. Sunny Corner specializes in scratch-made, Aussie-style meat pies made for mucking with one palm while sipping on a beer with the other (a true Australian tradition). From malty porters to punchier pale ales, the fridge features cans from craft breweries across Ontario, including Godspeed, Matron, Willibald, and Left Field. To elevate your pie-eating experience, the shop carries wines, ciders and spirits, many of which were only available from the cellar door— and not your corner store – pre-pandemic. So, take home a bottle of bubbles from Prince Edward County's Hinterland Wine Company, or a wild-fermented wine from Rosewood in Niagara's Twenty Valley. Both, and more, are available for takeaway in downtown Hamilton.
Brux House Bottle Shop, 137 Locke St. S.
A stomping ground for local beer geeks, this Kirkendall restaurant/bottle shop in West Hamilton specializes in craft beverages from top-shelf producers, including fresh cans, barrel-aged bottles, organic and biodynamic wines, and small-batch spirits. From spontaneously fermented sours to silky stouts, knowledgeable staff will guide you through a range of beer styles from Ontario's best breweries, such as Bellwoods, Sonnen Hill, Small Pony Barrel Works, and Burdock. Occasionally, the bottle shop carries rare drops from old-world producers, like funky, fruited lambic beers from Belgium's Geuzerie Tilquin and Cantillion. The restaurant's rotating tap list is also available for growler-fills to take out alongside tasty menu items that celebrate food from the European beer belt. Try a signature schnitzel served with house-made spaetzle from the kitchen, or pair your to-go drinks with local cheeses, tins of seafood, cured meats, and truffle chips straight from the bottle shop.