Hamilton's own super-trio of Mike Trebilcock, Shelley Woods and Gene Champagne are playing the Bridgeworks Dec. 10.
Hamilton's own music triumvirate, The Killjoys, burst on to the Canadian music scene in the '90s, releasing their first of four albums, Starry, in 1994 and winning a best new group Juno Award in 1997.
The Killjoys – Mike Trebilcock (lead guitar, vocals), Shelley Woods (bass, backing vocals) and Gene Champagne (drums) – brought their own fusion of power-pop punk to clubs and stages across Canada and the U.S. And now they're bringing that high-energy music back to a hometown stage just in time for the holidays. Hamilton's own Luke Bentham of the Dirty Nil will be opening. This will be a great evening of homegrown music.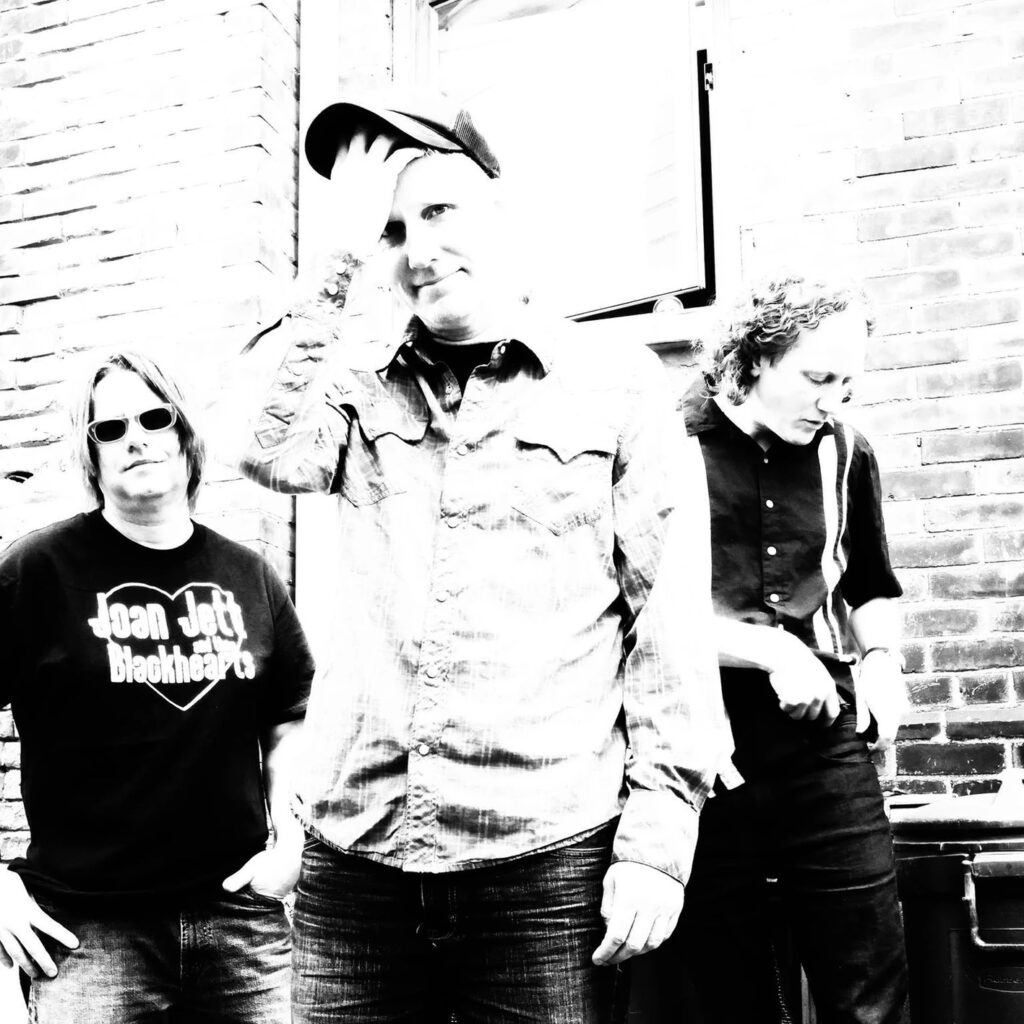 Lou Molinaro, co-promoter for the event, has high praise for the band.
"The Killjoys are outstanding in their field. There aren't many bands who do deep dives into albums such as The Replacements' Pleased to Meet Me, the Beach Boys' Pet Sounds and Big Star's Third/Sister Lovers and build their creativity on those iconic releases. Just as their influences are untypical, so is their music," says Molinaro, a music fixture in Hamilton in his own right as co-owner of the former This Ain't Hollywood music venue.
He says the band immediately caught his attention when he first heard them all those years ago.
"They are master architects when it comes to composing a true pop song. Today, 'pop' has a new meaning, but to us purists, we embrace that genre closely and don't let go of its true meaning. The Killjoys released three studio albums plus a live record. To this day, I still listen to those records and they don't sound aged at all. Timeless. To be perfectly honest, there are certain bands that you want to be involved with for selfish reasons. When Modo-Live and Sonic Unyon invited me to co-present this show, it was no-brainer. I love working with The Killjoys and I have the upmost respect for them as people. Long live The Killjoys! A very important part of Hamilton's music legacy."
In support of the upcoming show at the Bridgeworks on Dec. 10, Jeff Martin of HAMILTON CITY Magazine posed a few questions to Trebilcock, Woods and Champagne.
It's been a long hiatus for The Killjoys. You played Toronto's famous Horseshoe Tavern a few weeks ago – and now the Bridgeworks on Dec. 10, the first hometown performance since the This Ain't Hollywood show during the 2015 Juno Awards. I know the band never really "broke up" per se, you just stopped playing — so what led you guys to getting back to performing live again?
CHAMPAGNE: After I was very sick and having almost lost my life to COVID (which was pre-vaccinations), I needed to get back to doing what I loved. I spent a long time in the hospital and in that time, worked hard and stayed hopeful to get well enough to play again. I think we all felt that it's important to embrace the ones you love and that our time here is not a guarantee. I am really happy Mike and Shelley felt how important The Killjoys were to me. I think we are in a good place. We are all enjoying playing live and having a lot of fun doing it.
TREBILCOCK: Yes, after Gene was sick and on a ventilator with COVID, I think we had a bit of a wake-up call. We thought, 'Well, do we want to play or not? Cause any day could be it.' The answer of course was yes. We'd like to keep going in some capacity at least.
WOODS: Gene's COVID scare … that kind of thing shakes up your perspective. So, you think, 'Maybe we should do something while we can.'
How did you feel about the Horseshoe show being one of your first new performances?
CHAMPAGNE: We have always had really good shows at the Horseshoe, and Toronto has always been great. Doing the Horseshoe made sense for us to do the return of The Killjoys show. In the early days, we really had a push by Toronto radio and the city embraced us. We were very fortunate.
TREBILCOCK: The Horseshoe was kind of a second Toronto home for us for a while. We have a lot of great memories of playing there. We were happy to be back.
WOODS: I feel much the same. The Horseshoe was a familiar, comfortable venue to relaunch. We didn't want to risk any Spinal Tap moments. We know how to get to the stage at the 'Shoe.
What are your thoughts on the impact the COVID pandemic has had on the music community (i.e., live music, recording, touring) and has live music come back with a force or a trickle?
CHAMPAGNE: I believe it's two sided. On one side, it has come back with a force in that all the bands are geared to go but all at the same time. But it has created its own issues. With the bands waiting three years to get to it again, there have been shortages. For example, travel has been impacted. Some bigger tours can't find buses to accommodate larger crew travel. Fuel has exploded (in price) and touring bands are finding it very difficult to profit. The flip side is that, yes, there is lots to see for shows, but it is also more difficult for some rooms to fill as they once were because there is still some crowd hesitancy from COVID but think it's coming along.
WOODS: Yes, it seems to have come back with a force – whether it's sustainable is concerning. As Gene said, everyone is back touring so much that the resources are limited — buses, crew, stage gear, lighting, etc. are apparently hard to come by. We're not really touring like that right now so it seems pretty much like pre-COVID to us.
Some of you have been busy with other music ventures and projects. Tell us about that.
CHAMPAGNE: I have been the drummer in Teenage Head for the last six years. We have kept very busy. Teenage Head released a best-of record and other re-issues from their catalogue which has kept me busy having a hand in all of that. We also did the Picture My Face: The Story of Teenage Head documentary. That was almost three years of being followed, mic'd up and filmed. I also write my own music and get a chance to step out from behind the kit in Gene Champagne and The Un-Teens. I am eager to write and record more music as myself. I am getting back to writing more and hope this year I release more.
TREBILCOCK: Writing scores for films is my main thing right now. I've done the horror/comedy Crabs!, Andrew T. Hunt's The Fight Machine and many more. Up next is a larger-than-usual budget one called Kaiju: Island of Fire. It's currently filming in Okinawa, Japan. And I've also been working with my other band, Semetary Spawn.
Gene, you've been drumming with Teenage Head, and Mike, you were a special guest at the Gord Lewis celebration of life show at Hamilton Place. How did it feel being part of this tribute music event and the loss of one of our city's great musicians — and obviously the loss of a friend, too?
TREBILCOCK: I was honoured to be asked, and it was good to see everyone again. That generation of musicians doesn't go out and hang out in bars so much anymore, so it's like when you only see your family at funerals.
CHAMPAGNE: Losing Gordie has been really tough to process for me. I'm still not there yet and, to be honest, not so sure I ever will. I lost a very good friend and a musician that was a hero to me. He meant so much to me in that Teenage Head was my favourite band and I learned so much from them and Gordie himself. Gordie was supportive and a fan of The Killjoys and he used to come to our shows when he could. For myself, most of all is he was supportive of me and believed in me and my abilities and would often let me know. I can't think of any higher praise than that coming from someone that was so important to you. It was an honour to celebrate Gordie and especially at FirstOntario Concert Hall. Gordie would have been so proud. The hall was sold out and you could feel the energy. It also brought home the Boris Brott element to me, that we were playing in that
great hall. A very special moment in Hamilton music history.
What's on the horizon for The Killjoys?
TREBILCOCK: We are definitely doing more shows and enjoying the live element. We have some February dates to be announced very soon. And there's lots of new music in the works — it's inspiring. We have plans to hit the studio early in the new year.
So, what are your own favourite Killjoys songs? What sets them apart?
CHAMPAGNE: I have different songs for different reasons. I personally love playing "I've Been Good," which was on our third studio album Melos Modos. It was also our first single from that record. It's by no means a difficult song, but playing it has such musicality and dynamics to it. I also enjoy playing "Sick of You" for the drum fills on that one.
TREBILCOCK: I really like the song "Low."I like the lyrics. It's all about getting out of Hamilton, which might not be good to admit in a Hamilton-centric magazine, but – Hamilton is a nice place to get out of sometimes. I like the brand new ones of course, and live, we're doing songs from Crabs!, and an unused track I wrote for the film Corona Zombies. Fun stuff.
WOODS: I also like a lot of the songs on our third album, Melos Modos. It was a good record that nobody heard. It's kind of like our Tusk [Fleetwood Mac].
You recorded three albums on the Warner Music Canada record label and had seven Top 40 singles. Can fans ever expect to see any of The Killjoys' recordings re-released on vinyl or is this still one of those record industry/company issues?
WOODS: Vinyl wasn't fashionable or profitable in the '90s, so it'd be great to have something today with vinyl sales soaring. Yes, we would love to re-issue some of our albums on vinyl and we are talking about it and trying to put that in place.
CHAMPAGNE: We were at a time when CDs were at the height of the music industry. Cassettes were on the way out, but we still had releases coinciding with the CDs. We never released any vinyl of our studio albums. The closest we got was in the early days we did some floppy discs like you would find in MAD Magazine and had "Today I Hate Everyone" on it. It was done as a promotional item.
What does the hometown "homecoming" show at Bridgeworks mean for you? What should fans be expecting?
CHAMPAGNE: I think they will see us having a lot of fun. I am hopeful this is a show that brings a lot of people out and share this night with us before the holidays to make it special. The last show of the year here at home.
TREBILCOCK: It means seeing a lot of friends and family that I haven't seen in a while. And hey, it's a fast commute home.