Four sides of the intersection at Ferguson Avenue North and King William Street 

are now painted in Pride colours.
Hamilton unveiled its newest rainbow crosswalk to kick off Pride month at the corner of Ferguson Avenue North and King William Street.
The traditional six-colour rainbow colours, along with the newer Progress Pride flag that incorporates stripes to represent people of colour, as well as people who identify as transgender, gender nonconforming and/or undefined, mark the four sides of the intersection.
The location, just outside Theatre Aquarius and within the International Village BIA, was selected for the My Main Street Community Activator program and received nearly $58,000 for the initiative.
"We're building an inclusive village where everyone belongs," said Susie Braithwaite, executive director of the International Village BIA. "That's why we're so proud to unveil our long-awaited Pride crosswalk intersection as part of our commitment to the 2SLGBTQIA+ community."
The crosswalk was unveiled during a public celebration that featured music and drag performances in the Theatre Aquarius lobby.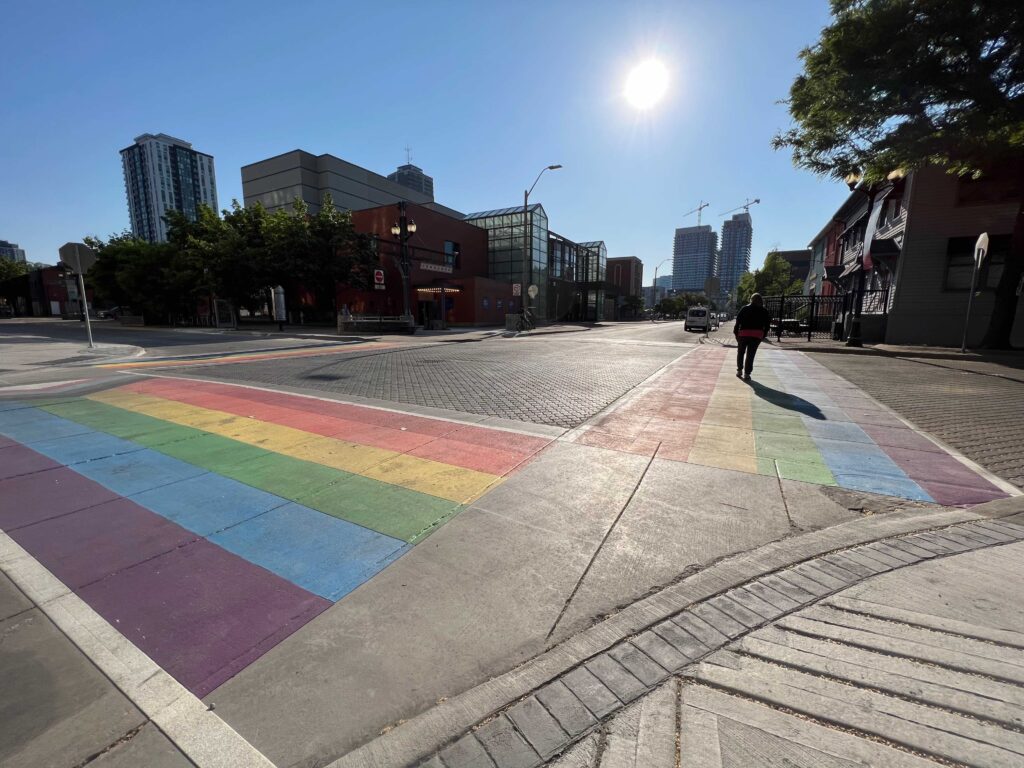 It joins other rainbow crosswalks in the city, including one outside Hamilton City Hall, one on Parkside Drive in Waterdown, and one at the intersection of Sterling Street and Forsyth Avenue North near McMaster University.
My Main Street—a two-year, $23.25-million investment by the Government of Canada through the Federal Economic Development Agency for Southern Ontario (FedDev Ontario), delivered by Canadian Urban Institute (CUI) and the Economic Developers Council of Ontario (EDCO).
In late 2022, the International Village BIA unveiled a "A World of Welcome," a mural project commissioned to pay tribute to the diverse experiences of women of colour who call Hamilton home.
Formed in 1976, the BIA, which covers the area bounded by West Avenue to Mary Street and includes Main Street East, King Street East and King William Street, is Hamilton's oldest. It represents more than 140 businesses.