Melanie and Roman Kremnev bring decades of experience to their Locke Street

 shop that features pasta, sandwiches, sweets and coffee. And pizza is now on the menu.
Who, you may ask, is Artie? It's Arthur, the newest member of the Kremnev team – and apparently, he is the boss.
The Kremnevs first came to my attention when Melanie Kremnev and colleague Danielle Nicholls moved from Toronto to Hamilton as the new proprietors of Synonym Shop. Melanie's husband Roman, an accomplished pasta/bread maker (of fabulous focaccia), wasted no time setting up his own enterprise – Pasta Mercato (PM). Eventually, he and Melanie established PM as a bricks-and-mortar business on Locke Street. Between the two of them are decades of experiences that include Enoteca Sociale, Jen Agg's Grey Gardens, Pizzeria Libretto, Momofuku and Blackbird Bakery.
Keep an eye out for HAMILTON CITY Magazine's
food and drink issue coming out soon!
Pasta Mercato had been inspired by the couple's love of and experience with Italian cuisine. The rebrand to "Artie's" will, they say, open opportunities for creativity, enabling them to tap into more of their experiences and the cuisines that inspire them. All of this is aimed at the continued promotion of their goal of responding to what their patrons like and want.
Expanding into the space next to their shop has afforded them upgraded production facilities and counter service. They will continue with current offerings of pasta (and its accoutrements), sandwiches, sweets and coffee.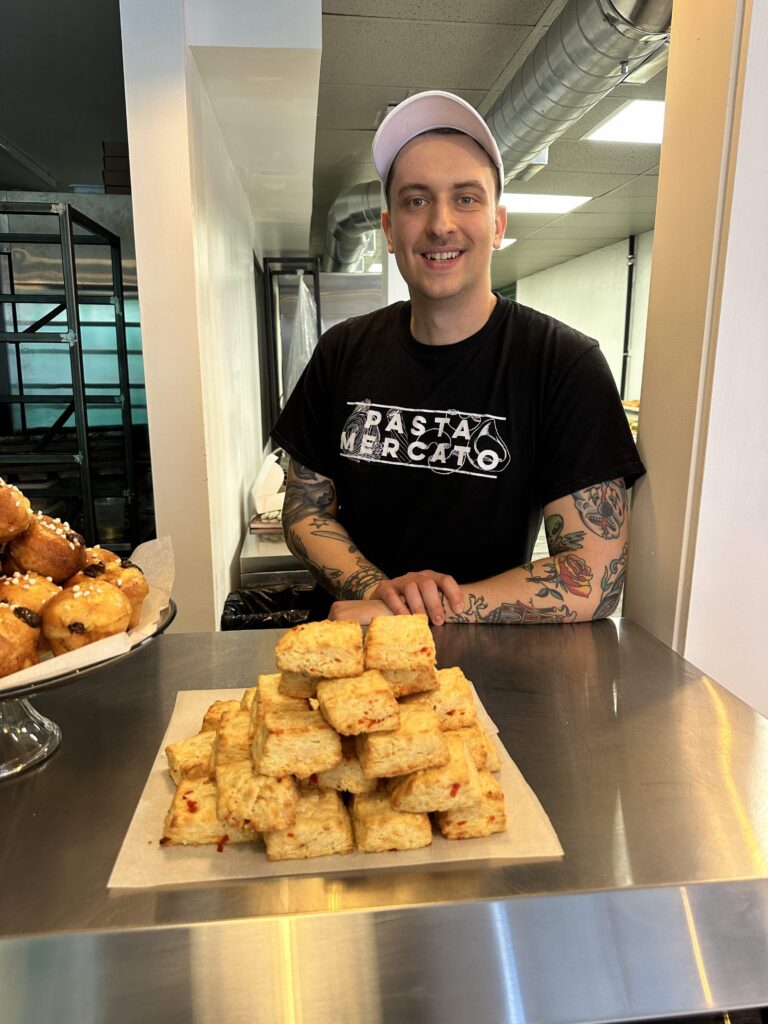 When it comes to pasta, Roman has now expanded into 18 types of bronze-die extruded pastas. These are considered superior to typically manufactured pasta in that the bronze dies leave a rough and porous pasta surface that better absorbs sauces. They sell their own pasta sauce which is a fresh (not cooked) sauce made from Pomodoro tomatoes combined with garlic and the secret ingredient of caramelized onions. They also make potato gnocchi, ricotta gnocchi and three types of ravioli.
The sandwiches they had when I visited were magnificent on freshly made focaccia. The classic offered mortadella with spicy marinated eggplant, garlic mayo, provolone, pecorino and arugula. The vegetarian version was buffalo mozzarella, roasted peppers, antipasto, and fresh basil. One sandwich used spianata (flattened salame), which was a soppressata and chorizo blend, combined with honey, provolone, arugula thin red onions and garlic mayo. My favourite was the prosciutto cotto enhanced with green olives, thinly sliced red onions, mustard, arugula, pecorino, and oil and vinegar.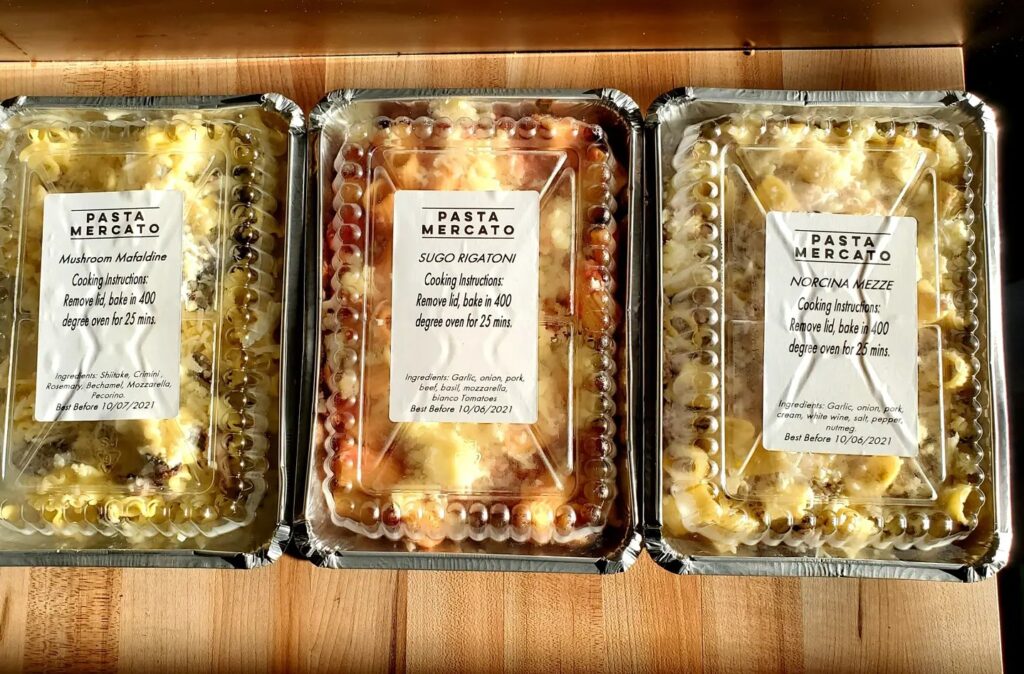 Added to the classic dessert of tiramisu are their brioche-based buns. The double chocolate brioche gets top marks in my books. Words cannot adequately describe the maritozzi experience - the brioche is split and filled with a jam (say raspberry) and then Chantilly cream. For a more savoury snack try their chili scones.
The newest addition to the lineup is sourdough pizza and these will be vegetable-forward, meaning that toppings will focus on veggie options.
Roman talks about Toronto places that inspire him, such as Alimentari, Forno Cultura, and Eataly. Add to that list Brooks Headley, the New Yorker who opened a vegetarian burger bar – Superiority Burger. Roman says that visiting that restaurant changed his life and while he is not vegetarian he admires Headley's ideas and approaches to healthy food.
Values are also reflected in the Kremnev's contributions to community fridge programs and their participation in "Too Good to Go", described on its website as "the app that lets you rescue unsold food at your favourite spots from an untimely fate… (saving) surprise bags of surplus food from going to waste at a great price." Roman says they have already saved 300 meals, which helps their neighbours and reduces waste.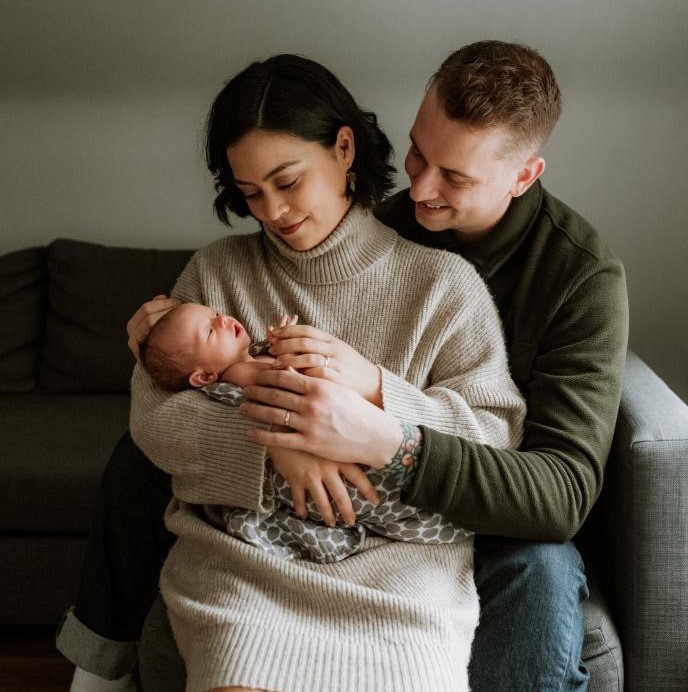 What might the future hold?
That depends on various things – including Mel's maternity leave following Arthur's birth in November. When I first interviewed the Kremnevs they stressed that the enterprise was just the two of them. Now they have a team of eight-10 employees aiming to find the right balance between supply and demand, and forging ahead with hopes and dreams.
The future may bring any or all of the following: a standing espresso bar for those who love that Italian custom; an early morning opening time; making more breads; making crostata with in-season fruits; a patio in the artist alley that may be revitalized with pop-ups and food events; various collaborations with local restaurants; more cooking classes and instructional videos.
If you can't get to Locke Street right away, some of Artie's pasta and products are available at Club Pantry in the Hamilton Farmers' Market, and will soon be available at Dundurn Market, Strathcona Market and Ottawa Market.
Artie's may still be selling Italian pantry items, but its brand is evolving into a neighbourhood spot that is responsive to its community and is investing in community. Day by day they are bringing together favourite things - theirs and those of their patrons - in a one-stop shop.
Roman speaks fondly and proudly about their many regulars who drop by almost daily. It may not be the place "where everybody knows your name" but Mel and Roman look forward to making your acquaintance. "I don't plan on leaving Locke Street ever. This is pretty much my end goal."
You'll want to become a regular.
Artie's
170 Locke St. S., Hamilton
905-777-9724
instagram.com
facebook.com