Ring the bells, 

Hamilton's church conversion game is heating up all across the city.
It all started with a parade. When they laid the cornerstone at St. Thomas Anglican Church, Victorian Hamilton threw a party. To celebrate the new church at Main Street and West Avenue, the band of the 13th Battalion marched on parade, along with organizations like the Masonic Fraternity, the St. George's Society, and the Irish Protestant Benevolent Society. The boom spurred by the Great Western Railway had brought new Hamiltonians to the eastern part of the city — today's Stinson neighbourhood — and church-goers were tired of taking the wooden sidewalks to services on James Street.
When 16 West opened last summer, the festivities were more muted. But make no mistake: the much-anticipated conversion of St. Thomas into 19 rental units was true cause for celebration. Thanks to the vision of fair-trade entrepreneur and owner Tal Dehtiar, the loft rentals in the former St. Thomas Anglican are Hamilton's first church apartments.
Speaking with Dehtiar about 16 West, it's clear the project is firmly grounded in sustainability. "I love the building, I love the area," says Dehtiar. Without outside investors, he's in for the long term, and maximizing reuse at the site was a guiding principle.
Based in Oakville, Dehtiar is the founder and CEO of Oliberté, a sustainable fashion B Corp. Until 2019, his company operated the world's first Fair-Trade Certified shoe factory, in Addis Ababa, Ethiopia. 16 West is his first major redevelopment project: 19 apartments in a designated church and attached Sunday school. Even amid pandemic materials shortages, the place was move-in ready in under a year, thanks to a nimble approach and locally sourced labour. 16 West also represents an update of the beloved, older housing model of mid-rise, often family-owned apartment buildings. Where another developer might have sold the units for a profit, as luxury church condos, for Dehtiar, the building is a legacy for the next generation. "I wasn't looking to buy and sell," he says, but to "keep it for my kids and grandkids."
The Dominion of Canada was just two years old, and Stinson was a prosperous new neighbourhood, when construction started on St. Thomas Anglican. Albert Harvey Hills, an important Hamilton architect best remembered for MacNab Presbyterian, was commissioned to design the Gothic Revival church. A few years later, Hills also designed the Sunday school wing (later used as the parish hall), and subsequent alterations grew the footprint along West. Workers quarried limestone from the nearby escarpment, and built on land donated by Ebenezer Stinson, the Irish-born merchant and one-time parish priest who gives his name to the neighbourhood.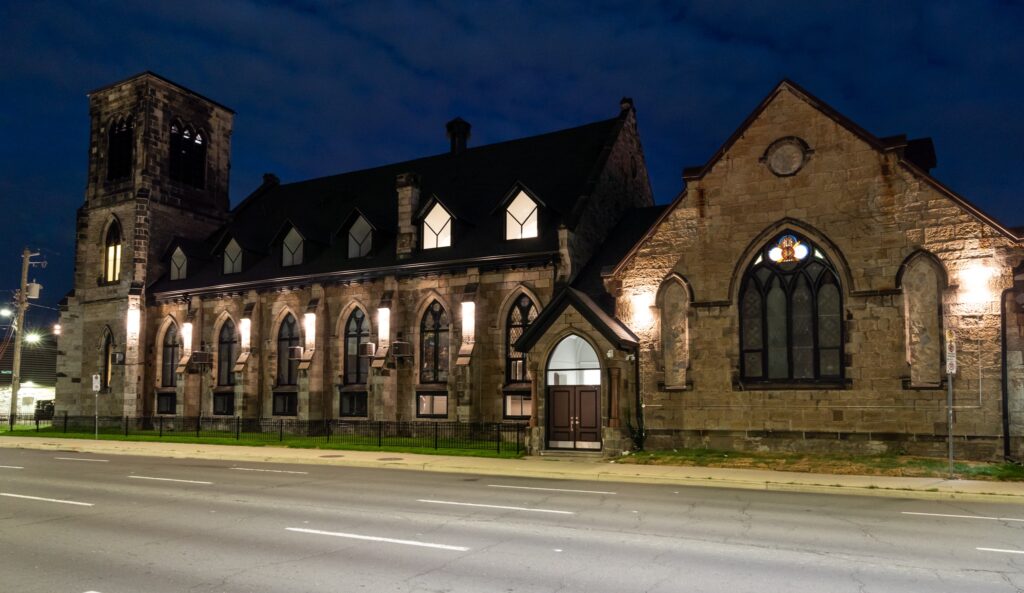 Today, this part of Stinson is a typical downtown mix of old and new. 16 West stands on Main Street between Canadian Tire and Anytime Convenience. The Indigenous community has a strong presence in the area, with a new Sacajawea housing development to the south and, where Hunter meets Victoria, a retired couple maintains the First Ojibwa Monarch Conservatory Garden. Across Main, a new-media company operates out of the Blachford & Wray building, once home to a 1920s funeral parlour. On King East, there's a new day spa in the Meakins & Sons brush factory (where the old altarpiece was made), and Core Urban is renovating the adjacent Red Cross building for Mission Services. Local residents will be steps from the future Wellington LRT stop.
Inside, Dehtiar worked with Hamilton architectural design firm R&R Designs to create airy, monochrome spaces structured around the original features. There are no second-floor units; the deconsecrated sanctuary is sliced like a cake, giving 36-foot ceilings — and a steep climb to the sleeping loft — in the main building. (The conversion also includes two accessible units.) In the common areas, there are vaulted ceilings overhead, quatrefoil-patterned linoleum underfoot. Original trim, Gothic tracery, panelling, and trusses are all painted gallery white, setting off the brilliant colours of the stained glass. In the Altar suite, tenants can enjoy a large-scale, 1921 stained glass window that's the last work of master designer Robert McCausland.
Church lofts are rare; the chance to rent one is even rarer. The larger units rented within weeks. By the time of my early-fall tour, only three units were left. Guide Rob Hansen, maintenance technician with Found Spaces Inc., explained a big part of the appeal: "The bones are old, but the systems are brand new."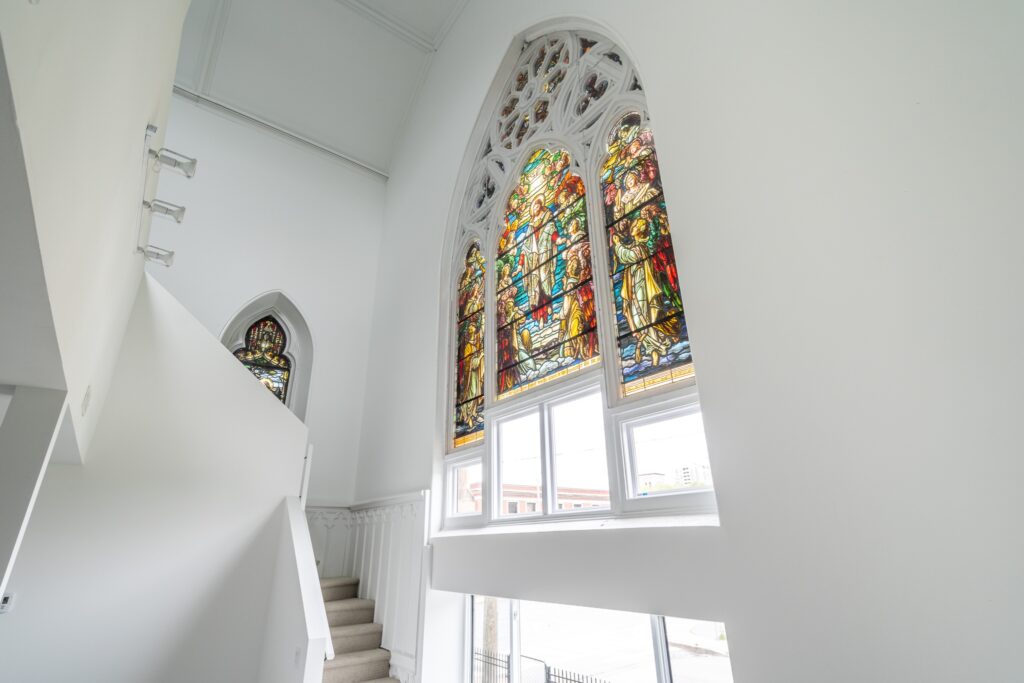 For decades now, savvy developers have been snapping up vacant churches and charging a premium for the unique spaces they can offer: soaring ceilings, fine architectural details, in a shell that was built to last. Standouts in other cities include a Maastricht bookstore, Ottawa's Bluesfest HQ, pubs in Glasgow and Pittsburgh, even a skatepark in St. Louis. On the surface, Hamilton seems like a holdout to this trend. But look closer, and you'll see that dozens of places of worship have been repurposed organically, in a characteristically Hamilton way: to date, most conversions here are for cultural, commercial, or community use. (Check out the sidebar.)
The first church lofts in the amalgamated city are the St. Thomas Lofts in Waterdown: a century-old Catholic church converted in 2010 by Halton Heritage Realty with Cynthia Zahoruk Architect. Downtown, the Connolly project, on the site of the mostly-demolished James Street Baptist, could have been the first church apartments in the old urban area — if not for delays. Hamiltonians have become understandably wary of high-profile condo projects like the Connolly: after the bankruptcy of the original developer, eight years in limbo and one cameo in The Handmaid's Tale, the site has changed hands for a third time, sold to a consortium.
In contrast to the Connolly's unedifying ruin on James South, other church reuse projects forged ahead during the pandemic – showcasing the quick turnaround that's possible with adaptive reuse. St. Mark's Centre and Indwell's Stonehouse Apartments are expected to open in 2024, both with sanctuaries refurbished as community space. Gibson's St. Giles and Westdale's Grace Lutheran also present exciting possibilities for reuse.
Affordable infill housing is Indwell's plan for its first Hamilton church project: the Stonehouse Apartments beside Wentworth Baptist, designed by Hutton & Souter. The Christian charity bought the property in 2021 and, according to development manager Sylvia Harris, they're renovating the sanctuary "for program, community, and church use." The church opened in 1924, meaning the projected opening date is also the building's centenary. Rezoning awaits the new term of council. In historic Durand, the City of Hamilton is repurposing the 1878 St. Mark's Anglican as a community hub in partnership with Burlington's ATA Architects, and thanks to a grant from the Patrick J. McNally Charitable Foundation. Green space is an integral – and designated – part of the storied heritage site, which the City purchased in 1994 to save it from demolition.
Back at 16 West, Dehtiar wonders why the whole building wasn't designated. Far from hurting the bottom line, he says, working with a protected heritage property is good business. "From a financial standpoint, (it's) significant"; the savings from City incentives went to "ensure we're keeping the look and feel of the building." Nothing was sold for salvage; instead, what couldn't stay was given away locally. Pews and doors were donated; spare stone went to neighbourhood gardens. The bell tower is locked for now. He's keeping it for his kids, in case they want to ring the bells.
FULL OF CONVERSION POTENTIAL
Three former churches have amazing potential to be given new life through reuse.
St. Giles
85 Holton Ave. S.
Once slated for demolition, St. Giles is Stewart & Witton's masterpiece. Thousands signed a petition to keep it standing – and local advocates know it would make a great community hub. In 2021, a donor generously offered funds for reuse that could help make those plans a reality.
Grace Lutheran
1107 Main St. W.
Heritage advocates want to see the 64-year-old church sanctuary incorporated in some way into a proposed 15-storey condo that has received approval by city council. The developers — IN8 Developments and Westdale Construction — plan to feature its limestone facade in a garden.
The Connolly
98 James St. S.
The long-planned and much-delayed downtown condo project incorporates what remains of James Street Baptist. Currently on its third set of owners, will mcCallumSather's 2014 design stand the test of time?
LIKE A PRAYER
From retail to community space, here's a look at the city's repurposed places of worship.
COMMERCIAL
Picks & Sticks Music, 140 Locke St. S.
Originally the 1890s Immanuel Congregational Church, this retail space was Trinity United when it was converted in 1967.
Planted, 211 Locke St. S.
Plant-based eatery in the former German Church of God, a mid-century building in commercial use since the late 1990s.
Catherine North Studios, 255 Park St. N.
The '90s also saw the repurposing of the 1920s Church of the Redeemer United into a recording studio that's hosted artists including Iskwē, the Arkells, and Feist.
Oblender Insulation, 58 Earl St.
Don't be fooled by the industrial façade: this insulation contractor is headquartered in the circa 1960 Ukrainian Presbyterian.
Szabo Carbide Tooling, 388 Sherman Ave. N.
Precision tool and die manufacturer near Stelco, in a 1920s Italian United-turned-Presbyterian church.
Theatrix Costume House, 162 1/2 Kensington Ave. N.
New costume emporium across from Shorty's Pizza. The 1920 datestone hints at its original use as the Kensington Avenue Gospel Hall.
Currently vacant, 2251 Rymal Rd., Stoney Creek
Home to several restaurants over the years, the former Elfrida United Church is up for sale for $1.95 million at time of publishing.
Maycock House, 298 Dundas St. E., Waterdown
Converted to a residence in the late 19th century, this two-storey stone mixed-use building started life in 1859 as New Connexion Methodist.
Monaco Medical Aesthetics and True Health Therapy, 69 King St. E., Dundas
The Dundas location of this southern Ontario chain of medical spas is housed in the town's 1950s Pentecostal Tabernacle.
COMMUNITY
Jeanne Scott Parent & Child Resource Centre, 1475 Barton St. E.
Good Shepherd repurposed the 1929 Fairfield United Church, in view of Dofasco, into a centre providing child care and education to young single mothers.
Pumpkin Patch Day Care Centre, 450 Inverness Ave. E.
Daycare in the former Mount Hamilton Baptist, a 1950s church with innovative steel arches made by the Hamilton Bridge and Tank Company (today's Bridgeworks).
Delena Neighbourhood Centre and Niwasa Head Start Daycare, 93 Delena Ave. N.
Community and daycare centre in the postwar St. David's United Church. St. Giles' congregation helped finance the late-'50s addition.
Royal Canadian Legion, 280 King St. W., Dundas
The 1840s Bluestone Presbyterian was used as a dance hall, barber shop, and bingo hall before the Legion bought it in 1946.
Dufferin Lodge, 200 Hwy 8, Greensville
Free Masons purchased the Italianate West Flamboro Wesleyan Methodist in 1918, a few decades after its construction.
Saltfleet Community Centre, 605 Hwy 8, Stoney Creek
This rec centre in the 1980s Stoney Creek Alliance Church is home to community groups and services including a food bank, air cadets, and the local historical society.
EDUCATION & CULTURAL
Hamilton Theatre Inc., 140 MacNab St. N.
Hamilton's oldest musical theatre company has performed out of the 1919 MacNab Street Gospel Hall, a site historically associated with the Black community, since 1987.
Hamilton Academy of Performing Arts, 108 Park St. W., Dundas
Arts academy in the town's 1939 Classical Revival Baptist church, until recently home to the Dundas Valley Montessori.
St. Mark's Centre, 130 Bay St. S.
In July, work got underway on this City-owned cultural space in the former St. Mark's Anglican.
MULTI-UNIT RESIDENTIAL
St. Thomas Lofts, 40 Flamboro St., Waterdown
The village of Waterdown welcomed the area's first multi-unit conversion, in a WW1-era Catholic church.
16 West, 16 West Ave. S.
Hamilton's first church apartments come to Stinson with loft rentals in the former St. Thomas Anglican.
Stonehouse Apartments, 120 Wentworth St. N.
In Gibson-Landsdale, Indwell is building affordable infill housing around Wentworth Baptist.
There and Back Again
Some church conversions return to their former use as places of worship, demonstrating the flexibility of these buildings.
Iglesia Pentecostal Hispaña de Hamilton, 384 Barton St. E.
Designed by Stewart & Witton as St. Andrew's Presbyterian, this was Landsdale's Lincoln Alexander Community Centre in the 1980s. It's now home to a Spanish-speaking congregation.
Benediction Church and St. Matthew's at St. Peter's, 705 Main St. E.
The WW1-era St. Peter's Anglican reopened as a community centre in 2010. It's currently shared by a church tenant and St. Matthew's House, which uses the sanctuary as event space.
Community Church, 271 6th Concession Rd. E., Millgrove
This 1861 frame church was moved by horse and wagon from Haldimand County. The former Flamborough Centre Baptist was a hotel and tavern, dance studio, and Montessori before it went back to being a church.