Exhibit at Art Gallery of Hamilton explores 

Indigenous beading as a medium of knowledge transfer and an act of resistance.
If you haven't yet taken in Radical Stitch at the Art Gallery of Hamilton, you have only a few weeks left to see a groundbreaking exhibition that invites viewers to immerse themselves in the political, creative, and aesthetic dimensions of contemporary Indigenous beadwork.
According to the exhibit's description: "Beading materials and techniques are rooted in both culturally informed traditions and cultural adaptation, and function as a place of encounter, knowledge transfer, and acts of resistance."
Radical Stitch, which was organized and circulated by the MacKenzie Art Gallery in Regina, opened in Hamilton on Feb. 11. It was slated to close May 28, but the incredible response and engagement it generated led to it being extended until Aug. 27.
"From the moment we became aware that Radical Stitch was being developed, we knew we wanted to present it at the Art Gallery of Hamilton," says Tobi Bruce, head of exhibitions and collections and chief curator.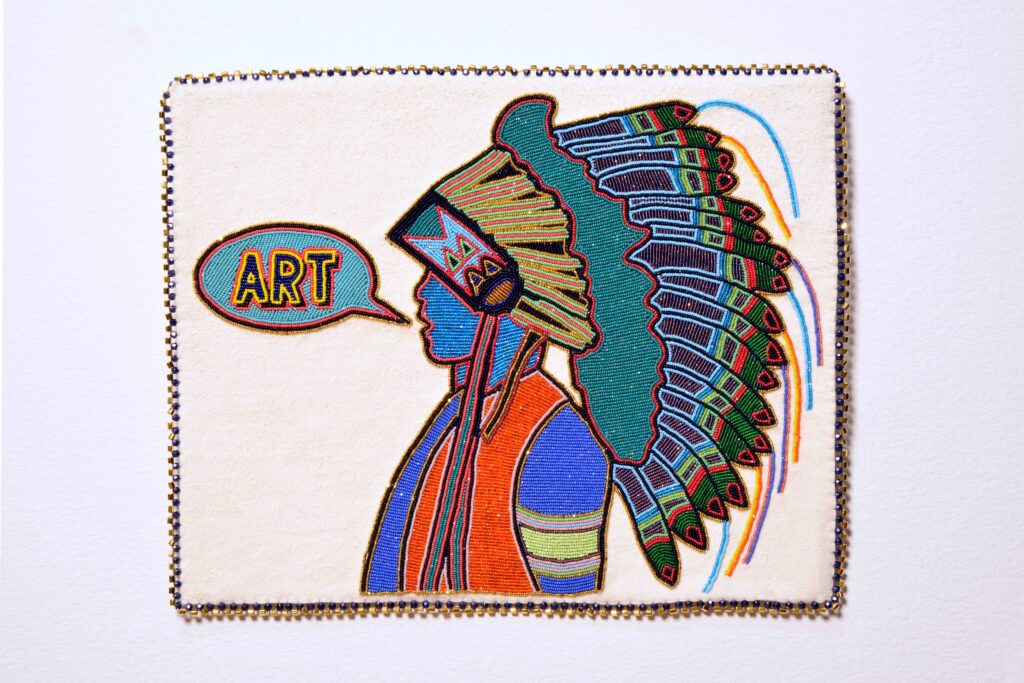 "Every so often an exhibition comes along that is so timely, so unique, and so important that you do whatever you can to support its circulation. The initial public response was extraordinary and so an extension of its run was definitely something we were interested in. What we're finding is that people are coming back two, three, even four times to truly take in it. You can't ask for more than that. Radical Stitch is truly a landmark exhibition, one that is not to be missed. Those who have seen it, will not forget it. It's that moving and impactful."
Beading is a process of simple gestures repeated thousands of times, says exhibit co-curator Sherry Farrell Racette.
"Most of us were taught to clear our minds and think positive thoughts before we begin. It's finicky so you have to be calm. Each stitch – particularly when you're making something for someone you love – carries that emotion."
There is also healing in the rhythm of beading, she says.
"It's often collaborative, so visiting and laughter create beading circles of family and community. And beading – along with other traditional art forms – is a way to connect to our ancestor artists and become part of an unbroken thread between the past and the future."
Radical Stitch features a wide array of works by 35 contemporary Indigenous beaders, videos by artists Hannah Claus and Ruth Cuthand that share stories and ways of seeing with beads, along with large-scale photographs by Catherine Blackburn and a beaded QR code by Will Wilson.
"Together the works in Radical Stitch show the importance of experimentation with themes, materials and aesthetics," says co-curator Cathy Mattes.
Alongside the exhibit is the Beading Room, which offers a space for guest beaders to host workshops and events.