It isn't a new concept but it's a chance to refocus on what makes a city a walkable, livable and sustainable community for everyone.
The concept of the 15-minute city is a hot discussion of late, primarily because of misinformation surrounding what it means. Nothing illustrates this point more clearly than a recent video of an Edmonton urban planner that went viral. He was addressing a protest on the streets of his city about the 15-minute city and plans the municipality had for adopting the concept. It was a surreal video, not the least because of the conspiracy theories that were being lobbed at the planner. Questions such as:
What is the real agenda behind the 15-minute city?
Are you going to build walls around our neighbourhoods?
Are you going to restrict the movement of citizens between neighbourhoods?

Each time, the planner took time to dispel the misinformation, but the whole exchange revealed that, to the crowd at least, this current buzzword in urban policy was something new, foreign and sinister. Which is surprising, because it is none of these things.
So first of all, what is the 15-minute city? Simply put, it is a community development approach with the goal that everyone living in a city should have access to essential amenities within a 15-minute walk or bike ride. Think schools, parks, recreational facilities, and neighbourhood businesses for a variety of daily needs. The term was coined by urbanist Carlos Moreno and first came to prominence in Paris where it was championed by Mayor Anne Hidalgo who made it a central part of her vision of the city's future. Since then, the popularity of the term has spread to cities around the world.
However, while the term is new, the concept is not, as the idea of "complete communities" has been around for quite some time. In fact, it's based on an urban form that many cities once had, but lost after rapid decentralization and suburbanization that was accompanied by widespread adoption of the automobile. The whole movement of downtown revitalization that swept across North America in the 1990s and 2000s was a step towards restoring a more livable city. More recently, what supercharged the discussion was the changes to city life due to COVID-19.
The pandemic changed the city dynamic overnight, with people suddenly working from home. This made your local neighbourhood even more important as a centre of community activity to help provide a variety of services to sustain daily life, whether for living, working or recreation. So with this shift in home-work lifestyles likely to become permanent to some degree, cities have started to plan communities to reflect this new reality.
Enter the 15-minute city. For a municipality like Hamilton, this approach brings a whole host of benefits, starting with increased quality of life and extending to more equity between neighbourhoods. Importantly, what the 15-minute city would actually mean for neighbourhoods is different depending on each neighbourhood's circumstances. In that sense, the building of 15-minute cities should be a deeply participatory process that asks the individual communities what they have, what they value, and what they need. Rather than being a conspiracy about control as some of the protestors claim, it's actually a chance for a more democratic city.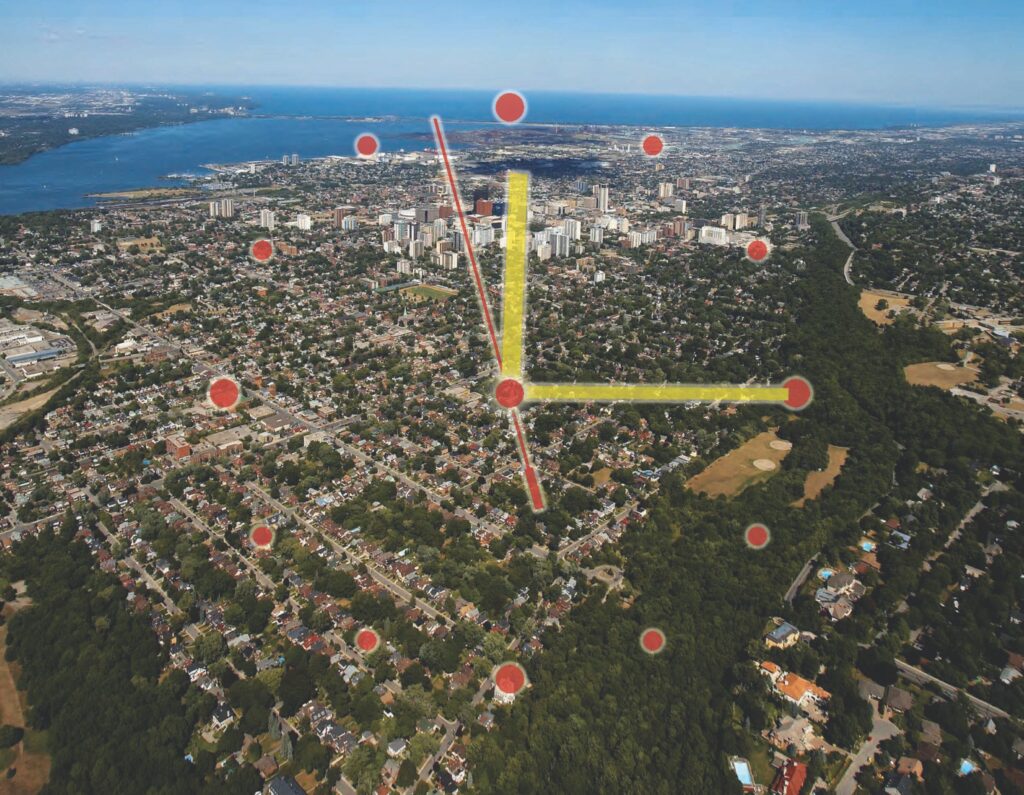 But what would it actually mean to create, or in some cases recreate, the 15-minute city? Let's take a look at the issue from a few perspectives starting with walkability, or the ability to get around on foot. Some issues of walkability are experienced city-wide, like street safety. To address this, changes to speed limits and better street design are required in every corner of the city. However, in other respects, there are differences. Older urban areas are by nature denser, with better potential to be walkable compared to their suburban counterparts. Therefore as a priority, improved walkability in our suburban communities should be a primary goal. While this might sound like a vague idea, it could concretely start with the goal to have sidewalks on every street.
Another hallmark of the 15-minute city is having local shops and services nearby, usually in a sustainable local business district within walking distance of home. The local coffee shop, restaurants, bars, a grocery store, all contribute to quality of life. While municipal government cannot force businesses to open in specific parts of the city, they can help create attractive conditions to make it possible. First and foremost, businesses need customers, so encouraging more people to live within walking distance of a business district is something that should be promoted. This can be accomplished by encouraging more gentle density in existing neighbourhoods. Gentle density, sometimes called the "missing middle," includes a diversity of housing forms between detached homes and high-rises, such as semi-detached homes, townhouses and low-rise apartments. This issue is of particular interest of late because of the increased demand for housing, therefore revising our plans and antiquated zoning bylaws to permit more gentle density is another important step in reaching the goals of the 15-minute city.
Another consideration is parks and outdoor recreational space. In contrast to the suburbs, park space is not as plentiful in many older urban areas due to space constraints, a situation that is only going to increase with a boom in high-rise construction on the horizon. Thus, investing in urban green space and other recreational opportunities should be a goal. Even if new green space might not be as readily available in older urban areas, there are other opportunities, such as the extensive alley network, that could be leveraged to create more recreational space. As with walkability, the local solution might vary, but the city-wide goal remains the same.
Finally, neighbourhood schools are another important part of a 15-minute city. Elementary schools provide a focal point for daily life for thousands of students and contain recreational space that the adjacent neighbourhoods can use outside of school hours. When a school is closed down, it can accelerate a downward spiral for a neighbourhood. Conversely, when a school opens, or is reinvested in, it can make a neighbourhood a magnet for new people. Therefore, ensuring investment in our neighbourhood schools, so that they remain open, is another important part of creating complete communities across our city.
As mentioned, in many ways, this issue is not about creating something new. Rather, it's about recreating or rediscovering something that is already there. Across Hamilton, there are examples of what the 15-minute city looks like. Picture the downtowns of former municipalities including Ancaster, Dundas, Stoney Creek and Waterdown. These downtown business districts are surrounded by walkable neighbourhoods with parks and schools nearby. This is also true for parts of the previous city of Hamilton, be it Westdale, Locke Street, Concession Street or Ottawa Street. While these areas have their various strengths and/or challenges, they have the foundational elements of what can make a complete community.
Three years on from the onset of the pandemic, a new normal is emerging that includes an era of hybrid work that will keep people more tied to their neighbourhoods on an ongoing basis. Within this new reality, there is all the more reason for Hamilton to rediscover the 15-minute city as the basis for community planning moving forward.
Paul Shaker is a Hamilton-based urban planner and principal with Civicplan.