Since 2015, Hamilton's music community has gathered on 

summer evenings for fun and bragging rights on the baseball field.
Nicholas Daleo loves playing music and playing baseball. For years, the idea of a baseball league for the city's music community was batted around. But nothing ever came together.
So Daleo, a drummer who also plays bass and guitar, decided to take matters into his own hands.
Daleo started Hamilton Rockers as a Facebook group where he put the word out about games to his network. People would come out, have fun and then tell their friends. It just kept growing. Some nights there were as many people on the bench as on the field.
The games are fun, social events but they get competitive, too.
"Musicians are a special kind of people. They are not always the most reliable. I can say that because I am one myself."
So Hamilton Rockers functions without a formal schedule. Games come together spontaneously, though since the pandemic, numbers are down.
But the summer season wraps up with a year-end tournament at Rosedale Park in east Hamilton after teams are "drafted" by captains sharing a beer together.
"We've had all kinds of people come out to play like Terra Lightfoot, Brad Germain and the guys from The Trews …" says Daleo. There are also studio owners, technicians, promoters and venue owners who take the field.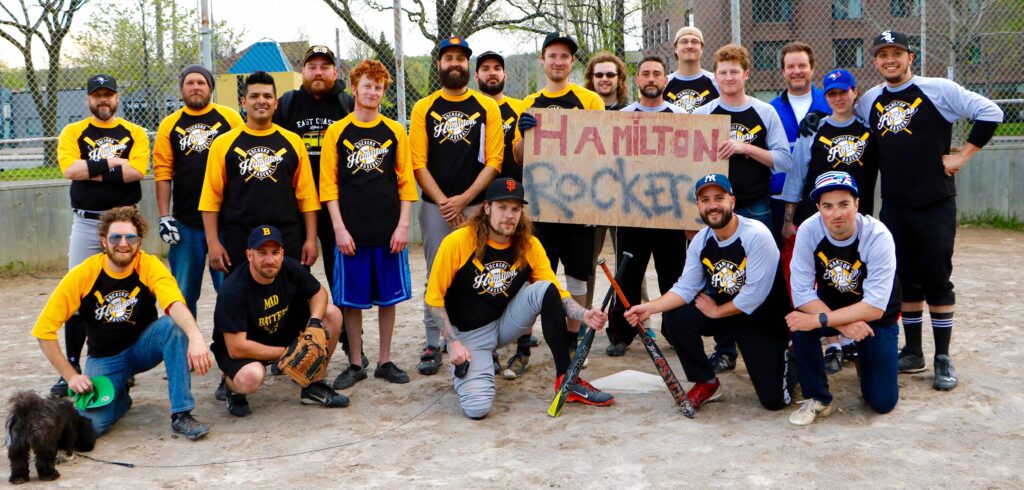 "The league brought together musicians from different genres and styles who might not otherwise have crossed paths with each other. It's led to bands and projects that wouldn't have happened without baseball."
After about 24 years, and work in bands PFA, Hoosier Poet, The Inflation Kills, Vatican Chainsaw Massacre, Moonlight Desires, and Sons of Butcher, Daleo is taking a bit of a break from music. He's got daughters who are 8 and 5 and a demanding research job at ArcelorMittal Dofasco. He knows these years with his kids will fly by but music will always be there for him.
So, others have stepped up to take charge of Hamilton Rockers, including agent Joey Balducchi of Spherical Productions, and musicians Dylan Hudecki (The Dill), Jimmy Hayes (formerly of Harlan Pepper) and Chris Whetstone of Dead Tired.
"What's cool about the music scene in Hamilton is even when you've been in it for more than 20 years, you are still meeting new people," says Daleo.
If you work or play in the music scene in Hamilton and want to play some baseball, reach out to Hamilton Rockers on Facebook.