The community orchestra performs for first time in Ancaster Memorial Arts Centre.
Sinfonia Ancaster saluted its new home in true musical style.
During its first concert – titled A Grand Night – in the recently opened Ancaster Memorial Arts Centre on Oct. 28, the community orchestra performed a series of excerpts of operatic and ballet works that are triumphant in nature, says music director Jeffrey Pollock.
"We are definitely celebrating our new home."
The audience was certainly in on the party, too. Nothing in the performance (aside from many on stage charmingly waving to friends and family as they filled the hall pre-concert) would ever gave away the fact that the vast majority of Sinfonia Ancaster's members are amateur musicians.
The orchestra is polished, ambitious and its members clearly relish the chance to perform. The audience rewarded their talented efforts with a standing ovation both before and after an encore.
At $25 a ticket, this ensemble delivers a wonderful night of classical music for a bargain.
Particular standouts included Claude Debussy's gorgeous "Petite Suite," the challenging "Overture" to The Secret Marriage by Domenico Cimarosa, the hypnotic Johann Strauss Jr. waltz "Roses from the South" and the downright fun "Three Dances" from The Bartered Bride by Bedrich Smetana.
Pollock's animated conducting, and especially his banter with the audience in between pieces, is highly entertaining. He managed to boil down the often preposterous plots and characters of operas in simple and hilarious ways.
The concert featured Canadian soprano Joni Henson, who flawlessly performed Antonin Dvorak's "Song to the Moon" and Richard Wagner's aria "Dich, Deure Halle" from the opera Tannhäuser. That translates to "You, Great Hall," which Pollock says couldn't have been more appropriate for the occasion.
The 470-seat Peller Hall has been so booked that Sinfonia Ancaster wasn't able to rehearse in the hall until just a few days before the concert.
Instead, the orchestra has been making its rehearsal home in the Voortman Studio Theatre within the Ancaster Memorial Arts Centre.
Peller Hall did not disappoint. It's a lovely and intimate venue with warm acoustics that showcased Sinfonia Ancaster's strings, brass, woodwinds and percussion beautifully. The night was dedicated to the ensemble's long-time former manager Joan Keating.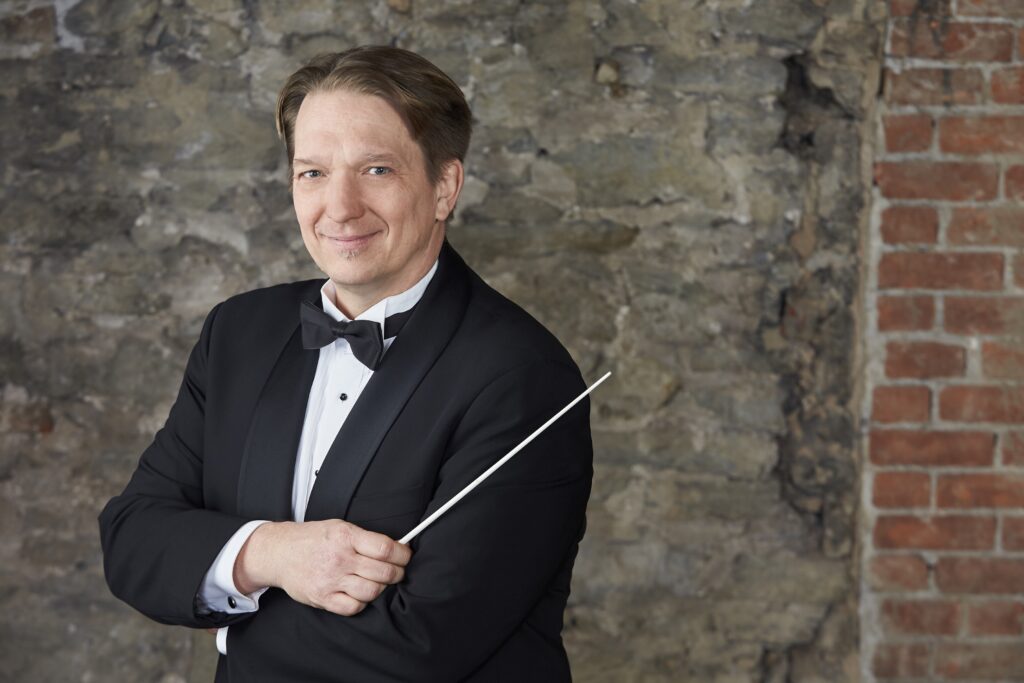 Pollock became music director of Sinfonia Ancaster in 2021, taking over from Jacob Haramule. That transition was delayed a year by the pandemic.
When COVID restrictions allowed for a return to performance, Pollock's first task was to find the orchestra a new temporary home for concerts and rehearsals. With some delay to the opening of the new arts centre, Sinfonia Ancaster found itself homeless when St. John's Anglican Church closed its doors to outside groups.
The orchestra managed to set up its music stands in Meadowlands Fellowship Church for its three-concert 2021-2022 season.
The 2022-2023 concert series will, for the first time, include four performances.
"We really wanted to make a splash in the Ancaster community and in this beautiful new centre and the fabulous new concert hall," says Pollock.
He was so enthusiastic about the idea and so determined to make it happen that Pollock fundraised to make the upcoming concert a reality. Businesses and individuals pitched in with about $14,000 to allow the addition of the Oct. 28 show.
Pollock hopes to make four concerts a permanent fixture of the orchestra's seasons.
Sinfonia Ancaster will also perform "Home for the Holidays" on Dec. 2, that will feature Ensemble Lyrica, along with concerts in March and May.
Tickets are available here.
Sinfonia Ancaster's roots go back to 2006 when it was formed as part of Redeemer University's instrumental music program. When that program ended nine years later, a number of musicians and supporters banded together to forge a new future as a community-based orchestra under the Ancaster Society of the Performing Arts.
Sinfonia Ancaster has a mandate to provide opportunities for amateur orchestral musicians to perform and grow their musical skills. The 42-member ensemble includes eight professional musicians who lead each section and act as coaches to other players.
"That is such an important part of the approach of Sinfonia Ancaster," says Pollock. "Our door is open to anyone who would like to play."
Rehearsals are held Monday evenings from 7 p.m. to 9:15 p.m.
The orchestra's repertoire includes classical, contemporary and popular orchestral pieces with and features soloists and choral works.
Born in San Diego and now making his home in Hamilton, Pollock has a long musical pedigree.
Pollock has served as assistant conductor of the North Carolina Symphony, associate conductor with the Fort Worth Symphony and resident conductor of the Toledo Symphony. He has also been chorus master and accompanist for a number of regional opera companies, including Baltimore Opera Company, Opera Delaware and Washington D.C.'s Summer Opera Theater.
He was chosen by the League of American Orchestras as a featured conductor for its prestigious 2001 National Conductor Preview and has performed with orchestras across North America including the Detroit, Houston, Nashville, Cleveland Chamber and Charlotte symphonies in the U.S. and the Windsor Symphony, Kitchener-Waterloo Symphony, Niagara Symphony and the Hamilton Philharmonic in Canada.
He has worked with the likes of Roberta Flack, Wynonna Judd, Randy Newman, Pink Martini, Nanci Griffith, Arturo Sandoval and Natalie MacMaster.
Pollock and his family came to Hamilton about 20 years ago when his wife Melinda Gough took a job as a professor at McMaster University. They live in the west end of Hamilton with their 16-year-old twins.
Listen in to some Sinfonia Ancaster recordings here. For more information about sitting in on a rehearsal, email sinfoniaancaster@gmail.com.
Check out HAMILTON CITY Magazine's Things to Do section for all the great musical, arts and cultural things happening in the Hamilton-Burlington area.