From sour beers to IPAs, stouts to ciders, Hamilton's rich landscape of craft producers are pouring all your favourite beverages – with many delivering right to your doorstep on top of being a destination for drinks. They may be smaller than their macro counterparts, but these microbreweries and cideries are making big names for themselves in Hamilton, and beyond. Below is a full listing of craft breweries and cider houses to visit in-person for their taproom experiences, or to check out online for a fresh pour in a pinch.
Brewers Blackbird
375 Wilson St. E., Ancaster
A quaint brewery-resto in the heart of downtown Ancaster focusing on classic beer styles to pair with good food
brewersblackbird.ca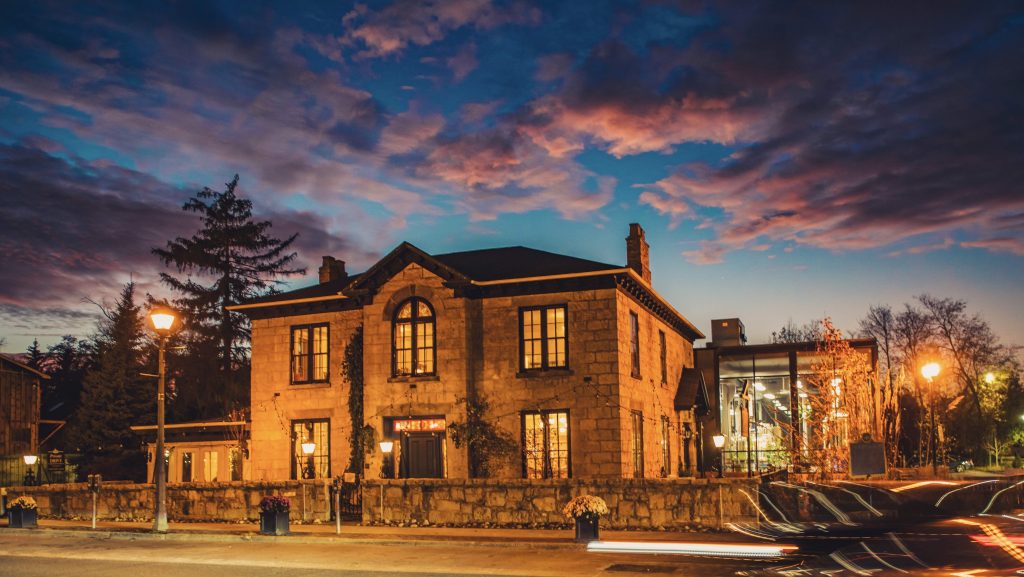 From dark to pale ales, porters to English-style bitters, Brewers Blackbird is heralded for its clean, crushable brews that are giving classic beer styles a welcome comeback. Located in a historical house, the resto-brewery is a destination for food-and-beer pairings done well. The selection on tap complements an elevated but beer-friendly menu, including wood-fired pizzas, mussels and frites, and grilled duck sausage to enjoy with a house lager or wheat beer. If deciding what beer to order is a challenge, a flight of draught pours provides a thirst-quenching sampling. Growlers (refillable, two-litre glass jugs) of beer are also available alongside cans to take away.
Clifford Brewing Co.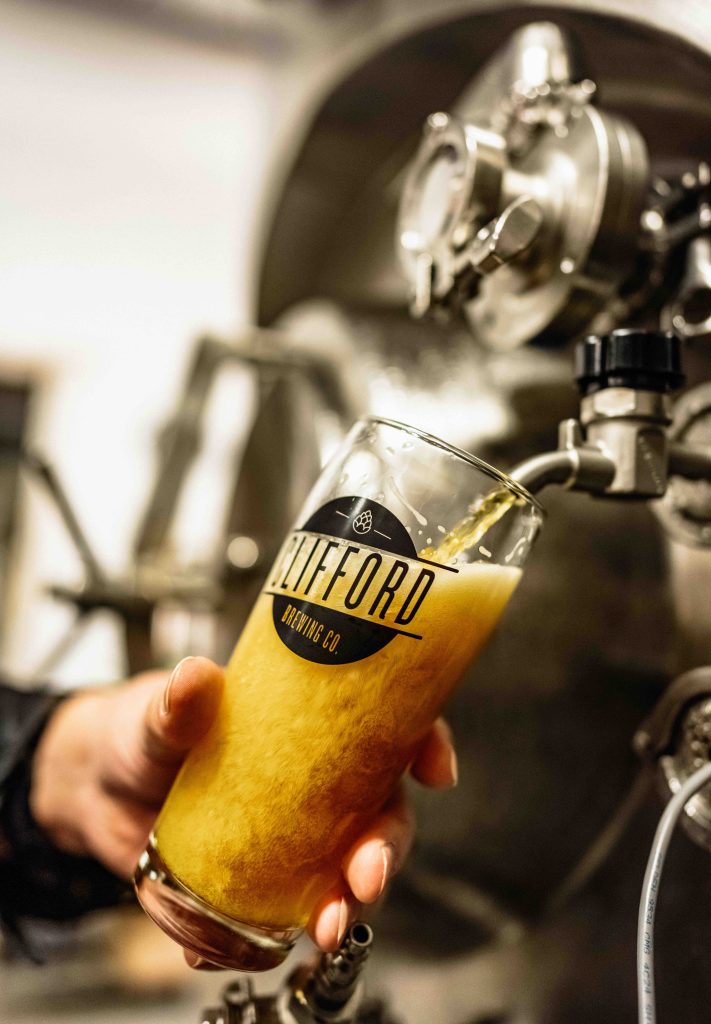 398 Nash Rd. N., Unit 1
An oasis for beer in East Hamilton with a full lineup of core and specialty brews to enjoy with live entertainment
cliffordbrewing.com
Clifford Brewing is home to a casual taproom pouring just about every beer style on your bucket list. Core products include the award-winning Clifford Porter, a robust beer with chocolate and coffee notes, and Pinball Wizard, a sessionable American pale ale with hints of tropical fruit. Specialty beers include El Maravilla, a Belgian-style golden ale aged in tequila barrels with lime and salt. On the sweeter side, Jamaican Rum is an imperial porter aged in barrels that once held rum. Both blends spent a year in barrel and are big on flavour as well as alcohol content.
Check out Clifford for its taproom and retail shop, but stay for a round of pinball and a full roster of events, including live music, comedy, and trivia. Free local delivery is also available with a minimum spend.

Collective Arts Brewing
207 Burlington St. E.
A hip, urban brewery combining the local creativity behind boozy beverages with unique art from all over the world
collectiveartsbrewing.com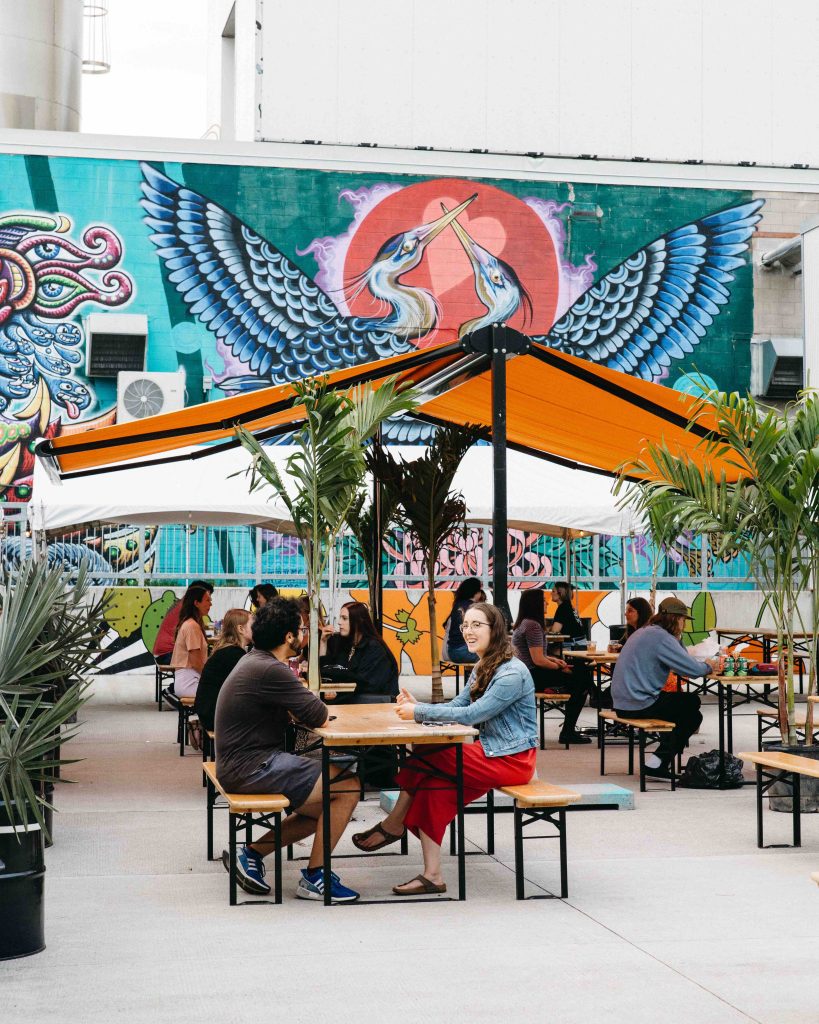 Mention "culture" in certain beer circles and you're likely to get an earful about yeast and fermentation. Thanks to Collective Arts,
however, beer labels featuring the works of emerging artists fuse together culture and craft beer. Collective Arts is best known for its hops-forward, juicy IPAs, although the brewery's
lineup includes goses, sours, lagers, and stouts. Collective Art's beverage selection also spans spirits, ciders, canned cocktails, botanical waters, and even coffee. The Hamilton brewery
is home to a retail store and taproom that's
open every day, and an outdoor beer
garden in warmer months. Collective Arts also offers an express delivery service for its full lineup of alcoholic beverages. Add some artfully
designed merch to your order so you can look good while sipping your favourite beverages.
Fairweather Brewing Company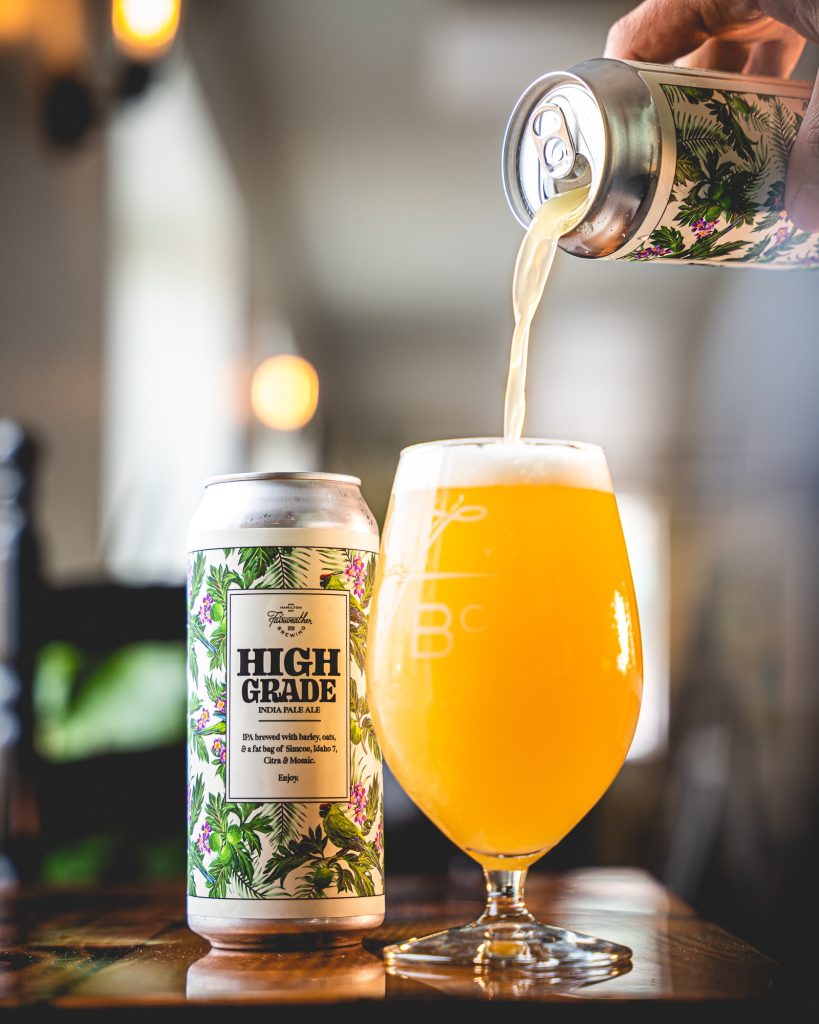 5 Ofield Rd., Unit 1
A bright and lively taproom, sprawling patio and warm hospitality make this brewery a must-visit for hops and hangouts
fairweatherbrewing.com
Fairweather is home to an ever-changing beer list featuring hops-forward ales and lagers, fruited sours, and some barrel-aged blends up for grabs
in bottles. A "fat bag" of premium hops goes into every batch of High Grade, a juicy, American-style IPA with floral, fruity and pine notes. A flagship favourite, High Grade is always pouring fresh on
tap inside the brewery, and available in cans from the brewery's busy take-away window. While Fairweather doesn't have its own kitchen, guests are encouraged to BYOF (bring your own food) from a number of tasty take-out spots in the surrounding Ainslie Wood area. In cooler months, Fairweather also holds events, like movie nights
and a holiday market, making it a year-round community hub for hanging. An online shop also offers free delivery in Hamilton with a minimum spend.
Grain & Grit Beer Co.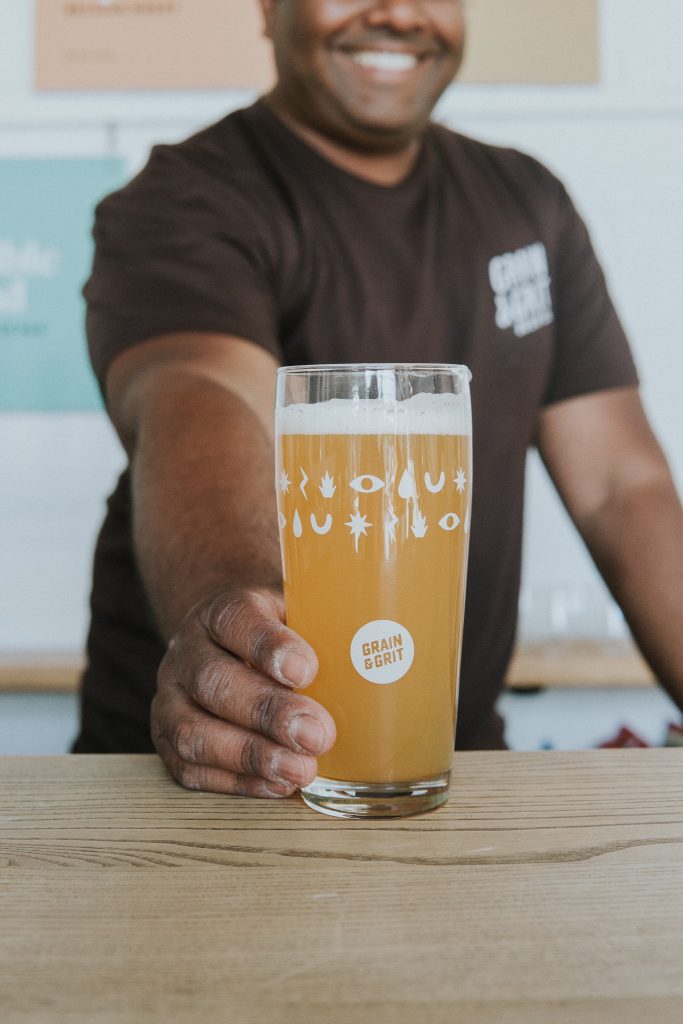 11 Ewen Rd.
A bustling brewery, taproom and retail shop with a full roster of community-minded and culinary events
grainandgritbeer.com
Grain & Grit is located in a scrubbed-up auto body shop turned stunning small-batch brewery where patrons can order from a rotating lineup of IPAs, sours, and seasonal brews. Year-round offerings include Little Thrills, a sessionable German-style pilsner, and Invisible Friends, a dry-hopped American pale ale with notes of tropical and stone fruit. Community-minded events are also a
brewery staple. A weekly Babies and Brews meetup offers new parents the chance to connect over an adult beverage, and a calendar of culinary events means exciting food-and-beer pairings are often on the menu. At Grain & Grit, it's not uncommon to find a raw bar shelling out freshly shucked oysters, bowls of noodles being dished out izakaya-style, or a plant-based brunch being served. Wash it all down with a cold one on the heated patio, or take beverages to go from the brewery's bottle shop.
MERIT Brewing
107 James St. N.
A modern beer hall that breaks tradition with brewing and cooking techniques that push flavour boundaries
meritbrewing.ca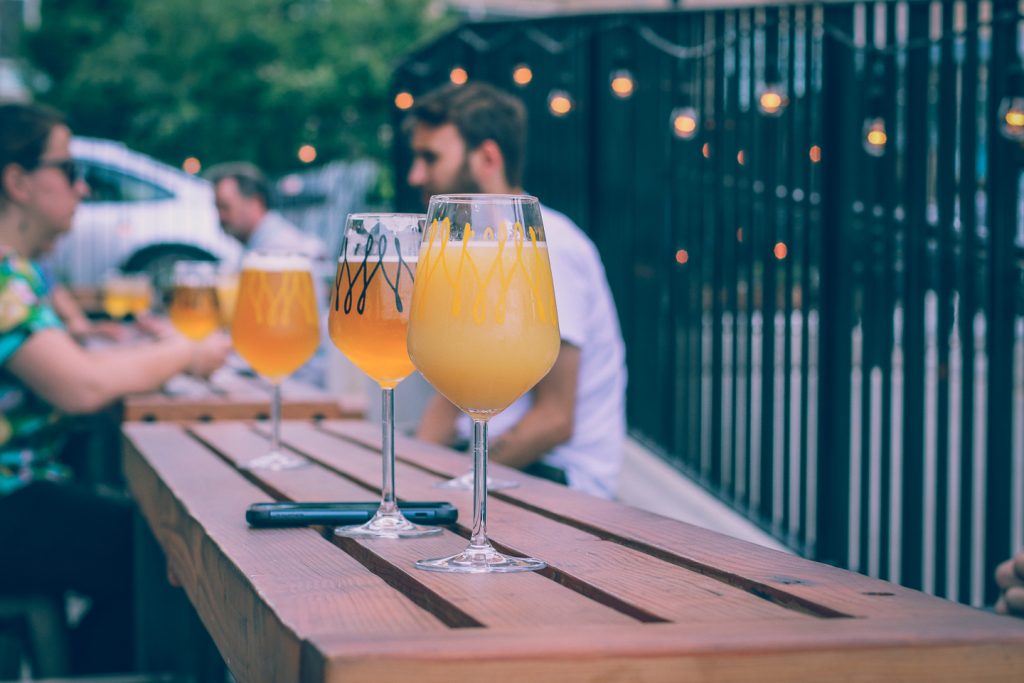 Whether you're art or pub crawling, MERIT's full-service kitchen and bottle shop is a popular pitstop in the city. The brewery specializes in avant-garde beer styles, many of which are brewed with fruit, herbs, spices, and teas. Young Rival, however, is the brewery's IPA flagship and true to its style in letting its hop character shine. Beer-wine hybrids are an emerging specialty at MERIT, and include elegant offerings like Roses are Red, a lightly tart gose made with Gewürztraminer grapes and juice. Its counterpart, Violets are Blue, is made using Gamay juice and grape skins sourced from Niagara wineries. In true beer-hall fashion, MERIT's signature, house-made sausages are a must for any visit. MERIT also offers free delivery to doorsteps within Hamilton.
Shawn & Ed Brewing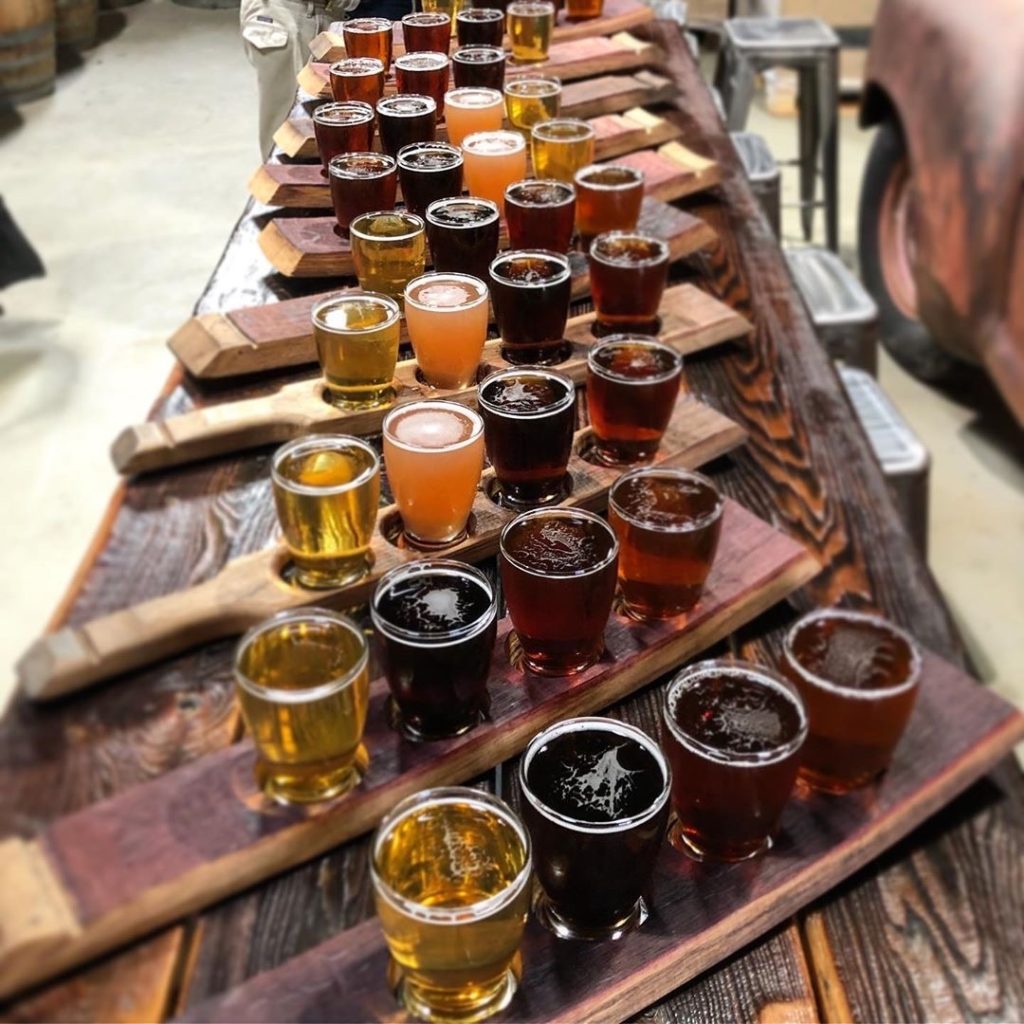 65 Hatt St.
A lager-centric brewery in historical Dundas serving "beer pies" alongside live entertainment for the whole family
lagershed.com
Known as SHED among locals, this brewery is located in a historical curling rink in downtown Dundas. Inside, you'll find a vast taproom featuring high ceilings, wooden beams, and communal tables, where visitors tip back flavourful lagers and ales alongside a rotating list of seasonal beers. A nod to notable Canadian golfer Mike Weir, SHED's newer offering, Weir Beer, is an ultra-lager that's low on calories and alcohol for easy sipping on and off the course. The kitchen
at SHED also serves up snacks and "beer pies" – pizzas with ingredients that pair well with flagship brews. Events at SHED are frequent and family friendly. A regular series of children's concerts offers free entry. Beer can be purchased from a retail and online shop, and brewery tours are also available.
West Avenue Cider House
84 Concession Rd. 8 E.
An award-winning, small-batch cidery located on a stunning Freelton farmhouse estate
westavenue.ca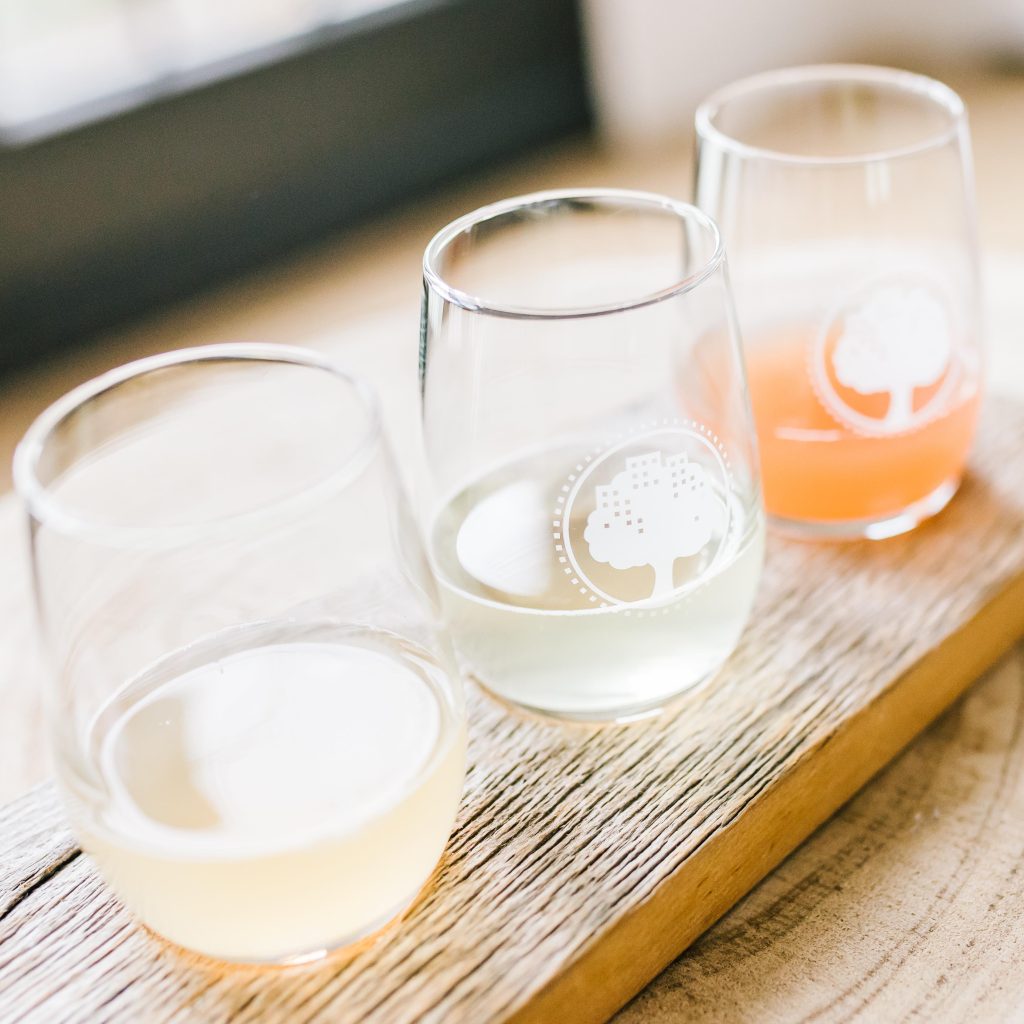 West Avenue takes a branch-to-bottle approach to cider-making to produce dry, hard ciders using locally sourced ingredients. The cidery is home to a tasting bar and bottle shop featuring seasonal, barrel-aged and flagship
ciders. The latter includes Heritage Dry,
an artisanal take on pub-style ciders, and Cherriosity, a dry cider made with Montmorency cherries. Visitors are encouraged to explore the cidery's property, including a sprawling meadow and apple orchard dotted with picnic tables for tasting. Cidery festivals and food vendor pop-ups are always family-friendly, and space is available to host your own gathering. A modern cottage is also onsite for those wishing to book a stay. West Avenue's online and in-person retail market lets you enjoy a taste of the country at home.
Steel Town Cider
150 Chatham St., Unit 14
An urban cider house using old-world traditions to craft European-style ciders right here in Hamilton
steeltowncider.com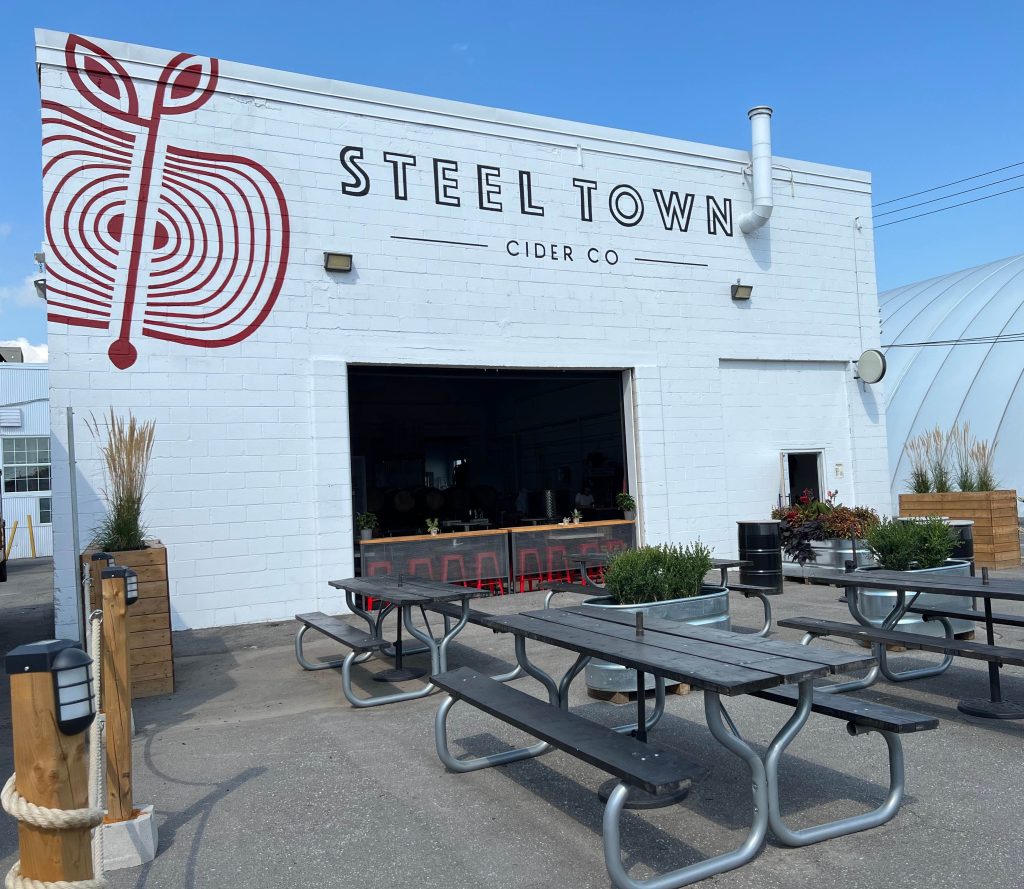 Steel Town's new location in Kirkendall North is bringing the dry, rustic flavours of European ciders to Hamilton. The cidery specializes in French-inspired farmhouse ciders, funky Spanish sours and English-style ciders fermented with wild yeast for added
character. Steel Town recently moved from a production facility in Dundas to its new cider house and bottle shop in Hamilton, complete with a taproom and patio to serve guests.
The cidery's flagship Session Cider is a blend of local fresh-pressed apples that have been partially aged in oak barrels. Crisp, tart and bone-dry, with aromas of citrus and floral notes, as its name suggests Session Cider
is a sure thing for easy, elegant drinking.
Steel Town is worth a visit for its specialty ciders, but also offers free local delivery with a minimum spend.
Tall Post
1170 Hendershot Rd.
A family-friendly cidery nestled in the heart of Hamilton's farmland that sources fruit from nearby Niagara orchards
tallpostcraftcider.ca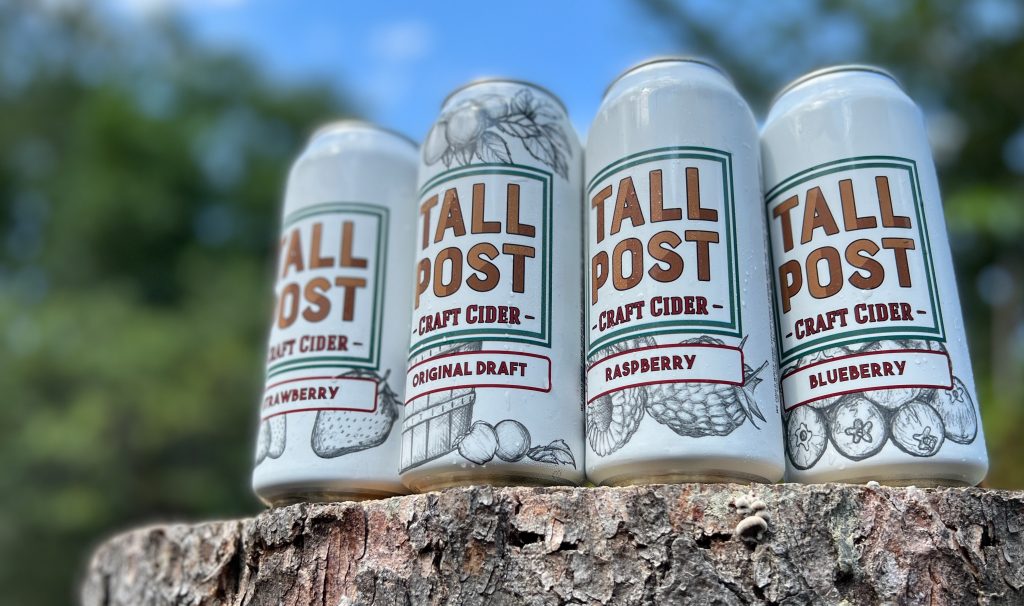 Tall Post is a small-batch cidery offering crisp hard ciders that highlight best-in-season fruit from nearby orchards. A pretty, pale-pink cider, Jordan Juice is a fruit salad in a glass with a combination of fresh blueberries, strawberries, raspberries, currants and gooseberries fermented over pressed apple juice. Unlike commercial hard ciders, Tall Post's products trend towards dry rather than sweet. The cider house is located on a family-friendly property, where kids love the farm animals and field games, and adults can sit back and enjoy their cider in a serene setting. Private tours and tastings can be arranged upon request with up to 12 guests.