For those who like it on the spicier side, 

there are many entrants to the sizzling hot sauce game in Hamilton and Burlington.
Scrolling through Instagram, I encountered an account with this comment: "I was so pumped to get three of your sauces in my stocking!"
Admittedly, I'm not a fan of hot sauce, but I seem to be in the minority even in my own family.
Increasingly, I have to rule out many items on a menu because they have been tagged as "spicy" or contain code words signifying spicy ingredients – togarashi, Cholula, nduja, gochujang. Hot honey "stings." Scotch bonnet does not refer to wardrobe.
Why do so many people like fiery hot food? The explosion of interest in hot sauces is keeping some people busy.
Brodie Dawson is one of those people and the recipient of the aforementioned Christmas stocking love. His embrace of hot sauces ramped up in his 20s.
"When you're 21 and hilariously broke, hot sauce makes all your very, very bland food taste delicious."
Experimentation led to the 2013 launch of Dawson's Hot Sauce. Sold online and distributed so widely as to make wholesale central to the business, Dawson now has a storefront on Barton Street and has been getting international attention.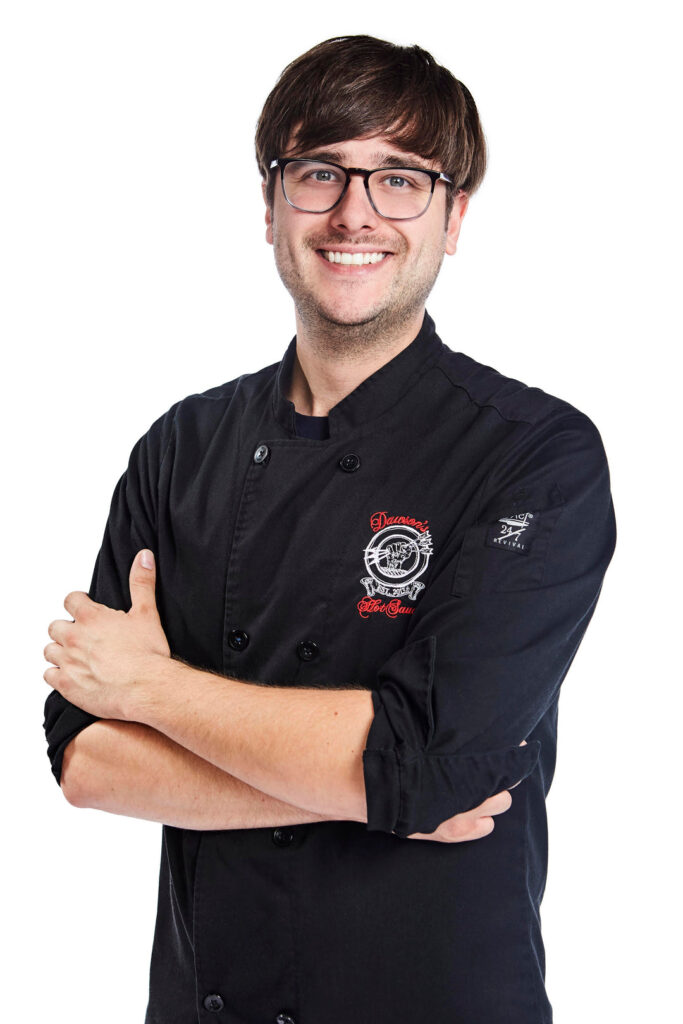 YouTube's Hot Ones show features celebrities eating wings dipped into increasingly hot sauces. Dawson's have been included several times – a marketing coup also bringing attention to the flourishing Hamilton food scene. Heatonist, the trendy Brooklyn shop, sells sauces that appear on Hot Ones, including Dawson's.
Dawson is not the only local "hot saucier" and many are using or growing local ingredients.
Another Hamiltonian in the Hot Ones Club is Steel City Sauce Co., making sauces since 2017. Says owner Kevin Stuermer, "We love our city and everything in it. It is our mission to spice things up and to educate our friends and neighbours about the benefits of adding a bit of heat to your favourite meals."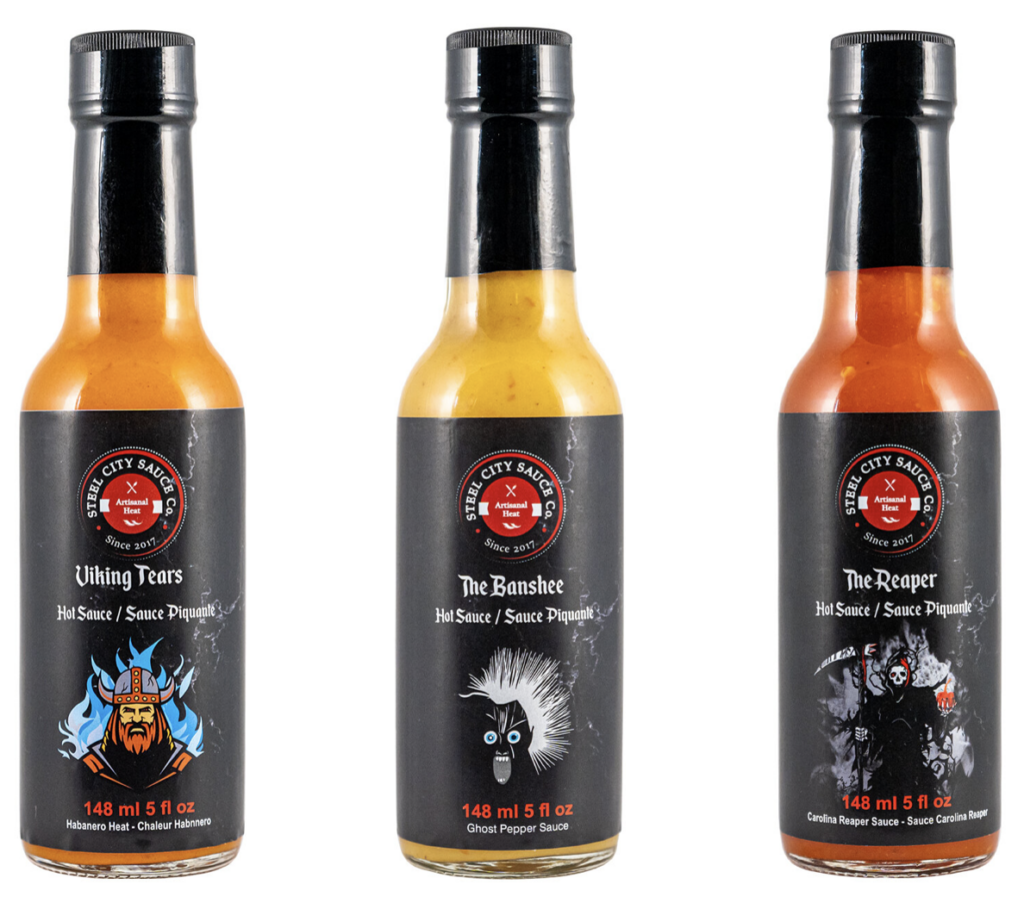 With his It's That Everythang (sic) Sauce, Canokie Dave (aka David Rochon) is also in the local hot sauce arena. A newcomer to Hamilton with roots in Oklahoma, his profits go to social support programs.
At Delusional Sauce Co., Liz MacKeen and Patrick Kehrer make small-batch sauces. They attribute their brand's name to their apparent state of mind when deciding that – in a pandemic, with a troubled food industry and Liz eight-and-a-half months pregnant – March 2022 was a great time to launch their business.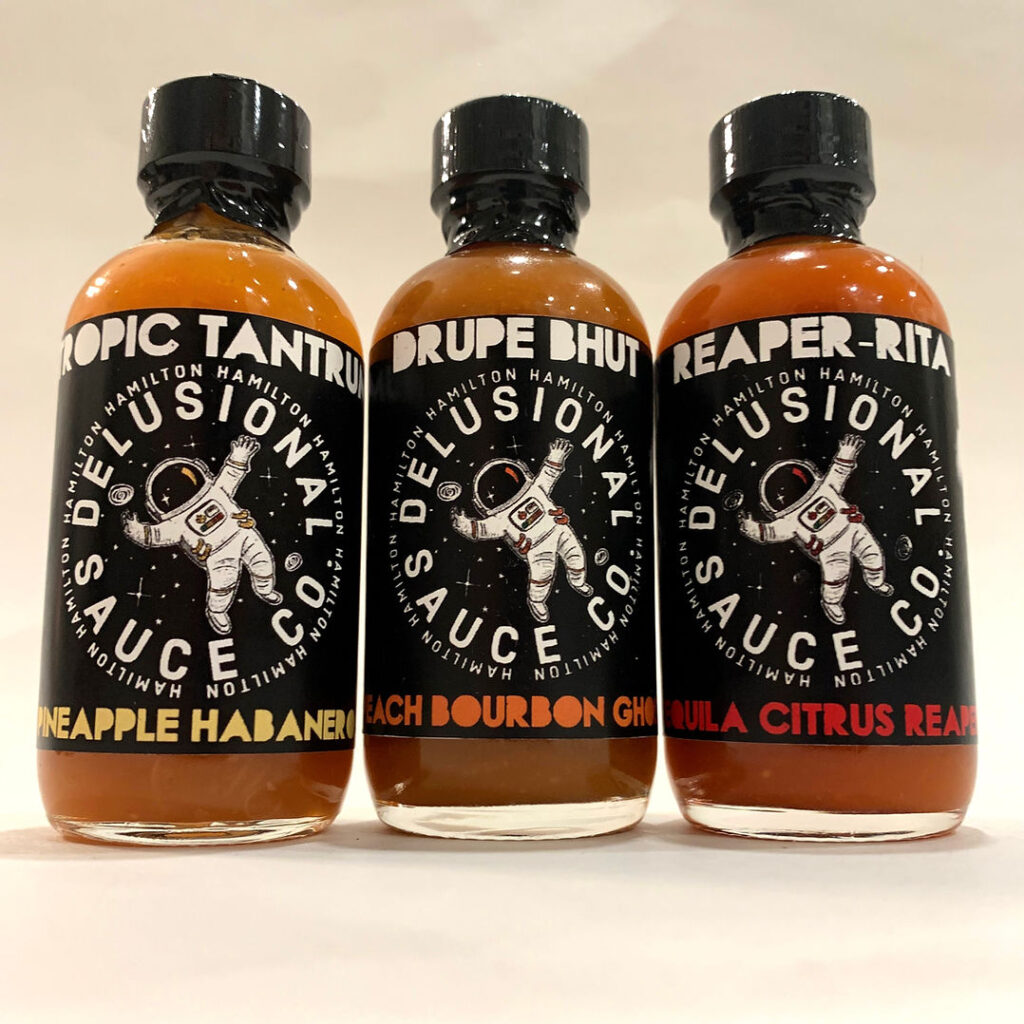 Explore Hamilton hot sauces and some common themes appear. With Heat from the Hammer, Jason and Valerie Payne also entered the industry during the pandemic, discovering that every aspect of the enterprise – the work, creativity, connecting with people – was good for mental health. They, too, are philanthropic, donating to local causes. They may also be my entry point into the spice world since their products include sauces for people who don't think they can tolerate hot sauce. I may start with their snacks.
Says the website: "We are proud Hamiltonians and each product is tied to the geography and history of our great city! We hope you… learn a bit about how amazing Hamilton is!"
Burlington's Royal Pepper Hot Sauce promises "that from the milder Marquis of Mango to the fiery Tyrant and everything in between, Royal Pepper will take your taste buds to the next level."
Stoney Creek's Twisted Tomato Gourmet Ketchups are sidling up to hot sauce with its ghost pepper and chipotle products.
The forerunner of them all is surely Paul Casey who began making hot sauces in 1974 – named for his starting point – Cooksville. He relocated production to Hamilton in 2009. Says the website: we "hold the distinction of being the only Canadian hot sauce in the high Canadian Arctic from Inuvik to Iqaluit."
The chili peppers used to make hot sauce deliver capsaicin – the chemical compound that triggers a burning sensation – and it is only a sensation. Boiling water or scorching hot food will actually burn mouth tissue. Capsaicin only activates receptors on the tongue that send a confusing "burn, pain" message to the brain. Except in extremely rare cases, there is no harm done to the mouth or digestive system.
The heat levels of chili peppers and hot sauces are ranked as Scoville heat units (SHU). A green pepper score might be zero and the scale goes into the millions for ghost peppers and the grim reaper. Wilbur Scoville created the ranking scale in 1912 by liquefying a pepper's capsaicinoids and adding a sugar solution in increments until trained taste testers could no longer detect heat. That methodology is considered problematic given that genetically we differ in the number and sensitivity of mouth heat receptors and, over time, tolerance increases. Today, more scientific methods are used to calculate the capsaicinoid content yet they are still reported as Scoville heat units.
None of the above explains why this stinging, burning, fiery condiment is not a to-be-avoided mouth sensation. For many, spicy hot has been part of their diet from childhood, since numerous cuisines embraced the chili peppers that originated in Central and South America. Bird poop is credited for the initial dissemination of seeds, expedited by colonization and trade.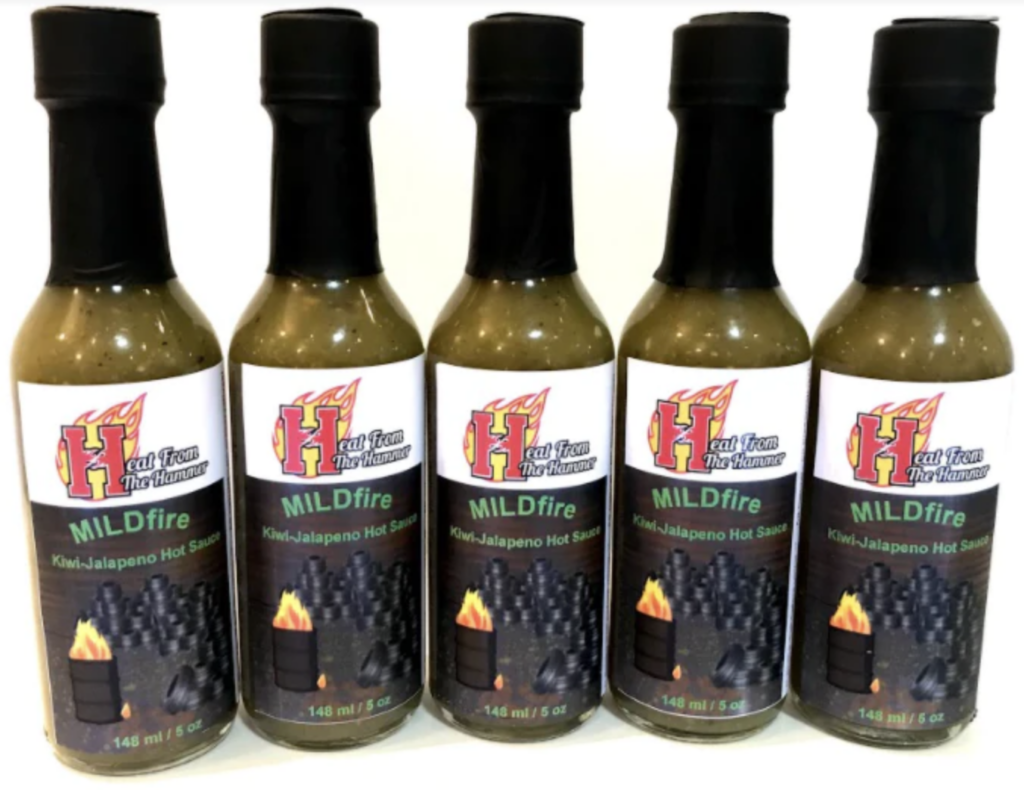 Enhancing bland diets, chili peppers – also thought to be medicinal – were easily grown and quickly became a global ingredient – sort of. Northern climes were late in the uptake, but caught up quickly, with global market values now in the billions. The Gastropod podcast reports that "in 2004, hot sauce and salsa finally conquered ketchup, mustard, and mayonnaise to become the very top two condiments sold in the U.S."
An incredible range of sweet/savoury ingredients appears on labels, tempting the palate, including smoke, bourbon, miso, peach, mango, ginger, plus flavours linked to global cultural influences. Is it taste that creates fans?
Research has examined the extent to which the popularity of hot sauces may in part be a macho/masochistic thing, linked to thrill-seeking (sought also by women). McGill University's Office for Science and Society suggests a likely "psychological element at play in spice-lover's obsession – studies have shown that many spice enjoyers do feel the burn like spice haters, but find it a pleasurable experience, rather than a painful one. Indeed, it seems that to love spicy food is to take pleasure from the pain."
By the way, the Scoville methodology hints at how one can counter a hot spicy attack – with sugar, not water. Suffering may have to be endured for a time, but relief can come in the form of sugar or dairy – which is why I always order a mango lassi at Indian restaurants. Something acidic (citrus or tomato) may neutralize the heat, ditto for fats such as tahini or nut butter. Carbohydrate sides such as bread or rice can offer balance.
With respect to hot sauces, the Hammer is now a steel city with a steel gut. Research has found that hot sauce tolerance can increase with repeated exposure. Could there be hope for me? Will I embrace hot sauce by next year's International Hot Sauce Day on Jan. 22?
Diane Galambos is a food writer who shares stories and recipes at her blog kitchenbliss.ca. Follow her on Instagram.