Hamilton-based score composers Nathan Fleet and Mike Trebilcock 

talk about the business and the process of setting music to movies and TV.
Music is often the beating heart of a film or TV show. Take the score away or change it, and no matter how excellent the writing and acting may be, the experience just isn't the same.

Even if you don't consider yourself much of a film nerd, there's surely one cinematic score that has touched, moved, and inspired you, whether from a big-budget pop culture sensation or a small independent film. This also applies, of course, to television, which has seen many memorable and highly impactful soundtracks emerge from hit shows.
What goes into creating cinematic music? Two Hamilton musicians-turned-composers know the process better than most: Mike Trebilcock and Nathan Fleet.

The leader of the legendary punk band The Killjoys and the singer, songwriter, guitarist and producer of horror-rock band Sematary Spawn, Trebilcock has also been an award-winning film composer for over 20 years, with credits including the horror-comedy Crabs!, The Fight Machine, and numerous others.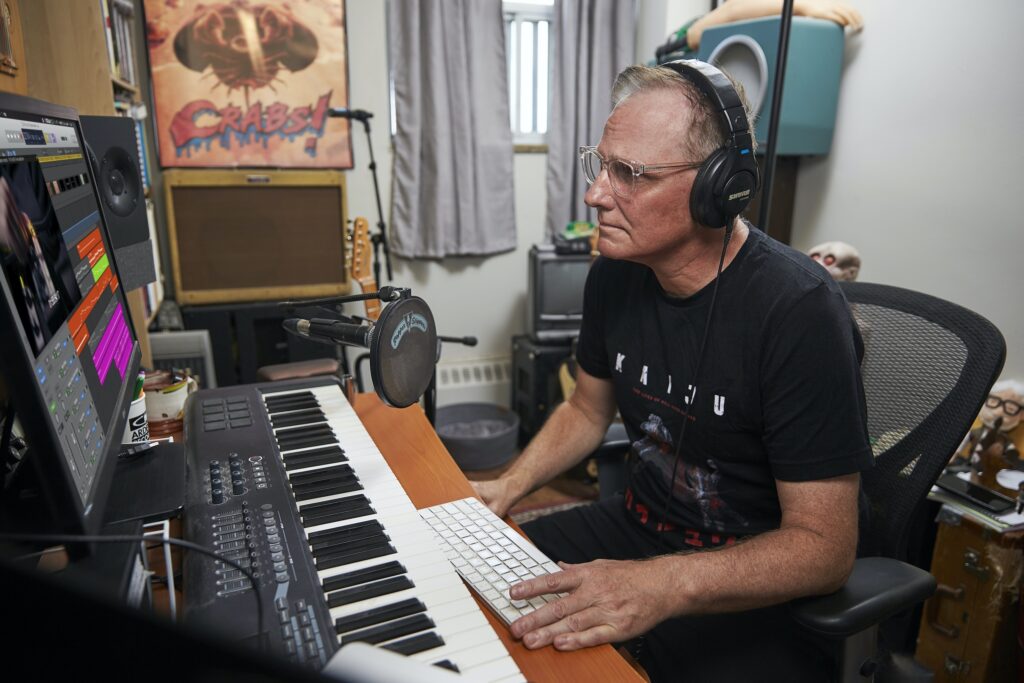 Fleet has been the director of the Hamilton Film Festival for 19 years and most recently founded the Hamilton School of Media Arts in July 2022. A longtime film producer and composer of original music via his company Bluepick Media, Fleet most recently directed Wild Child, a family-friendly wilderness challenge series for kids for Bell Fibe. 
The two recently shared their insights on the artistry and business of film scoring with HAMILTON CITY Magazine.
The Basics
"When you write for cinema or TV, you're serving the story," says Fleet, "whereas as a recording artist, you are serving yourself, and then the audience."
The cinematic composition process ideally begins in the pre-production stages of the film. The composer and director meet to map out "sketches" of what the music could sound like. Alternatively, Fleet notes, you would meet during post-production, after the principal photography has been completed, and have a "spotting session," deciding where the music should go, what it should sound like, and what the purpose of the music is (for example, creating tension, foreshadowing, picking up the pace of the scene, and so on).
Fleet notes that, while not ideal, sometimes during editing the editor or director will create a placeholder "temp score," usually music from an existing film or piece of music, then go to the composer and say, "we want this, but just change a few notes."
However, often the editor and director grow so attached to the temp score, there's no way for the composer to match it with their original music. "Hopefully you get on board early enough where they can use your music in the temp positions. I had to do a sound-alike version of Metallica's 'Master of Puppets' for a TV show once. Not impossible, but also not possible at the same time, but I did it, and it aired!"
Trebilcock will often come on board at the script stage, making notes and musical sketches based on that. "I'll write based on what I feel from watching the movie in my head," he says. "On the other hand, sometimes I'll work from a 'locked picture,' which means the movie is complete and ready to go, except for the audio elements. Sometimes a movie is delivered to me in chunks, which I score one at a time."
Trebilcock can usually "hear" what needs to be done while watching a movie with no score, almost like he's taking it down as he goes. "It's more like I'm playing the movie, and accentuating dramatic turns that are already present. I watch the actors' eyes a lot, picking up on turns that might be less obvious."
Where To Find Composing Gigs
"I always say that no one is looking for you until they know you exist," says Fleet. "You have to put yourself out there. The city now has production companies, film studios, film festivals, distribution, and hundreds of crew members living here. Meet directors, producers, and editors. Also try to meet some music supervisors who may be able to sync license your existing music in shows."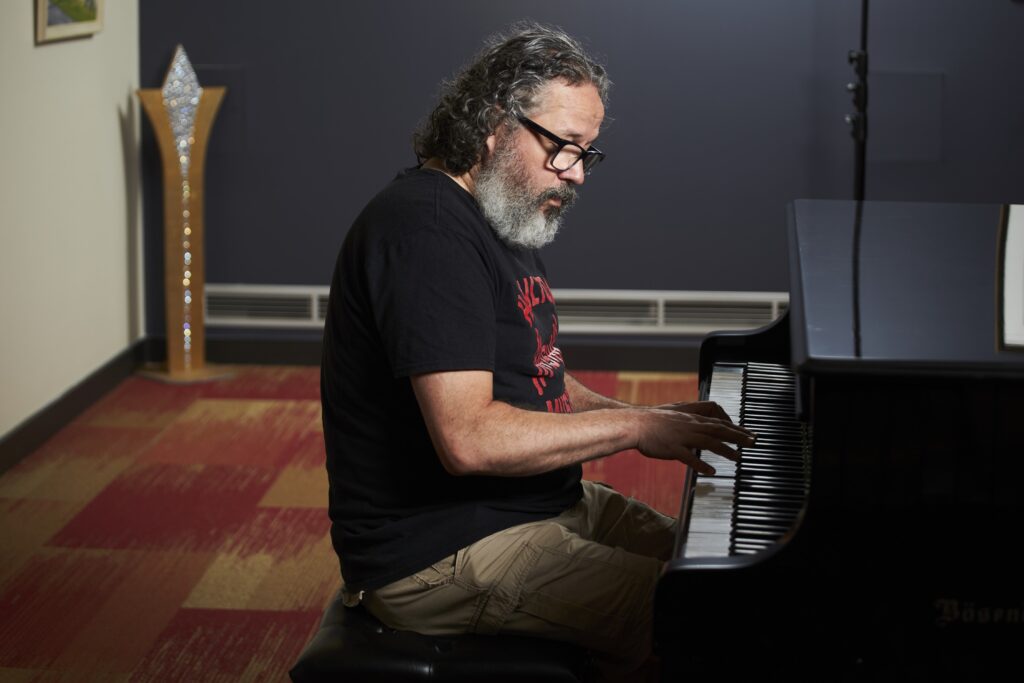 As a longtime fan of horror, sci-fi, comedy, and cult films, Trebilcock sought out productions in those genres. "Strange and weird stuff, I speak that language," he says. "I would get in contact with people I thought were making really great, creative stuff that resonated with me," adding that sometimes it could be a project as small as writing a song to play in the background of a scene, and other times, a full score. "I've been lucky enough to find some great working relationships and friends who I've worked with on multiple projects. Now, thankfully, the strange and weird stuff seeks me out!"
While the majority of his work still comes from the U.S., Trebilcock has worked with a few local filmmakers and has even had screen time in a few films such as Ouija Shark 2 and Creature from Cannibal Creek. Trebilcock also facilitates kids summer camps at the Hamilton School for Media Arts.
"As a composer for film, I think it's important to keep your filmmaking chops up as well as the musical ones – so that's very helpful, since I haven't been able to find the time to make my own in a couple of years."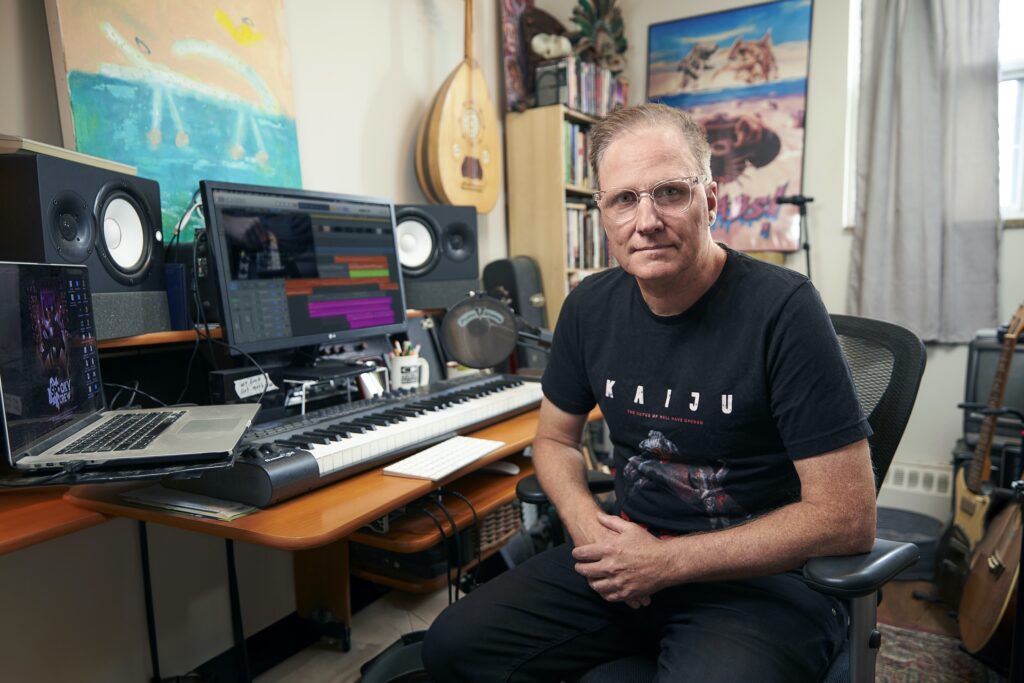 Their Top Score Picks
For Fleet, the best is the original 1977 Star Wars soundtrack by John Williams. "Nothing hits me harder than that opening track," he says. "At age 6, I was hooked. At age 51, I'm still hooked. It can take you to another galaxy!"
Says Trebilcock: "Bernard Herrmann was a big one, although I didn't know it at first. As a kid I loved movies like Jason and the Argonauts, Journey to the Center of the Earth, The 7th Voyage of Sinbad, then Hitchcock, Scorsese, DePalma, and finding out it was all scored by the same guy was pretty mind-blowing! His scores are always unique, letting the movie have its own voice, yet always appropriate, fitting the movie like a glove."
He adds Toronto's own Howard Shore as an honourable mention, and his music for David Cronenburg's films from Shivers to Crimes of the Future. "Just beautiful stuff. I used to walk around with headphones on listening to an audio recording of The Fly. Just audio with dialogue, sound design, and music and it could still make me cry."