Plenty of great music, food, art and fashion made for a 

fantastic showcase for locals and out-of-towners alike.
For its 15th year, the now-famous Supercrawl street festival returned to James Street North Sept. 8-10, entertaining many tens of thousands of locals and out-of-towners with its multifaceted mix of music, art, food, literature, and vendors. The occasional sprinkle on Saturday couldn't dampen the enthusiasm of festival goers, and the generally pleasantly mild temperatures helped ensure the success of this year's edition.
This scribe attended all three days of Supercrawl, and the following report is a subjective take on proceedings from someone highly grateful for the fest for personal reasons. As a Toronto-based music journalist, I made forays into the Hammer to cover the event for three years prior to moving to this city five years ago. Those visits opened my eyes to Hamilton as a potential home base, for Supercrawl showcased the vibrant and welcoming nature of its music and arts community.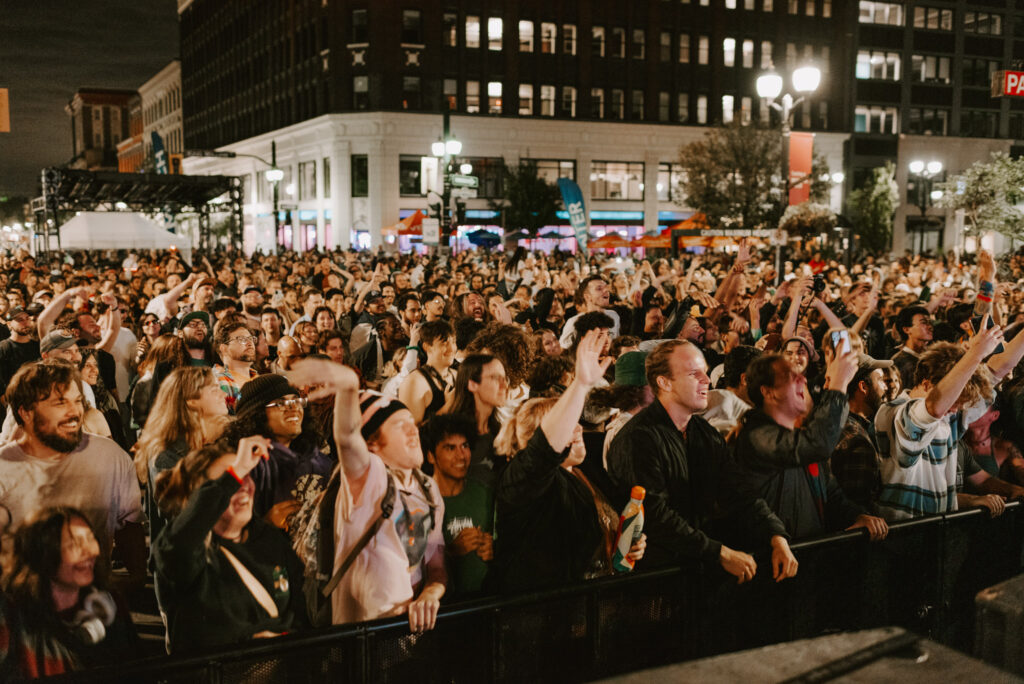 For the opening Friday night of the fest, yours truly concentrated on the music at the TD Stage near King Street, and no, that wasn't just because of the tasty eats and beverages offered at the adjacent VIP beer garden. Those spied in attendance there included Terra Lightfoot, veteran Spectator writer Graham Rockingham, and Supercrawl mastermind Tim Potocic and right-hand man Matt Paxton.
In the early evening, the focus of attendees seemed to be the long line of food trucks seducing the hungry with their culinary wares, so the crowd catching the early set by Welland-based rockers Revive The Rose was sparse. A pity, as the quintet's vigorous take on retro southern-flavoured rock was a highly appealing one. They were followed by London, Ont.-based modern rock combo Texas King, one clearly influenced by the sound of hometown heroes Arkells.
A between-sets break to check out the booths found one occupied by the new ownership team of Grant Avenue Studio. There, co-owner Mike Bruce expressed excitement that the studio was opening its doors to the public over Supercrawl weekend. Smart move. Close by, the Hamilton City Magazine booth was also attracting plenty of attention, helped by the eye-catching large prints of the mag's evocative covers over the last year.
A return to the TD Stage for the set by Boy Golden provided one of the musical highlights of the weekend. I had been aware of the growing buzz around this Winnipeg-based rootsy singer/songwriter, but catching him in performance was a revelation. His six-piece band was heavy on the guitars, and a female backing singer helped complement Boy Golden's pleasing tenor voice. His retro country-rock sound is evocative of Gram Parsons and Daniel Romano, and the strength of his songwriting makes him a real contender.
The crowd had grown considerably by the time headliners Broken Social Scene took to the stage. This writer has seen the internationally acclaimed collective perform a large number of times over the past 20 years, from small Toronto clubs to Massey Hall to large outdoor settings. The full-blooded and dynamic sound produced by the large ensemble (up to 10 members on some songs here) especially shines at outdoor shows, as reaffirmed here. Led by birthday boys and co-founders Kevin Drew and Brendan Canning, plus ace guitarist Andrew Whiteman, BSS mixed older favourites and newer material in a typically crowd-pleasing set.
Saturday night's proceedings began back at the TD Stage, with a set by Polaris Prize-winning artist Pierre Kwenders. Unfortunately, we just missed a performance by local hip-hop star LTtheMonk with members of the HPO, and reliable sources informed us this was a killer show. Kwenders impressed with his hybrid of Afrobeat and dance sounds, though it's a pity he didn't have a full band on hand to give his tracks more of a live feel.
From there, it was a long walk north on James to the other main (Stingray) stage at Liuna Station to catch superb sets from two roots music veterans at the very top of their game. For her Supercrawl debut, award-winning folk/blues singer/songwriter Suzie Vinnick assembled an A-list band comprising ace guitarist Kevin Breit and the rhythm section of Gary Craig and John Dymond (Bruce Cockburn, Blackie and the Rodeo Kings). Breit was given plenty of room to dazzle, while Vinnick's well-crafted compositions and strong bluesy voice held centrestage. As Lorraine Segato was heard to observe (herself an accomplished musician), if Vinnick hailed from the U.S. she'd now be a major star.
The same could be said of that stage's headlining act Rita Chiarelli. The Hamilton blues hero performed with her (mostly female) six-piece Sister Loretta, and the presence of three top-notch horn players gave her bluesy material real muscle. Chiarelli's gutsy voice has never sounded better, and her strong stage presence was again well to the fore.
Our more limited presence at Supercrawl on Sunday focused upon eloquent folk and roots-oriented singer/songwriters, though a quick peek into the open-for-the-occasion Armoury on James was rewarded with a spirited tune featuring a massed pipe and brass band lineup. Back at the Stingray stage, the now Hamilton-based Mattie Leon and Six Nations-based Indigenous artist Lacey Hill both impressed with their heartfelt material, while Cree roots-rocker Adrian Sutherland (leader of Midnight Shine) delivered songs from his two solo albums at the TD Stage. Drummer Chris Gormley (The Trews) and guitarist Matt Gormley helped out on Sutherland's songs that were both melodic and full of positive messaging.
Sources tell us that Supercrawl's closing night headliners, The Hamilton Superstars and Chantal Kreviazuk and Raine Maida, both came up with strong performances, ensuring the fest again ended on a high note.
Once again, the brain trust behind Supercrawl deserves major kudos for another well-run and superbly curated free event. A special shout-out for the sound crew, as the quality of the sound here has few equals amongst outdoor festivals.
Next year's event can't come soon enough!