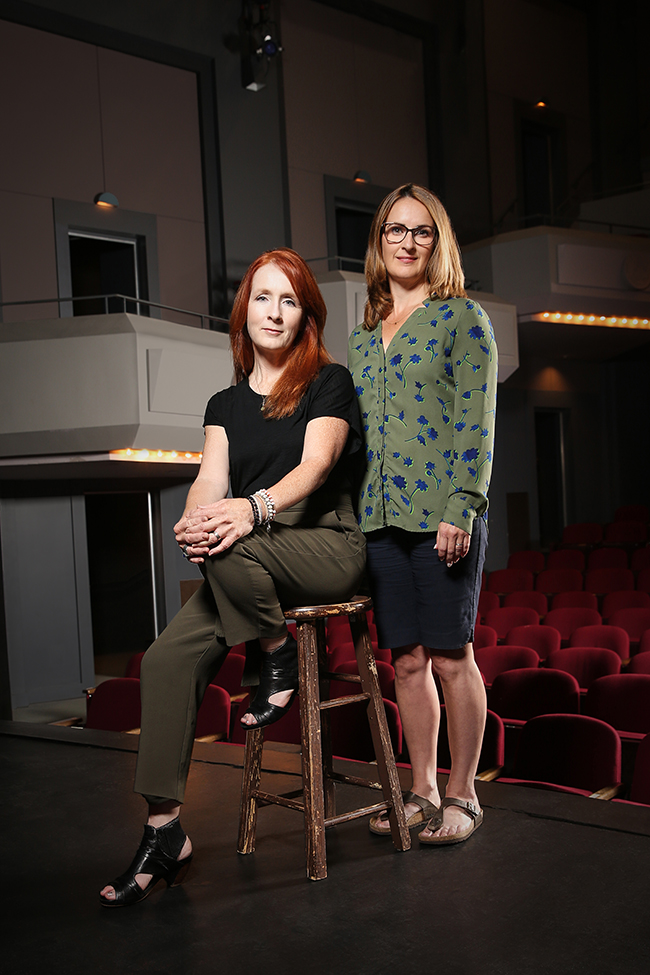 When artistic director Mary Francis Moore arrived at Theatre Aquarius in July of 2021, the house lights were despondently dimmed. With ongoing pandemic restrictions, one staff member in the building, and doors closed to the public, it was no longer the vibrant space it was meant to be. It was, in fact, the opposite of everything the acclaimed theatre ordinarily embodied: connection, expression, and inspiration. Uncertainty and solitude weren't building any bridges.
"Theatre is all about bringing people together, and the directive was to keep them separated," says Moore.
It's often those pivotal moments challenging us to think outside of the box that become the true catalyst for change. Moore seized the opportunity to look beyond the silence, setting up tables and chairs outside the theatre herself so that she could converse with Hamilton's artistic community. A year later those colourful bistro sets have multiplied, now transformed into a full patio space in front of the storied downtown venue, welcoming audiences back to connect over coffee on the cusp of their golden celebrations.
As anyone well-versed in the world of theatre knows, drama is everywhere, literally. Theatres weather both successes and failures, juggling a myriad of challenging technical, financial, and artistic hurdles.
"From the very beginning we played the World Series every day, but we had an indelible vision to succeed and we didn't give up. The artists did the best work they could because they trusted us and felt supported," says Stephen Newman, who spent 35 seasons as director and stage manager with Theatre Aquarius. "Our first headquarters was in a former bakery at 3 Leeds St. in the industrial North End of Hamilton," Newman recalls. Over the next 18 years, Theatre Aquarius' productions were staged in The Studio Theatre at Hamilton Place, but as audiences grew, they needed a bigger home of their own. A number of studies were done to examine the feasibility of converting libraries and public schools into permanent spaces for the theatre, including the historic Hamilton Custom House, built in 1858, but in the end an empty parking lot reigned supreme and Lett Smith Architects began the build in 1988.
The DuMaurier Centre – now Theatre Aquarius – at 190 King William St. opened its doors to the public in 1991. It wasn't an easy road, there were trials and tribulations in those early days, but Hamilton's only professional theatre now welcomes over 100,000 visitors a year and provides a wealth of economic and artistic enrichment to the city. As a member of the Professional Association of Canadian Theatres (PACT), it is recognized as a category A (over 700 seats), among one of only 19 such theatres across the country, and is working with five separate unions and scores of talent.
With the revitalization of the downtown entertainment core in full swing, the theatre is presently sitting in an ideal spot to showcase its vital position as one of Hamilton's most iconic institutions. After 20 years as executive director, Lorna Zaremba has recently retired, leaving behind a legacy of dedication and direction that has been instrumental in guiding the theatre towards its post-pandemic future.
Appointed this July, executive director Kelly Straughan shares Zaremba's vision to support the theatre as a point of connection for the community. "These are transformational times, and as we enter our 50th anniversary, Theatre Aquarius is poised for tremendous growth and renewal," says Straughan. "The arts are synonymous with creativity and resiliency. We will continue to harness this intense and sustained evolution to bring (theatre-goers) the professional theatre we know and love, while providing development opportunities for emerging artists and contributing to the city of Hamilton."
After more than two years of restrictions due to the pandemic, board chair Annette Hamm is looking forward to the upcoming season and getting back to seeing an appreciative crowd on a nightly basis. "Every play brings something different to the table and sharing the experience of that moment in time is a special part of going to the theatre."
With an "All Canadian Season" of powerful themes, upcoming shows are highlighting a spirit of hope and renewal, while teams are simultaneously launching relevant partnerships with local, national, and international arts associations to promote conversations and conscious change. They're working closely with the Hamilton Community Foundation and the Incite Foundation for The Arts to reach wider audiences, support under-represented communities, and facilitate a number of sponsored placements. Current initiatives also include expanding patron accessibility with the launch of new digital playbills, video and audio presentations, support for new and emerging artists, new play development, and exciting virtual and augmented reality projects that will ignite next-level storytelling.
A Peek Behind the Curtain
Hamilton in the House: Theatre Aquarius is showcasing the work of many local artists and forging new collaborations with a number of award-winning creatives, including Red Betty Theatre, playwright Donna-Michelle St. Bernard, who is director of new play development, Karen Ancheta, artistic director of Porch Light Theatre, and Hamilton-born director and playwright Aaron Jan.
Backstage Pass: Visual acknowledgments of diversity are displayed on the exterior and interior of the building, including land acknowledgements mounted in the lobby, and LGBTQ+ posters in the green rooms designed by stage managers Beth Bruck and Jasmyne Leisemer.
Community Nights: Watch for "pay what you wish" nights offered at price points of $10, $15 and $20.
Conscious Collectors: Head of wardrobe Sonia Lewis repurposes and recycles clothing and costumes with other theatres, shelters, schools, and local organizations.
Fringe Hub: Once a venue sponsor, Theatre Aquarius is now the central hub for the Hamilton Fringe Festival, with a fully-equipped outdoor event stage, licensed patio, workshops, discussion panels, art displays, and pop-up performances from local, national, and international artists.
Outreach Oasis: Outreach programs at Theatre Aquarius include programs for LGBTQ+, newcomer and Indigenous community members, sponsored theatre school registrations, sponsored ticket programs, and Play Club for Underserved Youth. Its theatre school, providing a wide range of creative classes for all ages, is conveniently located just across the street from the Theatre Aquarius.
Support the Arts: Theatre Aquarius is a not-for-profit corporation and a registered charitable organization and relies on your support.
A Trip Through Time
1973: Artistic directors Peter Mandia and his wife Nanci Rossov from the University of Ottawa Drama Guild co-found Theatre Aquarius in 1970 and bring it to Hamilton. Rossov directs the inaugural production of Hadrian VII starring Ted Follows in the McIntyre Theatre at Mohawk College. Subsequent productions take place at the 325-seat Studio Theatre at Hamilton Place where they'll be mounted for the next 18 years. Stephen Newman comes on board as co-director and stage manager.
1976: Theatre Aquarius launches the Performing Arts Programme, engaging thousands of young people and giving them the opportunity to discover the magic found in theatre.
1983: Rossov leaves Hamilton and moves to Los Angeles to attend the American Film Institute's Directors Program.
1988: Construction on a state-of-the-art theatre starts in an empty parking lot on King William Street and takes more than 18 months to complete.
1989: Bill Freeman's Glory Days hits the stage, telling the story of the 1946 Stelco steel strike. Generations of Hamilton steel workers get the chance to see their own stories realized on stage. Actual play readings were held at the Union Hall 1005 on Barton Street.
1991: Founding artistic team Peter Mandia and Stephen Newman cut the ribbon in celebration of the opening of Theatre Aquarius' new home at 190 King William St., which includes the lavish 700-seat Irving Zucker Auditorium and the 125-seat Norman and Louise Haac Studio Theatre, designed by Peter Smith of Lett Smith Architects.
1997: Theatre Aquarius receives a Lieutenant Governor's Award for Business Excellence in the Arts.
2005: Theatre Aquarius receives the Hamilton Chamber of Commerce Outstanding Business Achievement Award.
2008: Theatre Aquarius receives Tourism Hamilton's Arts & Entertainment Ambassador Award.
2011: Buddy: The Buddy Holly Story starring Stoney Creek's own Jeff Giles breaks The Rocky Horror Picture Show's highest-grossing box office record from the previous season.
2014: Mary Poppins eclipses all others with a sold-out run to become the highest-grossing Theatre Aquarius production in 42 years.
2017: Joseph and The Amazing Technicolor Dreamcoat has a wildly popular sold-out run and draws rave reviews from critics and crowd alike.
2020: The theatre closes due to pandemic restrictions on March 13, and doesn't open again until Oct. 30, 2021 for An Evening with Amy Sky and Friends, a celebration of frontline workers, then is forced to close again Jan. 5, 2022.
2022: The theatre re-opens on Jan. 31, 2022.
2023: Theatre Aquarius will mark its 50th anniversary.
THEATRE AQUARIUS – 2022/23 Season
Salt Baby
Written by Falen Johnson, Sept. 14-Oct. 1, 2022
Serving Elizabeth
Written by Marcia Johnson, Oct.19-Nov. 5, 2022
A Hamilton Holiday
Written by Mary Francis Moore and company, Dec. 7-24, 2022
The Extinction Therapist World Premiere
Written by Clem Martini, Jan. 25-Feb. 11, 2023
The Gig Rolling World Premiere
Written by Mark Crawford, March 8-25, 2023
Maggie World Premiere
Music by Johnny Reid, Matt Murray, and Bob Foster, direction and dramaturgy by Mary Francis Moore, musical direction by Bob Foster, April 19- May 6, 2023