Emerson Arts staging Crushed, rain or shine, 

just after sunset in William Schwenger Park.
Imagine, a murder mystery where no great detective is on hand with the skill and panache of Agatha Christie's Hercule Poirot to solve a complex case. All we have are five suspects and a dead body.
Welcome to Crushed, a play that the professional Emerson Arts theatre company is staging nightly outdoors at 8:30 p.m. from June 16 to 18 at the William Schwenger Park near Garth Street and Claudette Gate on the west Hamilton Mountain.
Crushed is happening rain or shine and attendees should bring their own chairs and dress appropriately, says playwright and Emerson Arts co-founder Mason Micevski. One exception is the prospect of lightning, which would result in the cancellation and rescheduling of the show.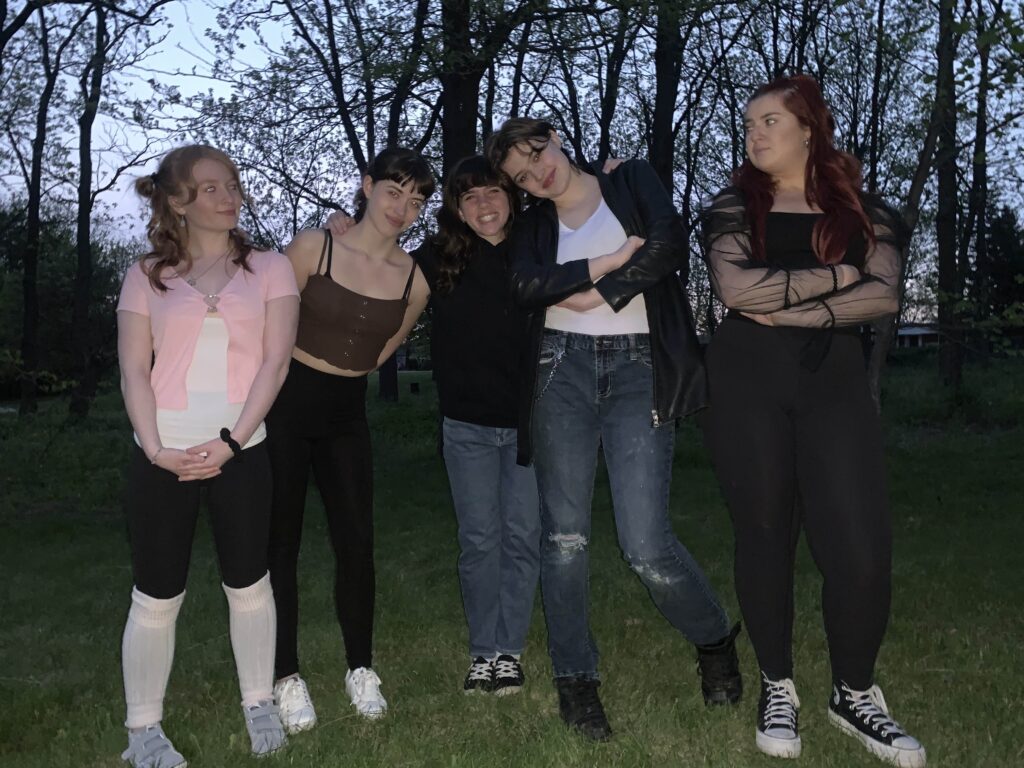 The audience size is restricted to 30 people to ensure that everyone can see and hear the production in the park.
Here are the bare outlines of Crushed without ruining it for the audience.
Lenny (played by Madison Stainton) is late in getting her portion of a joint high school project completed and so she and other teenage girls quietly sneak it into the home of teacher Mr. McColly to meet a deadline. On their way out they discover he has been murdered.
Four of the teens are best friends on the cusp of high school graduation. Elaine (played by Marina Wilson) brings along her little "annoying" younger sister Sammie (played by Kari Ostermeier) at the insistence of their mother.
The other two characters in the play are Maddie (played by Isabella Chiarini) who is called "prissy" by the playwright; while Cassie (Abbey Hanson) appears "meek and slightly demure."
What raises the tension and fear among the teens is the understanding that one of them is a killer.
Elaine, a grade-A student, tries to create some order in the chaos following the murder. "Elaine is the kind of person who likes to work things out with facts and reason and has an analytical view of life and what is going on," says Wilson.  
Yet Elaine is also a suspect, as is her very close companion Lenny. The latter is "a badass," wearing a leather jacket, says, Stainton. To prepare for her role, she wrote down a full account of Lenny. "Lenny is fiery, and doesn't care what other people think of her."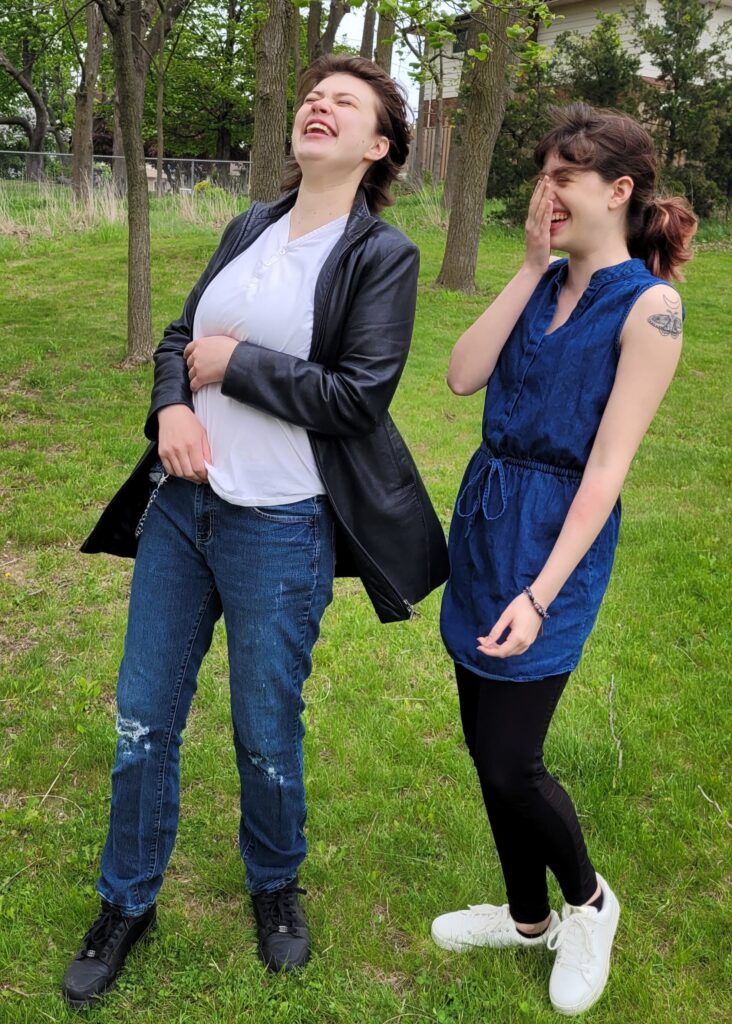 Each girl has a piece of information to help unravel the mystery. They also have a lot of secrets between them. Family, love, trust, and sisterhood are all themes that run throughout the show, says Micevski.
Starting the play at 8:30 p.m. is deliberate because the setting of the sun and growing darkness among the trees in the park only enhances the sense of danger and foreboding in the mystery.
Emerson Arts specializes in immersive outdoor productions and so the young trained actors must be nimble and quick off their feet to contend with the weather, as well as unpredictable suburban sounds of cars parking, children, dogs, birds and even fireworks, says Emily Bolyea, the director of Crushed and the other Emerson co-founder.
"No matter what happens, we need to maintain the focus of the audience and keep them from being distracted," she says.
Veterans of the local theatre scene, Bolyea and Micevski met six years ago as actors in another play and bonded almost immediately.
Bolyea has a background in the arts and charities and a full-time job, while Micevski has written 10 full-length plays and teaches voice, dance and acting.
"We come up with things all the time, like you could make a movie about that or we need to write this as a play," says Bolyea, who is 15 years older than Micevski.
The two work together on a host of local productions, including their annual Fright Night productions. For those shows, ticket holders are informed 48 hours before the performance of its location within Hamilton. The first Halloween-themed performance in October 2020 was held at Dundurn Castle. The second was at Felker's Falls.
Emerson Arts has also put on productions at The Staircase Theatre, the Pearl Company and the Spice Factory.
Micevski and Bolyea just completed their first full two-act musical When We're 40. Act 1 features six teens in 1994, when two kids make a pack that if they're single when they are 40 they'll get married. Act 2 features a different cast more than 20 years later.
Since COVID, the co-writers have shared a house on the Mountain but they are not a couple.
"Neither of us have partners. We just love spending time together," explains Micevski. "Emily has two daughters and from the three of them together I get most of my ideas," he says.
The two also offer customized murder mystery parties that they write, along with singing telegrams.
In most Emerson Arts shows, the characters are gender neutral, and the plots centre around women or the LGBTQ+ community and their journeys through various struggles.
Micevski says the theatre company has never received funding or financing of any kind. Most of the proceeds of ticket sales got to pay actors and staff.
Micevski has a background in musical theatre and his inspiration for Crushed comes from both Marvel comics and how a crime is solved by Belgian detective Poirot in Christie's novel Murder on the Orient Express. "I really enjoyed its ending and how it all connected together in obvious and not-so-obvious ways. So, that to me is what I would like to bring into my work."
Tickets for Crushed are $25 and are available here. Most of the funds go toward paying the actors. The show is recommended for audiences 13-plus. Bring your own chair.