Heather Valley and the Current State, Wreckless Harbour and Checkerboard Floors

 frequently play local bars and breweries and offer a fantastic show for their audiences. 
Is there a more enjoyable way to spend an afternoon or evening than with some good local craft brews (or other beverage of choice) while listening to a great local band? Maybe you have better ideas but I sure don't. Here are a trio of Hamilton bands making the rounds of breweries and bars such as Shawn & Ed Brewing Co, Clifford Brewing Company and Collective Arts. These bands are killer live and deserve to be more well known.
Hamilton's a city that's bursting with musical talent, boasting such worldwide successes as the Arkells, Teenage Head, Terra Lightfoot and the Killjoys to name just a few. Every great performer has to start somewhere, however, and if you've been frequenting some of Steeltown's best bars and breweries, you may have seen some amazing talent that stand poised for stardom far and wide. Here are three such acts to watch in 2024.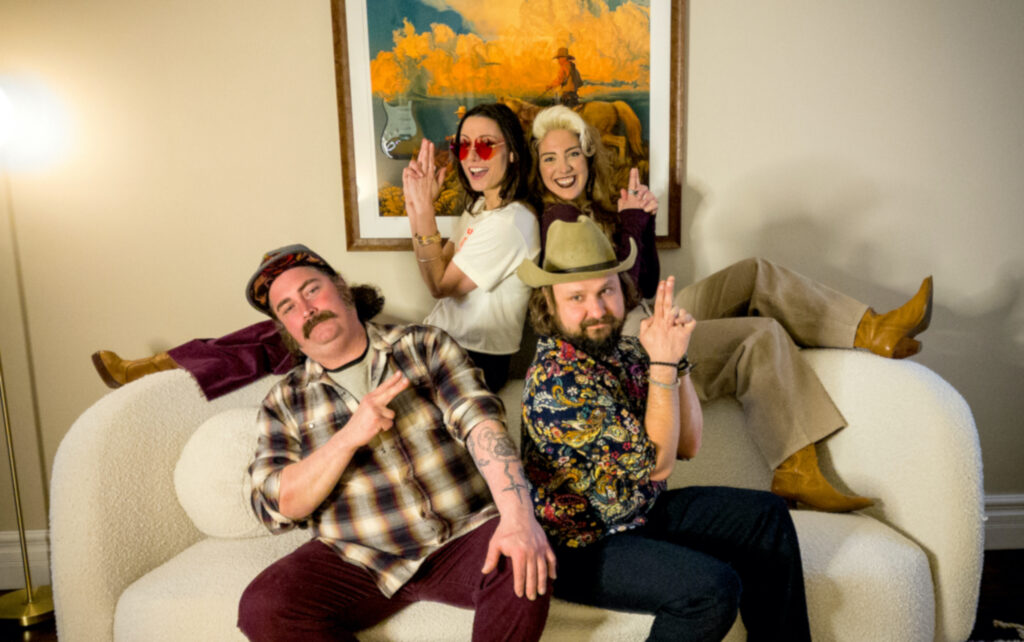 Heather Valley and the Current State
Heather Valley is a self-described student of human nature in both her life and her art. Raised by immigrants from central Italy in small-town northern Ontario, she always felt out of place growing up. "The values I was raised with were not reflected around me. Through law, bartending, and music I spent years trying to understand people's motivations, their self-perceptions, how these change over time and the things people tell themselves to reconcile it all."
Following a harrowing abusive relationship, Valley found herself without a home, a career, or a sense of mental health. Taking on a bartending job at the Casbah, Valley met Benny Jay. "He was a huge jam band and Grateful Dead fan," says Valley, "whereas I was into Americana and alternative country. Turns out there is a lot of crossover between those genres. We became fast friends and I now consider him to be my brother." Through her work in the music scene, Valley would meet the other musicians with whom she would first share a stage in December 2021.
Heather Valley and the Current State consist of Valley; veteran electric guitar virtuouso Matty Simpson (who also performs with the Matty Simpson band, Golden Feather, and others); Justine "the Bass Machine" Fischer; and drummer Benny Jay.
Appearing as guest vocalists: Melissa Marchese and Laura Cole, both of whom appear on backup and harmony vocals on an upcoming record Harsh Realm.
Valley sees songwriting as a way of getting at a universal truth about the human experience, either by describing something we all feel in a novel way, or describing something she has struggled to put her finger on in a simple and obvious way. "I think that is the trick and the gift of good songwriting – it creates connection – and by choosing to be open and vulnerable about the pain I've experienced in life through my music, others feel safer talking about their own pain, and we all feel less alone."
Valley's primary goal for the band is to keep playing live, connecting with folks, and creating more music. Her first album, Desert Message, was released in 2019 and charted No. 5 in Canada, while also being named best record/song of 2019 in the Netherlands. The album was reviewed by the Philadelphia Inquirer and was so successful, it led to a European tour. Not bad for an independent release. thecurrentstate.net
Wreckless Harbour
Wreckless Harbour owes its existence to Fort Elgin, a community group based in Beasley known for hosting musical events throughout Hamilton. It was at one of Fort Elgin's socially distanced open mic events that bandmates Trevor Roach, Lawren Helder, and Jon "J.J." Harley first met.
Following the meetup, Roach – who grew up on bluegrass festivals and trips along the east coast to his family's home in Cape Breton – led an open jam session where he was joined by Helder and Harley, both of whom share talents for vocals, banjo, and the mandolin, with Harley adding violin to the mix.
Inspired by the meeting, Roach wrote "Step Lightly" later that evening, which became the first song for the newly-created ensemble.
With the recruitment of Jon's longtime collaborator Mark "Big Mark" Korczynski, Wreckless Harbour was born, with "Step Lightly" becoming one of the band's signature songs. Roach's songwriting and musical contributions would be primarily responsible for the band's evolution of sound and style in those early days, with Helder and Harley contributing their own writing over time.
"Playing in a folk-inspired band as a classically trained violinist has been quite the adventure," says Harley.
"It's incredibly liberating. In classical music, we're often bound by strict notation and precise interpretations. But in folk, there's room for spontaneity and personal expression. It's like setting sail without a map and just following the wind. Folk music often relies on playing by ear, which can be a bit of a departure from the sheet music we're used to in the classical world, but it's a departure that feels natural to me and my playing styles."
Harley notes that Wreckless Harbour has challenged and inspired him creatively to embrace the informal, communal spirit of folk music. "I'm so very glad to be doing this with my very dear friends."
"Our music is a place where people can feel safe," says Korczynski. "It's a very cooperative environment that breeds the free flow of thought. I hope that this is reflected in our sound and recognized by people who listen to our music."
Helder really enjoys the blend of traditional sounds with more modern songwriting. "I think acoustic instruments have an almost universal connection with people. They're very expressive and direct, and the way they blend together in a string band setup can be magical, like the instruments are having a conversation with one another. It's a great foundation for each of our unique songwriting styles."
What are their hopes for the future of Wreckless Harbour?
"I want to connect with more people and play more shows with artists we love," says Roach, who also can't wait to press their first vinyl record.
"I'm looking forward to sharing the recordings we're currently working on," says Helder. "I'm also excited to try more collaborative writing with my bandmates. I think we've only scratched the surface of the music we can dream up together." linktr.ee/wrecklessharbour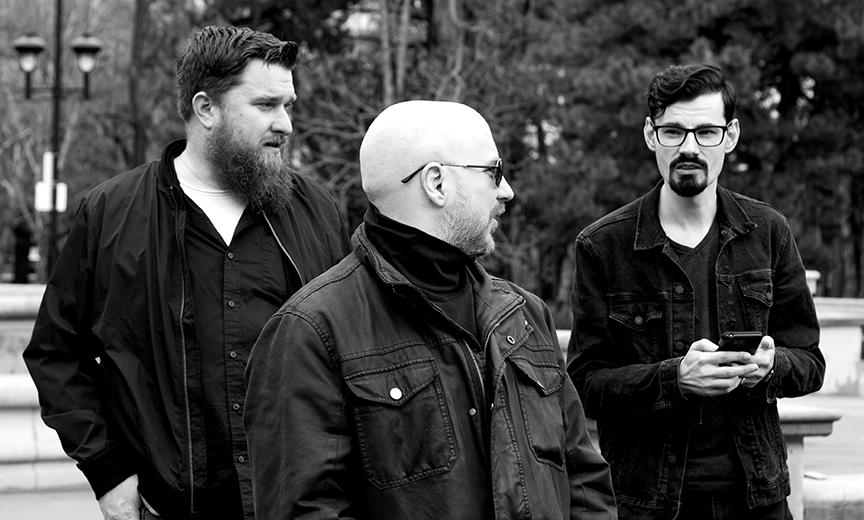 Checkerboard Floors
For more than 10 years, Checkerboard Floors has been playing music to dance to, selling out high-energy shows that have the crowds singing and moving together. Their 2023 single "Could It Be" is now streaming across multiple channels.
"I think I've been lucky to be exposed to music from a young age, growing up in a musical family," says singer and guitarist Derek Palango, whose parents played in a band together for a time when Palango was in elementary school. "I eventually dove into my dad's Led Zeppelin and Beatles albums, and that started me down a path. I love that rock 'n' roll, and rock alternative/indie music by extension, can sort of marry elements from all kinds of music which came before it and still wear those influences on its sleeve."
Checkerboard Floors is Palango (vocals, guitar, and also one half of the Corduroys), Matt Outerson (bass, vocals), and Kevin Barrie (drums, vocals), all of whom came together in 2009 through work, mutual friends, and a shared love of music. They have built up a large repertoire of covers while refining their own sound, which contains at times hints of blues, funk, Motown and jazz, in varying degrees, and all with the aim of getting people moving.
"The music we play has always been able to shift a crowd from their seats to the dance floor," says Outerson, who describes himself as a big believer in locking in the low end, yet always stands ready to add a bit of flair (a bass flourish here, a vocal harmony line there) when required to round out the band's sound. "Nothing is more satisfying than seeing a group get up and get moving, and to inspire people to groove with our original music is next level."
Palango hopes that they just keep making music without getting too specific beyond that. "I'm just thankful that, for someone who suddenly found himself playing steady gigs back in 2009, borrowing my dad's amp and pedals to start, I can now look back at the better part of 15 years' worth of amazing experiences and find that I'm still able to do this with friends new and old, bringing happiness to rooms full of people. I'm at a time in my life, especially coming through this pandemic, where I'm trying as best I can to keep things as simple as possible."
Outerson says that with all the songs written and ready to record, he would love nothing more than to find a good chunk of uninterrupted time to focus on recording and producing all of their music and sharing it. "It would be a dream come true."
And as for Barrie? "As long as we're still all having a great time, my dream is that we can just keep at it, keep recording music and playing gigs, but maybe with earlier hours." checkerboardfloors.com