New Iceland-based airline 

launches European flights from John C. Munro Airport.
It wasn't a secret, but it's now official: PLAY Airlines announced regular flights from the Hamilton John C. Munro Airport to more than 24 European destinations connecting through Iceland.
On June 22, the first PLAY flight from Reykjavik to Hamilton taxied to a stop next to two planes of two other airlines also recently in the news: Swoop and WestJet.
PLAY's unmistakable solid red plane with playful white font was full of passengers who boarded in Iceland, many possibly visiting Hamilton for the first time. Along for the ride was PLAY CEO Birgir Jόnsson.
Jόnsson flew from Iceland to Hamilton to meet with press, City and airport staff, and a few local politicians to celebrate PLAY's inaugural flight to and from the Hamilton airport. A ribbon-cutting photo-op on the tarmac completed the proceedings, then the next group of travellers boarded the PLAY plane on its way back to Reykjavik.
Canada is a big country and a foreign airline has a lot of choices. Why Hamilton?
"The people on the team lobbying to bring us here said all the right things, and the enthusiasm of the City to receive us impacted our decision," Jόnsson said. "By challenging the competition in Toronto, we aim to benefit the residents of the area by offering an affordable means of travel to Iceland and beyond into Europe."
All of this is good news for the Hamilton region. It's possibly even a game changer.
One flight a day will leave the Hamilton airport for the capital of Iceland, then connect with other PLAY planes heading to cities such as Paris, Dublin, and London – all for fares cheaper than other major Canadian airlines.
Add to that the ease of flying out of an airport that isn't Pearson.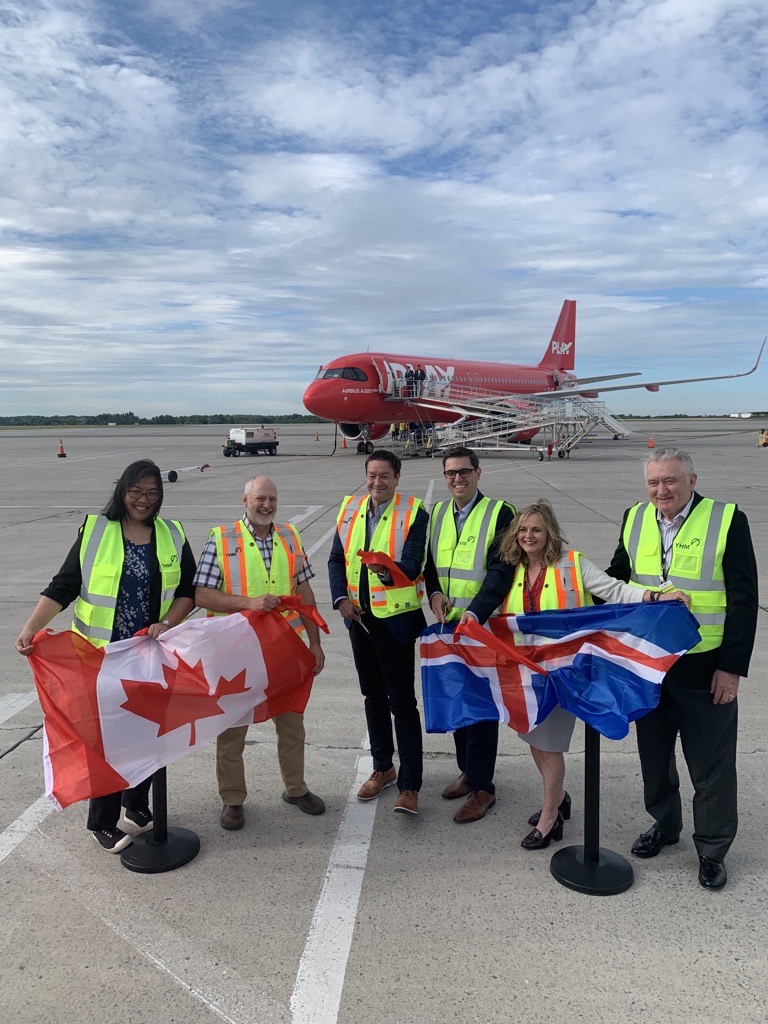 Jόnsson points out the plan is to create a healthy mixture of Canadians going to Europe and Europeans coming to Canada. "We see PLAY as an important part of a growing economy and tourism sector in the Hamilton region," he said. The move has the potential to further open Canada to international markets.
Clearly, price, reliability, and convenience are on the minds of consumers today wanting to fly.
"People want affordable travel," said Cathie Puckering, vice president & head of Vantage Airport Group.
"PLAY offers the convenience of a low-cost carrier hopefully making this airport the first airport of choice for local travellers."
What that means is PLAY utilizes the "pay what you need model." Customers will pay for each service – checking a bag or a carry-on, and selecting a seat, etc. – which then adds to the base flight price.
With this new airline flying out of John C. Munro, Hamiltonians are likely to get price cuts and convenience. But what about reliability?
PLAY is a relatively new company, launching its first flight only two years ago, now operating a fleet of 10 Airbus A320/321NEO aircraft. What started as a company of 13 people has grown to 500, which is still not a large venture nor has it yet stood the test of time. PLAY does, however, have a good track record flying out of other North American cities, specifically New York, Washington, Boston, and Baltimore.
But if there's one thing true about the airline industry, it's full of surprises.
For now, both WestJet and Swoop are landing and taking off from Hamilton. However, WestJet, which owns Swoop, has announced plans to scrap Swoop as its low-cost carrier option as of this fall.
Whether the WestJet brand will continue all Swoop routes from Hamilton to major cities across Canada – and the popular Hamilton to Las Vegas jaunt – remains to be seen. Recently, WestJet also folded SunWing into its operations, resulting in WestJet now having more than 200 planes in its fleet. Those planes will have to fly to and from somewhere.
WestJet offers flights from Hamilton to within Canada and the U.S., though fewer direct flights than Swoop. Lynx and Air Transat also fly from Hamilton. PLAY is the first to offer extensive access to Europe from Hamilton.
SIDENOTE: According to a press release, PLAY has announced a limited-time flight sale, offering up to 25 per cent off base fares for flights to Iceland (KEF), Amsterdam (AMS), Berlin (BER), Copenhagen (CPH), Stockholm (ARN), London (STN) and to Dublin (DUB), using the promo code: PLAYCANADA. The sale ends at 11:59 p.m. EST on June 25. Canadians will be able to book the discounted fare for travel dates between October 2023 to March 2024. For sale details visit flyplay.com/canada-offers.