The True North Gallery in Waterdown is a hidden gem that boasts works of art from some of music's most iconic names. For owners Geoff and Mabruka Kulawick, it's a truly one-of-a-kind-labour of love that celebrates the common intersection of musical genius with visual expression.
HAMILTON CITY Magazine readers driving along Highway 403 may well have been intrigued by the marker indicating the Waterdown exit for the True North Gallery. What is this place? Is it worth a short detour? The answer to that second query is a resounding yes, especially if you are a lover of music and visual art.
The gallery's full title is True North Gallery/The Music Gallery of Fine Art, and co-owners Geoff and Mabruka Kulawick are adamant in their belief that this is the world's only art gallery specifically devoted to the visual art created by notable, and in many cases, iconic musicians.
Geoff Kulawick heads Linus Entertainment, one of Canada's most important independent music companies and home to the famed roots music labels True North, Stony Plain, and Borealis, and his wife Mabruka is curator of the True North Gallery.
The gallery is installed in Griffin House, a large building in downtown Waterdown that serves as the Linus HQ and warehouse. The Kulawicks did not have to look very far to source material for their new gallery. as an extraordinary proportion of musical artists affiliated with Linus-owned record labels are also talented visual artists who are now well-represented in the True North Gallery.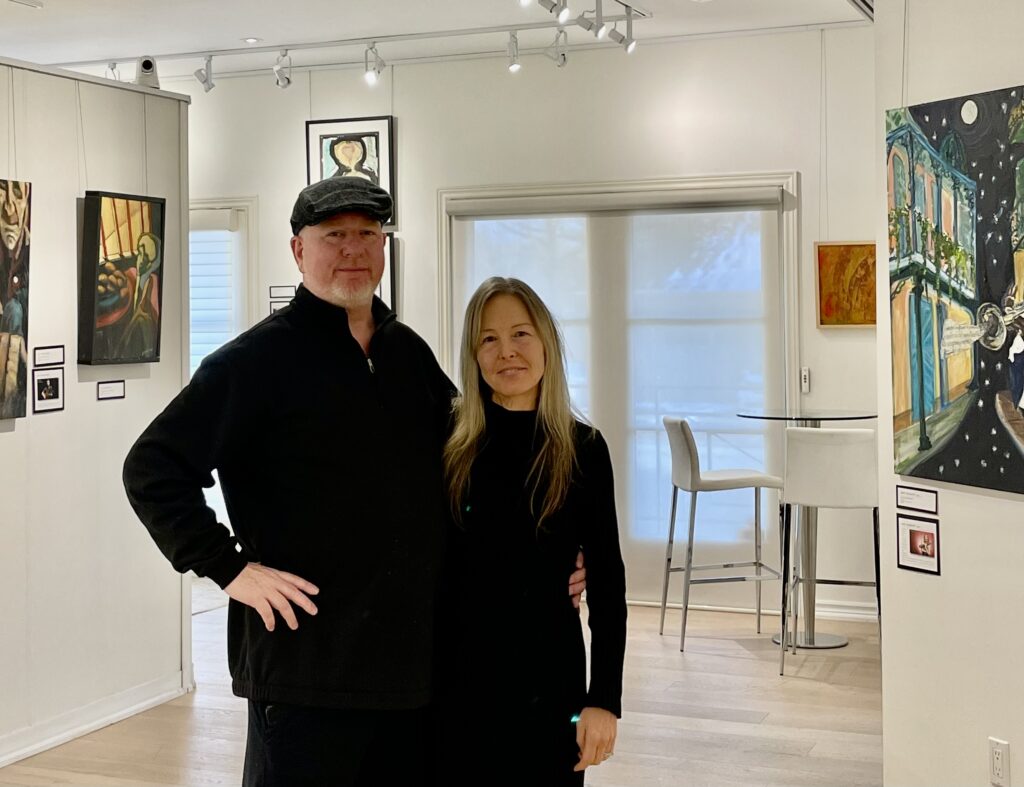 That list includes Murray McLauchlan, Buffy Sainte-Marie, jazz star Jane Bunnett, Ashley MacIsaac, Barney Bentall, and Marc Jordan. It was actually east coast bad boy fiddle virtuoso MacIsaac that sparked the idea of the gallery in Mabruka Kulawick's imagination when he sent the Kulawicks one of his original artworks as a gift after being signed to the label.
As Mabruka explained in an interview with FYIMusicNews, "that made me realize that a lot of musicians are so talented for things other than their music. I thought, 'why not create a space that also represented them as visual artists?'"
Her husband's research failed to find any other art gallery dedicated to visual art by musicians, so the couple forged ahead with the idea. The Kulawicks contributed pieces from their private collection and, Geoff tells HCM, "we started reaching out to artists, asking to see if we could get their work on consignment. Most of our pieces are on consignment."
Finding a gallery locale was easy, as there was surplus space available in Griffin House. Geoff recalls that "we found a City of Hamilton loan program for interior renovations and took advantage of that to build the gallery." The result is a gallery space comprising four rooms, and an expertly curated collection featuring both music superstars and relatively unknown talents.
The True North Gallery turns seven this year. Along with a good number of the exhibiting musician/artists, this scribe was lucky enough to attend its official opening event in March 2016. On hand to discuss the intersection of their music and art were national treasures Sainte-Marie and McLauchlan. In the years following, singer-songwriter Marc Jordan and Louie Perez of Los Lobos are among those to have hosted events in the gallery.
Mabruka and daughter Karina are both accomplished visual artists, and their vibrant work adorns their own studio space just above the gallery. They both gave HCM a recent guided tour of the True North Gallery, and their enthusiasm for the work displayed was palpable.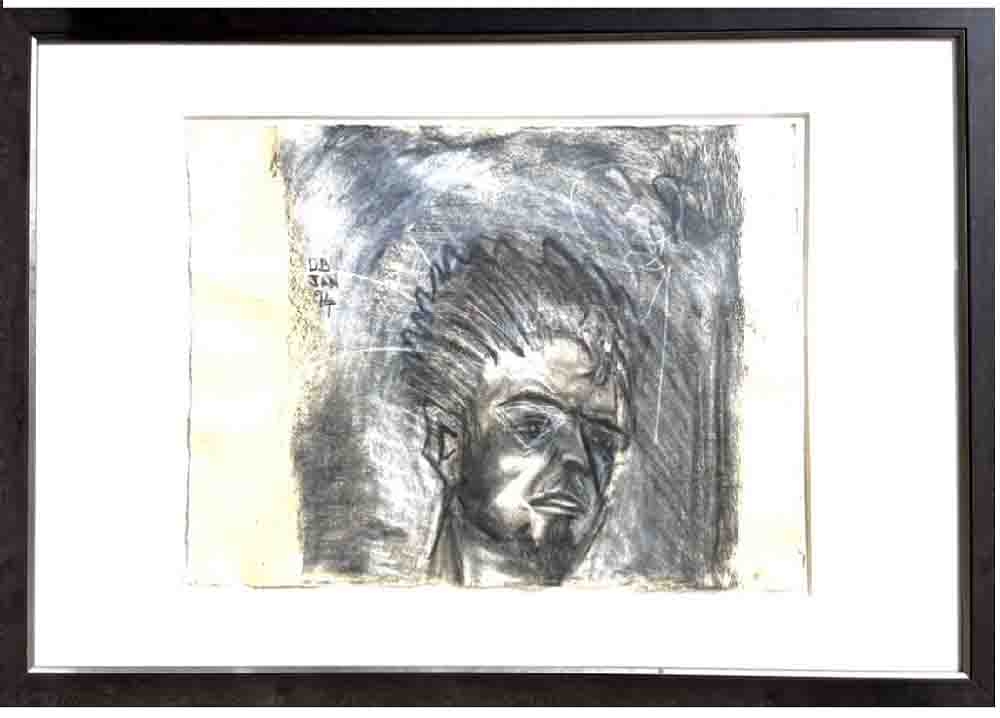 The gallery's mandate is to only exhibit the work of musicians who create visual art, or artists who are also active musically. The one exception made has been Andy Warhol, given a pass by virtue of his crucial role in the career of the Velvet Underground and as the inspiration for such musician/artists as Patti Smith. It is no coincidence then that a Warhol work is placed alongside two compelling Smith pieces, each comprising a polaroid and inscription on a vintage handkerchief.
Beatles John, Paul and Ringo are featured with small pieces here, while other legendary musicians represented have included David Bowie, Miles Davis, Joni Mitchell, Leonard Cohen, Graham Nash, Tony Bennett, Janis Joplin, Jimi Hendrix, Phil Collins, Jerry Garcia, Bob Dylan, Eric Clapton, Ron Wood, and Grace Slick.
Currently taking pride of place at True North is an original self-portrait by David Bowie, created as part of his 1995 album release, Outside. Utilizing pencil and charcoal, the evocative piece is by far the gallery's most expensive offering, at $100,000. "If one of your readers is so inclined, I'd like to sell that one," says Geoff. Karina adds that "when people find out we have it, they'll come just to see it."
The True North gallery name may suggest a dominant theme of Canadiana, and there are certainly some works hanging that show the influence of the Group of Seven greats and this country's landscapes. McLauchlan acknowledges the inspiration of Lawren Harris, for instance, and the work of Toronto musician and multi-media artist Kurt Swinghammer also references the landscape and symbols of the Great White North.
Swinghammer is called the Gallery's most popular artist by the Kulawicks. His Red Canoe series has always sold quickly here, and Swinghammer and True North also collaborated on his Medicine Hat series depicting the late Gord Downie. This was a fundraising project for the Downie-Wenjack Foundation in which all artist and gallery proceeds went to that charity, which aims to build cultural understanding and create a path toward reconciliation between Indigenous and non-Indigenous peoples.
Swinghammer tells HCM that he is thrilled to be affiliated with the True North Gallery. "Personally it's very meaningful to be included alongside so many significant musicians that I grew up listening to and worshipping. I also love that friends from the local scene, such as the incredibly talented Martin Tielli from the Rheostatics are part of the roster," he says.
"True North has a fantastic brand identity. Most famous musicians keep their visual art relatively private, so the collection can be a surprising discovery. I dig that Geoff and Mabruka have curated a diverse and eclectic representation that includes three-quarters of the Beatles and half of Half Japanese (U.S. underground punk musician Jad Fair)."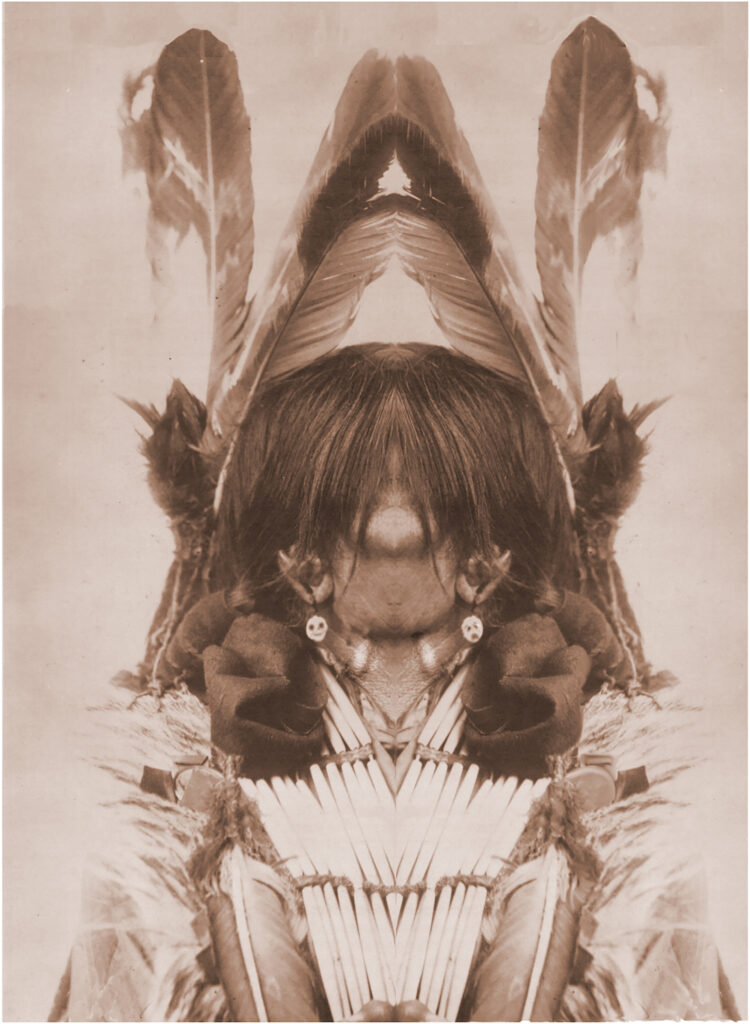 The gallery closed during much of the COVID period, but the Kulawicks report that online sales have been strong. Analyzing the buyers of exhibited work, Mabruka says "it is mostly women buying for their husbands."
Geoff adds, "there are two kinds of buyers, those who buy for the aesthetics of the piece and those who want to feel a connection with the artist. I'd say it is a relatively equal amount in each category."
Highway signs aside, the gallery has not done much advertising or marketing, so its existence has been something of a well-kept secret in the Hamilton region. Word has gradually been getting out to the point that musicians/artists are now contacting True North offering their work.
Appointments to tour the True North Gallery are strongly recommended as the gallery is not always staffed during regular business hours and as such may not be able to accommodate walk-in visits without pre-booking.
According to Geoff, the gallery "is more a labour of love than a venture where we can retire from the proceeds. Owning the building means rent is not a factor, and that's a big advantage."
To Mabruka : "this is more for the love of it, the sharing of beautiful work these artists have all done. We want people to know there are beautiful pieces here, like the David Bowie, Patti Smith, and Andy Warhol. Come and see them while they are still here. Who knows if there'll ever be another Bowie work here in Hamilton. Once it's gone, you'll be sad you missed out."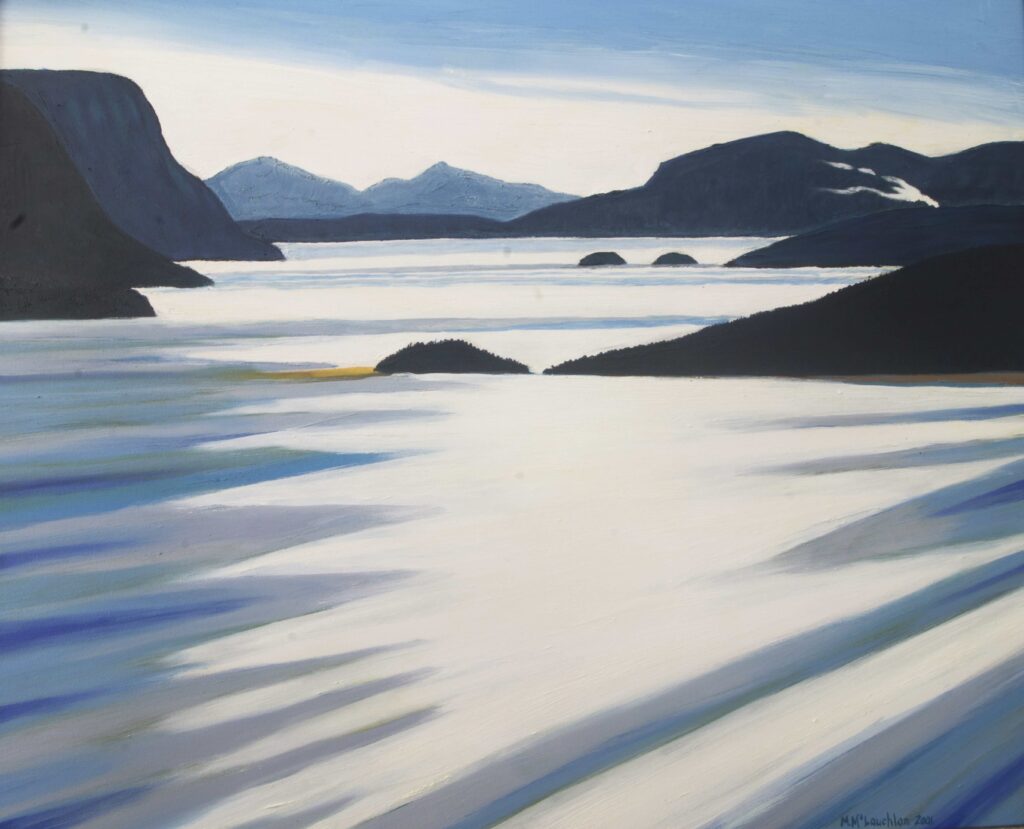 Why musicians paint
The True North Gallery vividly demonstrates that many famed musicians also have real skill as visual artists. To get a fix on why musicians paint, HCM interviewed two Toronto musicians featured in the gallery, Kurt Swinghammer and Kevin Hearn, Barenaked Ladies keyboardist, music director for Lou Reed, and a solo recording artist.
To Swinghammer, the two activities (music and art) "can come from the same impulse and share many attributes. In the simplest sense, music is social and visual art is solitary. For me, the two are complementary and make me feel balanced," he says.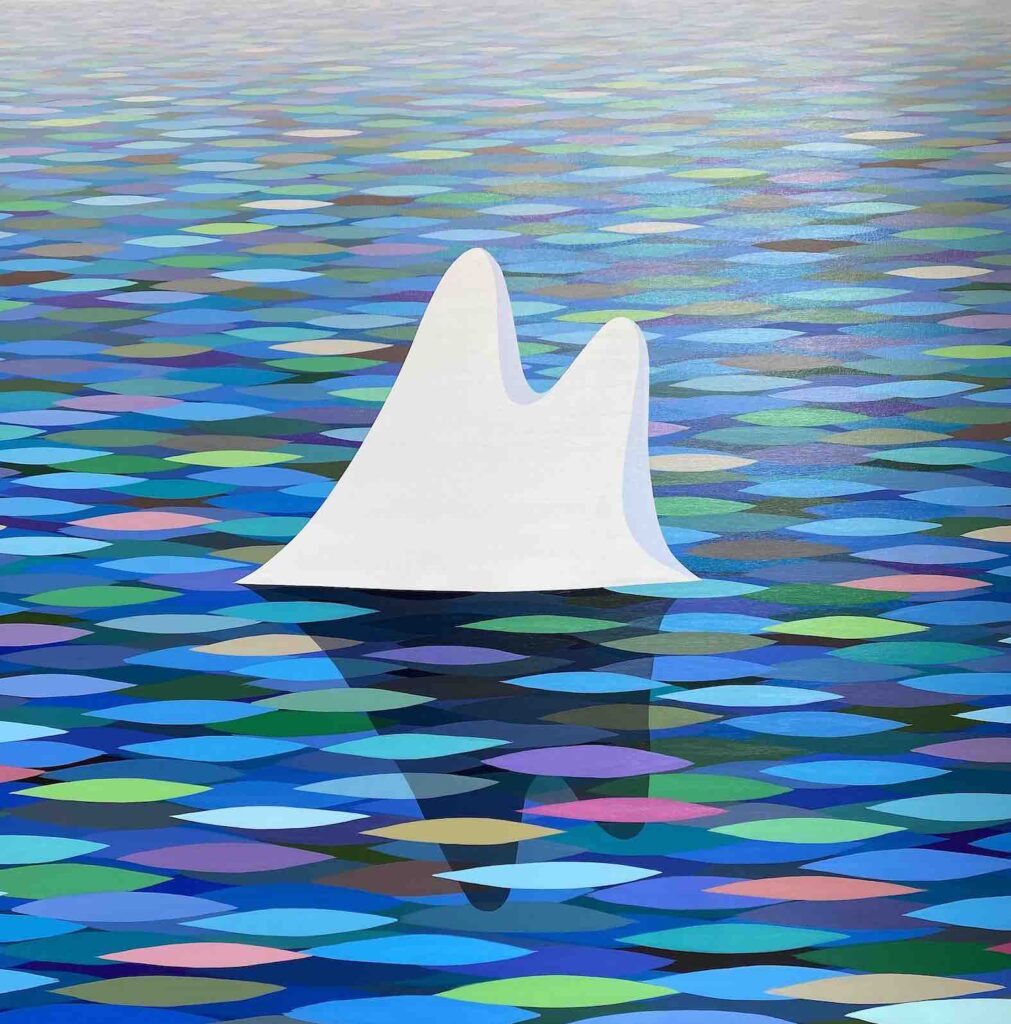 "Perhaps some 'successful' musicians need to make art that a producer or industry exec can't futz with. Maybe their visual art is an outlet for a more pure, direct expression that is uncontaminated by showbiz expectations."
Swinghammer says that when he did the set design of Joni Mitchell's MuchMusic special and asked her to sign his copy of the sheet music book to Hejira, they chatted about the common phenomena of musicians who also make art.
"Survival as an artist can be precarious and you have a better chance if you stick to one thing and perfect it. My two iconic multi-discipline role models, Michael Snow and Joni Mitchell, gave me confidence to pursue both fields."
To Hearn, the two disciplines "are sister arts. In both scenarios, one can articulate abstract ideas in a similar way, from imagination to expression. It is very fun and sometimes challenging to do that, without the pressure of making a new album etc. Drawing makes me happy. It's like visiting a wonderful place in my imagination. When I finish a drawing, I am in a good mood. I find it very relaxing and fun."
Hearn, an avid art collector, says he enjoys discovering musicians who create visual art.
"I remember Lou Reed loved doing his photography. It was a different way for him to express himself that he truly enjoyed. It was inspiring to witness him taking photos when we were on tour together, and it felt like he was channeling the more peaceful side of his nature. Bob Dylan often drew his surroundings, like a view of a hotel pool. I have a signed print of a Bob Dylan drawing that I treasure."