"All good partnerships start with gin and tonic."
So declares Jason Cassis, CEO and co-founder of Equal Parts Hospitality, the management company behind Hamilton eateries The Diplomat, Aberdeen Tavern, The French, and the Knollwood Golf Club. Cassis's latest venture is as part of the collective behind The Laundry Rooms, an intriguing new vision for short-term and extended-stay accommodations that recently opened its doors in Hamilton.
Roughly five years ago, Cassis met with Erin McCluskey and Paul McGrath, co-founders of Laundry Design Works, a Hamilton design and advertising studio that specializes in giving businesses fresh branding makeovers. (They are the group behind the recent revitalization of Hamilton's airport.)
Cassis had an idea, sparked by a tour he'd had of the Laundry Design Works' former studio on King Street East in the International Village. "Paul and Erin had created something called 'the laundry room,'" Cassis recalls.
"It was an individual Airbnb space above their studio that you could rent out. I looked at it and thought 'this is really neat.' It stuck with me."
Over drinks, Cassis, McCluskey, and McGrath hashed out the possibility of pluralizing the Laundry Room space into an actual business. The only thing missing was the space part: they had no rooms and no building. That problem was solved thanks to Matthew Opferkuch, an entrepreneur and investor with decades of experience in the hospitality sector. While meeting with Cassis in Waterloo on a separate project, Opferkuch mentioned that he was working on an apartment tower from which he was planning to hold back a few dozen units, possibly to lease to the University of Waterloo. Cassis says his reaction was instant: "I'll take them."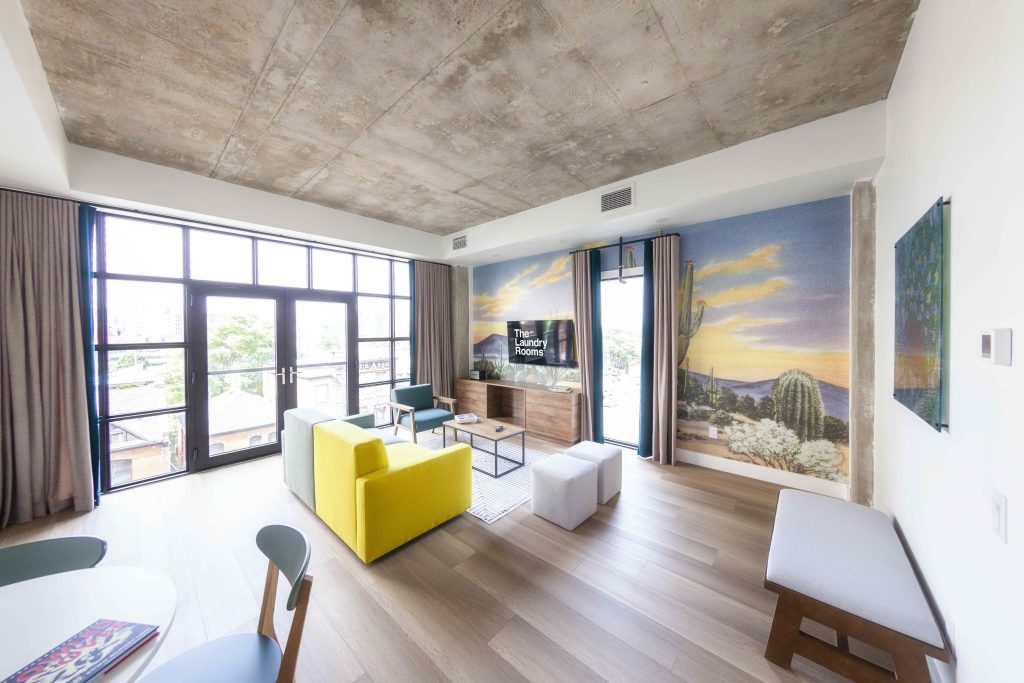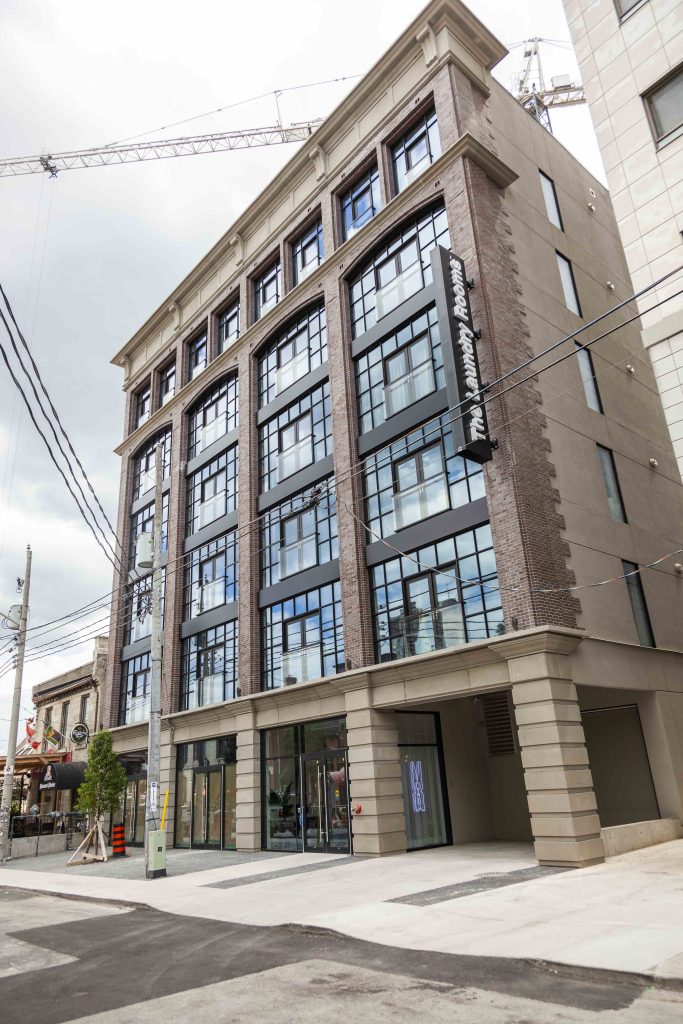 And so was born the first Laundry Rooms location, in uptown Waterloo. Two more opened in nearby Cambridge and Kitchener shortly thereafter. The newest location, in Hamilton, occupies nearly an entire block of Augusta Street, close to St. Joseph's Hospital in the lower city. (Two more locations are in the works for Barrie and London.) The six-storey Augusta Street location has 40 units, nearly half of which are spacious two-bedroom suites – families and pets are welcome. The lobby features a "chef-inspired" restobar called Plank and a rooftop patio, complete with working French food truck. (They used a crane to get it up there while working on the building in the summer.) On the ground floor of one of the flanking buildings, due to be completed late next year, there will be a gym called Hustle & Flow that is open to guests. In the building on the other side, also due next year, the partners have planned a Soho House-style members' club, tentatively called The Alchemist, with programming six nights a week, also open to guests.
The idea behind The Laundry Rooms is deceptively simple: take everything good about the hotel experience – comfort, dependability, cleanliness, access to staff and services – and leave out everything bad – inconvenient location, boring rooms and buildings, lack of space and privacy. Then do the same with the Airbnb experience, and mash the two together. The result is a boutique hotel chain – Opferkuch says he prefers "accommodation brand" – located in an emerging, centrally located neighbourhood, with bright, spacious rooms filled with work by local artists and equipped with kitchens and laundry. Laundry Rooms locations are designed to be lived in, not merely stayed at.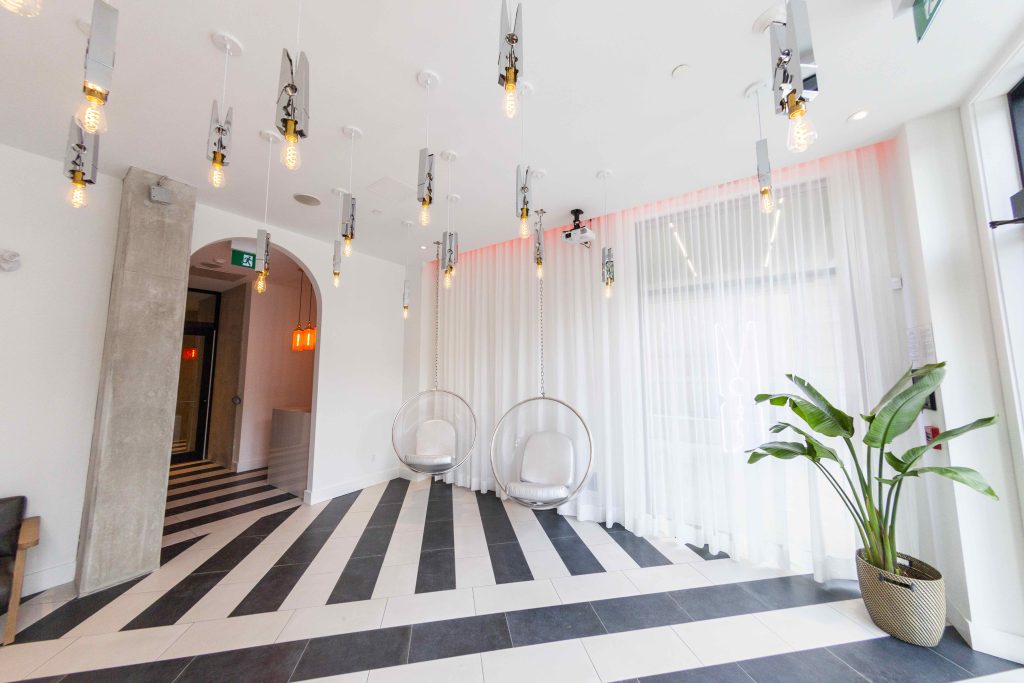 And they truly are designed. Part of what makes The Laundry Rooms unique is how integral design is to the concept. The partnership with McGrath and McCluskey can be seen in the Augusta Street's quirky details, like the lobby's overhead lights (designed by McGrath), which look like giant clothes pins, the colour-coded walls according to floors, or the custom-made wallpaper in some of the bedrooms, which depicts fanciful elements from the history of this city, and the surrounding neighbourhood. "One of the main things we wanted to do," McCluskey says, "was not make it that beige hotel room that you get everywhere. We want to elicit some sort of response out of the client." Most of the artwork in the building is either custom-built, or commissioned from local artists. Even the couches in the living rooms were designed by The Laundry Works and built in southern Ontario. "We really wanted to make sure that the hotel had a real sense of place and a sense of neighbourhood," McGrath adds. "So the artwork was sort of the jumping off point."
That desire to build spaces that are unique, interesting, and locally focused is shared by all of the partners. "I use the term Hotel Anywhere," Opferkuch says, describing the model of accommodations they have worked hard to avoid. "You can wake up at a hotel in Hong Kong, or Shanghai, or Dubai, and you feel like you're anywhere. We want our guests to wake up and think: 'Oh, I'm in Hamilton. This is so cool.'"
The partners behind The Laundry Rooms have big plans and are constantly scouting out new neighbourhoods in new cities. At the same time, they have no interest in simply dropping buildings all over the map. You will only see Laundry Rooms locations in cities that are not already glutted with accommodation options. And only in neighbourhoods that fit a certain profile: walkable, somewhat historical, contain some green space, and have employment drivers such universities, colleges, and hospitals nearby. In other words, you'll never find a Laundry Rooms location inside an airport or out on a remote highway.
"Our criteria for building and neighbourhood selection is extremely stringent," Cassis says. "There are other brands that expand for expansion's sake; we have realized that's not a sustainable model."
Sustainability is fundamental to the Laundry Rooms model, and not just in terms of growth. The company offsets the carbon footprint for each stay, without passing the cost on to customers, and the rooms feature none of the little plastic bottles of shampoo, etc., that merely end up as landfill. Small details, but as anyone who has endured a bad hotel or Airbnb stay knows, it's the small things that make a big difference.
A big difference is exactly what the partnership behind The Laundry Rooms is aiming to make. "This wasn't just a business transaction," McCluskey says of their overriding vision. "We're building something different, something that people are excited about.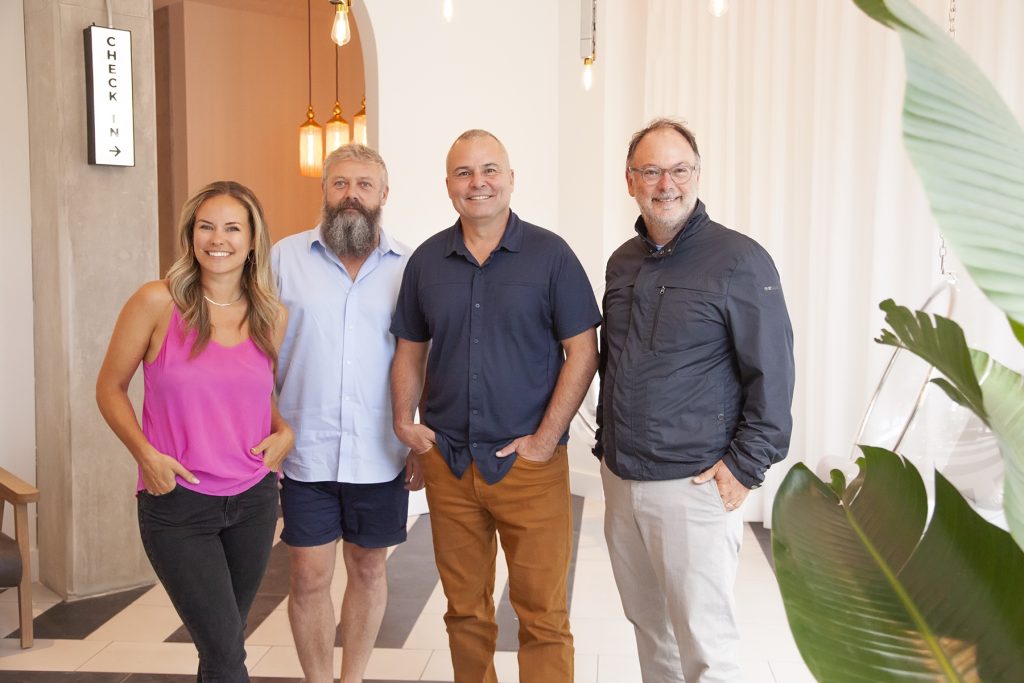 Favourite Neighbourhood Spots
Being fiercely local is at the core of The Laundry Rooms, so we asked the four partners behind the company for their favourite thing within walking (or short biking) distance of the new Hamilton location at Augusta and James.
Jason Cassis: "I love Kenzo Ramen (21 King St. E.)."
Matthew Opferkuch: "I love Gage Park (1000 Main St E.). I feel like I'm in New York City, but I'm in Hamilton."
Erin McCluskey: "The Hamilton Conservatory for the Arts (126 James St. S.) is right around the corner. They have fantastic creative programming for kids and families."
Paul McGrath: "The Judge (25 Augusta St.). One of my favourite pubs ever."