Textile artist Amanda Rataj is intrigued by the enduring quality of fabric

, combined with how it inevitably changes over time.

Amanda Rataj brings a thoughtful spirit and a keen eye for light and shadow to a self-taught weaving practice that she has now been pursuing for over a decade. While she originally trained as a film-based photographer, creating images for mere looking became limiting when compared to the potential of objects that engage the hand and the body as a part of their everyday life. Textiles – the literal fabric of daily living – were much more appealing.
Originally hailing from Scarborough, Rataj moved to Hamilton five years ago after studying at OCAD University and building her early career in Toronto. She soon fell in love with the people and places of the city, and met Centre3's executive director, Colina Maxwell, while working at Handknit Yarn Studio on James Street North. This introduction paved the way to her latest role as the inaugural textile studio technician at Centre3's newest facility on Harriet Street.
The former site of Felton Brushes' manufacturing facilities, Centre3's latest studio expansion is a raw work in progress that reveals much of the building's industrial history with heavy gears and wood-slatted rollers still suspended from the open ceiling. Below these burdened beams, folding tables prop up the beginnings of a textile studio that is already home to many looms and sewing machines.
So far, the most active users of this new space have been a group of newcomers and refugees attending a weaving program delivered in partnership with the Immigrants Working Centre. A rotating group of loyal regulars and new arrivals gathers weekly to practise their English and learn weaving by making their own table mats, hand towels and colourful rag rugs on the table-top looms. Rataj proudly shows off their progress as we explore the studio, drawing attention to the ambitious stripes in one student's warp and other creative decisions made by relative beginners to the craft – people who do not identify as artists but are enthusiastically making something uniquely their own.
Whether engaging visitors as an art educator at the Art Gallery of Ontario, or helping customers find the right yarn for their knitting projects at Handknit, Rataj has found an ideal path in enabling people from all walks of life to trust in their own innate creativity. "People think that being an artist is something special," she explains, "but we put up this barrier that's difficult for some to cross." At Centre3, she sees the opportunity to make her craft more accessible to learners of all backgrounds and abilities, many of whom will not have the space or resources to set up a weaving studio at home.
She is guided as well by the legacy of her grandfather Rudolph Rataj who was the lead furniture designer for Brunswick Manufacturing, a Toronto company that created mid-century modern furniture for commercial clients from the 1950s to early 2000s. An accomplished craftsman certified in his native Germany, the elder Rataj also hand-built much of the furniture that shaped Amanda's childhood, from bunk beds to a dining set that she would later inherit from her father.
"I never met my Opa," Rataj explains, "but I've always had this intimate relationship and connection to his craftsmanship and the style and creative choices that he made when constructing beds, tables, chairs, and an entire cottage."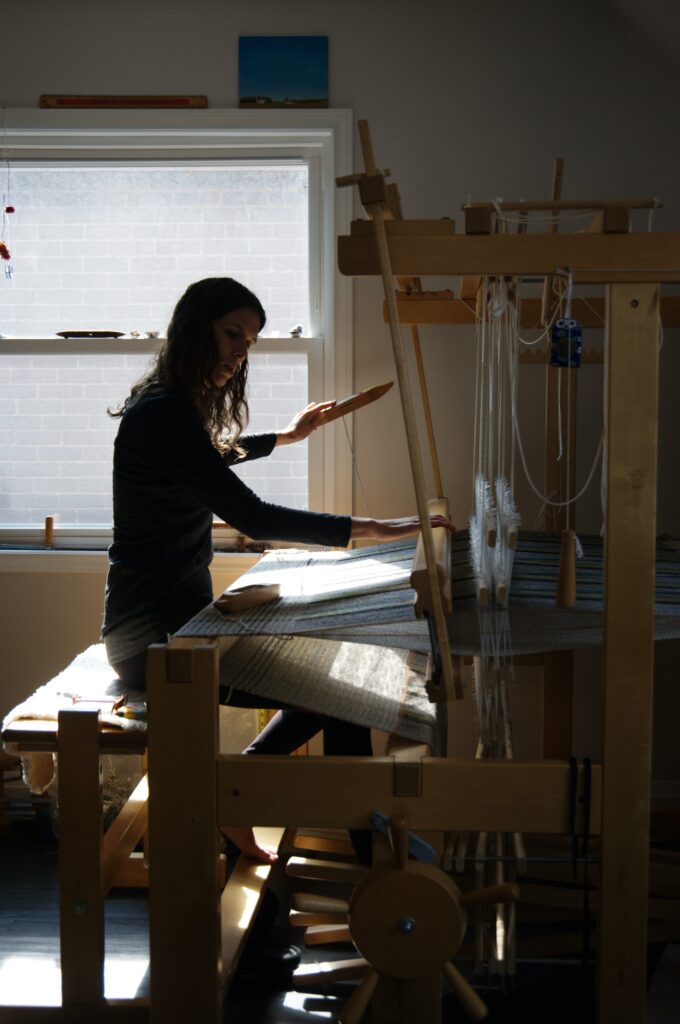 This connection culminated in Generation, an exhibition at Craft Ontario's Toronto gallery that honours the hard-edged simplicity of her grandfather's dining chairs with the soft touch of new textiles that replace the aging 1970s upholstery of the original chairs. Her photographer's sensibility informs her weaving, which captures the unexpected colours contained in shadows as well as the timeless patterns of traditional textiles. The deeper research that Rataj undertook into the history of Brunswick also yielded a broader appreciation for handmade items that embody craft and care and can travel across generations, like the dining table that Rataj's father declared "strong enough to dance on."
Longevity in Rataj's eye doesn't necessarily mean eternity; rather, she appreciates the way materials change through everyday wear, and how objects develop personalities by being used over time. After Generation closed at the gallery, the chairs returned home to resume their everyday purpose as dining furniture. Their wear and tear will become a part of the work, changing through the years of sunlight, sitting and spills to come. "I don't need it to be a perfect museum piece that looks the same for its entire lifespan."
The enduring potential of this work is frustrated in part by a market flooded with cheap goods that undermine the value of handmade craft; a tea towel priced to the true value of materials and labour can be shockingly expensive when compared to its factory-churned version. As a result, Rataj has resisted the path of producing objects for sale in favour of sharing her skills with others – as an educator and facilitator, but also as a creator of patterns that can be purchased by others to make their own. In much the same way that one can share a recipe, Rataj provides directions that allow the home weaver to duplicate her designs, or use these as a foundation to improvise their own expressive idea.
This approach to weaving, one that places sharing and teaching before making and selling, is the generous heart of Amanda Rataj's practice – an aspirational spirit that places art and the means of its creation calmly and confidently in the hands of others.