Whether Polish, Portuguese, or Italian, there are plenty of local delicatessens serving up delightful meats, sandwiches, sweets and hot entrées.
It's hard to describe exactly what a delicatessen is. Many have their favourite delis to stop into, but what actually defines a delicatessen is hard to pinpoint. Dictionaries define a delicatessen as "a store selling cold cuts, cheeses and a variety of salads, as well as a selection of unusual or foreign prepared foods." And though there is no culture that delis are specific to, they are said to have originated in Germany in the 18th century. Nowadays in Hamilton, we are spoiled for choice when it comes to deli options from all cultures. Here are some of our favourite local delis:
Staropolskie Delikatesy
711 Barton St. E., Hamilton
If you aren't part of the Polish community in Hamilton, it's possible you haven't heard of Staropolskie Delikatesy. This hidden gem on Barton Street is one you will want to stop by ASAP. Staropolskie Delikatesy has to be one of the most reasonable deli meals in the area. Alongside all of its Polish and European imported grocery items, it serves up traditional Polish fare such as pierogies, cabbage rolls, sauerkraut, goulash, sausages and sandwiches. There is no written hot food menu, so just speak to the servers behind the counter and you'll enjoy a delicious meal!
Westdale Delicatessen
893 King St. W., Hamilton
Though Westdale Delicatessen is right on the main stretch of King Street in Westdale, this is another little hole-in-the-wall that you may have passed without taking notice, but once you see the Montreal smoked meat, pastrami or corned beef sandwiches, you will not forget them! They are piled high with meat and made in the traditional way with mustard on rye (if that's your style). Smoked meat not your thing? There is a variety of other sandwiches, soups (frozen, too!) and entrées to choose from at this family-run deli, along with many European grocery items.
Olá Bakery & Pastry 
230 James St. N., Hamilton
Mostly known for baked goods – such as natas, croissants and cakes – along with specialty coffees, one should not overlook the sandwiches at Olá Bakery. Cut fresh from the deli counter at the back of the James North restaurant, these sandwiches are made fresh to order and piled high with the meats of your choice. Sandwich options such as turkey, capicola, bifana, fried egg and more are served alongside fresh-made soups of the day. Pick out one of the popular pastries to go with it, and you're set!
Pane Del Sole Bakery
175 John St. N., Hamilton
This Italian bakery on John Street North, just past Cannon, truly has it all! The variety of offerings brings customers in, and value for portions and variety of options keeps the customers coming back for more. For over 50 years, Pane Del Sole has been family run and it is specifically known for baked goods like cannolis, zeppoles, cakes, cookies and tiramisu. In addition to sweets and baked goods, the family also offers a sandwich and hot foods counter (think pasta, meatloaf, roast beef and more), where the portions are large and the prices are reasonable! 
Zarky's Fine Foods 
Various locations around Hamilton
Family-run since the 1980s, Zarky's has become a Hamilton success story that began with one location and has grown into three locations throughout the Hamilton area. On Concession Street, Dundurn Street, or Hempstead Drive, you can find many of your grocery staples at Zarky's Fine Foods, alongside a fresh deli counter, a from-scratch bakery section, a prepared foods section and frozen entrées to take home. All of the entrées are made from scratch and include shepherd's pie, stuffed peppers, lasagna bolognese, cabbage rolls and more.
Roma Bakery & Deli
233 Barton St., Stoney Creek
Roma Bakery has become a household name in the Hamilton community, mostly through the cheese-less Roma pizza, which is a must-have at any Hamiltonian gathering or party. But did you know that there is a Stoney Creek bakery, which carries baked goods, breads, slab and non-slab pizzas and hot foods? Hot foods include everything from lasagna and gnocchi to veal parmigiana, arancini and oven-roasted chicken and potatoes. Roma even carries deli items like imported cheese, cured meats, cold cuts and antipasto.
Glow Variety & Groceteria  
177 Glow Ave., Hamilton
Glow Variety & Groceteria has been around the Parkview neighbourhood since the 1960s (and actually used to include a bowling alley, back then!) These days, what might seem like a corner store from the exterior is actually a neighbourhood gem filled with yummy fresh items. You can find all the regular grocery items, fruits and produce but in the back of Glow Groceteria, you will find a popular sub counter with piled-high sub options including turkey, roast beef, BLT, Genoa salami, and capicola.
Sweet Paradise Bakery & Delicatessen  
630 Stone Church Rd. W., Hamilton
419 Dundas St. E., Waterdown
With two locations, Sweet Paradise has been a Hamilton favourite for more than 35 years. In addition to all of the usual grocery products, Sweet Paradise is also a from-scratch Italian bakery, caterer and food-maker. Well-known for decadent sweets and pastry offerings such as cannolis, cream puffs, zeppoli and pies, Sweet Paradise does much more than sweet. Sweet Paradise also offers prepared meals either fresh or frozen, a bakery section for breads and a deli counter with cheeses and meats such as prosciutto, soppressata, capicola, pancetta and many more. Be sure to try the paninis and subs!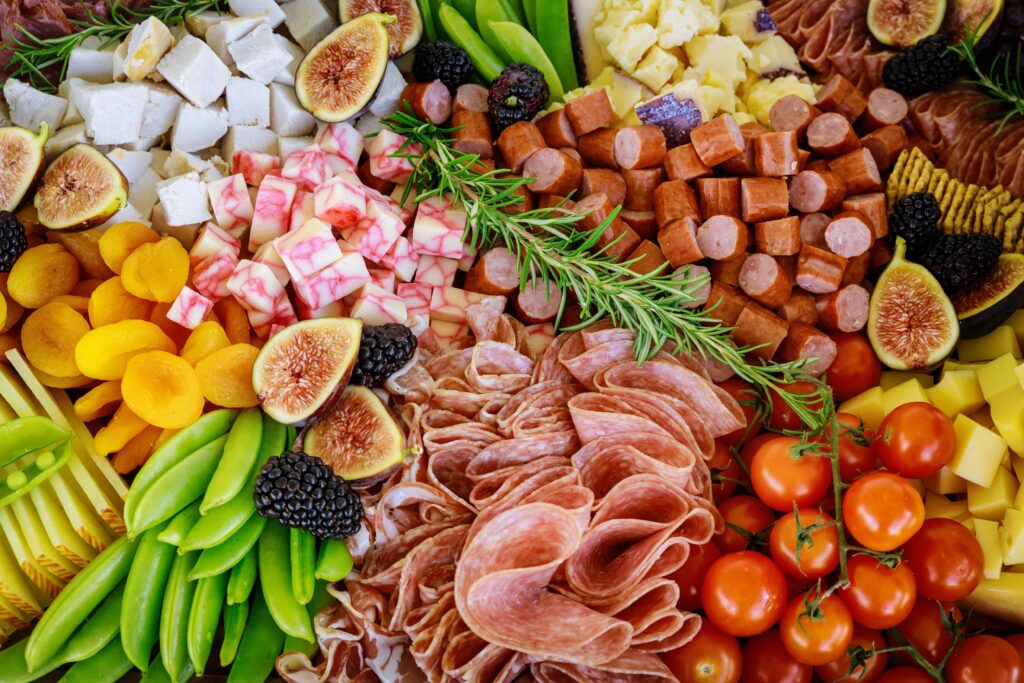 Alves Meats & Variety 
157 MacNab St. N., Hamilton
Alves Meats & Variety is another true hidden gem of Hamilton. This Portuguese store not only offers many Portuguese-imported grocery options that can be difficult to find, it also offers an entire hot foods section at the back of the variety shop. The prices for hot foods at Alves Meats cannot be beat! Try the bacalhau (codfish medley), roast chicken, bifana sandwiches, Portuguese sausage and the potatoes.
Duarte's Supermarket
417 Barton St. E., Hamilton
Serving up a variety of imported grocery items from Portugal, Duarte's Supermarket on Barton is Hamilton-famous among the foodies. Not only does this family-run supermarket have many grocery staples, but a complete deli counter, fresh meat counter, selections of cheeses, pastries and a hot foods and sandwich section. Try stomach-filling options like the spicy meatball sandwich, the chicken parm sandwich, pasta entrées or hoagies.
Euro Market Delicatessen
3480 Fairview St., Burlington
Located on Fairview Street in Burlington, Euro Market Delicatessen has been serving up Polish delicacies to the community for years. Specializing in imported Polish and European preserves, spices, teas, sauces, treats and sweets, plus smoked meats and cheeses, you really can find it all. The friendly servers at Euro Market Delicatessen also offer dessert options, and a hot table with choices such as chicken cutlets, soups and cabbage rolls. 
Hamilton Kosher
889 King St. W., Hamilton
On the main stretch of Westdale Village, you'll find Hamilton Kosher. All products bearing the Hamilton Kosher label are certified kosher by the Vaad Hakashrus of Hamilton, Rabbi Green – but it's not just for those following a kosher diet. The team at Hamilton Kosher offers catering for special events, butcher services, products like poultry and meat and prepared foods. Their prepared offerings include everything from garlic ribs, BBQ chicken, and beef pastrami to potato latkas, cucumber salad, matzo balls and knishes. Try something new (or an old favourite) at Hamilton Kosher!
Nonno's Plant-Based Butcher
Hamilton Farmers' Market (Lower Level) 35 York Blvd.
A new addition to the Hamilton Farmers' Market is Nonno's Plant-Based Butcher, though if you weren't told ahead of time, you might not know they are fully plant-based. Nonno's is all about "bringing back nostalgic flavours, textures and foods that many of us grew up enjoying" through fully vegan, soy-based cold cut offerings like roast beef, corned beef, chicken cutlets, baccala, pastrami and more. They pile these vegan options high on sandwiches, subs and hoagies that would impress any meat lover and vegan alike.