The leaves will soon change, there's a cool breeze in the air, and pie season is in full swing. Get your stretchy pants ready, because Hamilton and Burlington have a lot to offer in the way of pies. From new-on-the-scene pie purveyors to long-time favourites that have been here over a century, explore our region's pie scene with some of these tasty destinations.

Hamilton Meat Pie Co.
Since its inception in 2018, Hamilton Meat Pie Co. has become a local favourite. The name gets right to the point…you know exactly what they are famous for: pies. Savoury or sweet, Hamilton Meat Pie Co. is creating everything from the classics: Steak and kidney, chicken pot pie, cherry, and apple pies, to the adventurous and new: cheeseburger, hot chicken wing with blue cheese, salmon and dill, and taco pies. In addition to all the creative and delicious flavours, they offer vegan and gluten-free options. Try the lunch combos, complete with a savoury pie and sides.
601 Burlington St. E., Hamilton
854 King St. W., Hamilton
www.hamiltonmeatpieco.ca


Mikey's Cream Pies
Mikey's Cream Pies came onto the scene during the COVID pandemic closures, and have since opened a storefront on Barton Street East. As their tagline says: they have been "making cream pie fantasies come true" in Hamilton ever since. Try the chocolate, banana or coconut classic cream pies, or a specialty cream pie like peanut butter or banoffee. Owner Mike Jensen and his team are always concocting new creamy creations, so be sure to check their social media to see their daily offerings. Hot tip: You can even get their pies delivered via Doordash.
775 Barton St. E., Hamilton
mikeyscreampies.ca


Dyment's Market & Bakery
The Dyment's Farm (Glen Drummond Farm) has been in operation since 1887 as a family-run establishment, and over the years it has expanded in leaps and bounds. Known for its pumpkin patch, market and bakery, Dyment's is literally a one-stop shop of gastronomic delights. But its fame really comes from homemade pies that are made from scratch. If it is savoury pies you are after, try the meals to go: taco pie, chicken pot pie, shepherd's pie; perhaps a beef short rib pie? For sweets: cherry, pecan, key lime or perhaps a crumble-top pie?
416 Fallsview Rd. E., Dundas
dyments.com/market-bakery/

Carluke Orchards
What began as a pick-your-own apple orchard in 1965, Carluke has grown to a thriving gourmet food market and a bakery, known across the region for pies and baked goods. And yes, it's still family-run. Out on the rural edges of Ancaster, you will find the cute little bake shop surrounded by the apple trees that began the operation. Inside, the scent of beautiful pies wafts through the air. Pie flavours such as Dutch apple, pumpkin, pecan, elderberry, and more, are found inside the display cases. Looking for something special? Carluke offers flavours such as coconut cream and banana cream through special order.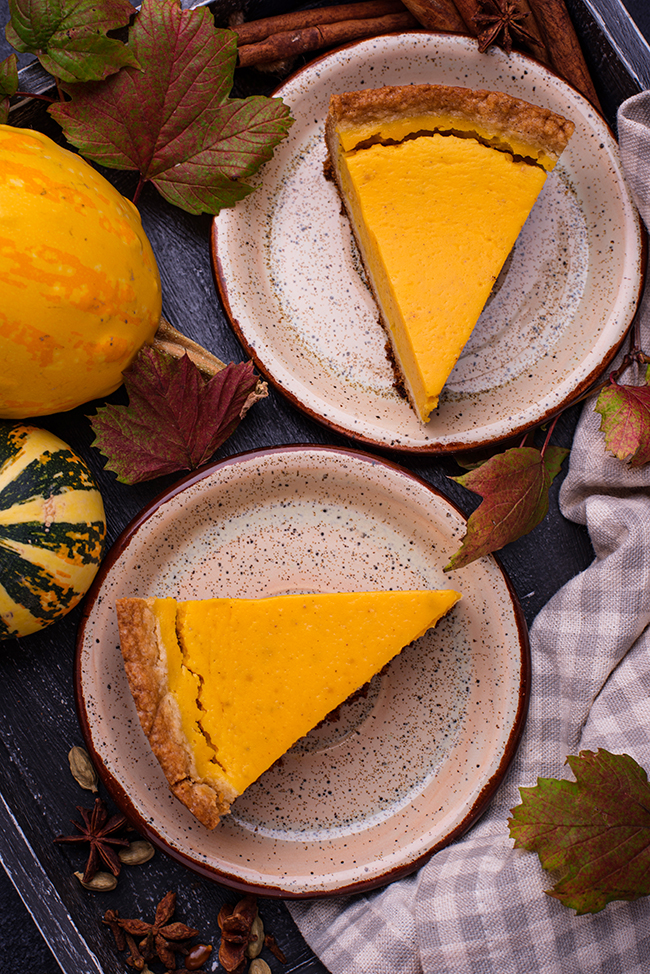 2194 Shaver Rd., Ancaster
carlukeorchards.ca


Bennett's Apples & Cider
Another Ancaster institution, Bennett's Apples & Cider have been around since 1911. Originally getting its start as an orchard, and an apple cider operation, Bennett's has kept to its traditions while continuing to expand the product line. At the red barn market on Garner, you will find the original apple cider, local produce, and locally made food goods, and – of course – baked goods and pies. Bennett's crumbly crust apple pie is a customer favourite, but there are many to choose from: peach, cherry, pumpkin, mincemeat and more. They also have a large variety of no sugar-added pies.
944 Garner Rd. E., Hamilton
bennettsapples.com


Punch Bowl Market & Bakery
If you are looking for a specific baked good, chances are that the Punchbowl Market has it. This local favourite boasts an impressive selection of baked-from-scratch treats: From cookies and butter tarts to cakes, pies and squares. Located on the edge of Ridge Road, this beautiful little country market not only features amazing baked goods but also stocks produce, local food items, and plants. But if it's pie you are after, look no further. The pecan pie is a customer favourite, but there are both sweet and savoury offerings so you're sure to find something that strikes your fancy.
136 Ridge Rd., Stoney Creek
punchbowl.ca

The Tiny Shop Bakery
Home to both the Hane's Sunflower Maze and the Hane's Corn Maze, the Hane's Family Farm already has a lot going for it. Add the Tiny Shop Bakery to the mix and you have all the ingredients for an awesome day-trip location. Since 1985, they have been baking pies from scratch daily with no additives or preservatives. What the Tiny Shop Bakery lacks in size, it makes up for in flavour. Blueberry, apple raspberry, peach crumble caramel, raisin, gooseberry and so many more can be found pre-made in the shop or through special order.
1001 Hwy 5 W., Dundas
thehanescornmaze.com


Weil's of Westdale Bakery
Weil's of Westdale has been famous for its baked goods since 1903. From breads, cakes and tarts to cupcakes and cookies, you can peruse the display case full of these baked goods, or place a special order if you are looking for something special. Try some pie flavours such as custard, cherry, lemon meringue, blueberry, chocolate cream, or cream cheese pumpkin. Does quiche count as a pie? They have that too, in a variety of flavours. Vegan pies are also available through special order.
981 King St. W., Hamilton
weilsbakery.com


French Revolution Bakery
In the heart of Dundas, you will find the tastiest French creations at French Revolution Bakery & Creperie. Savouries like quiche Lorraine, beef pies and chicken pies are handcrafted alongside sweets such as Niagara fruit pies, galettes, and fruit tarts. Owner Rhonda Wells takes her experience in the culinary industry, plus her culinary training in France, to create spectacular dishes that will please all your senses – Francais-style. Hot tip: Try the tourtiere for a delicious taste of Quebec.
2 King St W., Dundas
frbakery.ca


British Pride Bakery
Getting its start in nearby Cambridge, British Pride Bakery has recently opened its newest location in Hamilton.. Located in a small unit on Upper Ottawa, this shop is jam-packed with delicious British imports. Everything from biscuits, crisps and canned goods to frozen items that are not readily found locally. In addition to all the packaged goods, its baked goods counter is a must-try. All of the baked goods are hand-made from-scratch, daily. British Pride Bakery offers more than 30 savoury meat pie flavours to choose from, such as steak & stilton, chicken & leek, lamb & mint, and more.

1575 Upper Ottawa St., Unit 10, Hamilton
britishpridebakery.com


That Pie Place
A little outside of Hamilton, on Fairview Street in Burlington, you will find a local favourite: That Pie Place. It has been family-owned and operated since 1983 and specializes in savoury pies of all kinds. With their made-to-order pie offerings like: steak & stilton, chicken leek and mushroom, turkey pot pies, and more, it's no surprise they have become Burlington famous and expanded their offerings since. Their pies (now both savoury and sweet) are made much the same from years past, with hand-produced and hand-rolled pastry, local produce and meats where possible, and stocks from scratch. Try their tourtiere for an extra special treat.

4155 Fairview Street, Burlington
thatpieplace.com


FARMERS' MARKETS
Ancaster Farmers Market
Running every Wednesday from 3 p.m. to 7 p.m. – June 8 until Oct. 5
St. John's on the Green, 37 Halson St., Ancaster
shopancasterfarmersmarket.com
Burlington Centre Lions Farmers' Market
Wednesdays from 8 a.m. to 2 p.m., Fridays from 8 a.m. to 3 p.m.,
and Saturdays from 8 a.m. to 2 p.m.
— May 18 to October 29
Burlington Centre, 777 Guelph Line, parking lot
(Prospect Street side of the mall)
burlingtonmallfarmersmarket
Dundas Farmers' Market
Running every Thursday from 3 p.m. to 7 p.m. – June 16 until Oct. 13
11 Millers Lane, Dundas
dundasfarmersmarket.ca
Durand Market
Running every Wednesday from 3 p.m. to 8 p.m. – May 25 until Oct. 12
Central Presbyterian Church, 165 Charlton Ave. W., Hamilton
instagram.com/durandmarket/
Ottawa Street Farmers' Market
Running every Saturday from 8 a.m. to 2 p.m. – Year-round
Located in Municipal Lot 2C (Beside 3 Britannia Ave. off Ottawa Street North)
ottawastreetfarmers.com
Waterdown Farmers' Market
Running every Saturday from 8 a.m. to 1 p.m. – May 28 until Oct. 15
Royal Canadian Legion Branch 551, 79 Hamilton St. N., Waterdown
waterdownfarmersmarket.ca
Locke Street Farmers' Market
Running every Saturday from 9 a.m. to 12 p.m. – June 4 to Oct. 29
260 Locke St. S., Hamilton
lsfm.wordpress.com
Hamilton Farmers' Market
Running every Tuesday, Thursday, Friday and Saturday 9 a.m. to 4 p.m. – Year-round
35 York Blvd., Hamilton
hamiltonfarmersmarket.ca